OK, this is literal girl power!
Kim Kardashian took to Instagram over the weekend as she always tends to do. But this time, the KUWTK alum was focused on showing the world what she does daily as far as her fitness goals go. And it is INTENSE! She's not one of those "half hour strolling on the treadmill while listening to a podcast" types. She gets after it!!!
Related: Ouch!! Kim Accidentally Hits Kylie With A Golf Club In New TikTok Video!
On Sunday morning, the 42-year-old reality TV veteran popped upon her IG Stories with an interesting video sequence. In it, she gave credit to her fitness sherpa Senada Greca and revealed some of the very involved workout paces the personal trainer puts her through.
To open the series of clips, Kim explained she is in the gym "5 or 6 days a week," and she "lifts weights for two hours daily" during those workouts:
"I'm gonna show you guys a little bit of my workout today. It's been three months now working out with @senada.greca. We lift weights for two hours daily and do 5 or 6 days a week. My goal was to gain muscle and be strong and I See such a difference already. I'm proud of our commitment together. It always starts with small goals"
Small goals, yeah, yeah, but two hours a day for five or six days a week?!?!
That is SERIOUS commitment! We know looking lean and strong is part of her job and all, but damn!!
Then, she dove into her first exercise — a leg move she briefly explained while showing herself going through the paces in the video clip:
"This exercise is called 'split stance good morning'"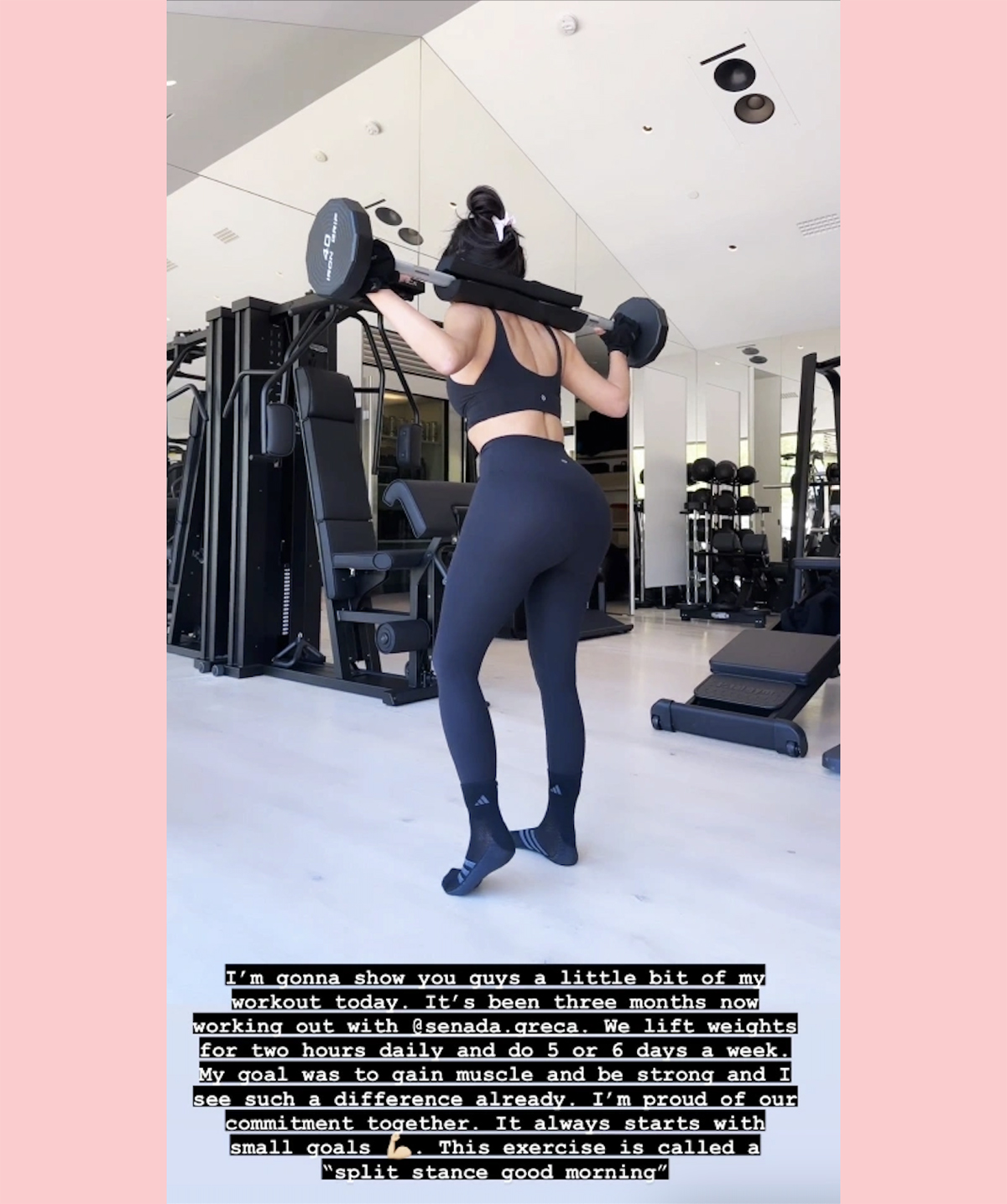 Wow!
From there, the Kardashians star continued with a second exercise. It also focused on her lower body (gotta build that booty up somehow), as she noted:
"Banded thigh lateral squats with a 40 lbs weight. We do 4 sets of 12 reps on each side"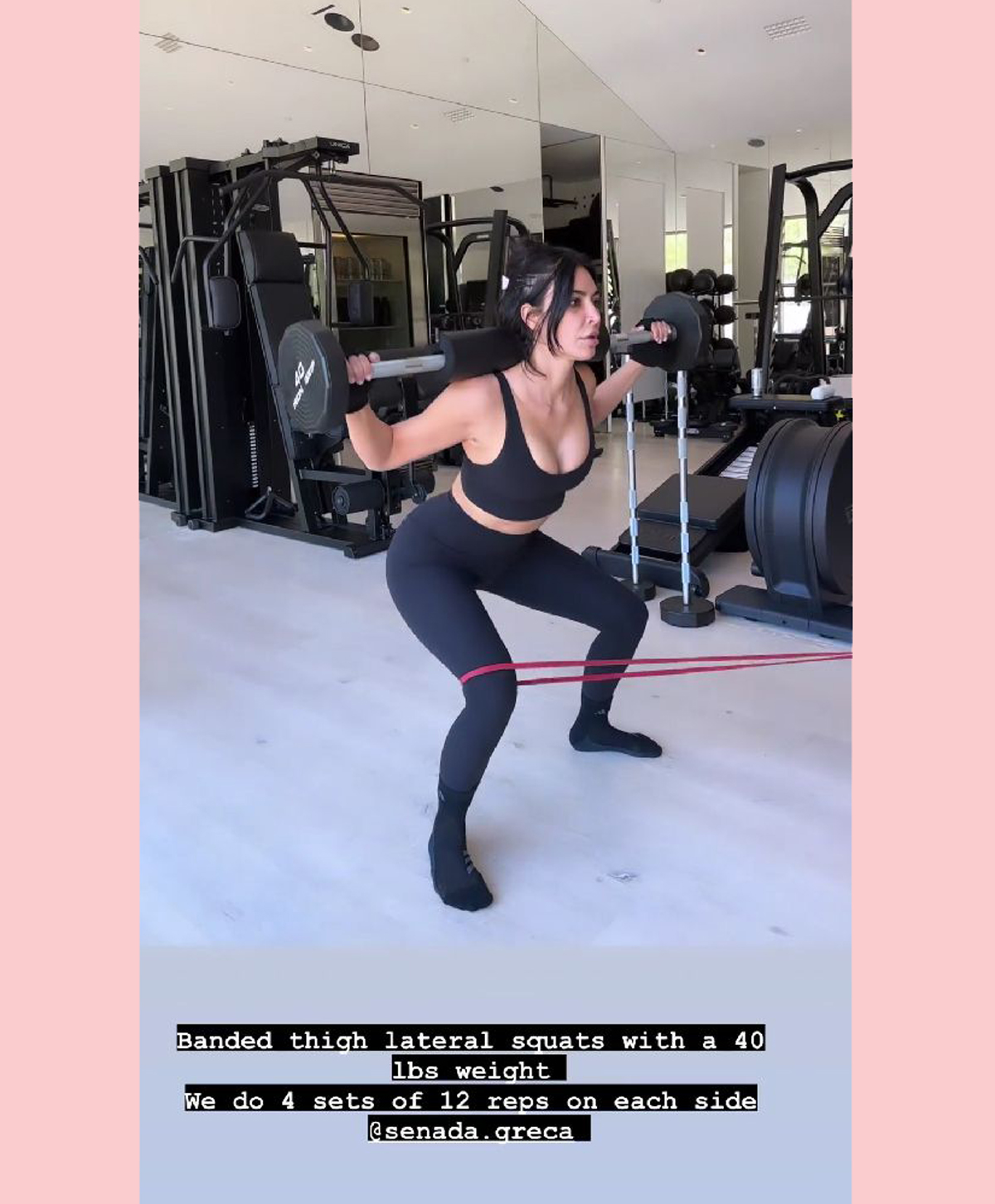 And from that point, Kim pivoted and opted for one more lower-body lift — while doing some upper body maintenance, too!
This time, it was a set of step-ups for the lower half while she focused on some critical upper half stabilization:
"Step ups but check out my triceps and delts"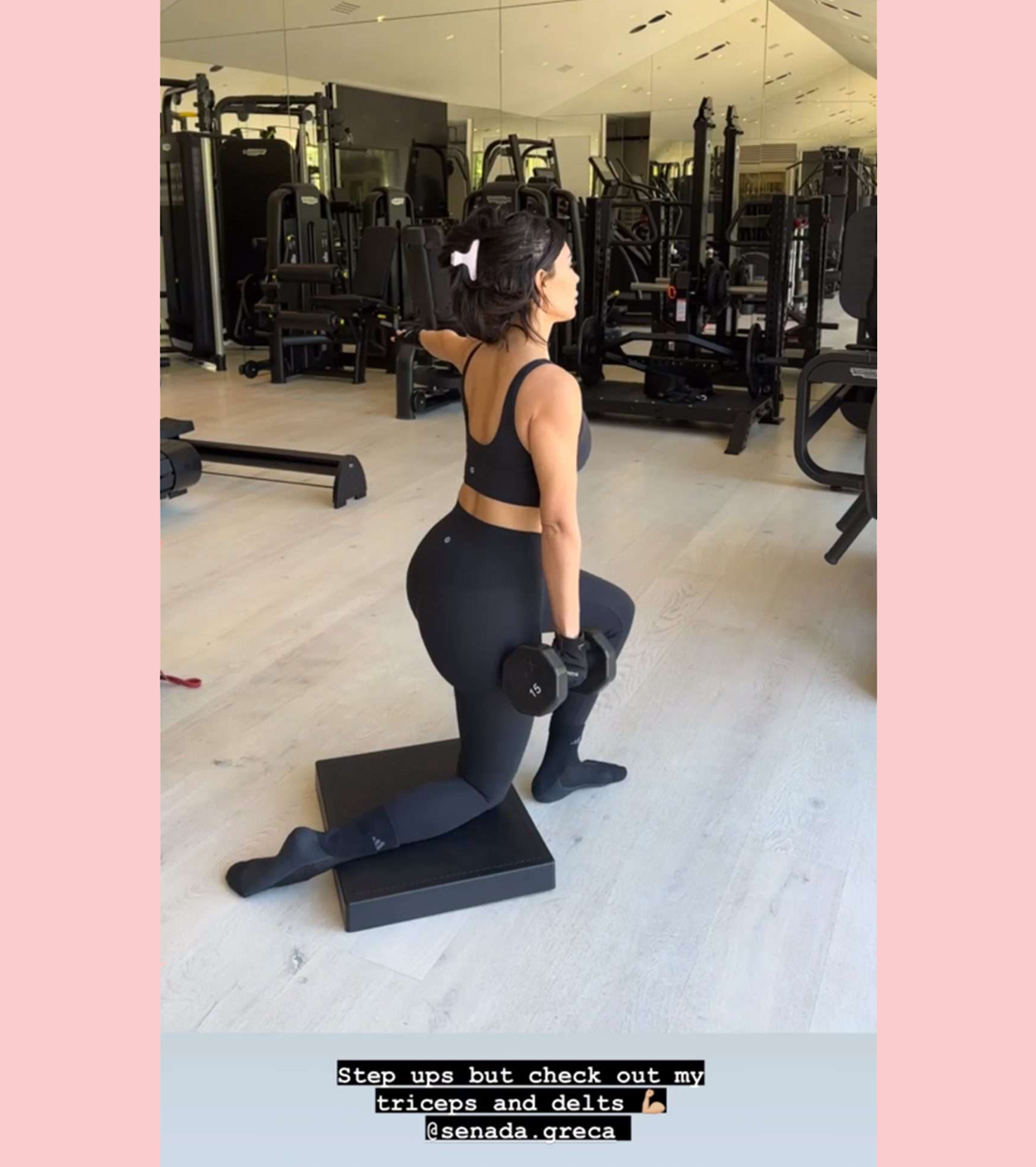 See?! Like we said, Kim goes HARD in the gym!
FYI, in some of those video clips, the background song playing across the gym was Taylor Swift's You Need To Calm Down. We know well by this point that Kim isn't afraid of piping some Taylor tracks through her sound speakers. And this gym outing only further proves that little development!
Related: Kim Screams At Her Sisters In 'The Kardashians' Dramatic Season 3 Trailer — WATCH!
Of course, Kim has been remarkably open about her health goals, and how hard she works at fitness and weight loss. So it's no surprise to see her sweating it out in the gym — especially as a Swiftie.
But still, damn! Two hours a day?!
We are in awe!!
[Image via Kim Kardashian/Instagram]
Related Posts
CLICK HERE TO COMMENT
Mar 27, 2023 16:51pm PDT