Stop pressuring Nick Jonas and Priyanka Chopra to have kids!
According to an ET source on Wednesday, the Jonas Brothers band member and the Quantico actress — who tied the knot last December — want to focus on their marriage and careers before starting a family.
Related: Priyanka Chopra & Nick Jonas Get 'A Lot Of S**t' Over Their Age Difference!
Per the insider:
"Nick and Priyanka want kids, but right now it's not a priority… Both are extremely busy, and with the Jonas Brothers reuniting and being a massive success the couple is conscious [of] how much time the tour takes up."
The source added:
"Nick and Priyanka haven't been putting pressure on having kids… They are enjoying married life, traveling and working. The couple is OK with when it happens, it happens, and it will be a blessing."
Of course, both the musician and the thespian have openly talked about having little ones.
During an interview with Spotify's The Rewind With Guy Raz back in December, the 26-year-old crooner remarked:
"I definitely want to be a father someday… I think that's a real dream, and I think I have had to grow up pretty quick. With that, you could look at it two ways. You could say that was unfair, or you could say it has given me some real perspective at an early age."
In a June interview with InStyle, the 37-year-old starlet discussed wanting to leave a legacy for her future kin.
"I want to change the world a little bit… My big endgame is creating a formidable career and legacy for myself, but at the same time I want to have moved something… I want my existence to have meant something… I want my kids to turn around and be like, 'Yeah, that was my mom.'"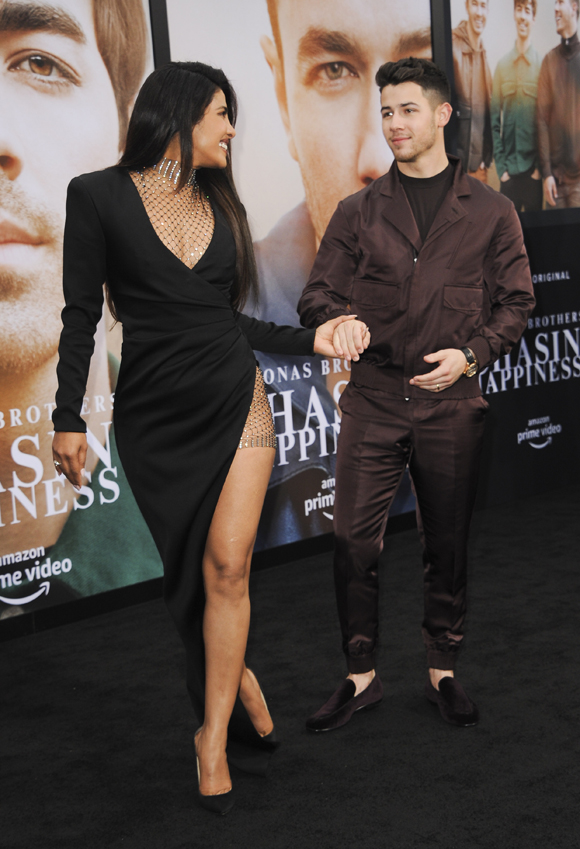 Back in April 2019, while speaking at the 10th Annual Women in the World Summit in New York City, Chopra revealed why she never thought she'd end up with Jonas.
"I've known him for two years. I didn't think that this is what it turned out to be, and that's maybe that's my fault, I judged a book by its cover. When I actually started dating Nick he surprised me so much… I call him Old Man Jonas. That's my name for him, OMJ. He's such an old soul, extremely smart, so good for me because he grounds me so much. I'm a wild child. I do whatever I want whenever I want and he always supports me."
One thing is for sure… whenever it does happen, Nick and Priyanka are going to have BEAUTIFUL babies!
[Image via Nicky Nelson/WENN.]
Related Posts
CLICK HERE TO COMMENT
Aug 01, 2019 06:02am PDT