R. Kelly May Face More Jail Time For Missing Child Support Payments!
R. Kelly, once again, is dealing with legal drama.
In March, after getting arrested and charged with 10 counts of aggravated criminal sexual abuse, the disgraced singer was jailed after failing to pay nearly $200,000 in child support payments he owes to his ex-wife, Drea Kelly.
Related: R. Kelly Breaks His Social Media Silence!
(Later that month, someone close to the R&B star picked up the tab, and he was released from Cook County Jail in Illinois.)
However, fast forward to Tuesday, the 52-year-old could face MORE prison time for not coughing up dough!
According to TMZ, the musician allegedly missed his last two child support payments, which is $20,833 a month.
Although Kelly asked the judge to lower the $20K amount, his court hearing is not until May 8.
As we reported earlier this month, the singer was paid $22K for a nightclub appearance in Illinois, but it is unclear if he used his paycheck for child support.
As of now, no arrest warrant has been issued.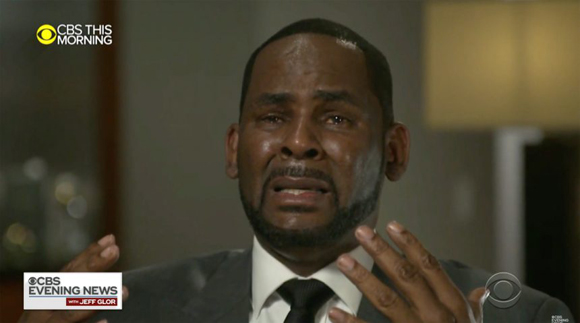 In regards to his sexual abuse case, Kelly surrendered to Chicago authorities in February.
The case involves four alleged victims, at least three of whom were younger than 17.
He plead not guilty to all charges, and was released from jail after a $100K bond — just ten percent of his $1 million dollar bail — was posted.
The sentencing range for each Class 2 Felony is 3-7 years, and is probationable. That means if the musician is convicted on all 10 counts, he could possibly face up to 70 years behind bars.
Kelly was also required to surrender his passport, and to not have contact with anyone under 18.
In 2008, the R&B singer was acquitted of child pornography charges.
In March, Kelly gave an EXPLOSIVE interview to Gayle King where he SLAMMED the allegations as "rumors" & "not true."
When the CBS This Morning host asked if he had ever held any women against their will, an emotional Kelly responded:
"I don't need to. Why would I?… How stupid would it be for R. Kelly, with all I've been through in my way, way past to hold somebody, let alone four, five or six, 50 you said. How stupid would I be to do that?"
He added:
"People are going back to my past — that's exactly what they're doing… They're going back to the past, and they're trying to add all of this stuff now to that, to make all of this stuff going now feel real to people."
The singer even looked directly at the camera to plead his case.
"That's stupid, guys. Is this camera on me? That's stupid. Use your common sense. Forget the blogs, forget how you feel about me. Hate me if you want to, love me if you want, but just use your common sense… How stupid would it be for me with my crazy past and what i've been through? 'Oh, right now I just need to be a monster and hold girls against their will, chain them up in my basement, and don't let them eat, and don't let them out unless they need some shoes down the street from their uncle.' Stop it. Y'all quit playing. Quit playing. I didn't do this stuff. This is not me. I'm fighting for my f**king life.'"
[Image via Judy Eddy/WENN.]
Apr 16, 2019 3:33pm PDT