There have been rumors flying around for a while now that Tom Sandoval and Raquel Leviss supposedly split up in recent weeks after their long-running Vanderpump Rules affair first surfaced in March.
But that may not actually be the case?? At least not according to jaw-dropping new photos shared by TMZ very early on Monday morning?!
Related: Ariana BLASTS Claim Raquel Was 'Manipulated' Into Believing Open Relationship Rumors!
The outlet published brand-new pics snapped by an airplane denizen on a flight to Pittsburgh over the weekend. The Tom Sandoval & The Most Extras frontman was flying to the steel town on Sunday night for a gig with his cover band set for Monday evening. But they weren't just any pictures; they seemed to show Tom talking on the phone — to Raquel!!!!
The pics show a man who appears to be Tom — white fingernail polish and all — sitting in first class while looking outside the plane window and low-key trying to hide his face. But the screen on his iPhone is lit up, and in the images, you can clearly see a name that looks an awful lot like "Raquel Leviss" on the other end of the call!
According to the outlet, Tom was "trying to speak quietly" while on board the packed plane. However, the passenger who snapped the photos claimed the reality TV star's voice was "highly recognizable." LOLz! That's pretty funny. He does have an instantly recognizable tone and timbre. Just saying!!
The photos are pretty damning. Ch-ch-check out the snaps for yourself HERE.
Whoa!!!
So was the name identifier on the phone's caller ID legit?! Was the TomTom co-owner really speaking to the woman with whom he went behind now-ex-girlfriend Ariana Madix's back with for months?!
Related: Did Lisa Vanderpump Know About Tom Sandoval & Raquel Leviss' Affair? She Says…
As the news outlet notes, there is one other potential angle on this story. Raquel has reportedly been seeking treatment in some sort of mental health facility in the recent past. Those facilities often forbid or highly restrict the use of phones to call out to the outside world.
So perhaps it's possible this may mean she's out of the facility and back home now — and thus free to use her phone, accessible to Tom and her friends, etc., etc.? Just wondering!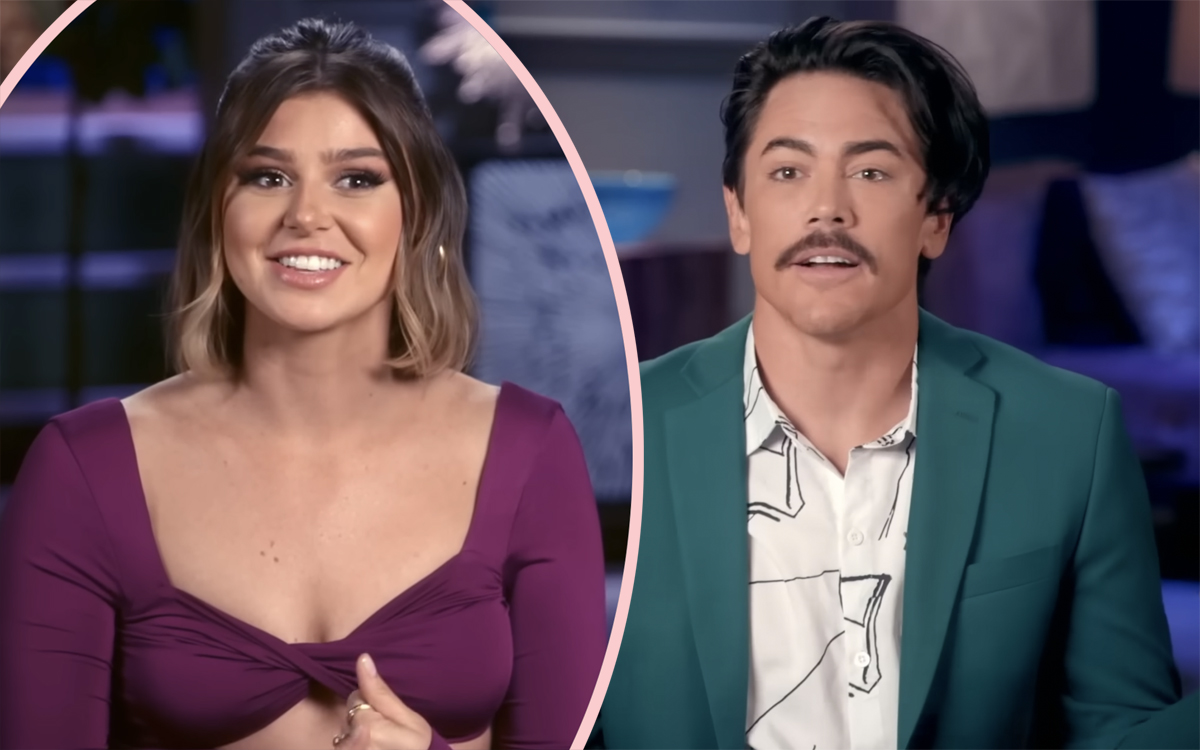 Anyways, Tom's cover band is playing at Jergel's Rhythm Grille in the western Pennsylvania town on Monday night. If you're in the area, well, we just gave you some Memorial Day evening plans. LOLz!
But more to the point of the pics: what do y'all make of this apparent iPhone interplay, Perezcious readers?! Does this prove Tom and Raquel aren't as broken up as insiders have claimed in recent weeks?? Or is there something else going on entirely?!
Sound OFF with your take on these two and EVERYTHING Vanderpump Rules-related down in the comments (below)!
[Image via MEGA/WENN]
Related Posts
CLICK HERE TO COMMENT
May 29, 2023 08:39am PDT