Wendy Williams is still reeling with emotion after one helluva year.
During her titular show's season finale send-off on Wednesday, the daytime TV host broke down and cried while speaking directly to her show's studio audience as she reflected on multiple personal health scares, tabloid rumours, and more.
Related: Bow Wow Body Shames Wendy Williams On Social Media — WTF?! WHY?
Keeping it candid as always, Williams admitted:
"This season has been, well, hell for me, in a weird way."
The 55-year-old host was visibly emotional as she described a season's worth of personal drama, adding:
"I appreciate doing this show because it's my one hour where I get to be fun and forget about stuff. You see me pass out the season, you've read in tabloids and the Paparazzi and all that. But through it all, my one joy — aside from my son and my family — is you."
Awwww…
We're so glad there's some sort of silver lining to all of this, as our readers know Wendy has really been going through it in recent months.
Though she seems to be doing a bit better now, albeit with some hiccups, 2019 has truly been a horrendous year to her.
For example, the media maven started the year on a low note after some pretty concerning health scares forced her to take an extended hiatus from the Wendy Williams Show.
Complications from her ongoing battle with Graves' disease, hyperthyroidism, and an unfortunate lapse in sobriety took a nasty toll on Wendy's well-being as fans grew more and more concerned.
Back in March, it was exposed that her husband of over 20 years, Kevin Hunter, birthed a love-child with his massage therapist and alleged mistress Sharina Hudson. One month later in April, Williams officially filed for divorce from Hunter.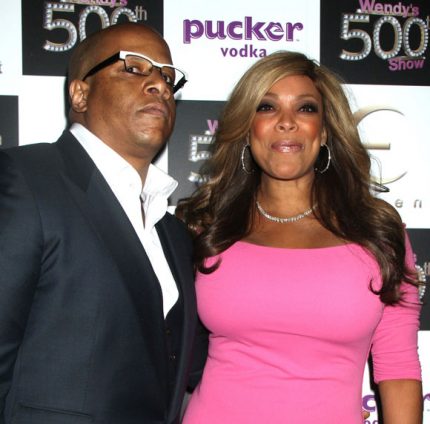 While the decision to finally let go of her cheating husband and failed marriage (and finding a new bae!) certainly helped, things are still far from perfect for Wendy…
With all the headlines and reports that came out, we're sure it was hard to keep up with. You can check out a complete breakdown of all of Wendy's woes for yourself, HERE.
Related: Wendy Williams Cries While Discussing Her Estranged Husband In New Interview
We continue to send her lots of love and support as she navigates this difficult chapter of her life.
In the meantime though, Wendy remains hopeful for herself and the future of her show.
Wrapping up the season 10 finale, she told her fans:
"Um, I'm not doing this show forever, but I certainly will be back for season 11. A lot of people didn't think we could do it, but we did it!"
That's the spirit, girl!
Perezcious readers, will U be watching when Wendy's syndicated show returns on September 16?
And, will U be tuning in to the Lifetime made-for-TV movie set to chronicle the talk show host's meteoric rise to fame, set to come out in early 2020?
Sound off with all of your thoughts, comments, and concerns (below)!
[Image via Derrick Salters/WENN]
Related Posts
CLICK HERE TO COMMENT
Aug 01, 2019 11:02am PDT