Amy Schumer is weighing into the Scandoval conversation!!
On Thursday night's episode of Watch What Happens Live, the actress sat down with Andy Cohen to hash it out over Vanderpump Rules' wildest season yet! The self-proclaimed Bravo fanatic revealed Scandoval has "been the biggest part of my life" for the last several months. Ditto, girl! Lolz!
Interestingly, she's NEVER been a fan of Tom Sandoval, whom she always thought was a "narcissist" and "megalomaniac." Reflecting on the most cringe-worthy moments from past seasons, the 42-year-old dished:
"I have always been really annoyed by Tom Sandoval. From back in the day."
She's gotta be loving this VPR era then! Just sayin'!
Related: The First Look At Ariana Madix's Upcoming Lifetime Movie Is Here!
Amy then reacted to Raquel Leviss' bombshell revelation at the end of the third part of the reunion, which saw her crying as she revealed the true timeline of her affair, claiming Tom made her lie, and saying she had wanted to be in a throuple with Ariana Madix. Not all fans felt this way, but for Amy it hit hard! The Snatched star mused:
"It's all been kind of fun and we're all talking s**t. But then part three, you need a minute. It's like the end of Schindler's List. You needed a minute."
Okay, it may not have been that serious, but it was concerning to see someone who'd been so emotionless this entire ordeal suddenly start to crumble! Especially when you know she is currently in a mental health facility receiving treatment. Brings it all into perspective, for sure…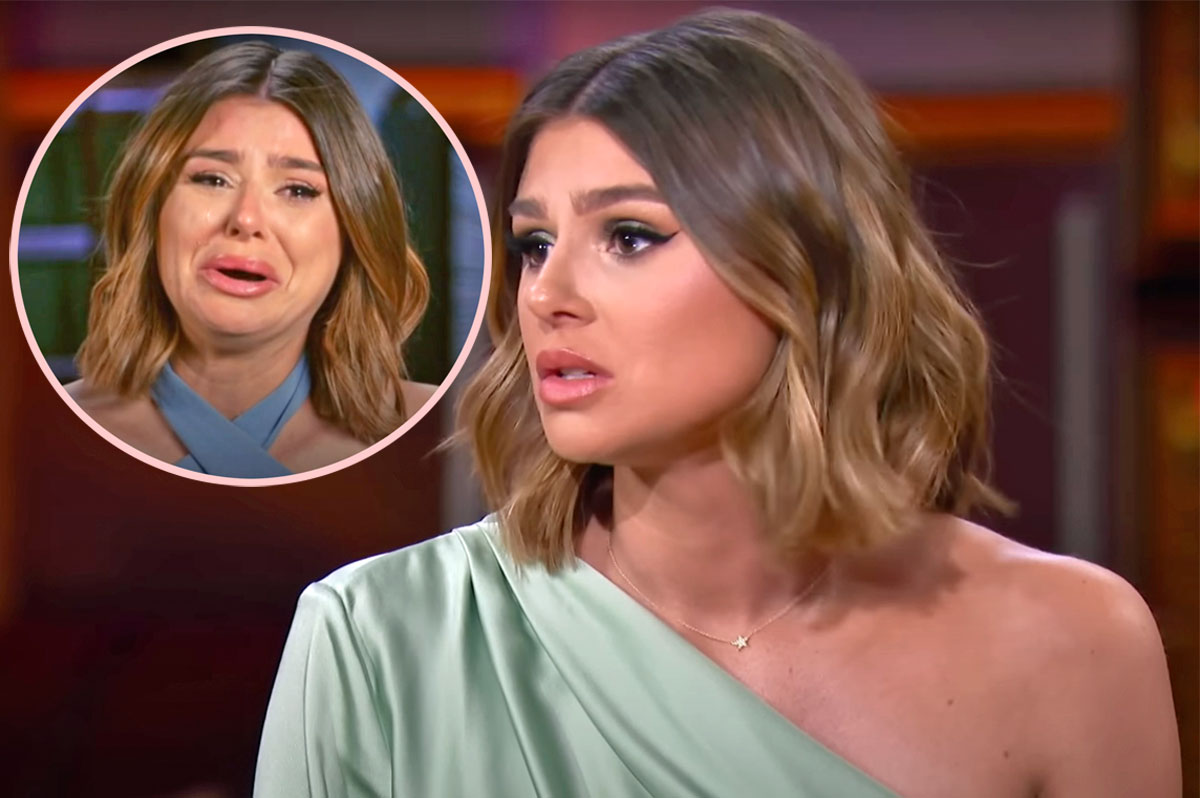 Speaking of their mental health and well-being, Amy said sincerely:
"I wish all of them really well. I think that they're not in a good place right now. All of them! All of them!"
The Inside Amy Schumer star went on to suggest she does not have "Raquel rage" like many other VPR fans, explaining:
"She's like 27. I feel like Sandoval's kind of an abuser; he's telling her what to say. So, it's not like, you know, she's completely innocent, but I don't have Raquel rage."
That said, she's very much #TeamAriana and hopes the Buying My Daughter Back star "does great" in the aftermath. She even dropped some wisdom for the reality TV ladies, saying:
"I hope that they fall out of these patterns of getting with these men who just love bomb them. You know, these young women, you think that's love, somebody just puts that much on you, and that's not really love."
When asked if she thinks Raquel and Tom stand a real shot at romance now that their relationship is out in the open, she wasted no time declaring:
"Of course not. He will replace her and put someone else on a pedestal and then he'll demean them. She'll be a casualty, but she's [28], so she'll learn. I hope she finds real love and real self-love."
Oof. She might not be wrong…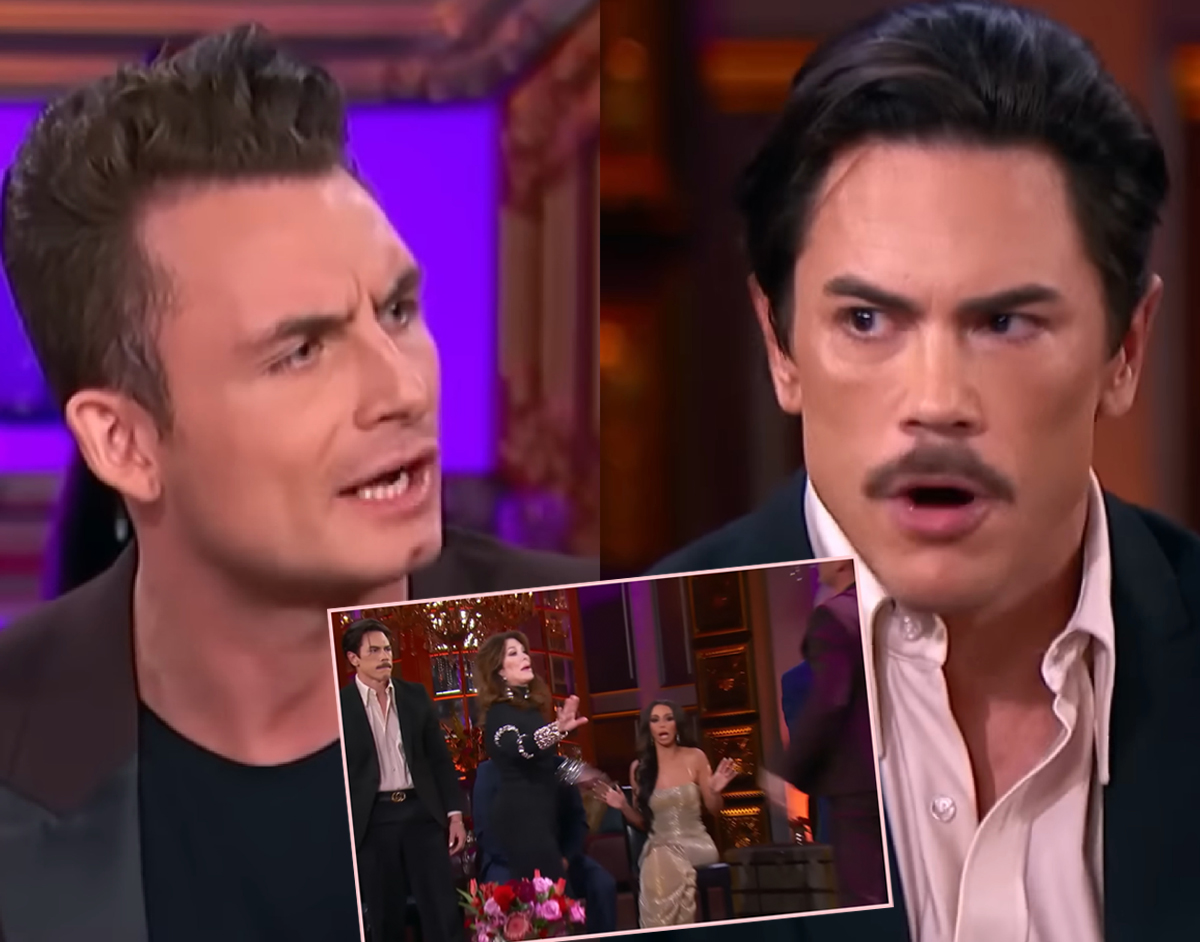 As for who she likes better post-scandal? James Kennedy! The stand-up comedian joked:
"How did something happen where I like James Kennedy now? This show, you never know what's going to happen!"
The I Feel Pretty lead then said she was "dying laughing" at James' new insults, such as "poo-poo head" and "worm with a mustache" which were tossed the TomTom co-owner's way during the heated AF reunion. She even "looked into buying a t-shirt" of the iconic line. LOLz!!! She's a true fan! Later she played Marry, Shag, Kill and surprisingly said she'd marry James, "hate f**k" Sandoval, and kill Tom Schwartz. Inneresting!
Related: Why Andy Cohen Thought Raquel Leviss Was 'Medicated' During VPR Reunion
Back on the Sandoval train, Amy quipped:
"He not only ruined white nail polish, he ruined the mustache for a lot of people. I think Tom Selleck […] he's probably furious right now."
And speaking of t-shirts… The Trainwreck alum also has some THOUGHTS on the cover band star shading Ariana for keeping her t-shirt on while having sex, exclaiming:
"When he said, yeah, uh, her t-shirt was on, like, first of all, I usually have sex with a t-shirt on, okay? You can't just be out there in the wind. That was so revolting. I just feel like every woman's vagina just snapped shut when he said that."
HAH!
Amy's such a die-hard viewer of this show that she had to share a new conspiracy theory she's in support of. After reading what other sleuths had to say online, Amy agreed she thinks the affair may have started all the way back in 2019! Damn!
Hear ALL her Pump Rules hot takes plus why she dropped out of the Barbie movie (below)!!
Do U agree? SOUND OFF (below)!
[Image via WWHL/Peacock/YouTube]
Related Posts
CLICK HERE TO COMMENT
Jun 09, 2023 10:31am PDT