The saga surrounding James Kennedy's dog continues. And this time, the pup's got a totally new moniker!
Of course, we've been covering the tale of how the dog — who was previously known as Graham Cracker — was reunited with James after a years-long run with his ex-fiancée Raquel Leviss.
As Perezcious readers will recall, last week, the DJ posted a heartwarming series of pics in which he confirmed he'd been reunited with Graham and was all set to give the pooch its well-deserved forever home. And now, Kennedy is going to go one step further than that — by giving the pup a totally new name, too!
Related: Tom Sandoval Talks Ariana Madix, Raquel Leviss, And… Adele?!
On Sunday, the Bravo star took to his Instagram Stories to reveal a new super-cute snap of the pup and a new title for the four-legged cute-pie: Hippie! The veteran Vanderpump Rules star wrote about how the new name is a reference to the past dog of his late godfather, the legendary George Michael:
"We've decided to rename this little beauty 'Hippie.' This is a tribute to my late godfather, George Michael's, dog's name."
And then, Kennedy continued:
"[He was] the only dog I saw around the house growing up. Although George and Hippie are in heaven now together, I know that they are watching over me now, a proud doggy papa!"
Awww!
Ch-ch-check it out for yourself (below):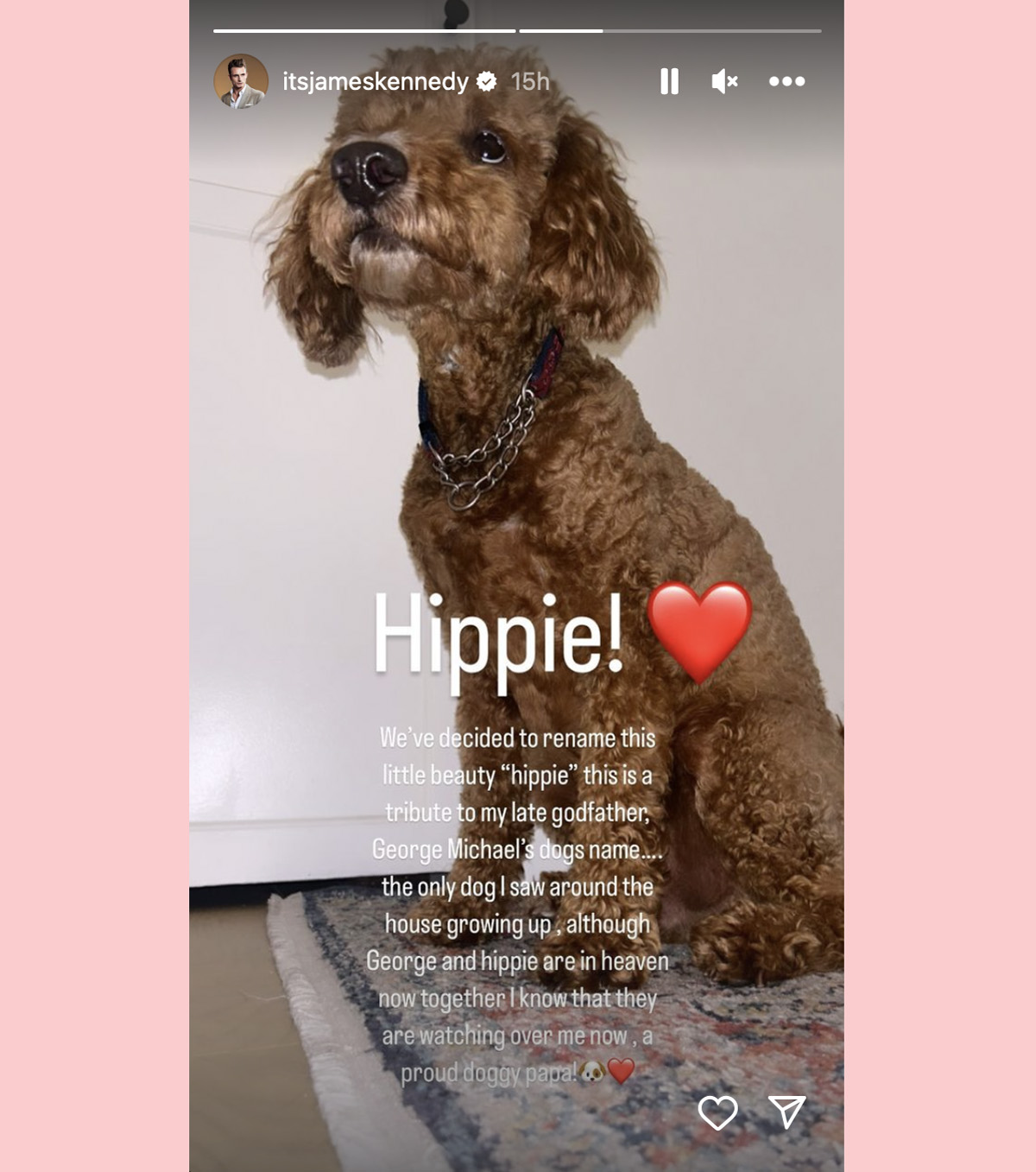 Love that!
Remember, Graham Hippie has already been through quite a bit in recent months. Leviss had kept the dog after she and Kennedy ended their engagement way back in 2021. Then, her parents since took care of it during Raquel's long-term stay in a mental health treatment facility following the reveal of her months-long affair with fellow VPR star Tom Sandoval behind his then-girlfriend Ariana Madix's back.
Related: Raquel Is Now Going By Her Birth Name Again To 'Neutralize' Bullying?!
But while Raquel was staying in that mental health facility, the dog allegedly bit her mother, Laura Leviss, on the finger. Laura later claimed the pooch was responsible for "several" biting incidents, and moved to have the dog trained by specialists before eventually being shuttled off to a stay at a shelter.
Laura reached out to Lisa Vanderpump about that re-homing earlier this month, and the well-known dog lover personally ensured that her org Vanderpump Dogs would rehab and re-train Graham Hippie to correct all the biting behavior. Then, after a few weeks of uncertainty amid the multiple moves, Kennedy was thankfully reunited with the adorable pooch.
And now, with this revelation of a new name for the pup, it would seem as though everybody gets a fresh start here!
Can't hate that part of it, at least. Right?!
Thoughts, Perezcious readers??
[Image via WWHL/YouTube/James Kennedy/Instagram/WENN]
Related Posts
CLICK HERE TO COMMENT
Jul 24, 2023 10:36am PDT