It's official: Kim Zolciak is strapped for cash!
In a shocking move, the Real Housewives of Atlanta star is selling her signature blonde wigs! Yes, her prized possessions are really up for sale! Damn. She is seriously desperate for some extra money!!!
Lucky fans can snag a part of Don't Be Tardy history by buying one of the wigs — but it'll cost them a pretty penny! The wigs are going for up to $2,750 a piece on Kim's online storefront, The Biermann's Closet. Out of seven wigs to choose from (in various styles, lengths, and colors), the least expensive is going for $1,500. At this point, she's already managed to sell one hairdo! Ch-ch-check out the offerings HERE!
Related: Taylor Swift & Matty Healy 'Moving Fast' After Joe Alwyn Split!
As Perezcious readers know, the Bravolebirty and her estranged ex-NFL hubby, Kroy Biermann, both filed for divorce earlier this month, citing April 30 as their date of separation. The breakup came on the heels of a report that they owe the IRS over $1 million and Georgia $15k in unpaid taxes. In a filing, Kroy blamed the financial crisis on Kim's gambling addiction. So, the fact she's willing to give up her wigs says a lot!
While struggling to part ways with her beloved tresses, the 45-year-old took to her Instagram on Thursday with her kids in the background as she sang Love You Anyway by Luke Combs. Specifically, she belted the lines:
"If your kiss, turned me to stone / I'd be a statue standing tall in ancient Rome / And if your touch, shattered me like glass / I'd be in pieces tryin' to make the breakin' last. / If It took one look to turn my days to night / At least I'd have the stars, the sparkle in your eyes. / There's just some things that leave a man no choice / Like a compass needle needin' its true north."
The video cuts out mid-song, but the next line would've been:
"Even if I knew, the day we met, you'd be the reason this heart breaks / Oh, I'd love you anyway."
Oof. Seems like a reference to Kroy if we ever heard one!
Related: Brittany Snow Reveals She Was 'Blindsided' By Divorce
When Luke released the song, he said it was "about loving someone so much that even if you knew from the beginning they were going to break your heart, you'd love them anyway." Sounds like Kim's processing a lot of emotions at once!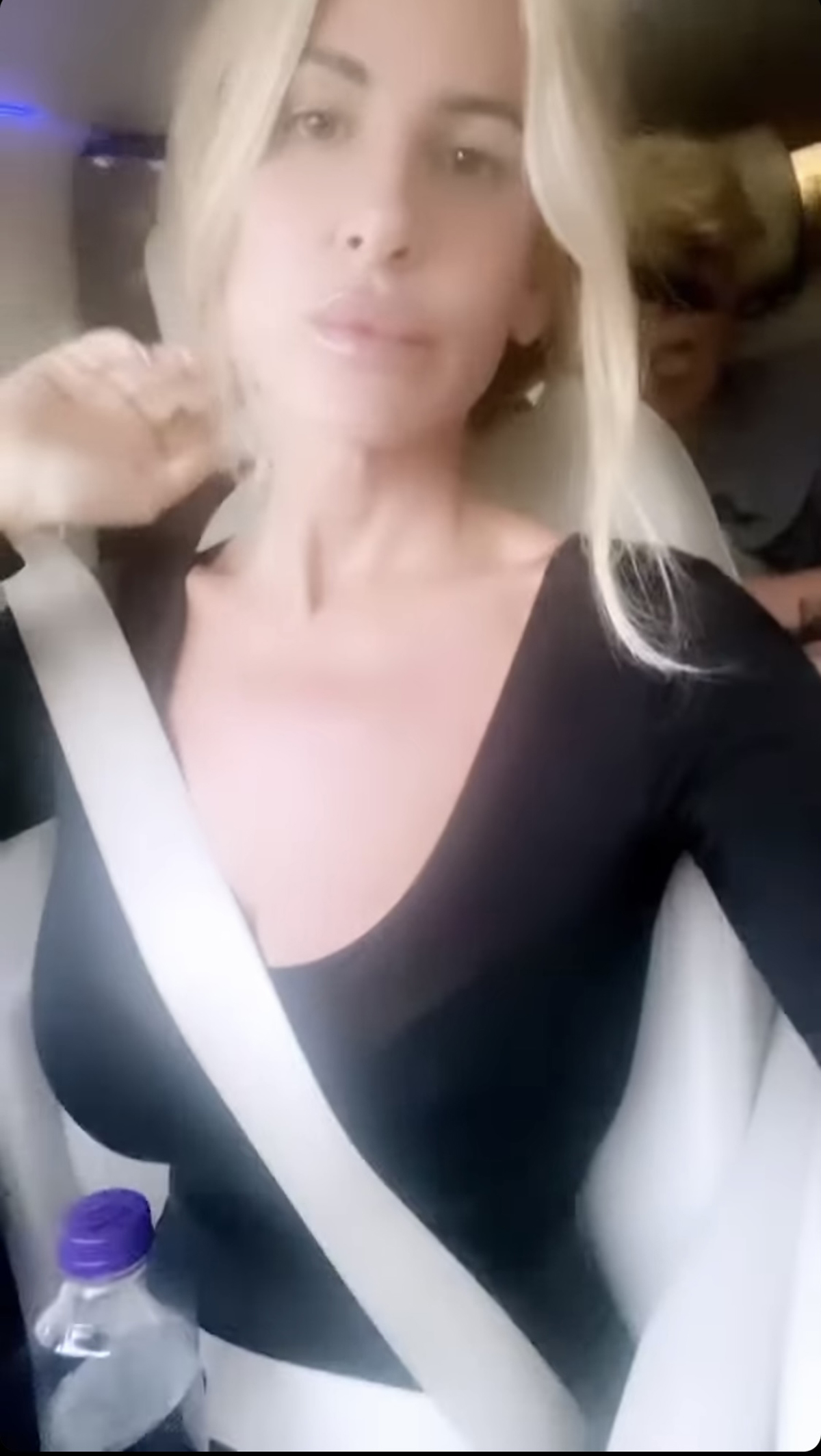 It's not hard to imagine why she might be in her feels right now. Not only is she walking away from her husband of 11 years, but they are now embroiled in a nasty divorce and child custody battle over their four minor children, Kroy, 11, Kash, 10, and 9-year-old twins Kaia and Kane. The former athlete also adopted Kim's eldest daughters, Brielle, 26, and Ariana, 21.
The Kashmere Kollections founder asked for primary physical custody of their children, while the former Atlanta Falcons player demanded sole legal and physical custody. And they're willing to do whatever it takes to win! Kroy has demanded his ex undergo a psych eval due to "troubling behavior" and her alleged gambling addiction while Kim has asked a judge to make her ex undergo a drug test after allegedly catching him "smoking marijuana." They are both claiming the other is a safety risk to their kids — so it's getting contentious AF!!
Wonder what else Kim might try to sell to get out of her financial hole! It's gonna take a lot more than a few wigs! Thoughts? Sound OFF (below)!
Related Posts
CLICK HERE TO COMMENT
May 26, 2023 09:42am PDT