Kylie Jenner is coming under fire for Stormi and Aire Webster's joint birthday party!
As you may know, the 25-year-old makeup mogul and Travis Scott are known to throw an over-the-top birthday celebration for their daughter over the years, known as "Stormiworld." The party theme is often decked out with a giant inflatable tunnel of their kid's head, which pays homage to the 30-year-old rapper's Astroworld album cover. It was used for her first, second, and third birthdays. However, the former couple nixed the decoration when Stormi turned four years old in February 2022 after 10 people died and hundreds were injured during the crowd surge at Travis' Astroworld Festival. They opted instead to have a joint party with her cousin, Chicago West.
Now, it looks like the blow-up decor is back once again – and people are not too happy about it! Kylie took to Instagram Stories on Wednesday to share some pictures from the party, which showed multiple silver inflatable heads of their now 5-year-old daughter. You can ch-ch-check it out (below):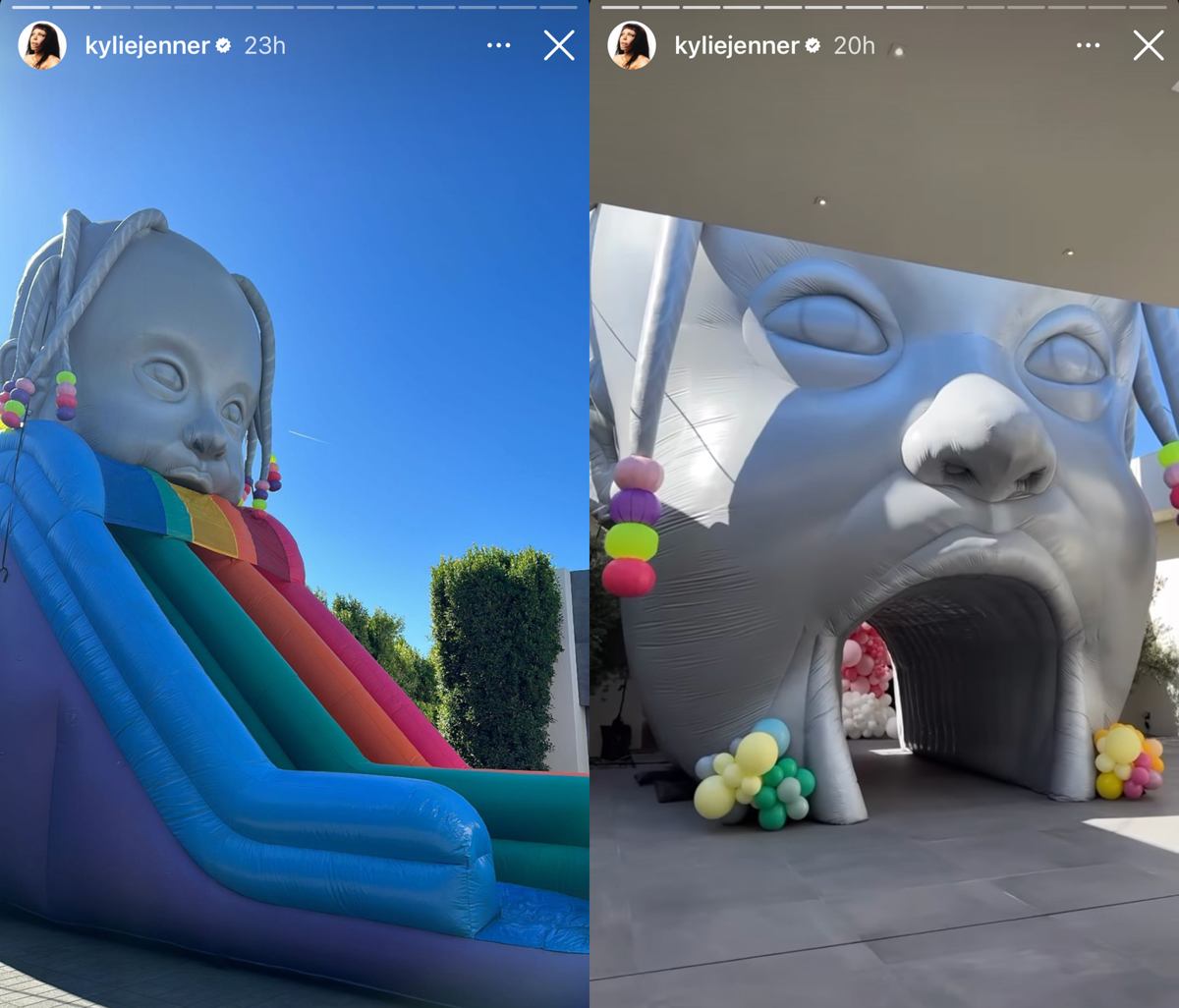 Related: Kylie Reacts To Fan Video Trolling Her Son's Name!
Given that a major tragedy happened at Astroworld, many social media users were not impressed by the party – especially with Kylie reusing the inflatable head again. In fact, people accused her of "mocking" the devastating event with the decor. Read the Twitter reactions (below):
"kylie using astroworld branding for her children's birthday party is a bit scary to me"

"'Astroworld world' tunnel? Wtf? Where's the respect Kylie?"

"@KylieJenner when are you gonna learn??? The theme for Stormis party is extremely poor taste considering Astroworld. Seriously, wtf. U don't give a f**k that 10 ppl died."
Over on Reddit, others continued to slam the Keeping Up With the Kardashians alum for her "tasteless" theme. See more comments (below):
"Isn't this tasteless after the Astroworld tragedy … where children died."

"This birthday party theme is tone deaf and ugly. Maybe she could do something her daughter actually wants for her birthday? I'm sure it's not a replica of the festival where daddy insights violence and ten people die including a 9 year old"

"They are mocking the victims at this point."

"Why would she do this? Surely Kris would have told her it's not ok?"

"Look I get Travis is the father of these kids but it is 2023, having an Astroworld themed party for your child's fifth birthday is out of touch af especially when 10 people died at his concert one being a literal child. It was one thing the first couple of times Kylie went with this stormi world theme but I think after that concert tragedy she should have picked something else for the theme."
Kylie hasn't responded to the backlash yet, so we'll have to wait and see if she has something to say about the matter! But what are your thoughts on the situation, Perezcious readers? Do you agree that the theme was in poor taste? Or is it actually a good thing to see a billionaire actually REUSING something instead of buying new? Sound OFF in the comments below!
[Image via Kylie Jenner/Instagram]
Related Posts
CLICK HERE TO COMMENT
Feb 02, 2023 12:03pm PDT