Life isn't so sweet right now for Prince Harry and Meghan Markle.
That's what insiders are claiming in a jaw-dropping new report revealed on Tuesday, at least. Word is out that the Duke and Duchess of Sussex are supposedly "apart" and some claim they are even possibly living separately (!!!) as fallout from their difficult year continues to rain down.
Related: Meghan And Harry Finally Vacated Frogmore Cottage After King Charles' Eviction Notice!
According to a brand-new Radar Online report published first-thing on Tuesday morning, Prince William's little bro and the Suits alum are allegedly "taking time apart" right now with the express hope of rebuilding their marriage bond.
A source spoke to that outlet about how the combination of failed biz deals, major public backlash, and the never-ending fight with Harry's royal relatives have all caused mounting issues within the couple's relationship. The insider revealed:
"They're trying to figure out what hit them."
Yeah, no kidding. That source also added that the 38-year-old prince needs to "find himself" at this point, before shockingly adding:
"Harry doesn't fit in Meghan's tacky Tinseltown world."
Oof…
Of course, the last few months have been tough for the couple. Harry's memoir Spare was released, as well as the couple's much-anticipated Netflix series. But their Spotify deal also fell through in a very embarrassing fashion, with the duo even being called "grifters" by one exec at the company.
Related: Meghan And Harry's Biographer Friend Releasing New Book EXPOSING Royals?!
Now, in the near future, Harry will have some time away from the situation. He is currently planning a trip to Africa, where he will shoot a documentary. His 41-year-old wife will not be around for that, so the solo trip may offer Harry just the space he needs to get his head right.
The Radar Online insider claimed Africa is Harry's "second home," and the continent is where he feels "most like himself," so perhaps that can be a time of rejuvenation for him. We hope… Still, the insider was also quick to note that the "hits keep coming" for the embattled couple. Calling the Spotify podcast failure a "game-changer," the source explained how much pressure the pair feels right now:
"The Sussexes are under tremendous financial pressure to fund their lavish California lifestyle, including their $14 million mansion and huge security costs. That stress coupled with their emotional issues has likely made life a living hell. Taking time apart on different continents will hopefully help them find whatever they need to move on."
Yikes.
Sounds like a lot of uncertainty right now, that's for sure. Tough times in the house of Sussex…
Related: Meghan NOT Working With Dior — Or ANY Fashion House — Because Of Her 'Toxicity'?!
And that's not even the whole deal!! All that comes on top of a new Deux Moi report via Instagram on Monday afternoon which claimed the couple is already living separately?!
Ch-ch-check it out for yourself (below):
"Not sure if the house was sold but I had heard a couple weeks ago he was staying someplace else there"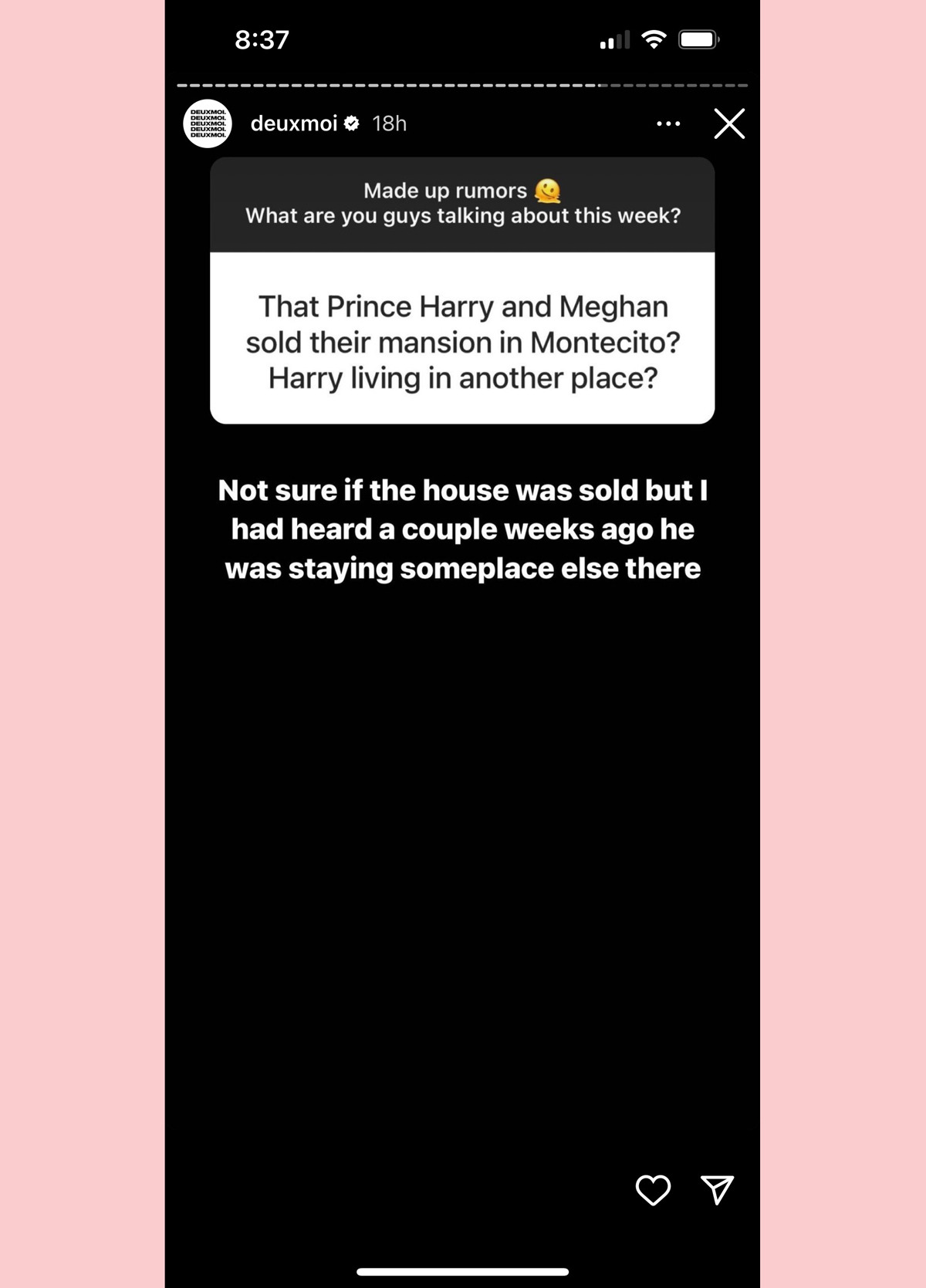 DAMN!
As for Meghan's plans, it sounds like she's intent on getting back into the entertainment industry while Harry is in Africa — and long after that trip, too.
The Radar Online report claimed the El Lay-born Markle just hired "a new super-agent" whose entire goal is to keep her "booked and busy." That outlet also quoted royal expert Daniela Elser about it, who said:
"[Meghan] is looking to establish her own brand and make millions. For the first time, they are truly on divergent professional paths."
That's quite an ominous final sentence…
Reactions, Perezcious readers??
[Image via MEGA/WENN]
Related Posts
CLICK HERE TO COMMENT
Jul 18, 2023 10:10am PDT