Priyanka Chopra Addresses Her 'Feud' With Meghan Markle & Sexting Nick Jonas!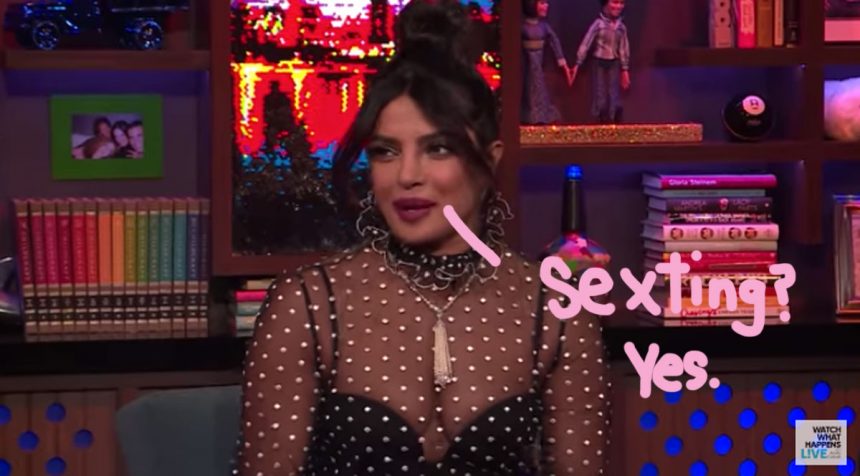 His interviews are art!
Andy Cohen has a way with getting his Watch What Happens Live guests to spill intimate details about their lives, and Thursday's episode with Priyanka Chopra-Jonas was no different!
Related: The Jonas Brothers Take A Lie Detector Test And S**T Got Real!
The actress, who's recently married to Nick Jonas, opened up about their wedding, some sh***y gifts they got, sexting her man, and more!
Ch-ch-check out all the highlights and watch clips (below)!
Wedding Deets – Presents & Drunk Guests
Andy GRILLED Priyanka about her wedding, including the gifts brother-in-laws Joe Jonas and Kevin Jonas got them! She adorably confessed:
"The good news is Kevin got us hundreds of bottles of wine and Joe gave us an amazing fridge that looks like a car to put it all in so it kind of worked out."
LOLz, we love when the JoBros work together!
Chopra-Jonas also revealed how she felt when Nick saw her in the custom Ralph Lauren wedding gown for the first time:
"I had a freakout moment right before I walked down the aisle. I was 40 minutes late, I had a 75 foot train, 'do I even known what I'm doing?' It was a full freakout moment. But then the door opened and I saw his face."
Aww!
Andy even brought up how he tried to get Nick and Priyanka to be a couple back in 2017 following their joint Met Gala appearance on behalf of Burberry. While they weren't an item yet, Andy did play an old clip where he pressed her on if they were dating! She shared:
"We didn't have time yet, maybe the next time we meet?"
Too good!
Andy also admitted to attempting a setup between Sebastian Stan and Priyanka, but she was already interested in Jonas at that point! She told Andy he was responsible for setting the romance in motion:
"You willed it. You were the person that got me really uncomfortable about it. Usually I get away with it."
Sexting & Manscaping Nick
During a round of "I Do's and I Don'ts" with the host, Cohen's first question was: "Do you believe in sexting or FaceTime sex during long stints apart?" Priyanka quickly replied "for sure!"
Cohen then asked the newlywed if she ever helped Jonas manscape his bits, to which she shared, "No," before adding, "Once, I did once. Just his fade, back there."
Good to know, we guess??
Her Thoughts On Quantico
She clearly wanted to show to continue and might be a little salty about how it ended! Watch her reaction (above).
Wild Wild Country
Priyanka shared she's developing a Wild Wild Country movie and will hopefully be playing Sheela!
Addressing Meghan Markle Drama
OF course a caller addressed the Duchess of Sussex drama surrounding Pri, with Andy explaining:
"They said that you didn't go to her baby shower because you were pissed at her."
Chopra laughed and replied, "Oh my god. No, it's not true."
So, we guess case closed!
Did you enjoy watching Priyanka on WWHL? SOUND OFF with your thoughts on the comments (below)!
[Image via Bravo]
Mar 22, 2019 7:48am PDT