Ryan Gosling is opening up about the moment he knew he'd never want to "go back" in his relationship with Eva Mendes.
In a rare new interview about his personal life, the Barbie star is getting candid about his romantic partnership AND daddy duties! While speaking with GQ Magazine Wednesday, the 42-year-old actor shared that after meeting his future baby momma on the set of their 2012 film, The Place Beyond the Pines, things just sort of started falling into place — and it all felt "better" than he'd ever hoped for!
Related: Ryan & Eva Are Still Going Strong After 10 Years Together!
He explained to the outlet that he'd actually never even pictured himself as a father, and then, well, everything changed:
"Eva said she was pregnant."
He was surprised, but he immediately knew it was now what he wanted. He told the mag he wouldn't change a thing:
"I would never want to go back, you know? I'm glad I didn't have any control over my destiny in that way, because it was so much better than I had ever dreamed for myself."
Awww! But then later he amended his answer, saying he actually thinks Eva made him want to have kids before she got pregnant:
"When you asked me about Eva and kids, I think I said, I didn't think about kids until she told me she was pregnant. That's not really true. I didn't want to overshare, but now I also don't want to misrepresent. I mean, it's true that I wasn't thinking about kids before I met her, but after I met Eva, I realized that I just didn't want to have kids without her. And there were moments on The Place Beyond the Pines where we were pretending to be a family, and I didn't really want it to be pretend anymore. I realized that this would be a life I would be really lucky to have."
Awww! That's even better!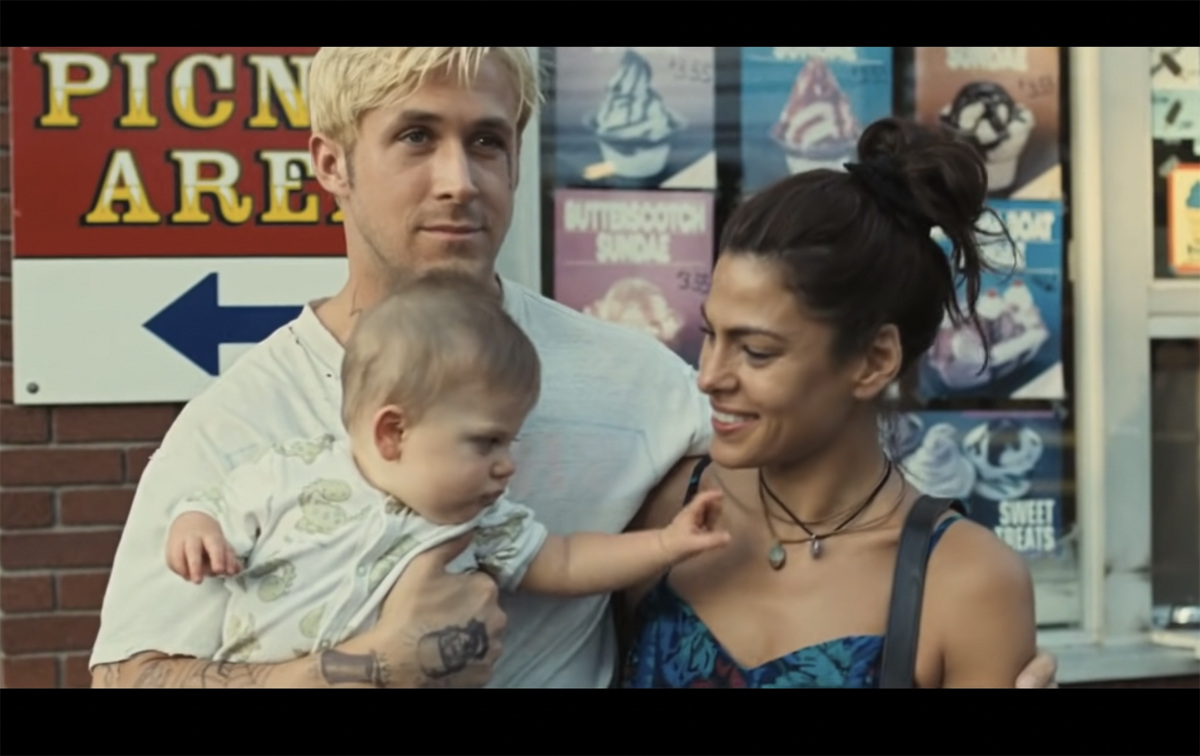 The movie stars welcomed daughters Esmeralda in 2014 and Amada in 2016. On parenting, Ryan says Eva is the boss:
"I just lean on Eva. She knows what's important, always. She just somehow knows. So if ever I'm in my head about it, I just ask her."
The couple have maintained a very private life since having kids. In fact, one of the biggest ways we know Ryan is an amazing dad is because of how much we haven't seen!
See, you may have noticed a little gap in Ryan's filmography from 2018 to 2022? The Blade Runner 2049 star shared with the mag that was no accident — it was so he could "spend as much time with [his family]" as he could. Now that he's back? He's enjoying being a movie star, sure, but it's not nearly as important to him as being a dad:
"I treat it more like work now, and not like it's, you know, therapy. It's a job, and I think in a way that allows me to be better at it because there's less interference."
We love that! Looks into the life of Ryan and Eva are so few and far between, so it's really sweet to hear him gush like this.
Eva has also taken a break from acting to focus on her little ones, but last year, she shared that she's ready to start inching her way back onto the silver screen — but has two big rules. She explained on The View last May:
"I have such a short list of what I will do. Like before kids, I kind of was up for anything — I mean, if it was a fun project. But now I won't do violence, I don't want to do sexuality."
She added that "stuff like Disney does" would be "perfect."
Related: Ryan Is A Disney Adult??
This is definitely a far cry from the kind of films Ryan often does, like the bloody Only God Forgives or the  2022 Netflix action blockbuster The Gray Man, but that's not to say the two would never appear in a film together again. Eva shared last month in an Instagram exchange with fans that she's "dying to do another movie" with her man… and we're all totally here for it! You know, we wouldn't hate it if she had a small role in Barbie… She could TOTALLY be a Barbie!
Whatever the couple decides to do, we'll be there to support!
What do you think of Ryan's latest comments on his relationship, Perezcious readers? Let us know in the comments down below!
Related Posts
CLICK HERE TO COMMENT
May 31, 2023 10:28am PDT