Sophie Turner just made a big mistake — and she's hoping the internet will help her fix it!
On Monday morning, the Game of Thrones alum posted the very first glimpse at her and Joe Jonas' 2-year-old daughter Willa's face on Instagram. In her IG Story, the momma bear shared a snapshot of the little girl wagging her tongue at the camera with the dog filter on top. While the actress laughed in the background, the toddler shouted, "Good morning!" Very cute!
Considering the couple has been notoriously private about discussing or showing off their children in public — including a second baby girl whose name has not been revealed — this was definitely a surprising post to wake up to! And it turns out that's because we were NEVER meant to see it!
Related: Priyanka & Nick Came 'So Close To Losing' Daughter 'Many Times'
Very quickly after the video went live, the Do Revenge star deleted the clip and then explained how she royally f**ked up! She wrote:
"Earlier today I made an honest mistake accidentally posting a video of our daughter on Instagram Stories. We have always advocated for our kids' rights to privacy so sharing this publicly is against anything I stand for. Our children deserve the right to grow up out of the public eye, to learn and grow in private. If I ever were to post anything of our kids, know that it is unquestionably a mistake."
She then demanded anyone who reposted a copy of the video elsewhere on the internet delete it ASAP, adding:
"I would greatly appreciate if anyone who has reposted on any other platform, please delete the video."
Related: JoJo Siwa Reveals Her Puppy Tooie Was Tragically Killed In An 'Accident'
Ch-ch-check out her plea (below):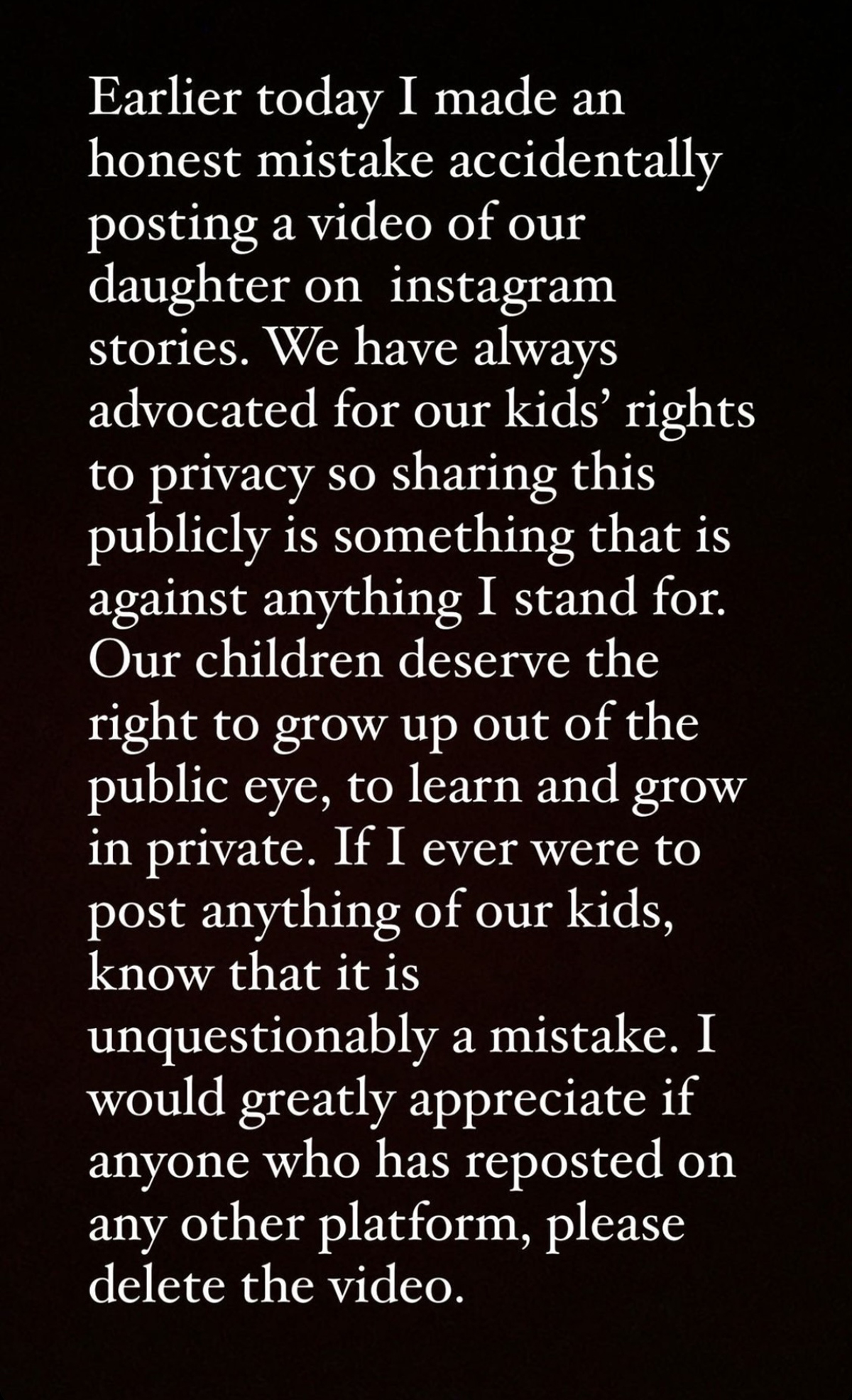 Oof…
Obviously, we won't be sharing the video of the toddler, and we hope fans will listen to Sophie and Joe's wishes and remove the video from their social channels before the clip takes on a life of its own. No matter how cute the kiddo is, it's up to her parents whether or not she has a social media presence — and they clearly don't want her image to be photographed and shared publicly until she has a say. We're just sorry for the 27-year-old, who must be so upset over this mistake, especially knowing what goes on the internet has a tendency to stay there forever…
Reactions, Perezcious readers? Let us know (below).
[Image via MEGA/WENN & Vanity Fair/YouTube]
Related Posts
CLICK HERE TO COMMENT
May 01, 2023 06:58am PDT