Give credit where credit is due on this one: at least Tom Schwartz can make fun of himself a little bit!
The Vanderpump Rules star is still less than three weeks off his rambling Watch What Happens Live interview and subsequent dress-down from host Andy Cohen. But while Scandoval is still burning brightly, and Schwartz's stammering defense of Tom Sandoval still doesn't sit well with Bravo fans, at least he can kid around about it…
Related: Katie Maloney BLASTS Schwartz's Support For Sandoval Amid Cheating Scandal!
On Saturday, Tom took to Instagram to show off an adorable new pic set of him and his dogs. Showing off the two pups he shares with ex-wife Katie Maloney, the 40-year-old reality TV veteran and restaurateur wrote:
"Post a pure pic with the pups please? Absolute honor to be a part of your book supporting @wagsandwalks. Featuring my two favorite creatures on planet earth."
And as you can see (below), the pics themselves are absolutely adorable:
Awww!
But that's not the story here! At least not as far as Schwartz, Sandoval, Raquel Leviss, and that awful WWHL appearance are concerned! In the comments of the dog photoshoot, one VPR fan referenced the TomTom co-owner's disastrous late night spot that went down at the start of this month with this quip:
"I see we suddenly hired a PR team"
But Schwartz was there immediately with a reply!! He quipped right back:
"you can tell from my unhinged interviews I don't have a PR team"
Ha!!
Ch-ch-check it out for yourself (below):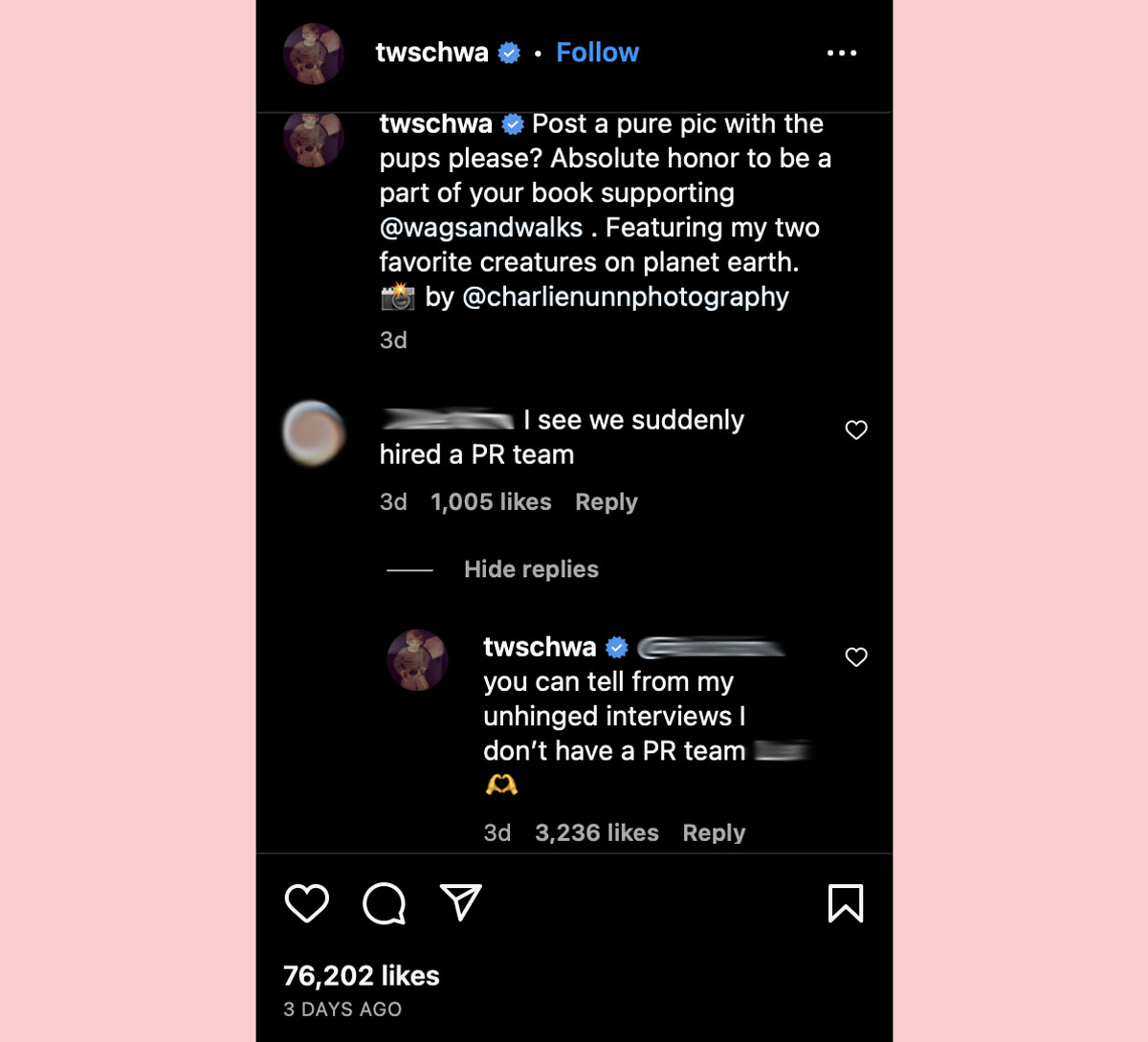 Too funny!
Like we said, at least Schwartz can laugh about himself and his rambling, incoherent interview answers now…
Related: Jax Taylor Claims Sandoval Was The Reason For Schwartz's Divorce From Katie Maloney!
As Perezcious readers will recall, back on the April 5 episode of WWHL, Andy asked Schwartz about when he first learned of Sandoval's affair with Leviss that had been going on for months behind Ariana Madix's back. He stumbled over his words to deliver this response:
"I learned about the affair in August. The one-night stand was in August and then it became, from my point of view, it became an emotional affair. Which is still inappropriate, but I didn't think it was linear. [Then] in January, he came to me and told me that he was in love with Raquel."
Not content to leave it at that super-sus answer, Schwartz also raised eyebrows by begging VPR fans to forgive Sandoval and show the cover band frontman some love despite the months-long cheating scandal:
"First of all, Ariana, love you. I know you don't love me right now, but I still love you. And also, Tom, I know the whole world hates you. But I'm not going to abandon you, old buddy. I'm not going to abandon you. He knows he's a monster for what he did. If you see him, maybe give him a hug. Even if he doesn't deserve it, give him a hug. He's down bad."
That didn't go down well with Andy, and it really didn't go down well with fans watching in real-time.
Andy even told him Schwartz on air that he'd give him some PR advice after the interview. Then, less than a week later, Cohen explained what he told Tom once the cameras stopped recording on that infamous WWHL night:
"What I told him was, 'here's how this works in an interview.' This is difficult when you're being interviewed. I am a talk show host who likes to fill dead air. … So what you do, I told Tom Schwartz is, 'you answer the question, and then you stop talking. And when you stop talking that means I have to say something and then I will either change the subject and ask a new question because you theoretically answered the question.'"
Judging by this new IG comment, it would seem like Schwartz has NOT hired a PR team to go all the way on Andy's advice. But at least the reality TV star is embracing the craziness and self-aware enough to own it?! We guess??
What say U, Perezcious readers?!
Share your thoughts down in the comments (below)!
Related Posts
CLICK HERE TO COMMENT
Apr 24, 2023 17:38pm PDT