Kendall Jenner is clapping back against the most recent Photoshop fail accusations levied against her online. And she's using longtime pal Hailey Baldwin Bieber to run interference for her!
Honestly, this is pretty smart. Say what you will about the original photo in question here, but the Kardashians star opting to tag in an A-list pal to help clap back against critics is a shrewd move!!
Related: Photoshop Fails Or Not, Kenny Has Been Posting Some AMAZING Thirst Traps!
So, first let's rewind a bit back to this past weekend. As Perezcious readers will recall, we reported on the 27-year-old supermodel's most recent Instagram post. In one slide of her multi-pic carousel, Kendall posts a snap of herself crouching down in a VERY skimpy bikini while overlooking a stunning vista. And yet fans couldn't help but notice her freakishly long fingers reaching down for the ground beside her!!
ICYMI the hubbub back on Sunday, ch-ch-check out the fourth slide from this weekend pic set (below):
Thousands of fans quickly jumped into the comments sections with questions like this:
"What up with that hand tho"

"why the long hand?"

"It's like they filtered the photo then edited the photo and the changes no longer had the filter applied and they forgot to reapply it before posting."

"Why? what is wrong with your fingers?"
Of course, this isn't the first time Kenny has been accused of a Photoshop fail. And it won't be the last! Whether she's up to actual trickery before posting IG pics or not, her account gets a TON of attention — both good and bad. It's just how it is!
So it wasn't super surprising to us that she didn't address the backlash after it erupted on Sunday. Why cave to the comments of the masses?? But abruptly on Wednesday afternoon, that all changed. And the claw-focused clapback didn't even come from Kendall's account!!
Related: Billy Bush Made Sexual Jokes About Kendall Years After Donald Trump Controversy!
No, it was all Hailey who took it upon herself to respond on her longtime pal's behalf. Taking to her own IG Stories, Justin Bieber's wife shared a video that seemed to prove Kendall really does have REALLY long fingers.
While taking video of Kendall showing off her long, thin digits, Hailey can be heard laughing as she zooms in the camera on the prodigious hand and says:
"While you're sitting here analyzing, look how bizarre her hand looks normally! This is live! Live footage of the hand."
A close listen confirms Kendall saying "it's crazy" through her own laughs about those freakishly-long fingers, too.
And to really drive the point home, Hailey compared her pal to an alien with this quippy caption:
"been had long ass hands x fingers"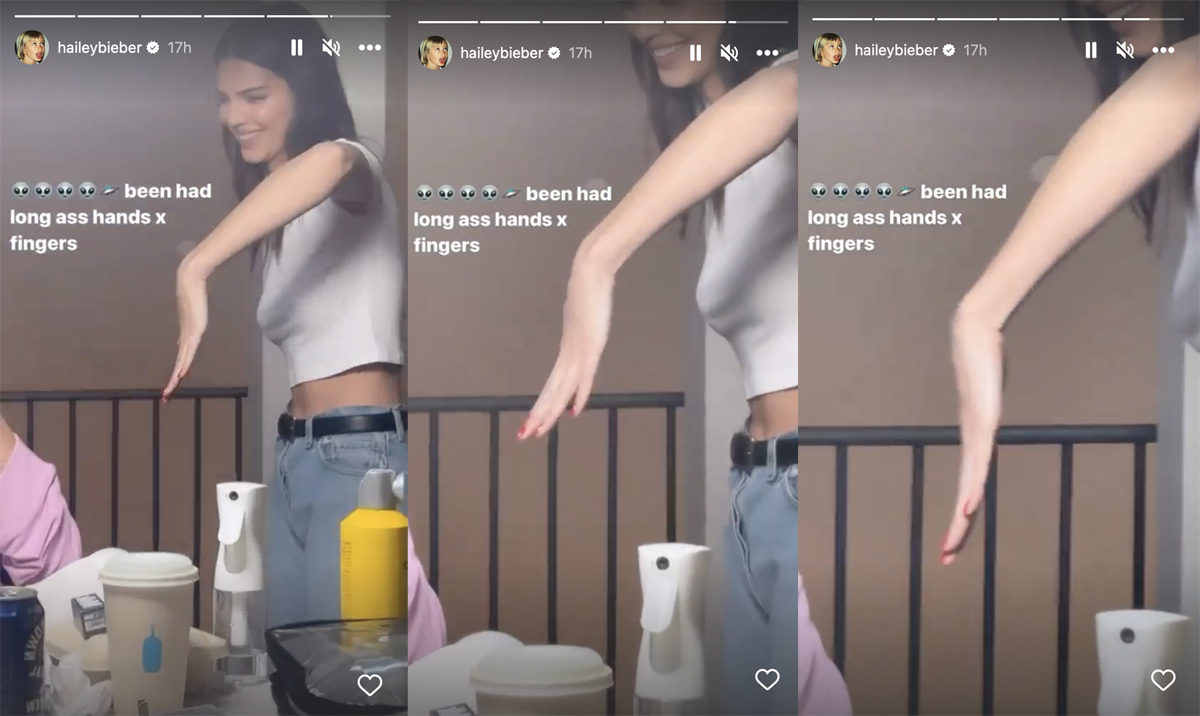 Hmmm…
Over on Reddit's KUWTK discussion board, fans continued to hotly debate Kendall's Instagram antics and Hailey's video follow-up. As you can see (below), followers fell on both sides of the fence with this one:
"Good for Kendall for having a sense of humor about this. Better to have alien fingers than the short little sausage-link digits I'm rocking!"

"like she's tall as hell why would her having long ass fingers be soooo impossible"

"It was absolutely photoshopped, not even just the fingers. Look at the back and the proportion of the head. It's kind of upsetting how normalized it's become."

"I knew this from the show lmaooo how did ppl not know she has bigass hands"

"My hands are like this and I hate it. If I'm holding anything in pics it looks like I have a claw lol"

"All this hate over her hands, mine look the same lmao some of us have long skinny alien fingers okay"

"Tbf, her hand there does look the same as in the video"
Some say Photoshop is still at play. Some say long fingers are just the way it goes for supermodels. We say porque no los dos???
What about U, tho, Perezcious readers?! What do U think about Kenny's fascinating fingers??
Sound OFF with your take on the matter down in the comments (below)!
[Image via Hulu/YouTube/Hailey Baldwin Bieber/Instagram]
Related Posts
CLICK HERE TO COMMENT
Feb 16, 2023 09:13am PDT