There is so much love out there for Khloé Kardashian!
The Good American founder turned 39 years old on Tuesday, and as they always do in moments like these, her extended family came out in full support via endless Instagram posts!
They were all very lovely — we'll take a tour of them in a moment — but the most notable among them came from two of the less-expected members of the extended KarJenner clan: Khloé's former stepfather Caitlyn Jenner, and her beloved baby brother Rob Kardashian!
Related: Khloé Initially Gave Infant Son Tatum HER Last Name At Birth — Here's Why!
First, Caitlyn's content. The 73-year-old Olympic gold medalist was Khloé's stepdad when married to the reality TV star's mother Kris Jenner. But even though that's been over for a while, Caitlyn still clearly has a lot of love for the Kardashians star.
In her IG post celebrating Khloe-money, Caitlyn showed off a snap from the 39-year-old's 2009 wedding to former NBA star Lamar Odom. In the pic, Jenner can be seen walking Khloé down the aisle on her big day.
And the message itself was even more poignant. Caitlyn wrote:
"Happy birthday @khloekardashian Being your stepfather was, and is, one of the best things that I was ever blessed with by your mother. I promised your father that I would do my best to always be there for you kids and I know I haven't been perfect but I will always love you and you are forever in my heart. I hope your day is filled with love, your kids, and happiness."
Obviously, that "I know I haven't been perfect" line is an eye-catcher. Caitlyn has notably clashed with Kris and the rest of the KarJenners in recent years over political issues and many more things.
But this birthday message is a sweet one beyond all that. You can see it all for yourself (below):
Elsewhere, Rob took up for Khloé on the social media app, as well.
Of course, the Arthur George founder doesn't post much, and he certainly doesn't live as public of a life as his sisters. But he has historically been the closest to Khloé throughout his young adulthood and into the present, and so he always turns out to honor her.
In Tuesday's message, he wrote:
"Wishing you nothing but good health and happiness forever my darling buttercup ! I love you so much and so thankful to have u in my life and for all that U do for Dream and I. I don't know what I would do without you"
So sweet!
And let's keep the KarJenner kontent konnection going, shall we?!
Related: Khloé Admits She Still Doesn't 'Have A Complete Bond' With Tatum After Surrogacy Birth
Momager Kris posted twice about her beloved baby girl, first writing:
"Khloé you are the sunshine of my life… You are the most amazing daughter, mommy, sister, auntie, best friend, neighbor, and such a huge part of my heart!!!!! You are so smart, strong, talented, beautiful inside and out, kind, sweet, thoughtful, creative, funny, and witty. You are the best chef, best party planner, best organizer, and you are the auntie and mommy that everyone wants to be with!!! You are the one that celebrates all of us. You are the best and most incredible cheerleader to everyone!! You are the life of every party!!!"
And continuing:
"I thank God every day for the blessing of being chosen to be your mommy. I love you more than you will ever know and I cherish and treasure every single moment we get to spend together."
That came as part of a heartwarming video clip from Khloé's younger (youngest!) days, as you can see here:
Then, Kris popped back up later on Tuesday with more nostalgic snaps from Khloé's childhood:
Awww!
Kim Kardashian turned out for Khloé's big day with her own celebratory post, too:
"Happy Birthday to one of my favorite human beings @khloekardashian Koko, you really are the definition of love, strength, and light! You bring life to any room you walk in! You protect your squad like none other. I'm so beyond lucky you're my sister and I just couldn't imagine adulting and parenting and just life without you! I will be by your side forever and ever. This is the last year of your 30's so can't wait to live it up all year with you!"
And Kourtney Kardashian took to her IG Stories on Tuesday, as well!
The Lemme founder posted a few stories reminiscing about their short-lived early 2010s reality TV spinoff Kourtney & Khloé Take Miami along with other snaps about the sisters' favorite songs and more: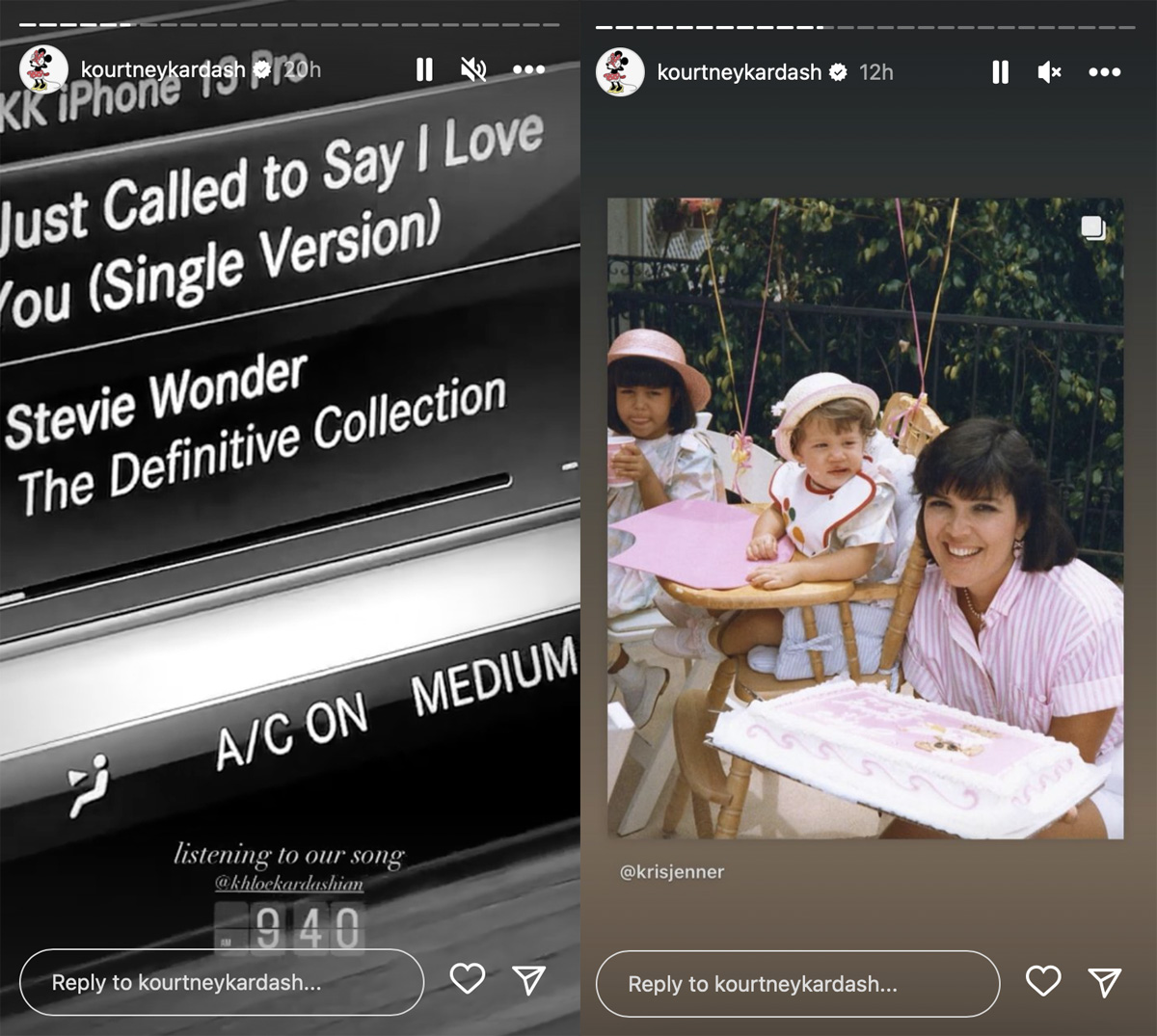 As for the youngest KarJenner sisters, Kylie Jenner posted a series of throwback snaps showing her, Khloé, and Kendall Jenner being goofy in a photo booth together. You can see those pics HERE. For good measure, Kendall later reposted them to her IG Stories, as well.
Oh, and in case you were wondering, there was no public IG post celebrating Khloé's birthday from baby daddy Tristan Thompson. So…
Related: Khloé Insists There Are 'Still Boundaries' Between Her & Tristan Thompson
Anyways, in response to all this, the Revenge Body alum re-shared a million snaps from fam and friends to her IG Stories throughout the day and late into the night on Tuesday. She wrote "I love you" across the top of Caitlyn's in one re-share, and added touching commentary to dozens more, too.
All in all, it seems like a good birthday! HBD, Khloé!!!
Related Posts
CLICK HERE TO COMMENT
Jun 28, 2023 07:50am PDT