Kourtney Kardashian celebrated Mother's Day with some sweet tributes from her husband's children!
Both 19-year-old Landon Barker and 17-year-old Alabama Barker paid tribute to the Poosh founder — but they showed some love to their own biological momma Shanna Moakler as well!
Of course, Kourtney and Shanna haven't had the greatest public relationship in recent months. The former Playboy playmate was married to Travis Barker from 2004 through their divorce being finalized in 2008. And in recent years, the Rhode Island native hasn't hesitated to call out Kourtney on social media. So, it was nice to see Alabama and Landon showing love for each lady on their special day!
Related: Travis Barker Jokes Enemas Are The Key To Kourtney Kardashian Marriage!
First up: Alabama. The teen took to her Instagram Stories to publish two posts on Sunday. In one, she showed off a mirror group selfie with the KUWTK alum, Kourt's daughter Penelope, and Alabama's half-sister Atiana De La Hoya, while the entire group was together in Italy for Kravis' 2022 wedding.
To caption the pic, Alabama offered up this sweet message for the 44-year-old KarJenner family maven:
"Happy Mother's Day Kourt. Thank you for taking care of me like your own, love you @kourtneykardash."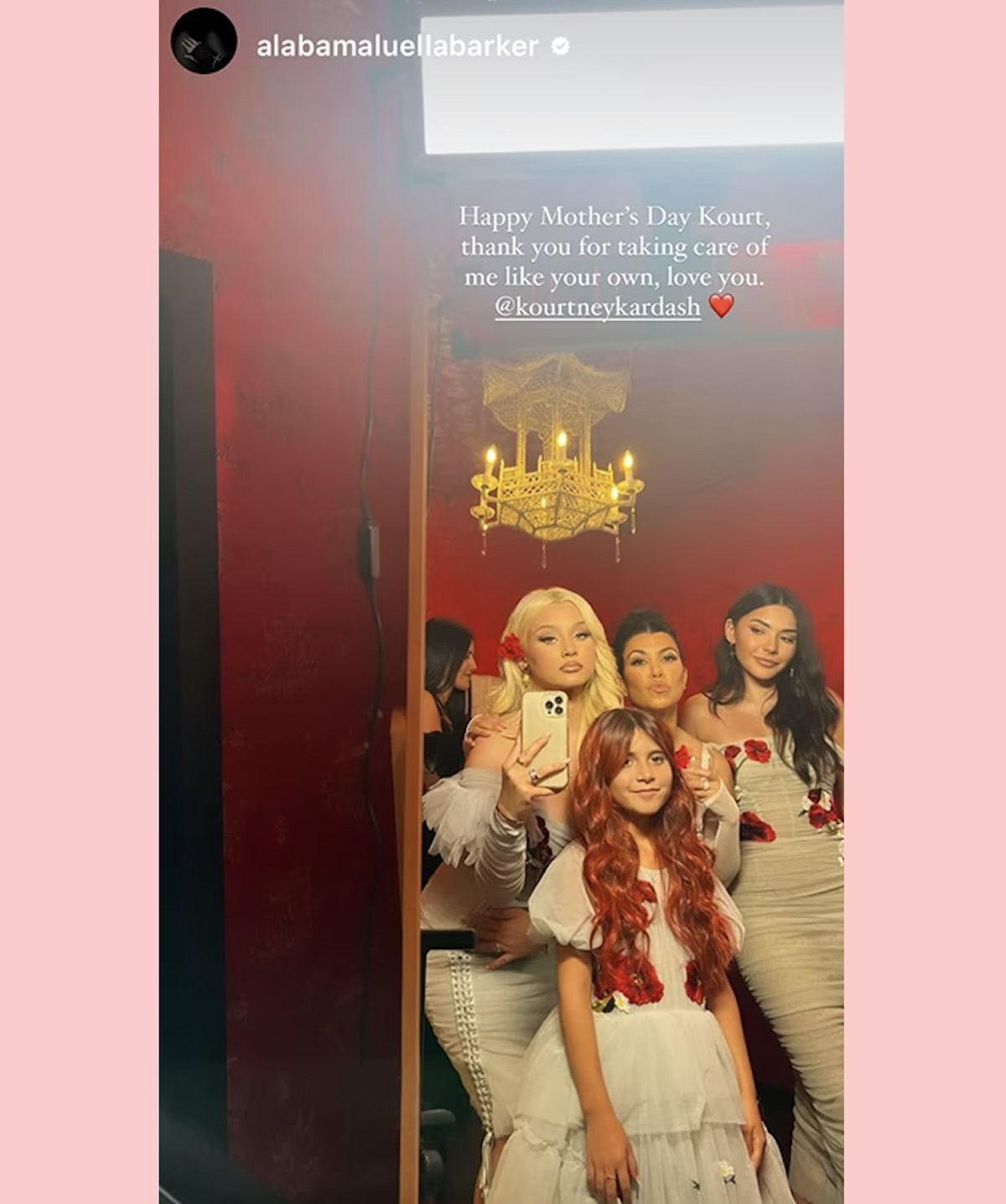 Awww!
Kourtney even responded to the message by re-sharing it on her own IG Stories and replying "I love you so much." Which is so freakin' sweet!
And for her 48-year-old biological momma, Alabama came with another heartwarming message:
"Happy Mother's Day momma, I love you lots I hope you have the best day. I'll see you soon."
Especially glad to see that "soon" message there — as it wasn't so long ago they weren't on visiting terms! The last year their relationship has come a long way!
Related: So THIS Is How Travis Barker And Kourtney Kardashian Keep Things Spicy!
For that post, Alabama shared a throwback pic from infancy, as you can see (below):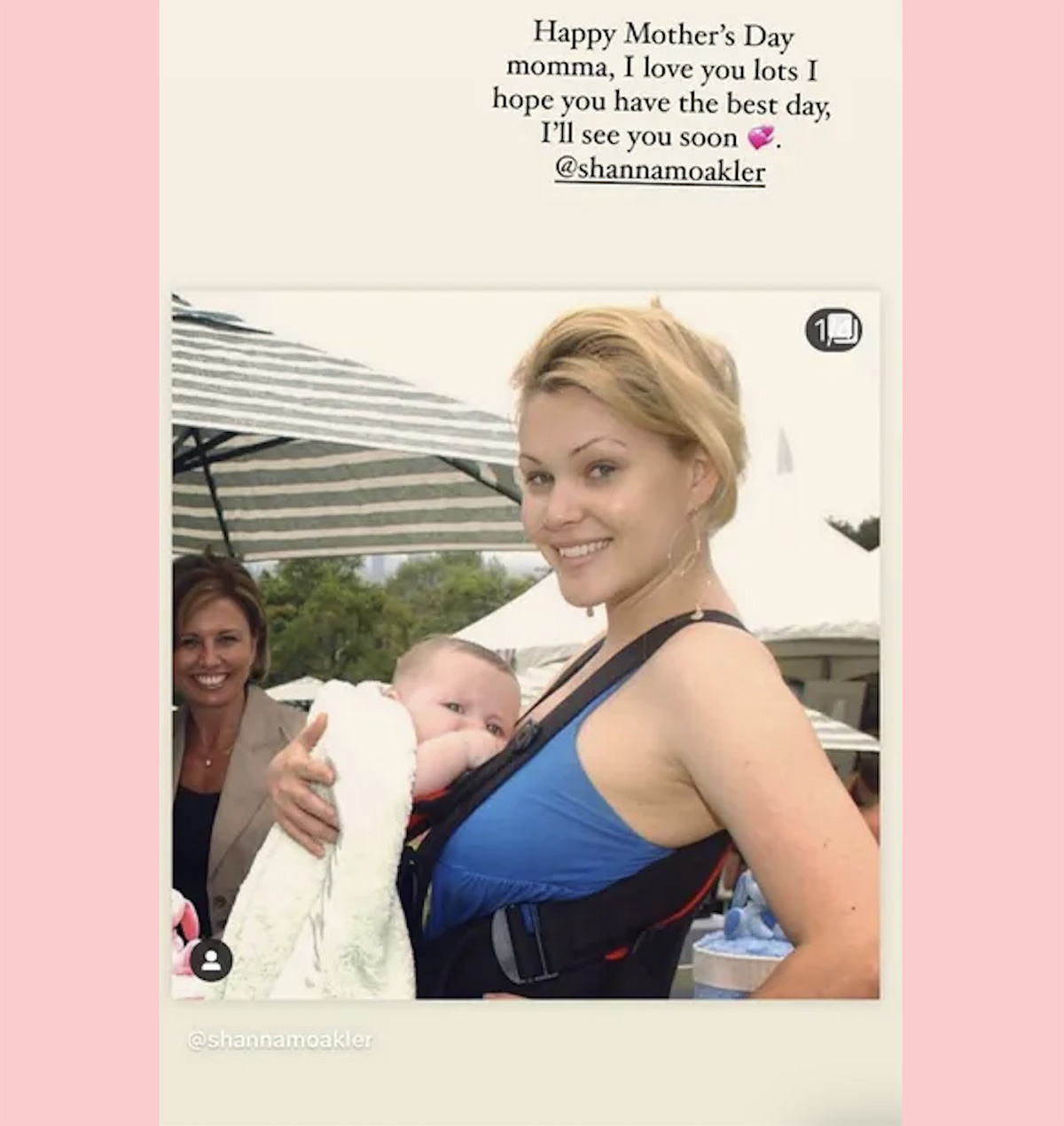 Cute!
Landon popped up on social media with his own touching messages for both mommas, as well. In one since-expired IG Stories snap, the 19-year-old musician shared a pic from Kourt and Travis' Italy wedding. With it, he wrote:
"Happy Mother's Day @kourtneykardash, I love you, hope you have a great day."
Then, the Holiday singer also addressed Shanna with a second sweet pic and warm-and-fuzzy family message:
"Happy Mother's Day mom, I love you so much. So thankful for you, I hope you have a good day!"
Love to see that! No Mother's Day drama for these mommas, that's for sure! Reactions, Perezcious readers?? Share 'em down in the comments (below)!
[Image via FayesVision/WENN/Kourtney Kardashian/Instagram/Landon Barker/Instagram]
Related Posts
CLICK HERE TO COMMENT
May 15, 2023 18:18pm PDT