The Poosh founder doesn't want to promote anything but positivity!
Kourtney Kardashian is back in the news this week, but it's not for anything she did. (Well, besides her heartwarming birthday celebration, that is!) No, this time around, Travis Barker and his wife are being focused upon after the drummer's ex Shanna Moakler took to Instagram — and then later a podcast interview — and shaded them AGAIN!!
Related: Kourtney Admits She 'Never' Planned On Getting Married After Her Dad's Tragic Death
As Perezcious readers will recall, back on Wednesday, Shanna took to the comments section of one of her recent IG posts and slammed Kourtney for posting "more of my kids then [sic] her own" on the social media app. And on Friday morning, Moakler returned once more, commenting critically on Kravis' "f**king weird" marriage to podcast host Rachel Uchitel.
Now, it's time for the 44-year-old reality TV star to respond. But she's too smart to get into a war of words with the former pageant queen. The Kardashians star is instead going to let her subtlety do the talking!!
First, that came in the form of a new Instagram Stories post. On Thursday morning, the Lemme founder referenced Bible verse Matthew 6:1-18 and added some of her own commentary to an inspirational message posted ahead of the day. Remember, this came hours after Shanna's IG comments and podcast appearance — so while Kourtney may not be calling those out by name, the subtext is certainly here:
"So much criticism and hate and negativity lately. let's do better if not for the world, for yourself, for your children, for your friends and family. I promise the negativity and hate will not make you feel happier. I know the positive far outweighs the negative but it's still hard not to be aware of it and it feels like every little action is criticized. Imagine the good we could do with that energy."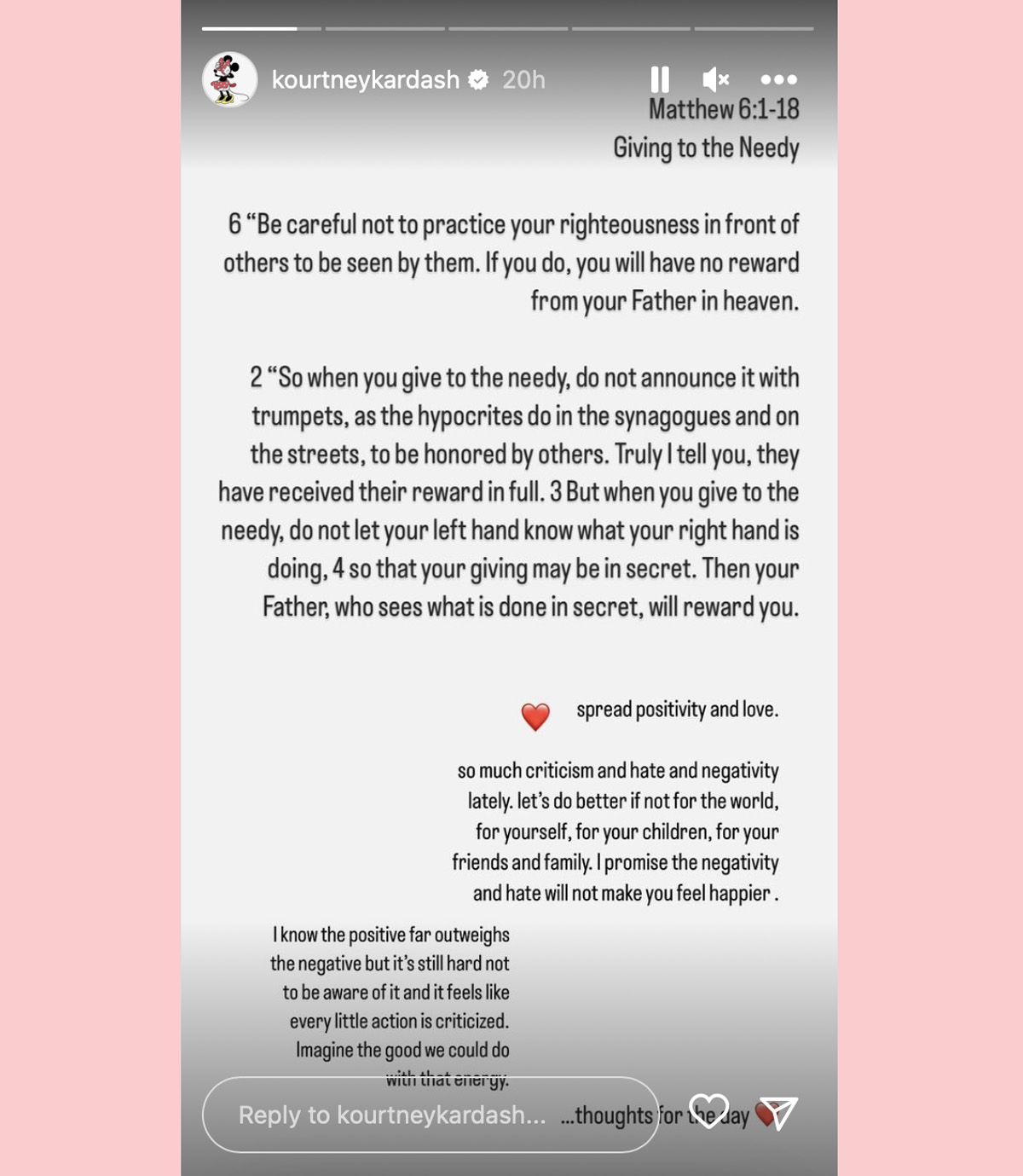 Hmmm…
And that wasn't all! On Thursday, a KarJenner-connected source slammed Shanna for throwing shade at Kourt's step-parenting techniques in that aforementioned IG message and the podcast commentary. Speaking to Us Weekly, the insider first said this about the Poosh head's adoration for Travis and Shanna's son Landon, 19, and daughter Alabama, 17:
"Kourtney fully believes in loving their kids just as much as her own."
Amen!
And the source continued:
"Kourtney thinks it's unfortunate that Shanna finds it hard to support the love she has for her kids. They're Travis' children too, and hers in a way now since she's their stepmom."
As it should be! We love to see a good co-parenting relationship and a good step-parenting relationship. Why go with the drama when you can keep things smooth and healthy?!
Related: Did Kourt Just Side AGAINST Sis Kylie Jenner In The Selena Gomez Feud?!
As the insider very clearly explains, Kourt has a long history with Landon, Alabama, and Shanna's other daughter Atiana De La Hoya, and the reality TV star doesn't want to hold back in loving them like they were her own:
"[Kourtney has] known [Travis and Shanna's children] for years. That's how Travis and her even became close … because their children were friends and they would all hang out all the time. Kourtney adores Landon, Alabama and Atiana, and she has nothing but the utmost positive intentions. She loves them with all her heart and isn't focusing on any negative energy thrown her way, particularly when it comes to what's best for the kids."
That's how it is supposed to be! We hope and wish every kid coming out of broken homes and living in blended families felt that same amount of love from all angles. Right?!
TBH, it's sad that Shanna doesn't see that…
Thoughts, Perezcious readers??
[Image via Shanna Moakler/Instagram/Kourtney Kardashian/Instagram]
Related Posts
CLICK HERE TO COMMENT
Apr 21, 2023 08:46am PDT