Savannah Guthrie DESTROYED Sarah Huckabee Sanders On 'TODAY' Over Mueller Report Findings — Get All Caught Up HERE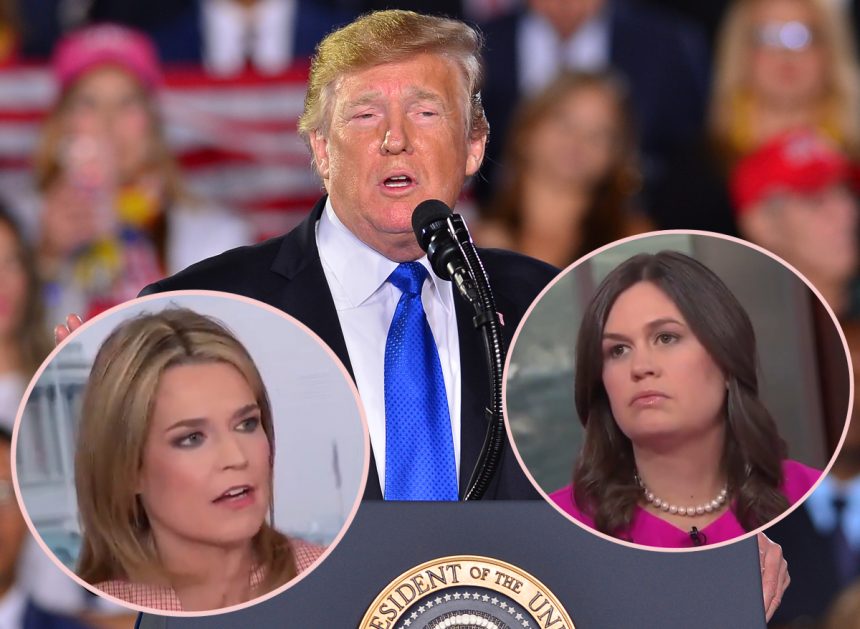 In case you missed it over the weekend — no one would blame you, considering it was a purposely-timed Sunday afternoon news dump by Donald Trump's hand-picked Attorney General — Robert Mueller's report on Russian interference in the 2016 U.S. Presidential election has been completed.
And while Mueller found no evidence to tie Trump directly and explicitly to Russian attempts to interfere at the ballot box, the report also notes (cryptically) that the team was NOT able to exonerate the President from bad dealings with the Russians, either!
Related: Trump's Latest Twitter Meltdown — Goes After Kellyanne Conway's Husband!
The release of the report, and the contents therein, are both considerably more complicated than that two paragraph rundown we just gave you — but the issue is, well, the public doesn't know exactly how much more complicated it is, because the report itself has not actually been released to the American people.
Only a four-page summary of the report exists in the public sphere — written by A.G. William Barr, who was appointed earlier this year by Trump himself.
A Report On The Report
Some Democrats on Monday are understandably scrambling after Mueller's findings failed to show concrete evidence that Trump was in the tank with the Russians all election. And it's honestly a tough blow to some of the left who thought Mueller was to be their saving grace to end a Trump presidency. Oops!
But the issue has shifted away from that, now, to a freedom of information problem: the only public knowledge that anybody has about what's supposedly in Mueller's findings comes slanted in favor of Trump thanks to Barr — the Trump-appointed public official who has read the report and chosen to only release a four-page document with his own opinions and spin, rather than publishing the actual two-hundred-plus page document itself for the American public to read.
Related: Hillary Clinton Blasts Trump With A 'Mean Girls' Meme!
A report on the report?! No thanks… good or bad, exonerated or not, just give us the whole damn thing!!! And yet that partisan letter (below) is all we have, a mere book report that scratches the surfaces and glosses over what are likely to be extremely detailed findings in the report itself:
BREAKING: Congress receives letter from Attorney General William Barr on special counsel Robert Mueller's report into the Kremlin's interference in the 2016 presidential election. https://t.co/gaSeMkPq6f pic.twitter.com/OcsYNVVstN

— ABC News (@ABC) March 24, 2019
Not great!
Time for Trump to be fully transparent — especially if he's been exonerated, right?!
That's 2020 Democrat Presidential candidate Elizabeth Warren's position (below):
Sen. Elizabeth Warren on #MuellerReport: "I think people care that they get to see the report. It's critically important that the report be made public. The American taxpayers paid for it, and they ought to get to see it." pic.twitter.com/wqP5bV59Zx

— The Hill (@thehill) March 25, 2019
And increasingly, it appears that is what most Democrats are now going to fight for in Congress.
The House of Representatives recently voted (unanimously!) to make the findings of the report public, so we should have no problem seeing the full document pretty quickly… right????
Savannah Vs. Sarah
Now, the fight moves towards just that: whether the American people will ever be able to read Mueller's report in its own words, and in its entirety. And that fight took a big step forward this morning on TODAY, when Savannah Guthrie mercilessly took down The Donald's Press Secretary, Sarah Huckabee Sanders, over whether Mueller's work should ever see the public eye.
Sanders — and Trump — seem to be all for it… until they're not. Here's that contentious interview, in full (below):
Watch @PressSec Sarah Sanders' full interview with @savannahguthrie about the Mueller report findings. pic.twitter.com/bHrNWCiYpO

— TODAY (@TODAYshow) March 25, 2019
Whoa!!!
Sanders seems like she's ALWAYS on the defensive (understandable, considering who she has to defend! LOLz!) but even on a day like today where Trump should be winning after Mueller was admittedly unable to find the smoking gun… it still feels like he's losing.
What happened to all that winning we were promised?! Sad!!!
The American People React
As you might expect, the Mueller fall-out — and Guthrie's on-air takedown of Sanders — is getting quite a bit of traction on social media early Monday morning. Here's but a small sampling of how people are reacting to the latest whirlwind of news surrounding The Donald and his crazy political career (below):
You go girl! Just watched you with savannah Guthrie. While she was having a temper tantrum because the report didn't fit her agenda, you stayed calm, cool and collective. She is ridiculous.

— Katie Price (@katiebp24) March 25, 2019
Sarah Huckabee Sanders is a liar. She didn't "take down" Savannah Guthrie. She lied to her face like she's been lying to the American people these past couple of years.

— Nelson Morales (@nelmospeaks) March 25, 2019
So, Savannah Guthrie, Mueller:

Issued 2,800 subpoenas
500 search warrants
Interviewed 500 witnesses
Employed 19 lawyers and 40 full-time FBI Agents

And somehow this isn't good enough for you?

Some have called you a partisan hack, and, well, if the shoe fits…

— Craig Morse (@MSGTMorse) March 25, 2019
WOW I never want to be questioned by Savannah Guthrie!!! Bulldog Guthrie!!! Sarah Sanders never had a chance!!!! ❤️ https://t.co/2eP7sARx21

— Beth Dawson (@BethDaw37698020) March 25, 2019
Folks, Savannah Guthrie has a law degree. Sarah Sanders just lies for a living.

— Merlisa (@merlisa) March 25, 2019
2,800 subpoenas
500 search warrants
500 witnesses interviewed
Employed 19 lawyers & 40 full-time FBI Agents
… and Barr's report summary states conclusively, three times, no evidence of collusion by Trump or campaign found. #NoCollusion Savannah Guthrie, give it up already!!

— Linda Thompson (@LThompsonBooks) March 25, 2019
I don't particularly like Savannah Guthrie, but shd is drilling down on Sarah Sanders and flustering the hell out of her this fine Monday morning and I am HERE for it!

— P.Chanelle (@pchanelle) March 25, 2019
Talk about a country divided…
The Mueller saga is more or less over, but it already feels like we're never going to be closer to being united by any kind of political consensus again, doesn't it?
Related: Trump Said WHAT About Spike Lee's Oscars Speech??
And that's just about Guthrie's interview with Sanders!!! When you get down to reaction on the report itself, too… well, let's just say it seems like NOBODY is happy (below):
The Special Counsel's investigation produced dozens of indictments + evidence POTUS may have engaged in obstruction of justice. This summary is insufficient. The American ppl must be given the chance to read the complete #MuellerReport as soon as possible. #ReleaseTheFullReport

— Tammy Duckworth (@SenDuckworth) March 25, 2019
For over TWO years:

Left wing media discredited the President

Democrats called for his impeachment

Establishment Republicans blocked him

Over $25 million spent by the Special Counsel

Despite all that, President Trump has been winning for the American people.#MuellerReport

— Jessie Jane Duff (@JessieJaneDuff) March 25, 2019
After reading the Attorney General's four-page summary of the Special Counsel's findings, Chairmen Nadler, Schiff and I reiterate our call for the release of the Special Counsel's full and complete report and all underlying documents.

See our statement: https://t.co/V4gU78f8uh

— Elijah E. Cummings (@RepCummings) March 25, 2019
#MuellerReport confirms what Trump always said: no collusion.

Despite wishes of some partisans, this is GOOD news.

The bad news? We were misled & deceived by @repadamschiff @repjerrynadler @repswalwell

Their lies should have repercussions. America deserves better.

— Rep. Dan Crenshaw (@RepDanCrenshaw) March 25, 2019
SenBlumenthal calls Barr letter summarizing the #MuellerReport – "brazenly devious"

— Shannon Bream (@ShannonBream) March 25, 2019
Raises a red flag.

Why is the Justice Department "scrubbing" the #MuellerReport "to remove" grand jury material?

Justice Department could request the federal judge to release the grand jury information to Congress (and not wait for a congressional subpoena to force the issue). https://t.co/e1t9NoruD3

— Ryan Goodman (@rgoodlaw) March 25, 2019
Trump fired Comey to stop the Russia investigation. In plain sight.

He confessed that to Lester Holt. And the Russian ambassador.

No offense, but I could have made that obstruction case.

And I've been to exactly zero days of law school. #MuellerReport

— Bryan Behar (@bryanbehar) March 25, 2019
Trump's Big Win
Ugh… we just threw up in our mouths a little bit even thinking about this… but no matter how you slice it, this is a win for the President. Though he may not yet be fully exonerated, he's already doing a victory dance at the White House — and on Twitter, too, where he seemed to be elated over the last 24 hours while sending out a flurry of tweets about the report (below):
"No matter your ideologies or your loyalties, this is a good day for America. No American conspired to cooperate with Russia in its efforts to interfere with the 2016 election, according to Robert Mueller, and that is good." @BretBaier @FoxNews

— Donald J. Trump (@realDonaldTrump) March 25, 2019
"The Special Counsel did not find that the Trump Campaign, or anyone associated with it, conspired or coordinated with the Russian Government in these efforts, despite multiple offers from Russian-affiliated individuals to assist the Trump Campaign."

— Donald J. Trump (@realDonaldTrump) March 25, 2019
"Breaking News: Mueller Report Finds No Trump-Russia Conspiracy." @MSNBC

— Donald J. Trump (@realDonaldTrump) March 25, 2019
MAKE AMERICA GREAT AGAIN!

— Donald J. Trump (@realDonaldTrump) March 24, 2019
No Collusion, No Obstruction, Complete and Total EXONERATION. KEEP AMERICA GREAT!

— Donald J. Trump (@realDonaldTrump) March 24, 2019
Sigh…
More From Mueller
If for some reason you haven't been paying any attention to the Mueller conclusions and where we go from here (bless you, kind soul), TODAY has been doing a good job parsing the fall-out with Guthrie and political reporter Hallie Jackson, like in this clip discussing what happens next (below):
"The Mueller investigation is over, but the political fight is not. That now shifts over to Capitol Hill, where Democrats want to know more about Robert Mueller's findings – and they may use their subpoena power to get it," @halliejackson reports pic.twitter.com/PAAA8LkNUO

— TODAY (@TODAYshow) March 25, 2019
And in this one, with political analyst Nicolle Wallace, on the fine line the report seems to walk between not recommending Trump for charges in the Russia probe, but also not being able to fully exonerate him, either (below):
"If the public was expecting some clarity, they did not get it from Robert Mueller." –@NicolleDWallace pic.twitter.com/uhyQbi4zub

— TODAY (@TODAYshow) March 25, 2019
It's complicated! It all was a mess before Mueller's findings came out, it's all a mess now, and it'll all be a mess for the foreseeable future, it would seem. And nobody's happy! Democrats are upset that it now appears Trump will walk away from this unscathed, and the President's camp is upset over the potential un-edited contents of the full report being released for us all to see. Nobody ever wins!!!
Well… maybe Lori Loughlin wins, considering today's Mueller fall-out has (temporarily) removed her name from some of the headlines! Ha!!!
Related: Trump Is Going After Fox News, Now, Too!
What do U think about all this, Perezcious readers?! Do you want to see the full, unedited Mueller report? Do you think we ever will???
Sound OFF with your thoughts in the comments (below)!!!
[Image via WENN/NBC/Twitter]
Mar 25, 2019 7:40am PDT