Is there trouble in paradise for Ben Affleck and Jennifer Lopez?!
As you most likely know, there has been some talk about their marriage – with many wondering if the pair are having some issues as they appeared either miserable or seemingly in the middle of a fight during a few public appearances lately. Most recently, a video went viral of Ben slamming a Jennifer's car door and walking to the other side of the vehicle with an annoyed expression. Now, the 50-year-old filmmaker obviously could have been frustrated with the paparazzi in his face at the time. But many believed this was a sign that they were struggling with their relationship or someone simply caught them amidst an argument.
Speculation continued to escalate after they were seen the following day having a tense exchange during the premiere of Jennifer's film The Mother. Ben appeared upset, as he was frowning and holding up his pointer finger at Jen – convincing everyone they were arguing on the red carpet. See (below):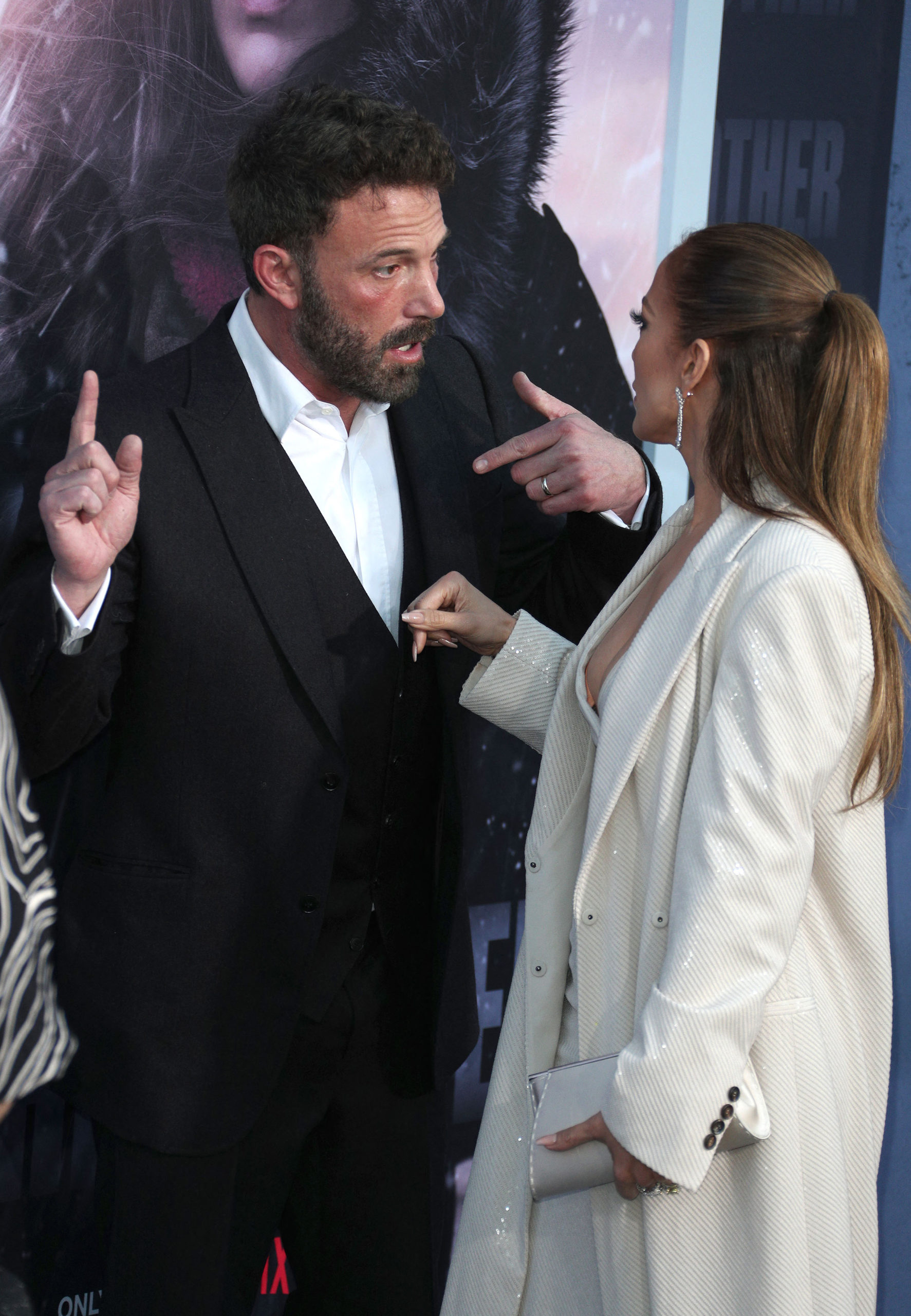 However, pictures don't always tell the entire story! The couple was seen packing on PDA in other photos, and a lip reader revealed the two were discussing whether her top was "showing too much" and their positioning for the cameras on the carpet.
Related: J.Lo Will 'Walk Out' On Ben Affleck If He Pulls A Tom Sandoval!
So all is well, right? Just another case where Ben's resting "miserable" face struck again. Well now, it looks like they were bickering just days before their red carpet appearance! According to photos and videos obtained by Dailymail.com on Saturday, they were driving around Beverly Hills in the Gone Girl actor's car with the windows rolled down, and they were seen having a "tense" conversation with each other. He waved his hands around while sternly talking to Jennifer.
Hmm. It is unknown what Ben was saying to the 53-year-old singer at the time. However, the eyewitness who took the images and videos told the outlet that Ben was "frustrated or irritated" while Jennifer seemed "timid" and "looked a little bit sad." The person noted that their conversation definitely seemed like an "argument," adding:
"There were a lot of hand gestures. Ben was waving his hands up and down, and it looked heated."
Yikes. But a source who knows the couple shut down the claims to Page Six, saying:
"You can clearly see they are having a conversation, and she is listening to him. He's a storyteller and can be animated when he speaks."
Look, all couples have fights. It's normal for two people to have arguments and disagreements within a relationship. And as we've repeatedly said, Ben is known for having an agitated look on his face a lot! So if Ben and Jennifer's lovers quarrel this week is true, that doesn't automatically mean they're feeling unhappy and heading for splitsville! Also, who knows if they were actually arguing! But what do YOU think about this latest exchange between them? Sound OFF in the comments below.
[Image via MEGA/WENN]
Related Posts
CLICK HERE TO COMMENT
May 13, 2023 13:13pm PDT