Well, no need to speculate anymore, we guess! According to an inside source, Joe Manganiello IS dating actress Caitlin O'Connor!
The hunky True Blood alum was spotted coming out of what looked like a gym date with the 33-year-old actress this week — which naturally got tongues a-wagging. After all, he's single now, and they do make a fetching couple.
Well, it's more than just guesswork now! This just in from KTLA's Courtney Friel — they ARE dating! The news anchor responded to the reports Thursday night by taking to her Instagram Stories, captioning a report with the claim she was the one who set them up in the first place! She wrote:
"Yours truly hooked this up btw! @caitlin_oconnor is an amazing person- and she and Joe are both from Pittsburgh"
Wow! Great work, Courtney! She even dropped some deets on how the fledgling couple met, which was apparently at a premiere party for Winning Time: The Rise of the Lakers Dynasty Season 2. Caitlin co-stars in the acclaimed HBO hit as young Dyan Cannon.
Related: Joe Reportedly Broke Up With Sofia Vergara Partially Over His Desire To Have Kids
Court — whose husband Jim Hecht is an exec producer on the show — says the spark first happened in her own hot tub, writing:
"The magic started in the jacuzzi "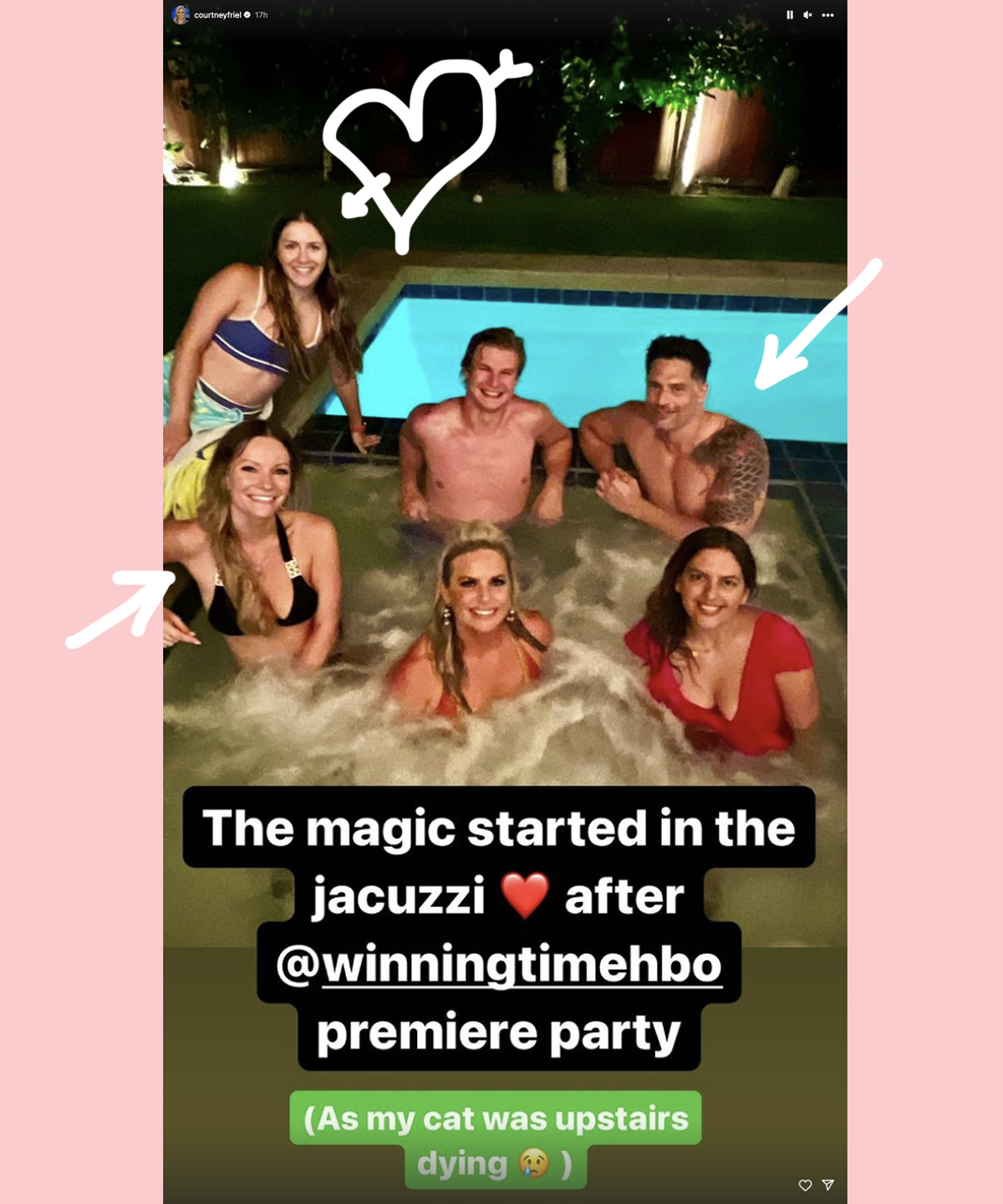 AH-MAZING!
We might have left out that cat part though… What a downer. Read the room, Court!
The Winning Time Season 2 premiere aired on August 6, so it's been just over a month. So apparently things are still new — but they're already doing workouts together, so that's kinda intimate! We mean, no putting on your best date face for early morning sweating at Gold's, right?
What do YOU think of Joe dating again after his surprising Sofia Vergara divorce?
[Image via The Rich Eisen Show/YouTube/Caitlin O'Connor/Instagram.]
Related Posts
CLICK HERE TO COMMENT
Sep 15, 2023 16:20pm PDT