UPDATE 8:25 A.M. PST: We have a slight update. According to an witness via ET:
"Karlie Kloss attended Taylor Swift's Eras Tour last night. She initially was seated in the 200s sections, but at one point in the night, security took her to the VIP section."
Inneresting! What do you make of the supposed move, Perezcious readers?? Did Taylor Nation have her brought down after she was spotted? Hmm!
_____________
What does this mean?!
Pretty much every star you can imagine has been hitting up Taylor Swift's Eras Tour during its stop in Los Angeles this week — even her EX-BESTIES!!!
This is not a drill! Karlie Kloss, of all people, was seen at the sixth and final show at SoFi Stadium on Wednesday night! Multiple fans spotted her dancing the night away alongside her husband Joshua Kushner, and she even appeared to be in the stands just like every other regular Swiftie. OMG!
Related: Meghan Markle Went To Taylor Swift Concert Without Prince Harry!
In the now-viral clips, the model could be seen in blue jeans and a white sleeveless top while her husband wore a green polo and decorative headband. Ch-ch-check it out!
????| Karlie Kloss having fun at tonight's show!pic.twitter.com/chDQ5ryc7w

— Gaylor Updates (@gaylornews) August 10, 2023
Later, she was spotted dancing and recording herself singing along to Shake It Off!
????| Karlie Kloss dancing and recording Taylor during Shake It Off tonight!pic.twitter.com/Kbp9In2vtC

— Gaylor Updates (@gaylornews) August 10, 2023
Um?!?
This was not on our 2023 bingo card! And it sure doesn't look like a woman in the middle of a nasty feud!! What is going on?!
As Perezcious readers know, the Midnights artist and model were once attached at the hip after meeting and becoming fast friends at a Victoria's Secret Fashion Show in 2013. From there, they started taking the industry by storm, sitting for several interviews together (including appearing on the cover of Vogue!) and hanging out at awards shows. Plus, their connection wasn't just for show. Karlie was also a guest at some of Swift's famous Fourth of July parties and they were even known to road trip together. They were the definition of best friends for life… until they weren't.
As we all know, TayTay infamously went into hiding at the end of 2016, early 2017 to avoid scrutiny about her love life. She was also dealing with a resurgence of problems amid her feud with Kanye West and Kim Kardashian. Considering the 31-year-old was close with the KarJenners, it seemed like a possible point of contention.
It wasn't until 2018 that fans really began to wonder if the pair had a falling out when the Love Story singer was noticeably MIA at Karlie's wedding (instead appearing in Australia to perform). The 33-year-old didn't even share a social media post to congratulate her which was a big red flag! That said, in the same year, Karlie attended a Reputation Tour concert date and took a pic with the singer backstage. She also told a reporter for The New York Times:
"Don't believe everything you read."
But the good vibes didn't last long! The next year, the songwriter slammed Scott Borchetta for selling her masters to Scooter Braun, who she claimed was "bullying" her alongside Ye and Justin Bieber. Once again, this put the fashionista in the crosshairs — this time because Scooter is her manager. She didn't publicly stand up for the pop star at the time, and it was rumored the Kode with Klossy founder leaked info about her (former?) friend to her business partner (though this was never confirmed). Shady!!
Related: Was Matty Healy Caught Talking S**T About Ex Taylor Swift?!
Then, Karlie seemed to strengthen her bond with the controversial music exec when she went on a vacation with him only weeks after the controversy with Taylor began. Eesh!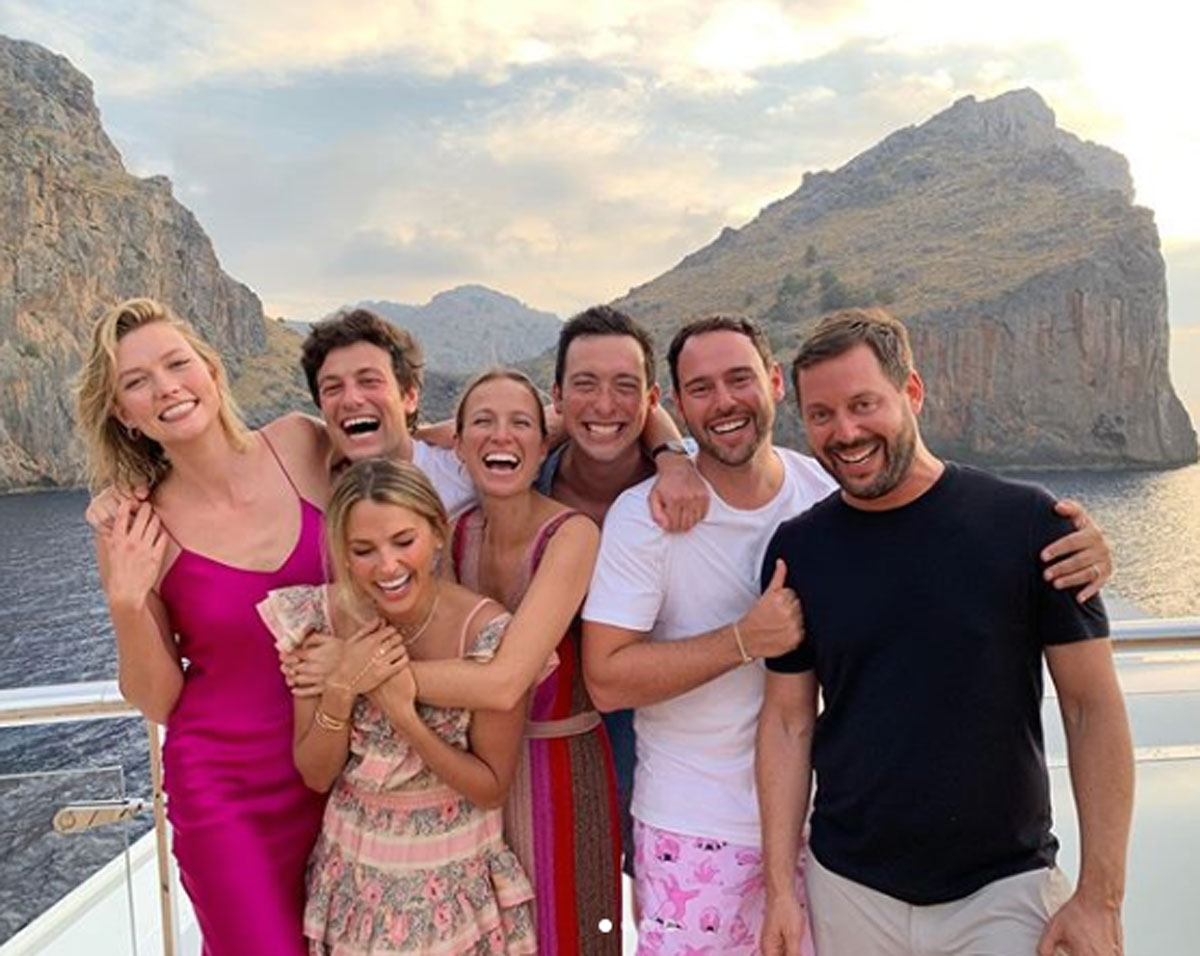 The rumored feud was so widespread even Jennifer Lawrence was talking about it in the NYT! She said during an interview:
"I'd like to know what's going on with Karlie Kloss and Taylor Swift, that's the honest to God truth. Is nobody else curious? It's keeping me up at night. What happened?"
LMFAO!
Finally — at long last! — Taylor seemed to hint at the friendship falling out as only she can do — via cryptic lyrics! The deluxe version of her 2021 album Evermore included the track it's time to go and the line:
"When the words of a sister, come back in whispers, that prove she was not a twin from your dream, she's a crook who was caught."
Many Swifites took this as a sign their bond had been irreparably broken. They also speculated the songs right where you left me and closure were also about the bestie breakup. So excuse us all for being shocked and surprised to see Karlie at the Eras Tour as if NOTHING s**tty went down! Just take a look at the rollercoaster of reactions hitting X (Twitter) in the aftermath of this unexpected sighting (below)!
me when I woke up and read "Karlie Kloss is at the Eras Tour" pic.twitter.com/ZEi1f7Lyhb

— corinna ????????‍❤️‍????‍???????? (@lenvssuper) August 10, 2023
reading the words "karlie kloss is at the eras tour" pic.twitter.com/tRXV7B6KGo

— pao (@paolawrites) August 10, 2023
She's finally on her way to meet up with Karlie Kloss in her trailer after three and a half long, pent-up years
pic.twitter.com/agKxiTwbS6

— Maria (@gaypolaroid) August 10, 2023
karlie kloss had the opportunity to do the funniest thing ever and she did. good for her.

— regina george (@meanlore) August 10, 2023
karlie kloss going to the eras tour when joe alwyn didn't is the funniest shit i have ever seen i'm so sorry

— auds (@GLAMROCKSWIFT) August 10, 2023
Wowow!
It should be noted it's currently unclear if Karlie bought tix herself like a normal fan or if she was gifted them by Taylor or someone else. For that matter, it doesn't look like she was in the VIP tent where most of Taylor's guests have enjoyed the show — but one fan thinks this is on purpose. See their theory:
This is it karlie kloss doesn't need to hid anymore pic.twitter.com/h4SkY2N8zv

— daisy ???? (@Scarletismaroon) August 10, 2023
Hmm…
What do U think all this means?! Are they back to being besties?? SOUND OFF (below)!!
Related Posts
CLICK HERE TO COMMENT
Aug 10, 2023 07:18am PDT