Get ready for a big dose of Meghan Markle coming your way!
Prince Harry's wife is all set to give her first TV interview since the world-famous young couple stepped down from their roles as senior members of the royal family earlier this year. And it's right in line with what some have wondered about Meghan — her career ambitions in Hollywood appear to be taking on new life, that is!
Related: Princess Anne Expertly Shades Harry And Meghan!
According to a report out in The Sun, the (now former) Duchess of Sussex is all set to appear on Good Morning America tomorrow to give the American daytime TV show an "exclusive first look" at the Disney documentary Elephant. A brief television commercial about the event teased it pretty much straight up, informing viewers over the weekend to expect it at some point on Monday morning on the hours-long show.
Of course, Elephant is a nature documentary narrated by Markle herself, who was approached to do the project first by filmmakers Mark and Vanessa Berlowitz. Given her passion for wildlife conservation — and her desire to jump back into the entertainment world in whatever way possible — she seemed like a natural fit for the production. And soon, we'll see how things worked out, both for the movie and for the restarts of the former Suits actress' career in El Lay!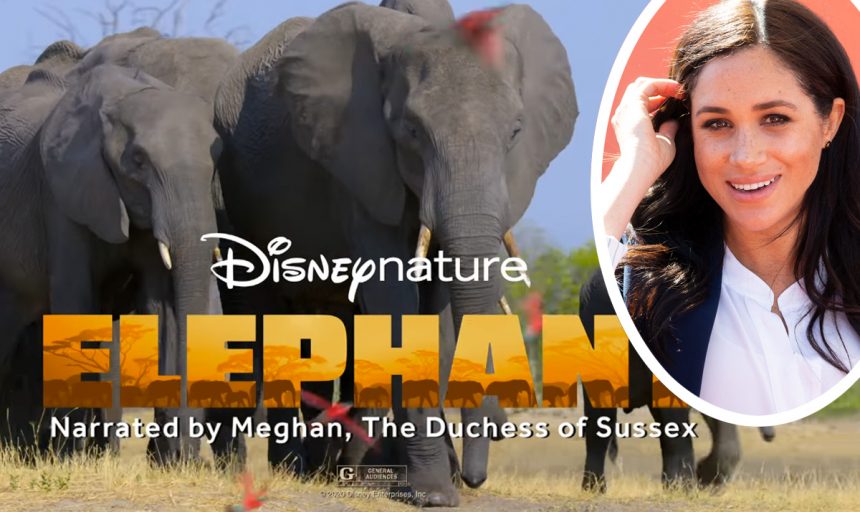 Now, it's unclear whether Meghan will talk about just the movie itself, or if she'll dive into her move back to the States with Harry and Master Archie; the ad didn't say, and we suppose we'll have to tune in tomorrow to see what ends up happening.
There is one kind of important wrinkle we do know, though; Deadline is reporting the interview will not be a live one with a GMA on-air personality, but rather some stock footage the show obtained of Markle discussing her work on the movie. Soooo… it's an interview, in the sense that it's Meghan speaking to camera and all, but it's not exactly an unscripted free-for-all for a journalist to, you know, ask the questions we're all dying to hear. Oooookay!
Related: Meghan And Harry Are House Hunting In Los Angeles!
Still, at least it'll be something to watch Meghan on camera again? We dunno… are we grasping at straws with that one?! LOLz! What do U think, Perezcious readers — is it interesting and noteworthy to see the former Duchess back in the public eye with her new (old) Hollywood comeback? Or would you rather just skip this one on GMA tomorrow and wait for a REAL interview soon??
Sound OFF with your take on the whole thing down in the comments (below)…
[Image via John Rainford/WENN]
Related Posts
CLICK HERE TO COMMENT
Apr 19, 2020 10:23am PDT