Another year, another round of celeb breakups!
While many stars are riding high with their relationship in 2022, there are others whose romances came completely crashing down. And we've been hit pretty hard so far this year, with Hollywood couples like Jason Momoa and Lisa Bonet and Lori Harvey and Michael B. Jordan already calling it quits.
Related: Stars We Lost In 2022

So prepare yourselves for some heartbreak if you stan'd any of these lovers… Because here is a roundup of all the A-listers who've ended their relationships thus far — starting from the most recent pairs to walk in Splitzville:
T.J. Holmes & Marilee Fiebig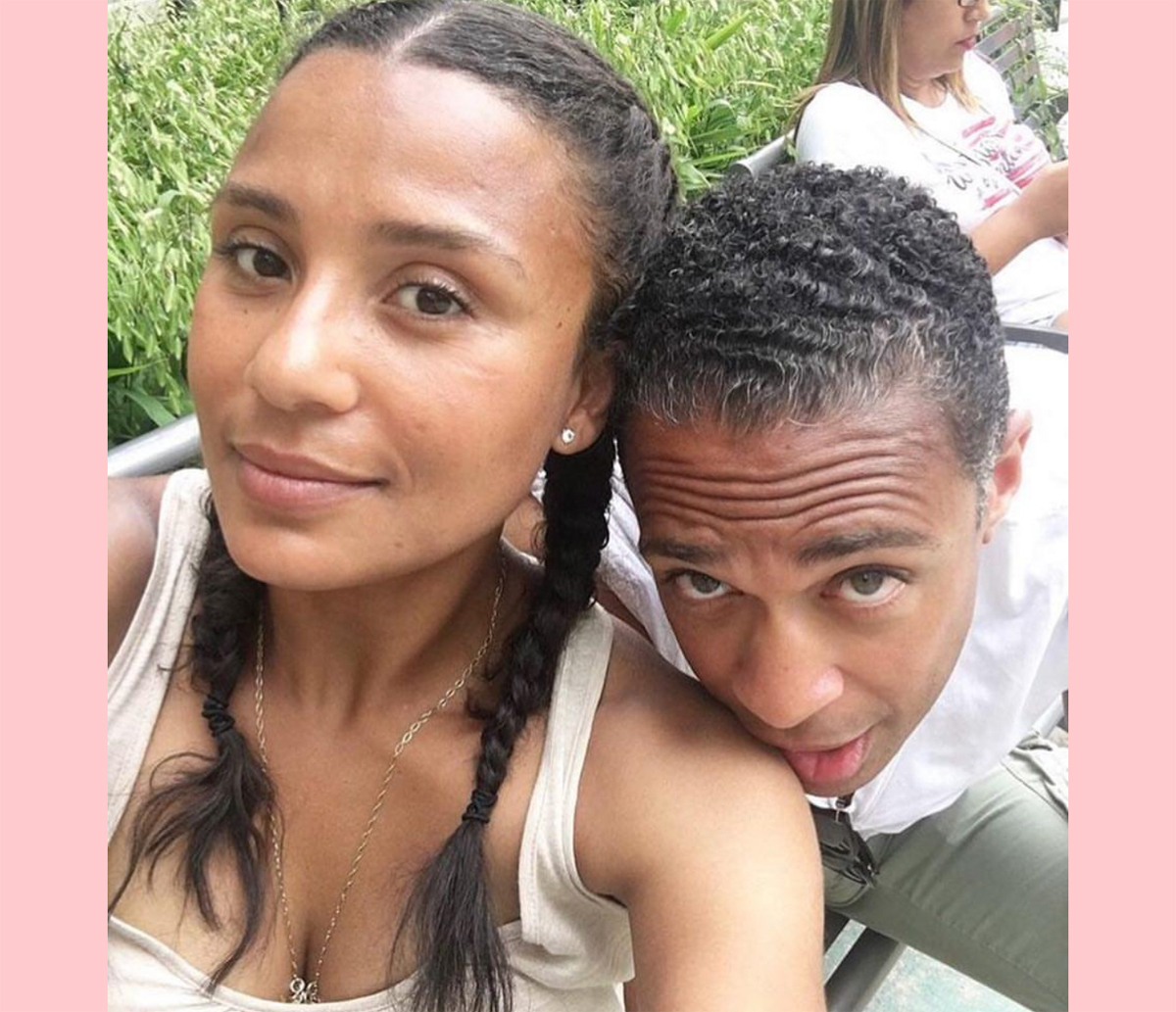 After his relationship with Good Morning America co-anchor Amy Robach was made public, T.J. Holmes officially filed for divorce from his wife, Marilee Fiebig. According to Us Weekly, the 45-year-old journalist filed the court documents in New York City on December 28 – while he was on a holiday getaway with his lover. Ugh.
As you may know, the breakup came around when Amy and T.J. made headlines last month when they were caught getting cozy with each other despite being married to their respective partners, Marilee and Andrew Shue. While the timeline of when their relationship exactly started is unclear, sources have insisted they never became a couple until they were single again.
Amy reportedly called it quits with the Melrose Place actor in August – but has yet to file for divorce. However, she did move out of the New York City apartment she shared with Andrew, while he wiped his pictures of the 49-year-old from his Instagram account. Meanwhile, Page Six claimed Marilee was "blindsided" by the situation as they were trying to make their marriage work. Clearly, that is not what T.J. had in mind!
And it isn't just their marriages in shambles! Their careers might be in jeopardy too! Amid the affair scandal, Amy and T.J. were kicked off GMA for now while the network determines if they violated any company policies with their relationship.
Pete Davidson & Emily Ratajkowski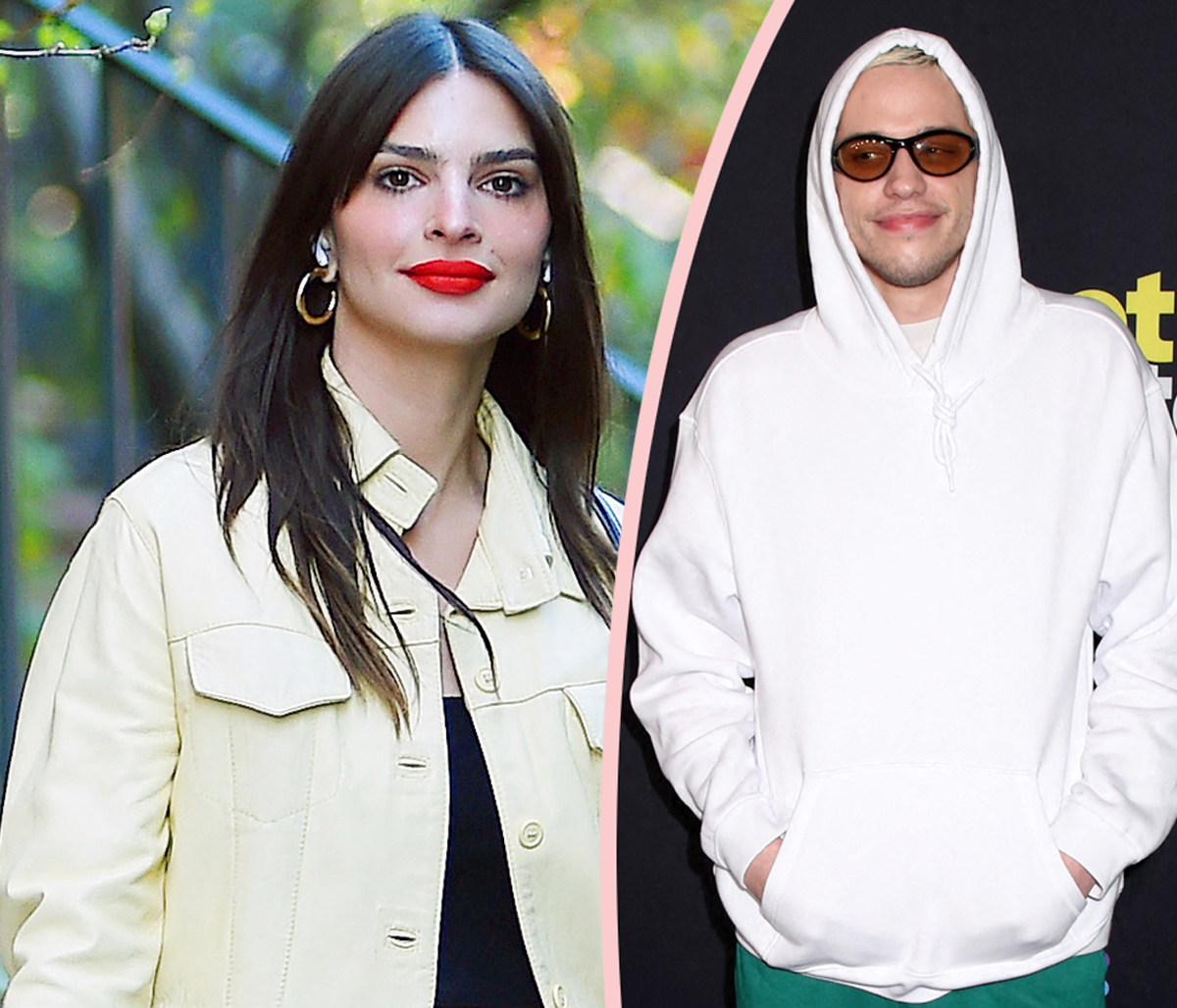 Everyone most likely saw this one coming! Pete Davidson and Emily Ratajkowski are done after only dating for about a month. According to Page Six in December, an insider confirmed the breakup news, saying:
"Their fling has moved into the friend zone."
And don't worry! There doens't seem to be any hard feelings between them, as the source insisted the split was "fine with both of them." This came after Pete was spotted hanging out with his Bodies, Bodies, Bodies co-star Chase Sui Wonders multiple times. Meanwhile, Emily went out with DJ Orazio Rispo and revealed on her podcast that she downloaded a dating app for the first time.
JoJo Siwa & Avery Cyrus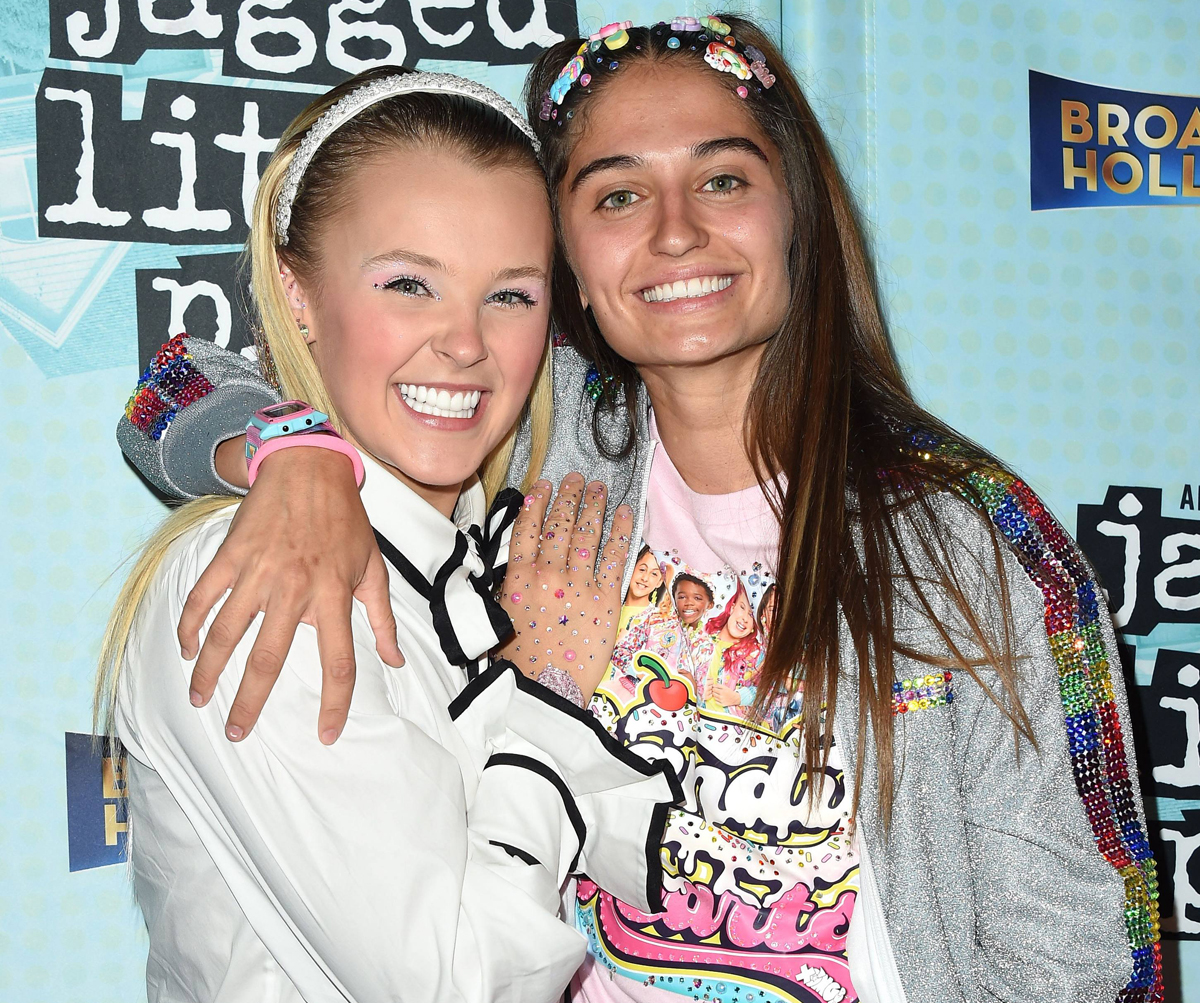 Another relationship ended for JoJo Siwa this year! After only three months of dating, the Dance Moms alum and Avery Cyrus revealed their split on TikTok in December. The social media personality posted a video on the platform about a vacation on the Royal Caribbean cruise, in which JoJo told Avery while holding an arcade game prize in her hand:
"This is my 'sorry for breaking up with you present.'"
When a social media user asked "why" they ended things in the comments, Avery responded:
"We decided that we are better off as friends! We are both so young and still just trying to figure our stuff out."
However, it turns out the breakup wasn't as amicable as Avery made it out to be! JoJo's mom Jessalynn Siwa shared a video on Instagram Stories showing the singer calling out someone for using her "for views and for clout." She added:
"I got tricked into being told I was loved and I got f**king played."
Whoa!! Given the timing, people obviously thought she was talking about Avery! She responded to the accusation, telling E! News that the relationship was "real" to her:
"From my perspective, me and JoJo left on great terms and are still friends. The relationship was very real, and I have nothing but love for JoJo and her family. I'm still very hurt that JoJo broke up with me. And I'm saddened and confused by the situation."
But JoJo seemed to double down on her claim! She later posted a TikTok video, seemingly recreating a breakup conversation (possibly her own). JoJo lip-synching while some text reads above her:
"But I love you, why are you breaking up with me??!!!"
It then eventually cuts to:
"You told one of my best friends that you were excited to be dating me bc you're 'growing your career and wanna get to the top.'"
JoJo added in the caption:
"And when I said I just wanted to be friends so I didn't lead you on after an unplanned hookup you wanted nothing to do with me because there was nothing to gain anymore."
Katie Holmes & Bobby Wooten III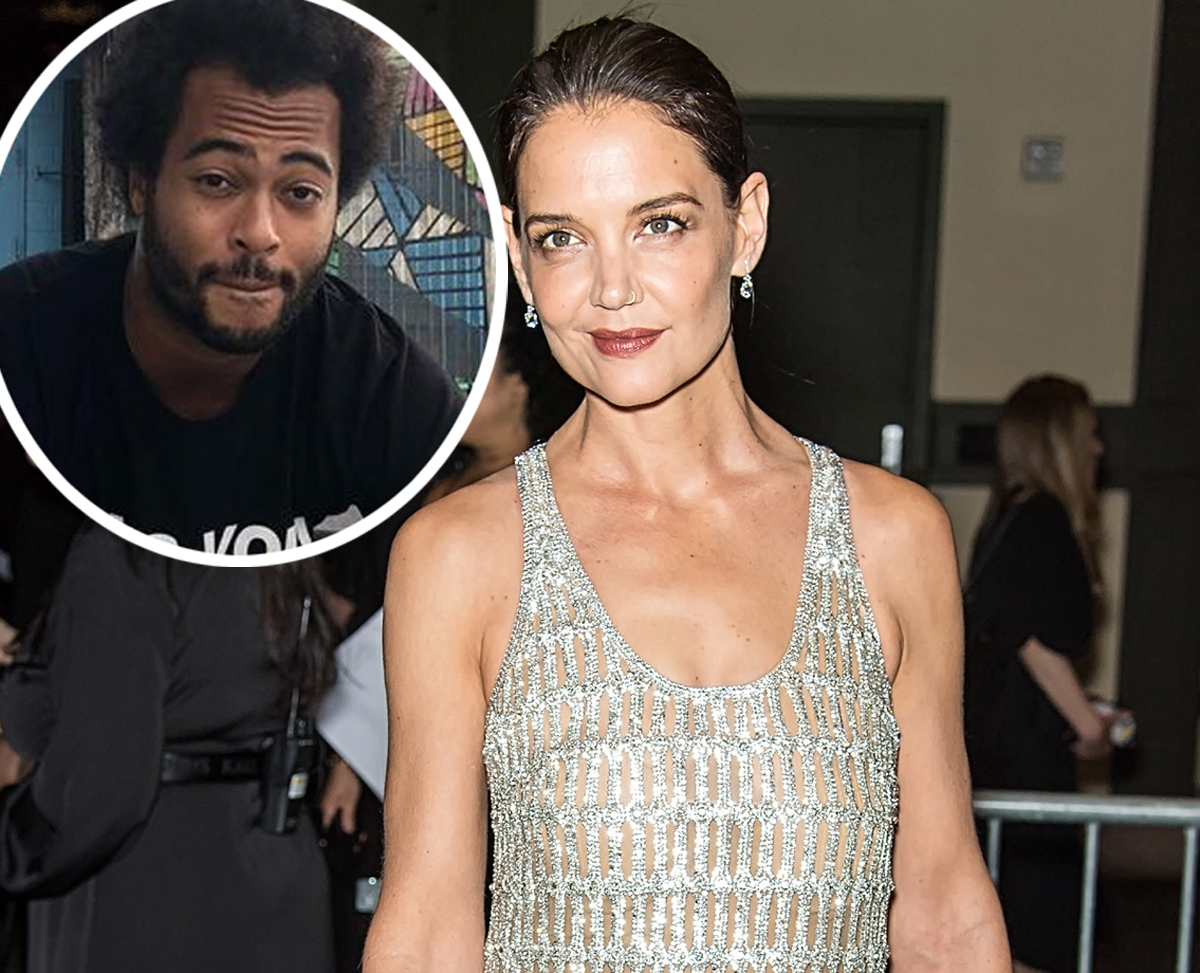 It looks like Katie Holmes is single again! Us Weekly revealed in December the 44-year-old actress ended her relationship with Bobby Wooten III after only eight months of dating. An insider told the outlet:
"Katie and Bobby broke up last week, she's no longer [talking] about him to his friends. They just didn't work out together for the long run."
In case you didn't know, the two first sparked romance rumors in April when they were spotted kissing and holding hands in New York City. The following month, they made their red carpet debut at The Moth's 25th anniversary gala, The Silver Ball. The Broadway star expressed Us at the time:
"I'm happy to have [Katie] here as my date. I'm so excited to be here for [honoree] David [Byrne]. He's impacted my life like crazy so it's quite easy to speak on everything he's done for me."
They continued to be spotted together for months until DeuxMoi shared a picture of Katie hanging out with New York Rangers player Henrik Lundqvist at Jingle Ball in NYC on December 2.
Meri & Kody Brown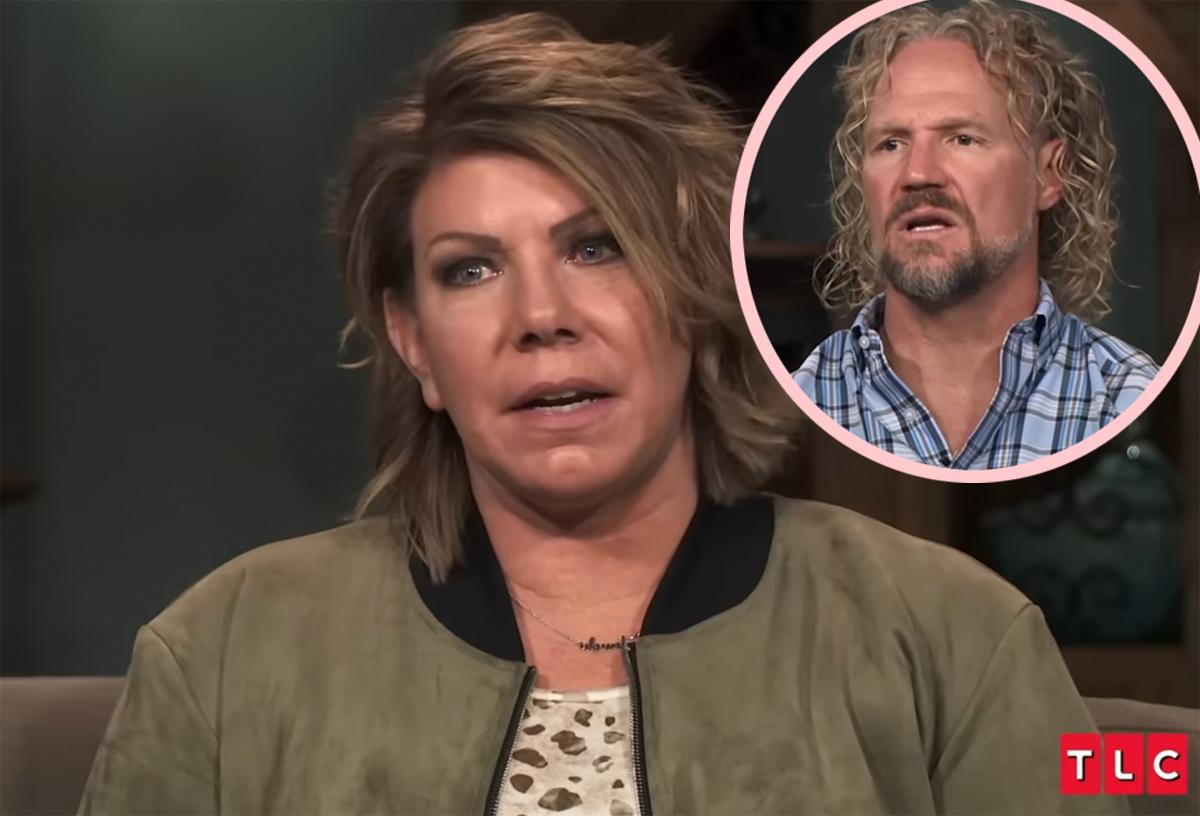 Another one bites the dust! Meri Brown confirmed she and Kody Brown ended their relationship after 32 years together in a Sister Wives: One on One special. He said in a confessional that he did not consider himself "married" to her, adding:
"If she wanted to move on and marry another, she wouldn't get an argument with me."
When asked how she felt about the comments, she reacted:
"It just doesn't make sense to me that he would be so frustrated with Christine and be like, 'She just made this decision, we didn't consult, we didn't talk, she just made the decision' and then he says, 'No, I don't consider myself married to Meri. Like, he just made the decision. I never heard him say that to me."
The 51-year-old added:
"Even since being in Flagstaff, he has led me to believe that he was trying. Our first anniversary that we had here in Flagstaff, 'Cheers to new beginnings.' As opposed to this last anniversary he's like, 'I don't even know why you called me, Meri. We're not married, we're not actually married.'"
Despite ending things, Meri said she would be willing to reconcile but does not believe Kody would be "interested" in giving their romance another shot. Now that Meri, Janelle Brown, and Christine Brown have called it quits with the 53-year-old, this means he's only in a relationship now with Robyn Brown.
Janelle & Kody Brown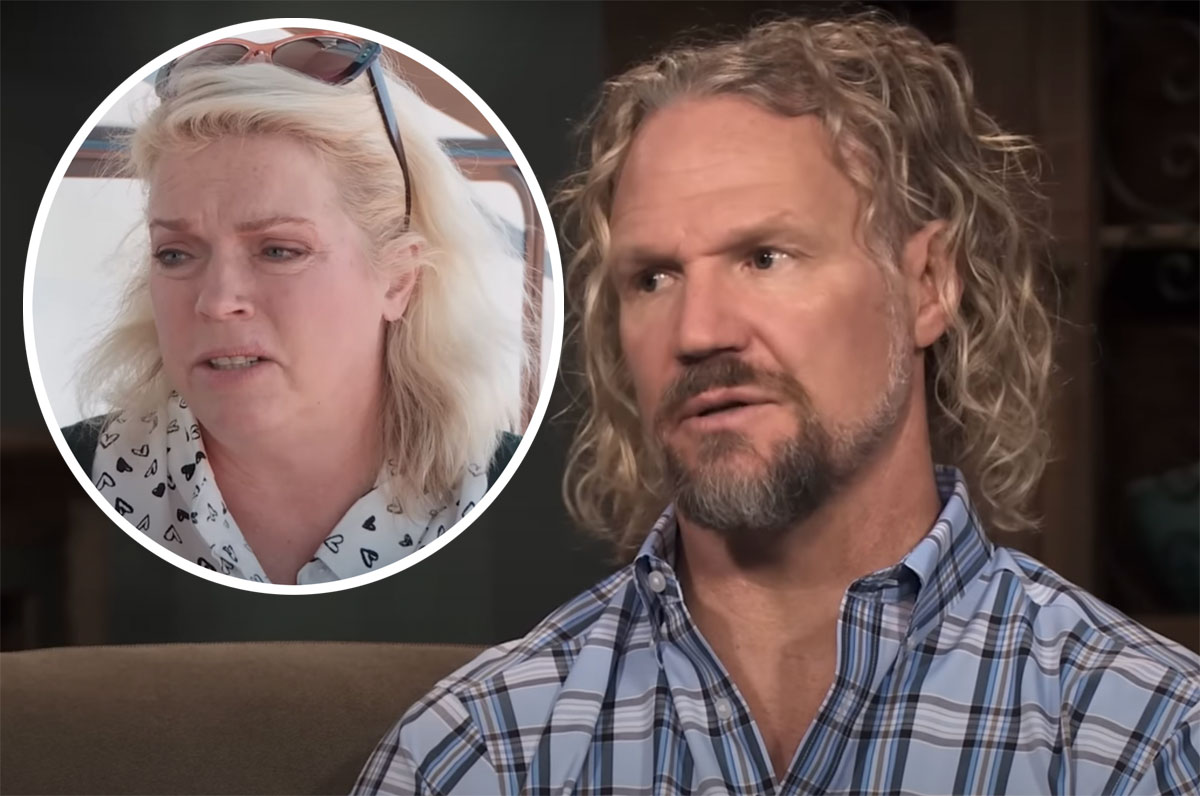 During a December 11 episode of Sister Wives, the reality series shared a teaser for an upcoming Sister Wives: One on One special, in which Kody revealed that he and Janelle are over! The 53-year-old patriarch said:
"I am separated from Janelle. And I'm divorced from Christine [Brown]."
Janelle then confirmed their split in an interview simply stating:
"Kody and I have separated."
Wow! Janelle – who began a polygamous relationship with Kody in 1993 – seemingly was having problems with Kody in the recent season of Sister Wives, escalating to a massive argument over his COVID-19 safety rules. She even said at one point in the episode:
"This is the same ol' argument. I don't need to be beaten into submission, made to kowtow. I'm just not. I just don't need this. In the last 18 months, I've realized that I'm pretty good. I'm independent, and I'm not going to stand here and be yelled at. I just don't need it. I don't deserve it and I don't need it."
Toni Collette & Dave Galafassi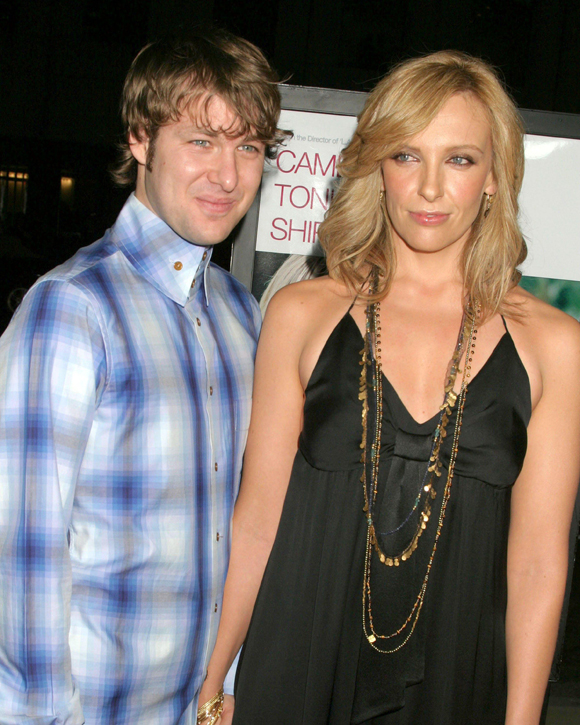 Toni Collette and Dave Galafassi, who share 14-year-old daughter Sage Florence and 11-year-old Arlo Robert, announced their divorce in December after almost 20 years of marriage. The announcement came hours after Dave was photographed locking lips with chiropractor Shannon Egan while on a beach in Sydney, Australia. In a statement, the actress did not mention any infidelity but noted there was "a substantial period of separation":
"After a substantial period of separation, it is with grace and gratitude that we announce we are divorcing. We're united in our decision and part with continuing respect and care for each other. Our kids are of paramount importance to us and we will continue to thrive as a family, albeit a different shape. We're thankful for the space and love you grant us as we evolve and move through this transition peacefully."
Nia Long & Ime Udoka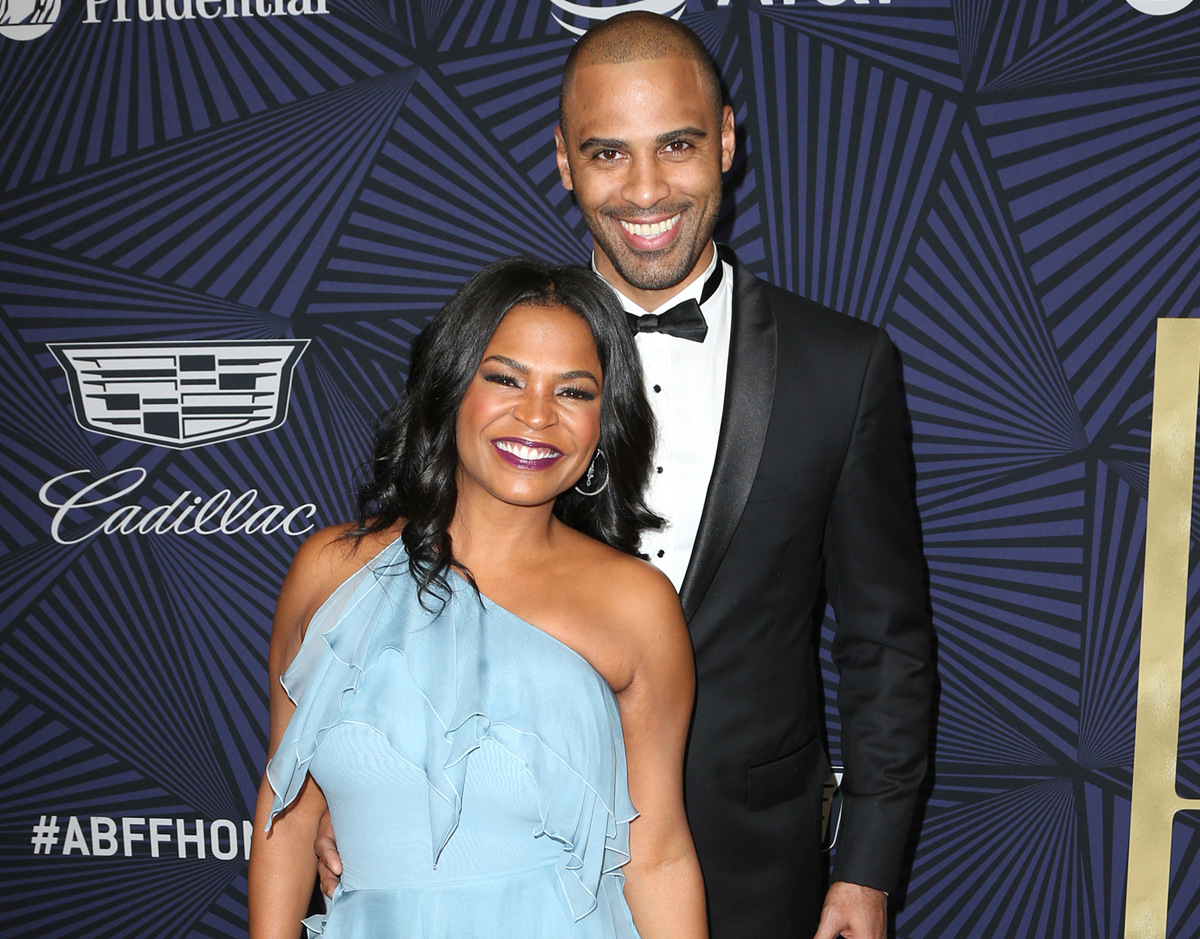 Nia Long and Ime Udoka officially split in December following the NBA coach's cheating scandal. A rep for the actress confirmed the news to People, saying they are "no longer together but remain fully committed to co-parenting their son [Kez]." An insider also added at the time:
"The situation is unfortunate and painful, but Nia is focusing on her children and rebuilding her life."
The news of the breakup came after the Boston Celtics announced in September that Ime was suspended for a year after violating the "team policies" when he cheated on Nia, whom he'd been with since 2009, with a female staff member. He later tweeted out an apology for the affair, writing:
"I want to apologize to our players, fans, the entire Celtics organization, and my family for letting them down. I am sorry for putting the team in this difficult situation, and I accept the team's decision. Out of respect for everyone involved, I will have no further comment."
For her part, The Boyz n the Hood star opened up to The Hollywood Reporter about how "devastating" the situation has been for their 11-year-old son, sharing:
"I think the most heartbreaking thing about all of this was seeing my son's face when the Boston Celtics organization decided to make a very private situation public. He still has moments where it's not easy for him."
Raven Ross & SK Alagbada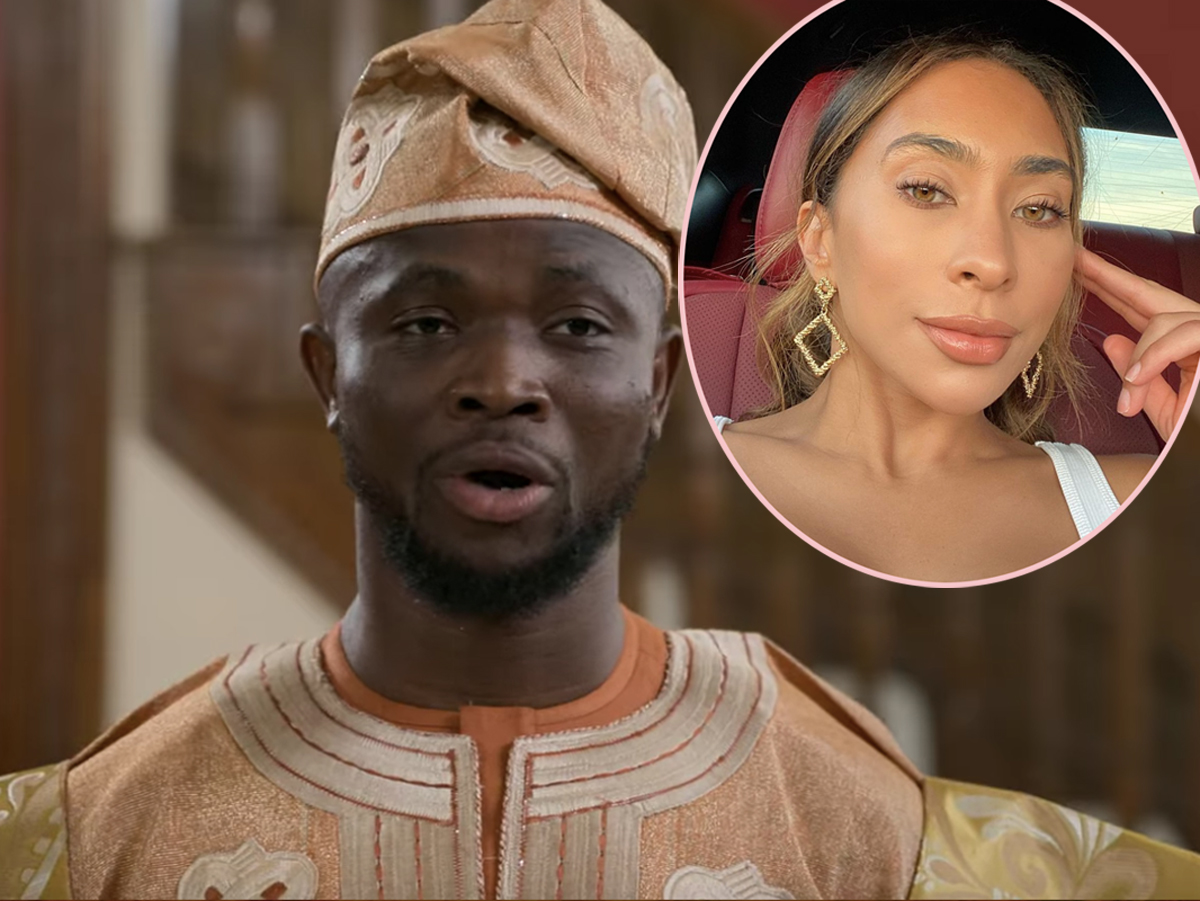 This had some major drama! Shortly after the finale for season three of Love Is Blind dropped, allegations began circulating on TikTok that SK Alagbada was cheating on Raven Ross with two other women. User @emmwho9 claimed she went on a date with someone she met on Hinge in April – only to find out he had been on Love Is Blind and was still dating Raven. She said in a since-deleted video:
"Put a finger down if you went on a date in April with a guy from Hinge and then you see that he's actually on the show 'Love Is Blind,' and that he met you after the show was filmed, but is still with the same girl right now."
She later provided text messages, DMs, and a video of SK in a follow-up video. Another woman @hannahbethstyle then claimed she dated the data engineer in 2019, and they later got back together when filming for the reality show ended in 2021. The two even went on a long vacation to Europe together – and during that trip is when she found out about Raven:
"I asked to see his phone to send pics of myself but ended up seeing messages from a contact named 'fiancé.' I waited to confront him until dinner bc I was trying to wrap my head around what I saw. He told me it was for the LIB show but it was just for $ & they were friends only."
Shortly after these cheating allegations dropped, SK and Raven announced that they decided to end things in November. He later slammed the accusation that he was unfaithful to the pilates instructor with Hannah Beth, telling Life & Style:
"All the allegations about me cheating are false. At no point did we consider each other boyfriend and girlfriend. She is not my ex…the situation between Hannah and I was never formal."
SK added that he was "not dating" nor thinking about rekindling things with Raven when these interactions with Hannah and @emmwho9 occurred:
"A lot of people have misconceptions about the timeline of our relationship. When Raven and I left the altar, I went about living my life as a single guy and she went about living her life as a single woman. The path leading to Raven and I together was not straightforward. It took a while for Raven and I to even consider or attempt to start dating again. People don't realize that."
Hmm… We're not exactly buying this story.
Dixie D'Amelio & Noah Beck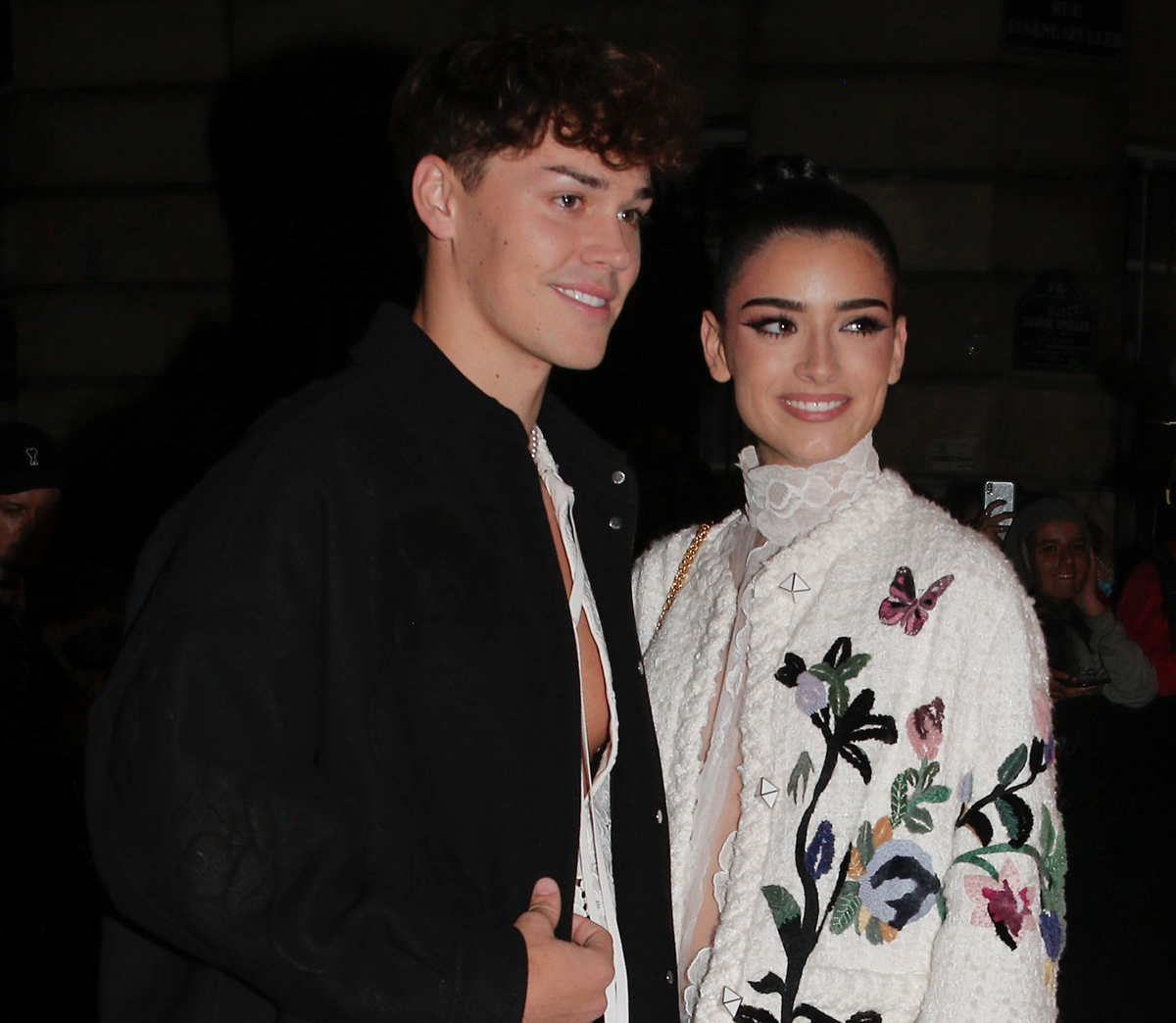 One of TikTok's most famous couples is dunzo! Noah Beck and Dixie D'Amelio ended things in November after more than two years of dating. His reps shared the news, saying:
"We can confirm that the pair are no longer together."
The social media personalities, who were very private, went public with their relationship in September 2020 when they shared a kiss in one of the 21-year-old's music videos. There seemed to be trouble in paradise for the two when Dixie opened up about hitting a rough patch in their romance in an episode of The D'Amelio Show that was filmed months before it dropped on September 28. She told her parents, Heidi and Marc D'Amelio:
"We're not really talking right now. We've come to that conclusion that we just shouldn't talk for a little bit, but we're broken up."
Ansel Elgort & Violetta Komyshan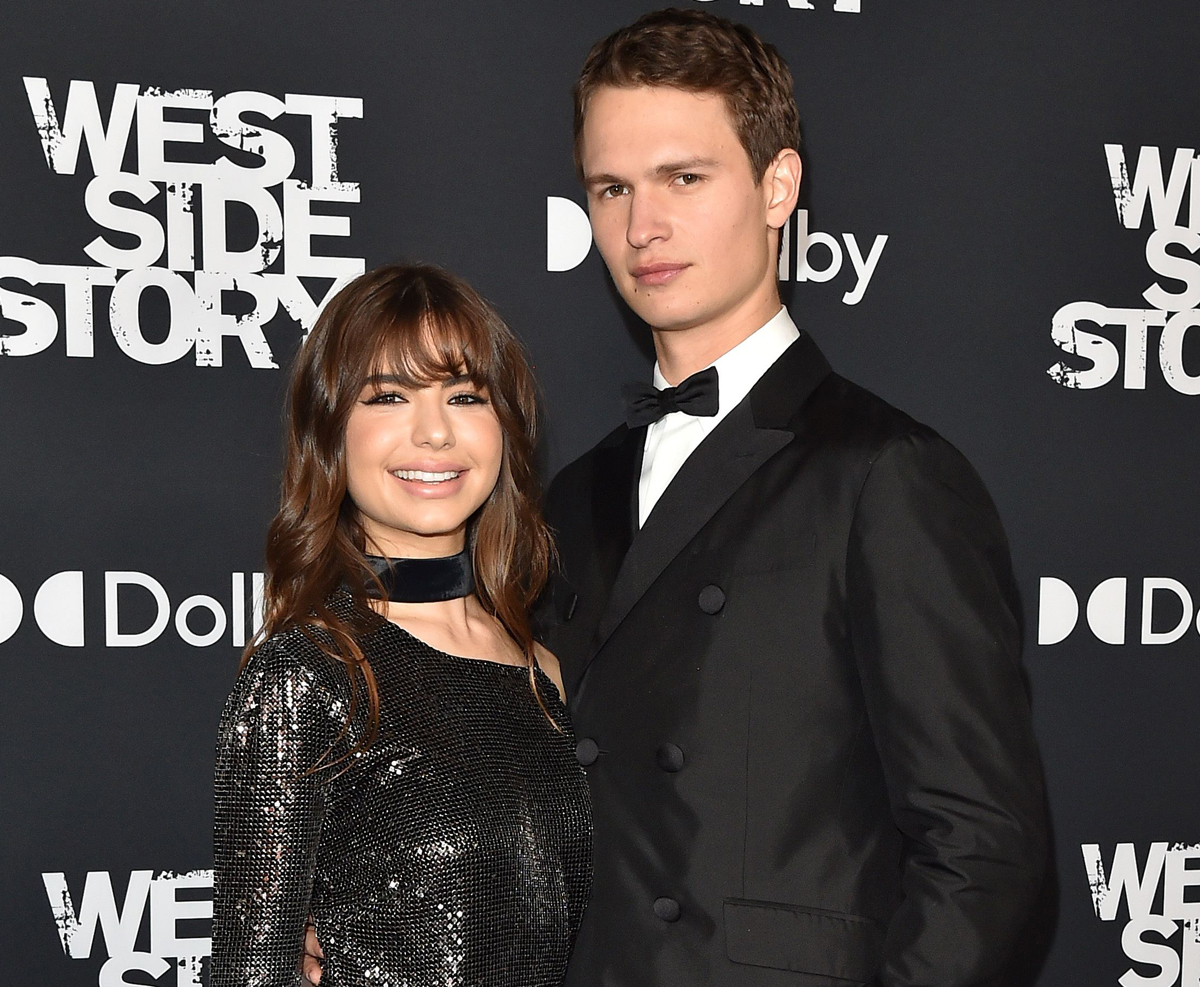 Split rumors had been circulating for a while for Ansel Elgort and longtime girlfriend Violetta Komyshan, as the high school sweethearts were last seen together in public at the red carpet premiere of West Side Story in November 2021. Then, the 28-year-old actor was seen kissing another woman in Italy in August and then getting cozy with his The Fault In Our Stars and Divergent co-star Shailene Woodley a month later.
Violetta finally confirmed the breakup whispers in November, telling E! News at the Thierry Mugler: Couturissime event at the Brooklyn Museum that she is "single" now.
Olivia Wilde & Harry Styles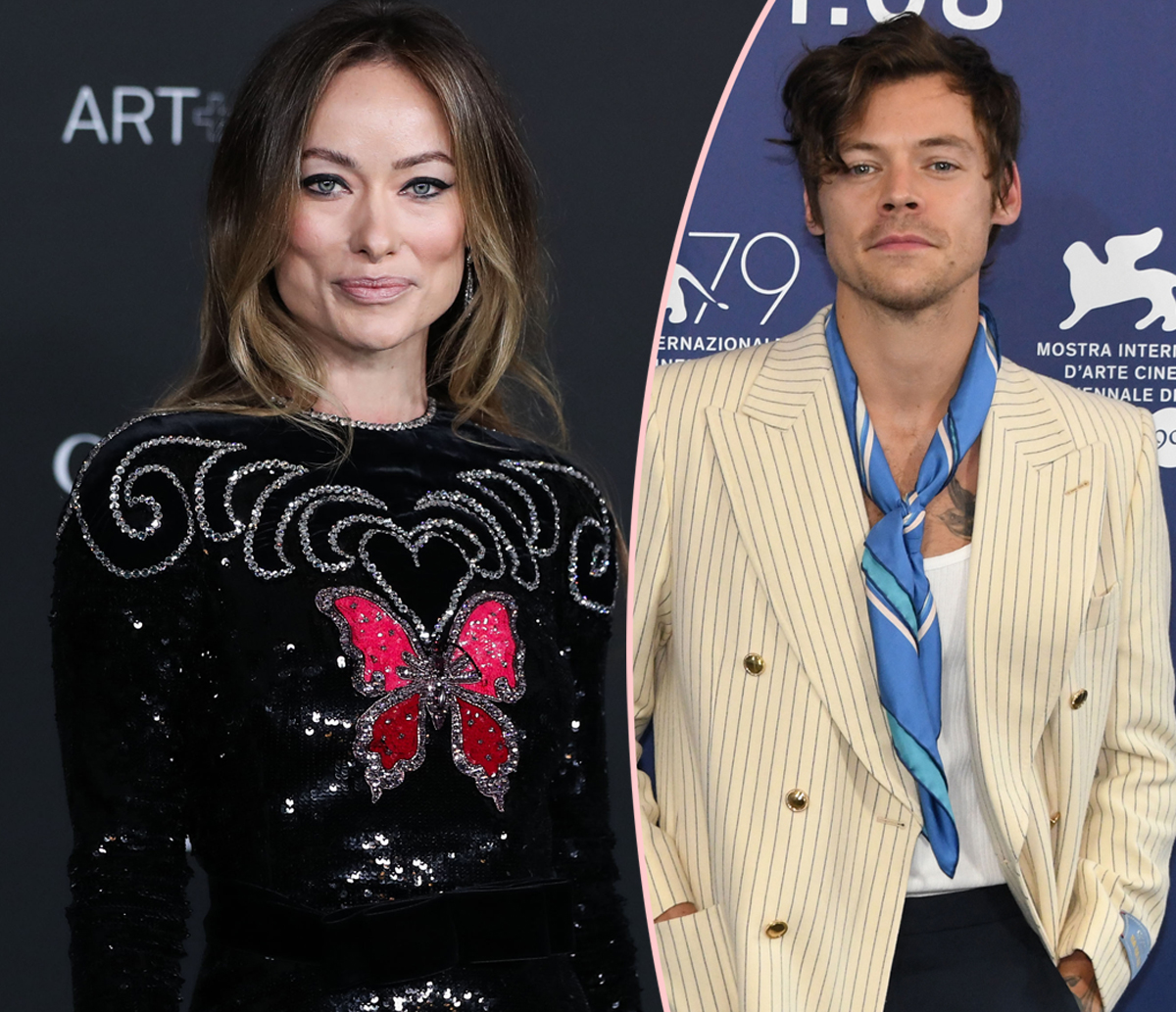 We cannot say we're surprised about this one! People reported in November that Harry Styles and Olivia Wilde are taking a break after two years together. Sources claimed to the outlet that the split was "an amicable decision." A Page Six insider also noted:
"There is no bad blood between them. Harry didn't dump Olivia, or vice versa. It's impossible to have a relationship when he's in every continent next year and Olivia has her job and her kids. This is the right thing for both of them."
Yeah… We doubt it all came down to simply busy schedules and the long distance, considering they were willing to make it work over the past two years while they had a bunch of commitments. Considering the two faced a slew of drama – everything from the Don't Worry Darling controversy to the allegation that Olivia cheated on Jason Sudeikis with Harry – we would think that this must have had factored into their decision.
And while the filmmaker seemed to be not letting the split get her down, a source told Us Weekly that she "is still very much upset about the breakup." Meanwhile, ET claimed Harry wasn't "too broken up" about it. Ouch! We'll have to see if this really is a "break" — for now, it seems like they're truly over.
Demi Moore & Daniel Humm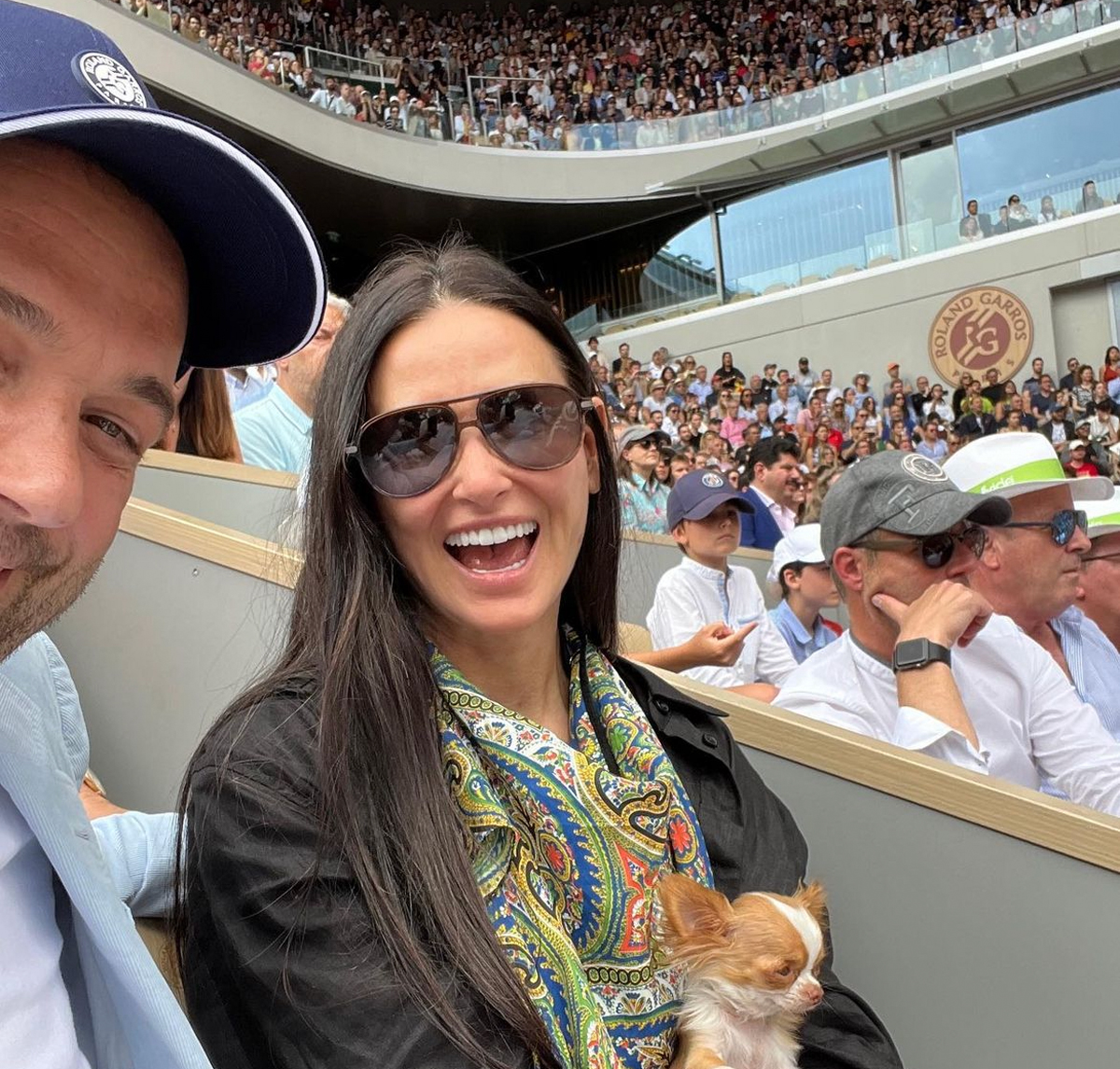 Demi Moore is single again! She and Daniel Humm are no more after less than a year of dating. A source shared with People in November that the 60-year-old actress is "in a good place" following the split, adding:
"She's happy and enjoying her children and her friends."
Johnny Depp & Joelle Rich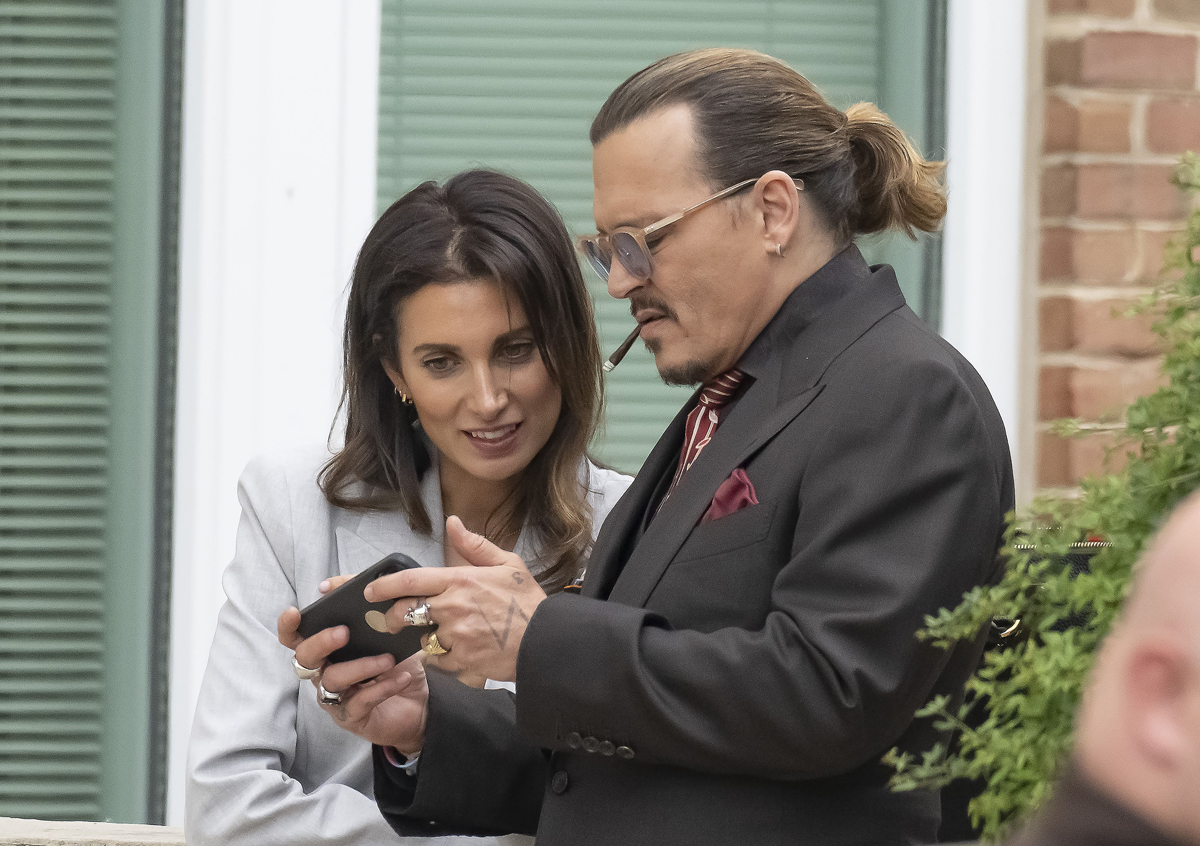 Johnny Depp's romance with his UK libel attorney came to an end! People reported in November that the 59-year-old actor was no longer with Joelle Rich.
As you may know, the lawyer was on Johnny's legal team when he sued The Sun for calling him a "wife-beater." Things soon heated up between them and Page Six later confirmed they were together in September while she was separated from her husband. While it is unclear when they began dating, Us Weekly reported they formed a "serious" connection:
"Their chemistry is off the charts. It's serious between them. They are the real deal."
However, another insider told People they were not too "serious" but "dating" at the time. But now, it seems their love has fizzled out!
Danielle Ruhl & Nick Thompson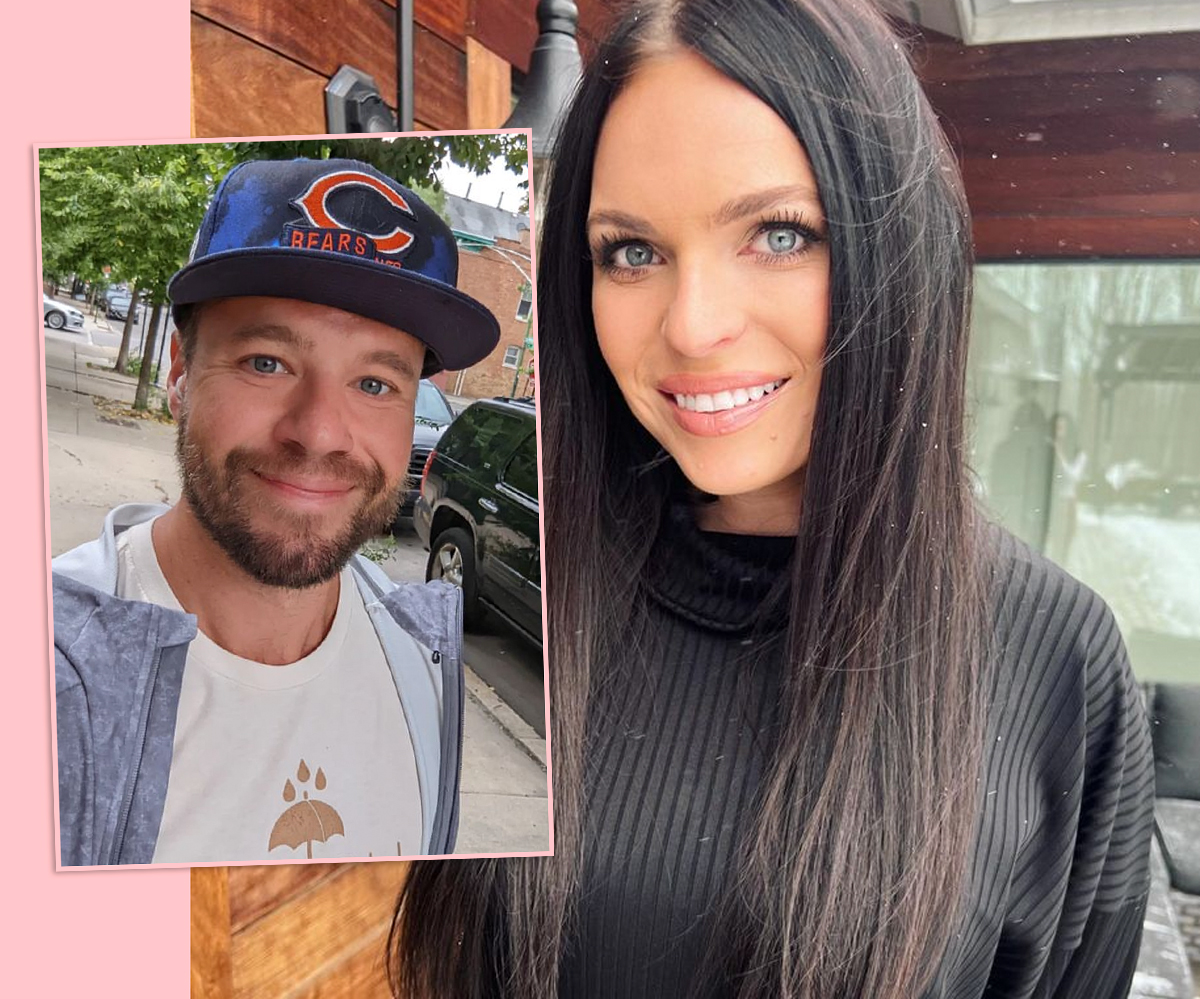 Danielle Ruhl filed to end her marriage to Nick Thompson in Cook County Circuit Court in Illinois in August after one year together. She shared with E! News in September that there wasn't a single reason that led to their divorce, explaining:
"Everyone's wanting some sort of big story when that wasn't necessarily the case. It was hard to speak about it at first because of how raw the emotions were and still are. But also, it's not that interesting of a story. It was just two people decided that it was best to go their separate ways. There was no catastrophe that had happened. And a lot of people had also assumed that there was some sort of incentive for the couples to stay together for a year and that wasn't the case."
While they seemed to be amicable at first, things between them soon became nasty. Danielle revealed the exes were no longer on good terms after accusing him of attempting to "talk s**t" about her. Afterward, a back-and-forth public battle between them soon began. She claimed to E! News that she feels Nick is trying to "punish" her for filing for divorce. However, he fired back at the accusation, telling People:
"It's hurtful to hear these comments. It's disappointing that Danielle chooses to make false claims and defamatory comments about me and our relationship. It's especially hurtful because she knows firsthand how difficult being in the public eye is."
It didn't stop there. Danielle slammed her ex-husband in a post on Insta Stories, saying:
"Please read.. bc I will no longer be controlled. I hope I don't have to into detail. I would rather give half of what I have for freedom. What he has said in the public (outside of social media) but media outlets. The worst is happening behind the scenes. It's sad again, I told him I'd support him going on the new show. Just because he isn't saying things on social media doesn't mean that there are not things behind the scenes are worse. I'm proactively saying this bc I know what he has in store with media, etc.. and bc he is about to go to these lows I'm being practice [sic]."
She then claimed Nick and his team want to "silence" her since the divorce hurt his chances of appearing on a different reality show:
"I need to say this because Nick is taking extreme measures to take me down, silence me, and control the narrative because he had intended to go on another reality show and blames me for potentially being unable to. I have been warned by his team that this could get messy and certain things of mine will be at stake or taken if I even block him on social media."
Whoa!
Iyanna McNeely & Jarrette Jones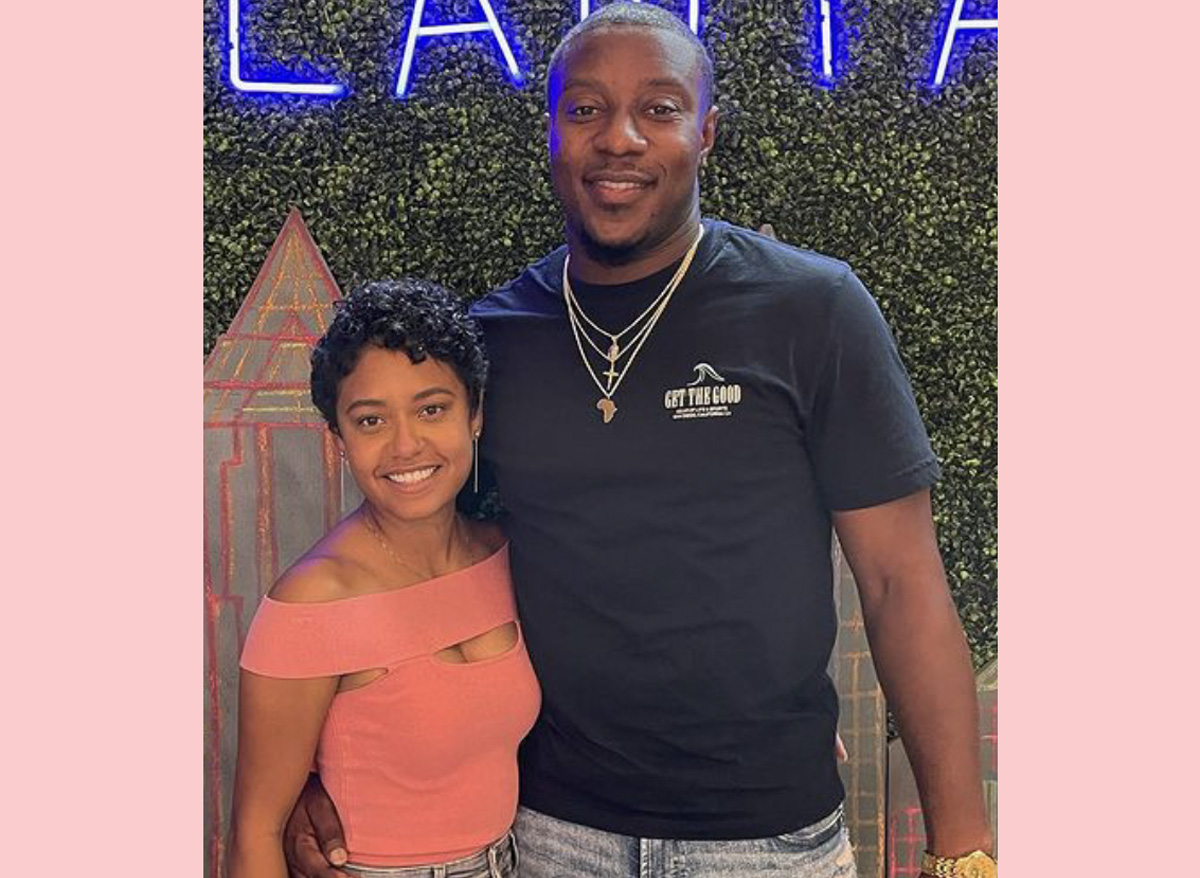 Iyanna McNeely and Jarrette Jones announced their divorce a year after getting engaged and married on the Netflix reality show Love Is Blind. The twosome wrote on Instagram in August:
"After much thought, we're saddened to share that we have separated and will begin the process of divorcing. While we have love for each other, our lives are going in different directions and that's OK. Coming to this decision was far from easy and we will always wish each other the absolute best."
They continued:
"We hope you all will give us some space as we close this chapter of our lives. Thank you to our close friends and family for loving us both through our experience. To the Love Is Blind family and Netflix, thank you for this unforgettable opportunity and support. Each of you brought overwhelming joy and love into our lives. This experience has taught us so much about ourselves, vulnerability and love. We don't regret a single thing!"
Four months later, Iyanna revealed in an emotional TikTok video that their divorce was finalized, saying:
"It is official. Divorce really is like a grief and as much as people laugh at how long we were married, I think my expectations made it real, my hope made it real, my effort made it real, my tears made it real. I'm crying for the girl that I was at the beginning of this marriage when I was so hopeful and had less baggage and I was optimistic and I was healed. And I'm crying for that marriage that I thought could work. I'm crying for that man I believed he was. That man he convinced me he was in the beginning. In between all that very scheduled filming, there was good moments in there. There was connection and then, cameras left and s**t hit the wall."
Meanwhile, Jarette told E! News that while they're officially over, they remain on good terms:
"We'll remain friends and I'll continue to wish her nothing but the very best. Thank you everyone for your continued support and understanding throughout this entire process."
Gabby Windey & Erich Schwer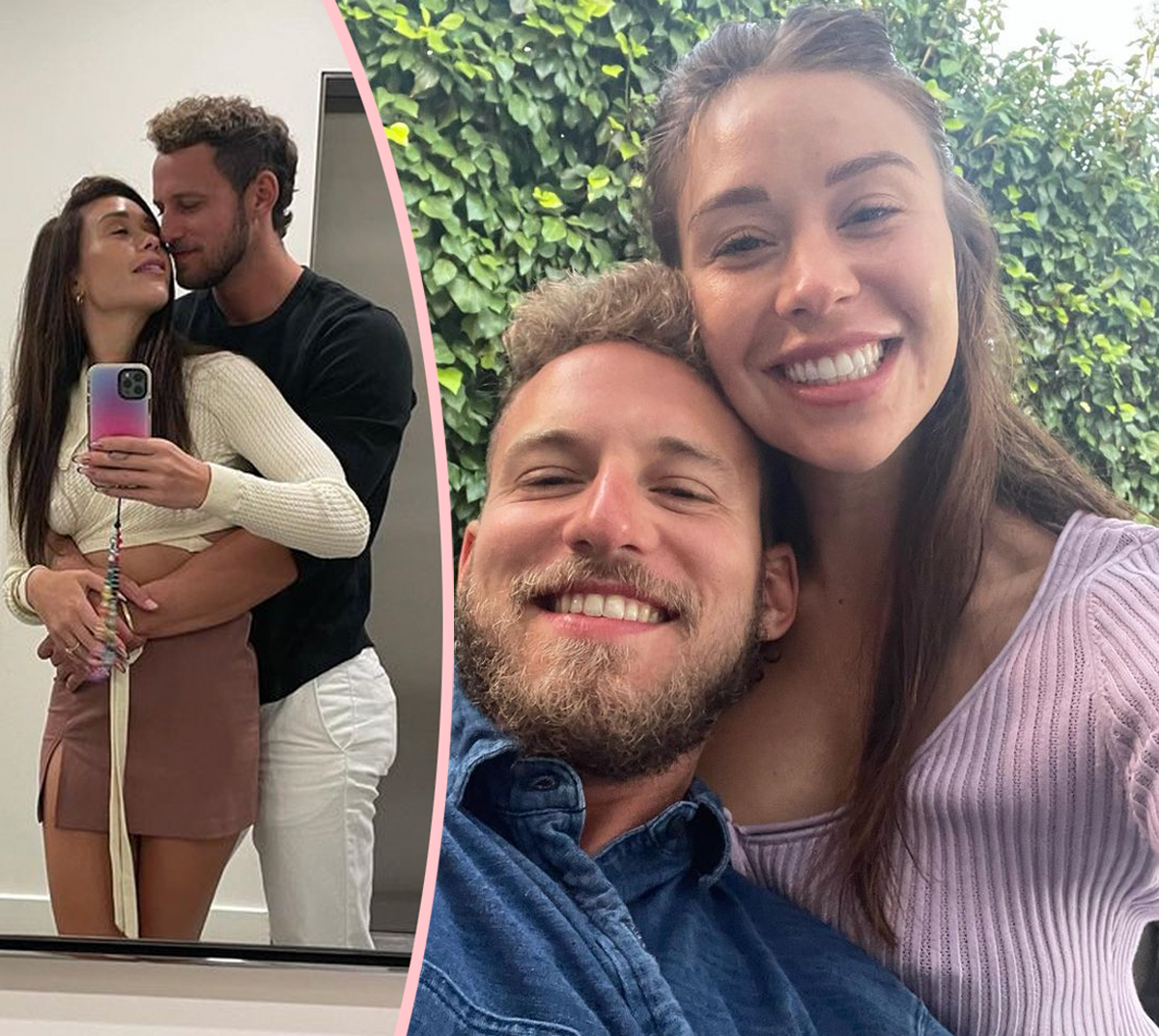 Surprise, surprise — another Bachelor Nation couple bites the dust! Two months after getting engaged on season 19 of The Bachelorette, an insider confirmed to E! News in November that Gabby Windey and Erich Schwer split as they weren't "on the same page" anymore:
"She felt they weren't aligned and weren't on the same page. Gabby was hoping they could give each other space and work it out but ultimately decided they didn't have a future."
She later confirmed the split on DWTS, saying:
"For me, it holds a special place because I did just go through a breakup. The end of our relationship happened because we weren't completely in step and in sync with each other on our common goals or just the way we approach life. We weren't each other's best match."
The breakup didn't come as a surprise to many fans as Erich was not seen in the audience of Dancing With the Stars when Gabby was competing – and her engagement ring was noticeably missing. A Fox News reporter asked about their relationship status at the time, with the leading lady responding:
"I think life is just really busy for the both of us right now. So, I understand their concern but we're just kinda, you know, going forward with each of our individual interests and supporting each other from afar."
So basically, a soft launch for the breakup!
Monty Lopez & Sheri Easterling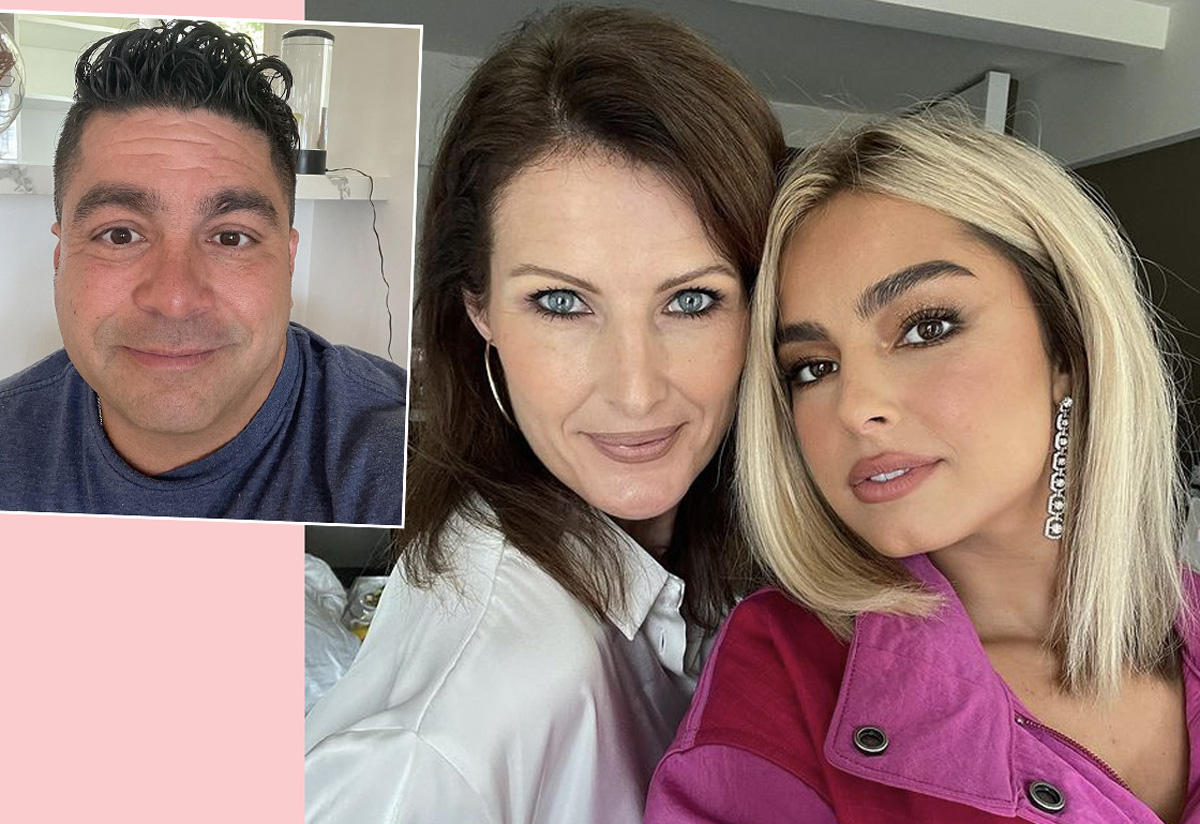 The parents of TikTok star Addison Rae, Monty Lopez and Sheri Easterling, divorce came to light this year. The 46-year-old told Page Six in November:
"Our divorce is finalized. What I can do from here on out, I can move forward. In Louisiana, it's real easy, it's a lot different. You have to figure, we've been separated for over two years now. When you go in front of the court system over here and you say, 'Hey, we've been separated for over two years, we've been living apart for a year and and a half,' we've done our due diligence."
He added:
"There's nothing else that needs to be done. We go in front of a judge, I sign it, she signs and then we're on to the next step.
Of course, this might come as a surprise to some fans as he was seemingly caught red-handed cheating on Sheri earlier this year. Addison even added fuel to the rumors when she unfollowed both of her parents on Instagram over the summer. A Page Six source said the TikTok personality was "mortified" by Sheri and Monty's relationship drama, saying:
"Addison has seen her parents go through a lot of ups and downs over the years, but everything going on right now has been particularly overwhelming for her."
But apparently, they were over a while – at least according to Monty. As for why he hasn't talked about the infidelity claims? Monty – who shares 15-year-old son Enzo and 9-year-old son Lucas with Sheri, in addition to Addison – explained they were secretive about the separation in order to protect the public's "concept" of their family.
Rosie O'Donnell & Aimee Hauer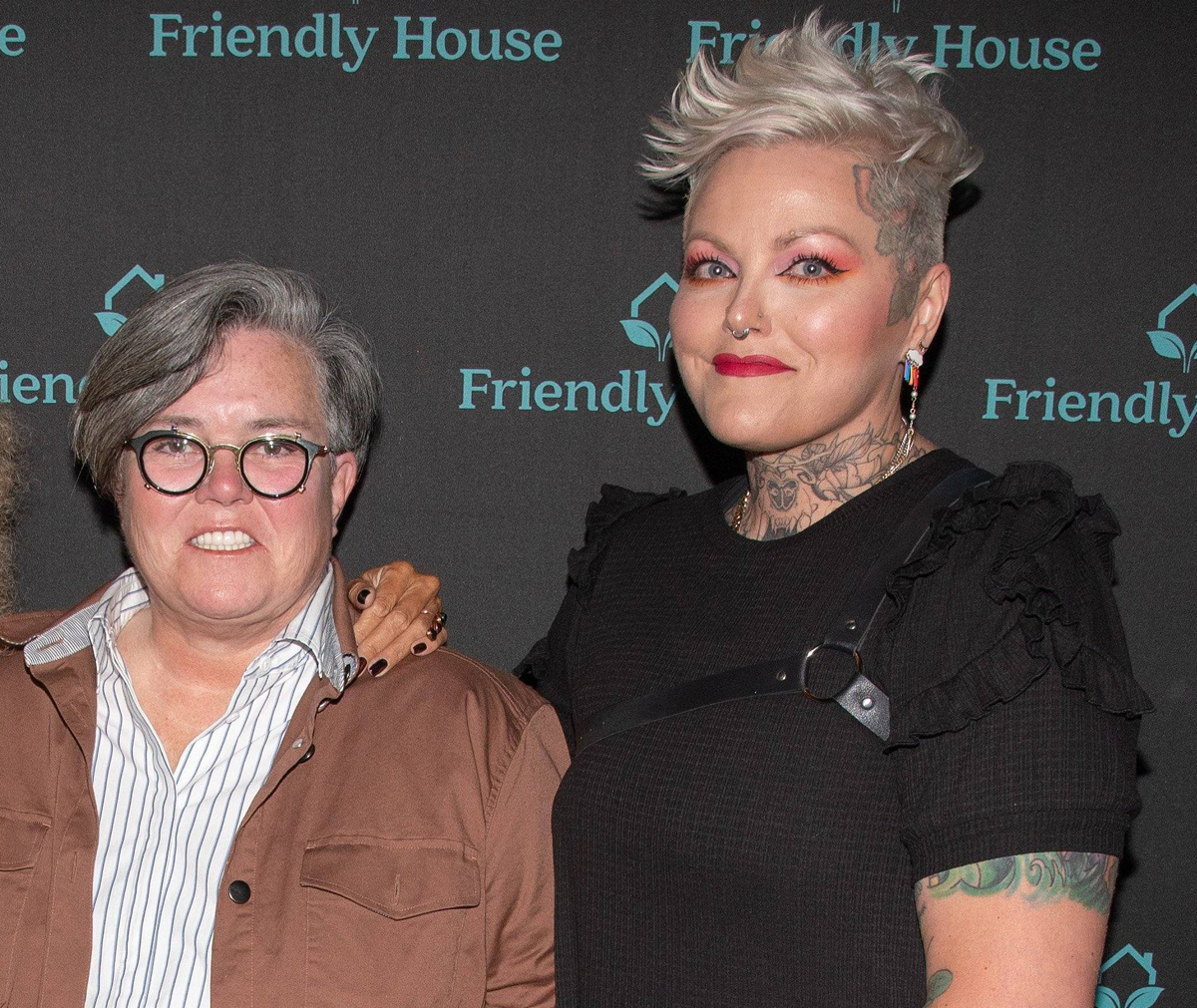 Rosie O'Donnell split from her TikToker girlfriend, Aimee Hauer, in October. A source told Entertainment Tonight said they "have broken up" but provided no other details at the time.
News of their split came just five months after they sparked romance rumors on Instagram, with a picture of Rosie's hand on the massage therapist's leg. They later made their relationship IG official in June to mark the first day of pride and made their red debut a month later for the Stand Up for Friendly House comedy benefit in El Lay.
Leah Messer & Jaylan Mobley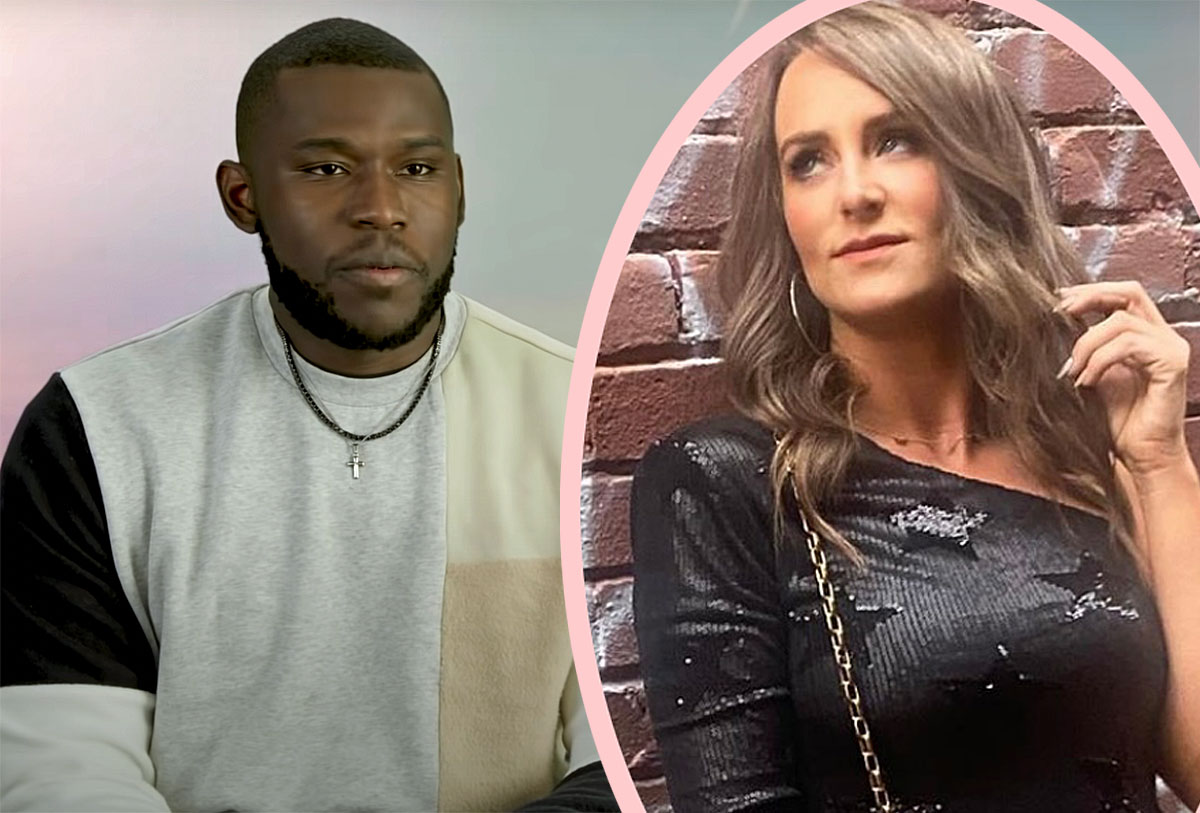 That was fast… Teen Mom's Leah Messer and Jaylan Mobley announced their breakup in October less than two months after getting engaged, saying:
"While the last year has been tremendously exciting for both of us, we've realized that it's best we walk separate paths. We are so grateful for the lessons, growth, and memories we've had in this relationship. So many of you have watched our love story unfold, and we hope that you'll continue to watch our stories while we move forward as friends. We will forever have love and respect for each other, and we ask for privacy as we refocus and transition out of this chapter together."
Why did they split? Well, The Sun reported Leah caught him "cheating." Yikes! A source divulged:
"Leah saw material suggesting he was unfaithful."
Oof. A representative for the former couple refused to say anything about the allegation, noting:
"Jaylan has no additional comment beyond the joint statement provided last week."
Meanwhile, Leah hopped on Twitter at the time to shut down the rumors going around about her and Jaylan, writing:
"While y'all are tripping on what the reason for the breakup is, we're solid. Refocusing and transitioning into days ahead of us."
Cynthia Bailey and Mike Hill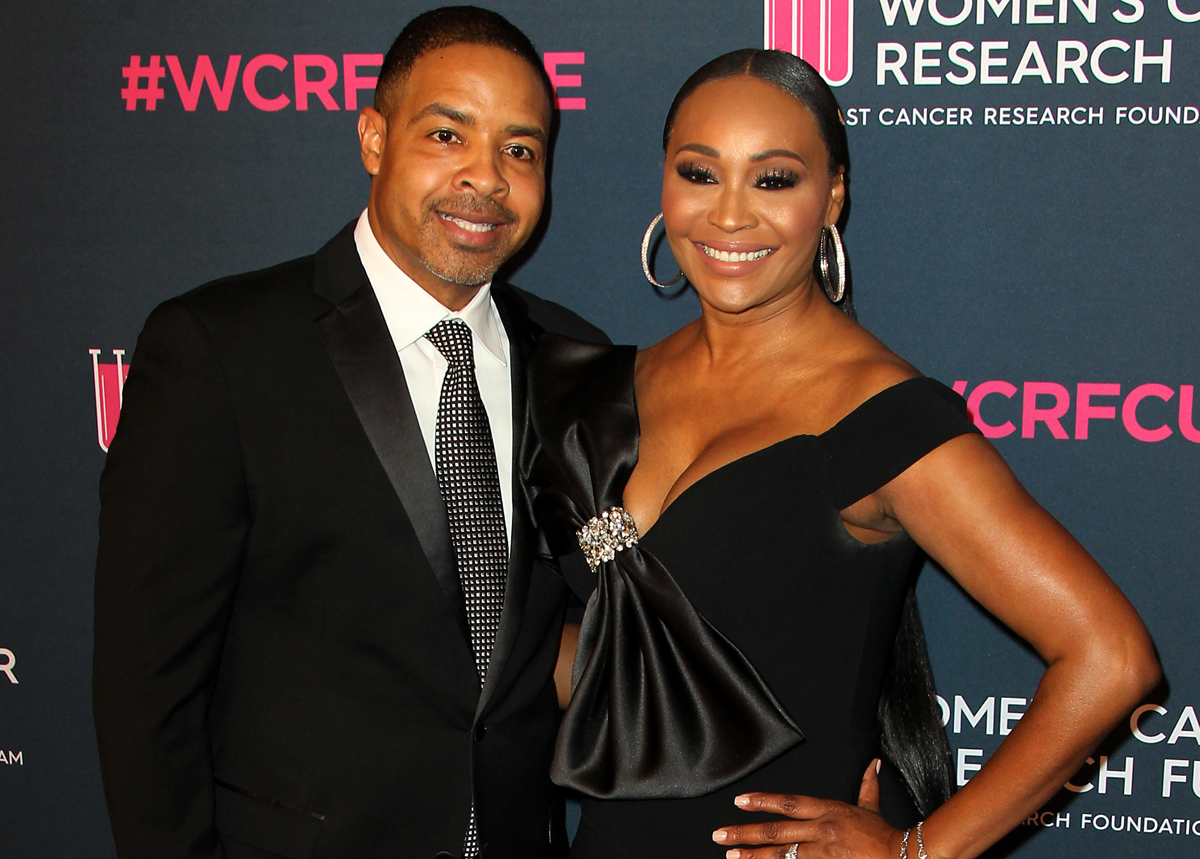 Real Housewives of Atlanta star Cynthia Bailey bounced from her marriage with Mike Hill after two years. The exes confirmed the news in a joint statement to Entertainment Tonight in October, expressing:
"LOVE is a beautiful thing. While we both will always have love for one another, we have decided to go our separate ways. No one is to blame, and we are grateful that we remain good friends. We will always cherish the many memories we've shared together as husband and wife. Many of you have been on this journey with us from the very beginning, and we appreciate our family, friends, and beloved fans for your positive support as we move forward and start new chapters. Thank you for your prayers and well-wishes!"
A source spilled more details, saying they'd been struggling for some time:
"Cynthia and Mike have been having issues for a while and tried working on things but weren't able to come to a resolution. The two have been busy with work and it wasn't easy on their relationship."
However, she appeared on Tamra Judge and Teddi Mellencamp's Two Ts in a Pod podcast where she opened up about the "final straw" that led to their divorce. She revealed in November:
"I felt like we weren't friends anymore. I felt like it was just going toward we're just not going to be friends if we didn't pump the brakes. This is not my first rodeo. I think friendship just has to be there in a marriage. Like, love is great, but friendship has to be there. I truly want to be with my best friend."
Understandable, girl!
Emily Ratajkowski & Sebastian Bear-McClard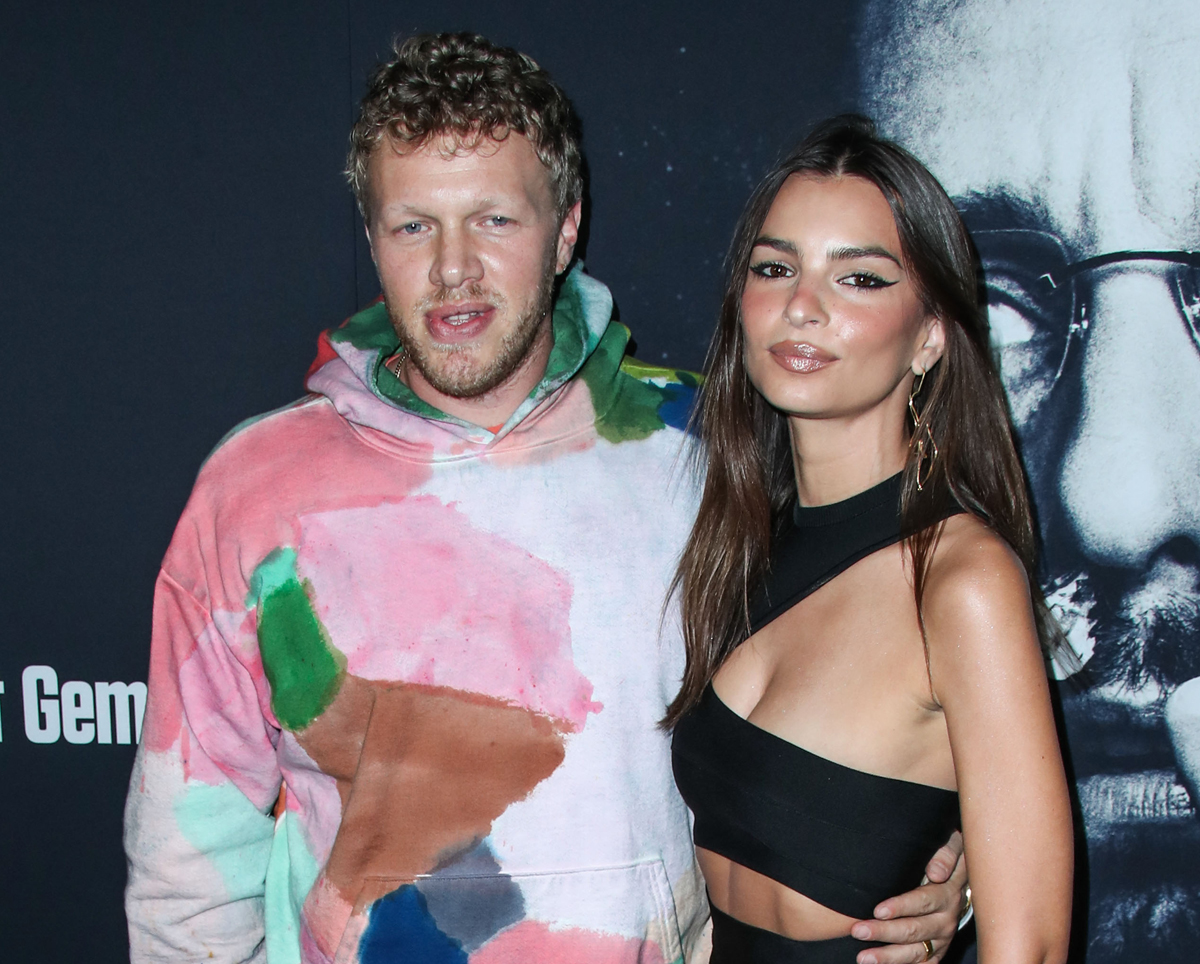 Serial cheater alert! Following four years of marriage, Emily Ratajokowski filed for divorce from Sebastian Bear-McClard, with whom she shares a 1-year-old son Sylvester Apollo Bear, in September. It came after rumors were swirling around that she was getting ready to leave him. The speculation began when she was spotted in New York City back in June without her wedding ring. Then, the following month reports came out that she was ending her marriage to Sebastian because he cheated on her – multiple times. An insider told Page Six:
"Yeah, he cheated. He's a serial cheater. It's gross. He's a dog."
He has faced infidelity allegations since 2018 – the same year the former couple tied the knot – so it doesn't surprise us if EmRata had enough and decided to dump him once and for all! She seemed to confirm the latest cheating rumors when she liked several tweets about it, including:
"Girls, how are we celebrating Emrata's divorce?"
"Emrata finally free from that man just proves that god is actually very real."
"Can't believe that little bitch cheated on Emrata."
Yikes… But it seems Emily isn't letting the divorce get her down, as she has already moved on from Sebastian with his, we guess, now former buddy Pete! She was also seen with DJ Orazio. Good for her!
Miguel & Nazanin Mandi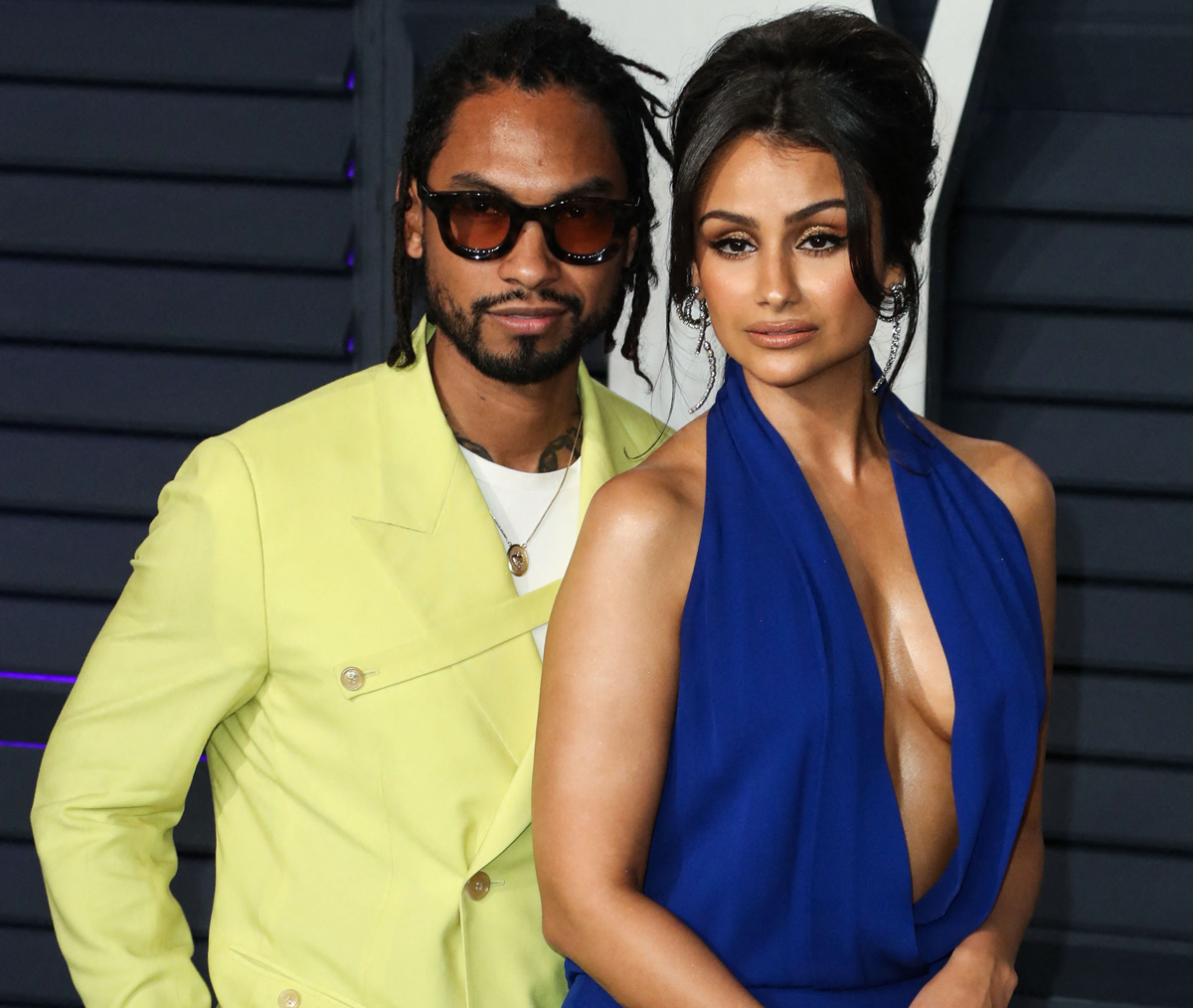 Miguel and his high school sweetheart, Nazanin Mandi, are done after three years of marriage and 17 years together. A rep confirmed the split in a statement to People in September, saying:
"After 17 years together, Miguel and Nazanin Mandi have decided to separate and have been for some time now. The couple both wish each other well."
Per court documents obtained by TMZ, she filed for divorce, citing irreconcilable differences as the main reason for the split. The former couple reportedly first announced their breakup in September 2021. However, Miguel suggested they were back together in February when he shared a bunch of pictures of them, writing:
"Love heals. Proud of us."
They were also photographed together in July. Hmm… Did something happen between then and September leading her to pull the plug on their marriage? In the court docs, Nazanin did not list a separation date, marking it as "TBD."
Dan Reynolds & Aja Volkman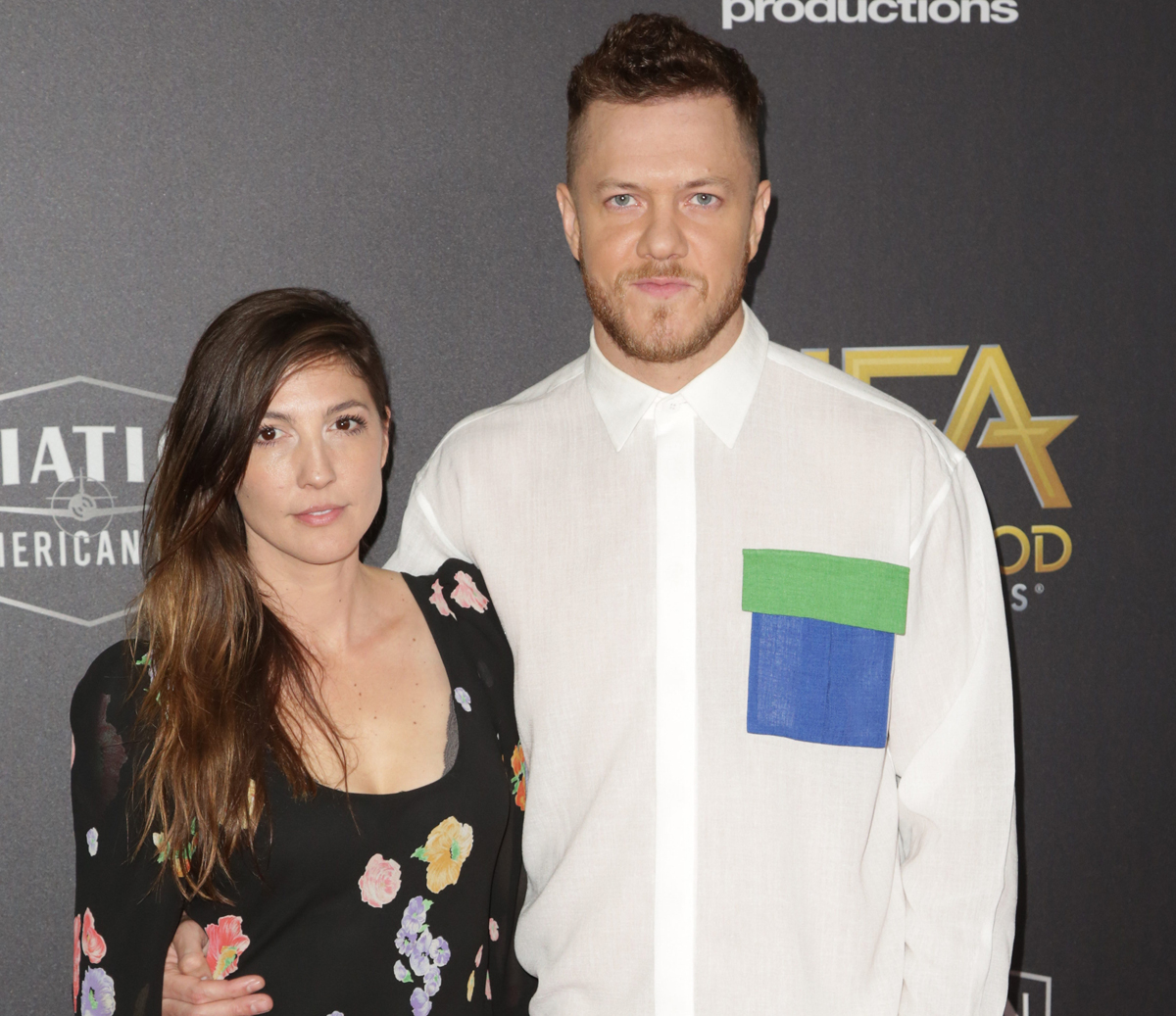 Imagine Dragons frontman Dan Reynolds and his wife Aja Volkman have decided to go their separate ways. The singer announced the split on Twitter in September, writing:
"I am saddened to say that after many beautiful years together Aja and I have separated. Being great parents to our children is our number one priority. Thank you for always supporting us with love and care for all these years."
The twosome, who share four kids, previously announced their breakup in April 2018 before getting back together seven months later. But sadly, it looks like their relationship is over, and he has already moved on with Minka Kelly!
Kyle Abrams & Deepti Vempati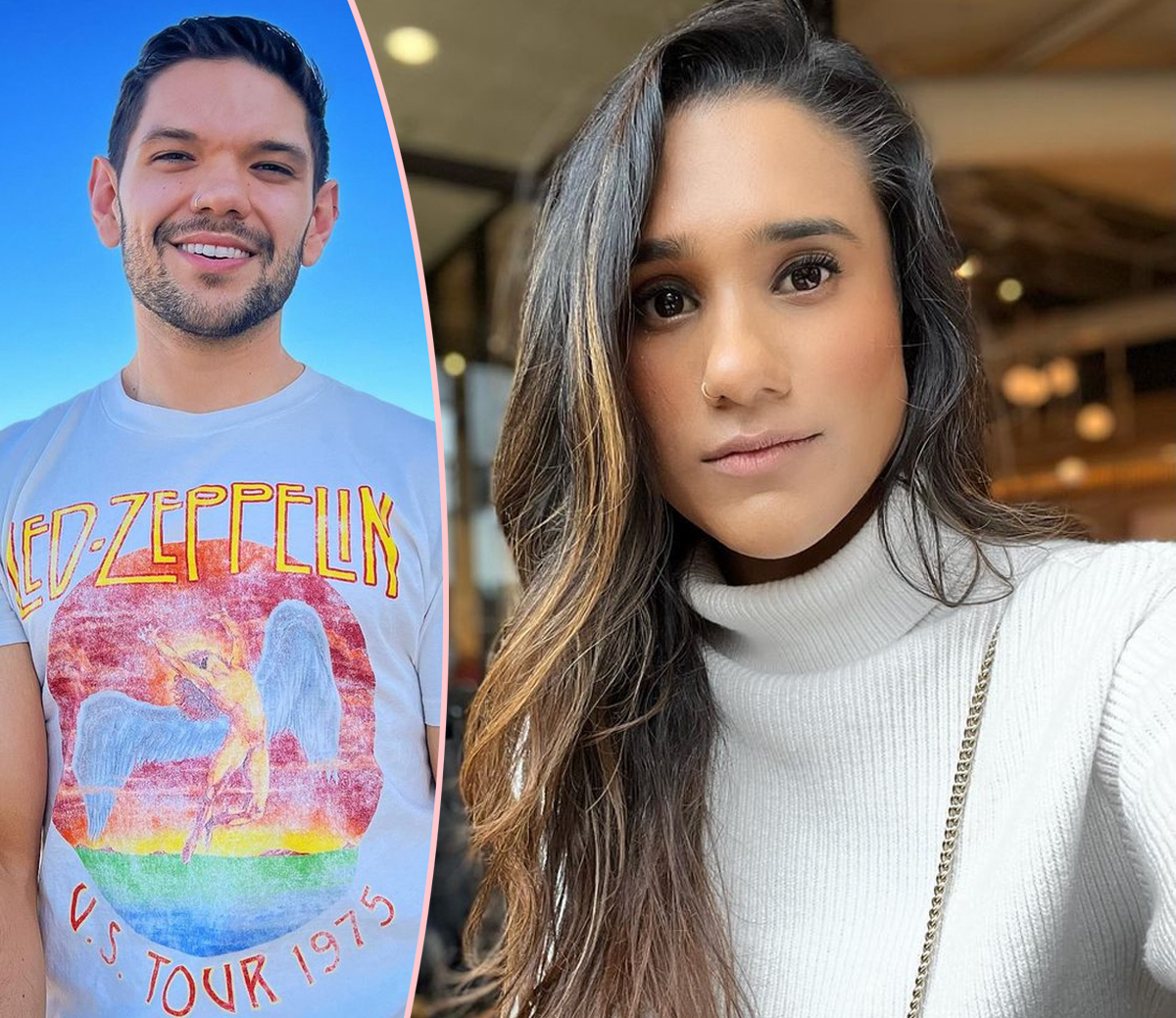 Despite deciding to give their relationship a shot on Love Is Blind: After the Altar following months of romance rumors, Kyle Abrams shared on Instagram in September that he and Deepti Vempati "decided to go our separate ways in early summer," adding:
"Thank you to everyone who has followed our journey through arduous vulnerability and has supported us along the way. I have since embarked on a new relationship which I intend to keep private for a bit. As for what the future holds, I have not a clue. Going forward I plan to live each day in the present without any regret."
Meanwhile, Deepti posted on Instagram a video documenting their time together and writing in the caption:
"Kyle and I are now walking different paths and are no longer together. We couldn't share these memories over the past year so sharing them now. Thank you all for your continued love and support."
She ended the message with a quote that reads:
"People come into your life for a chapter, a season or a lifetime."
Tom Brady & Gisele Bündchen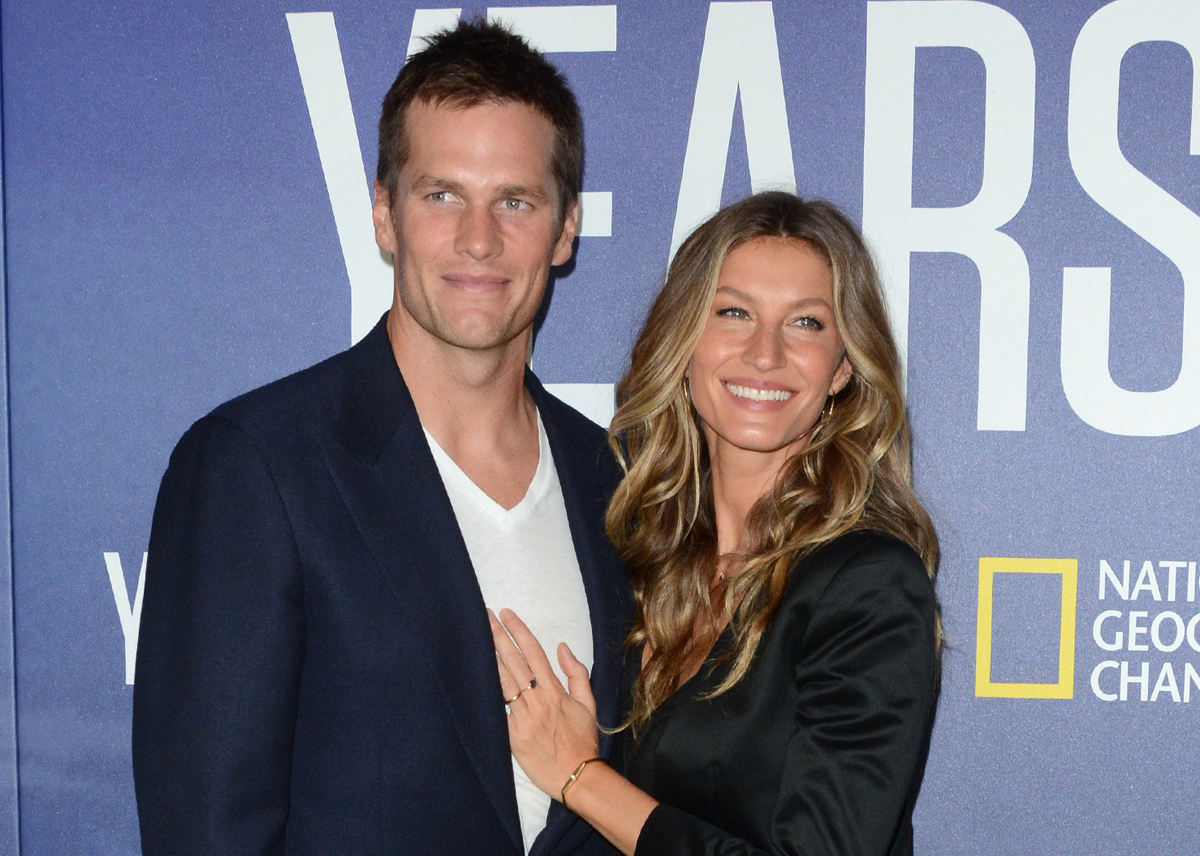 Tom Brady and Gisele Bündchen opted to head for splitsville in the fall of 2022.
The couple, who shares two kids, couldn't make things work in the months after the 45-year-old quarterback decided to un-retire from the NFL and return to his on-field job with the Tampa Bay Buccaneers.
The Brazilian-born supermodel balked at Tom's endless relationship with the physically demanding and dangerous game. And in turn, a rift opened and quickly widened between the A-list couple.
Rumors swirled about their coming split through the summer and into the early fall. Tom's Tampa team struggled mightily on the field early in the season, too, only further fueling the controversy. Then, in October, the now-estranged couple made things official by filing for the legal split. Sad!
Tia Lowry & Cory Hardrict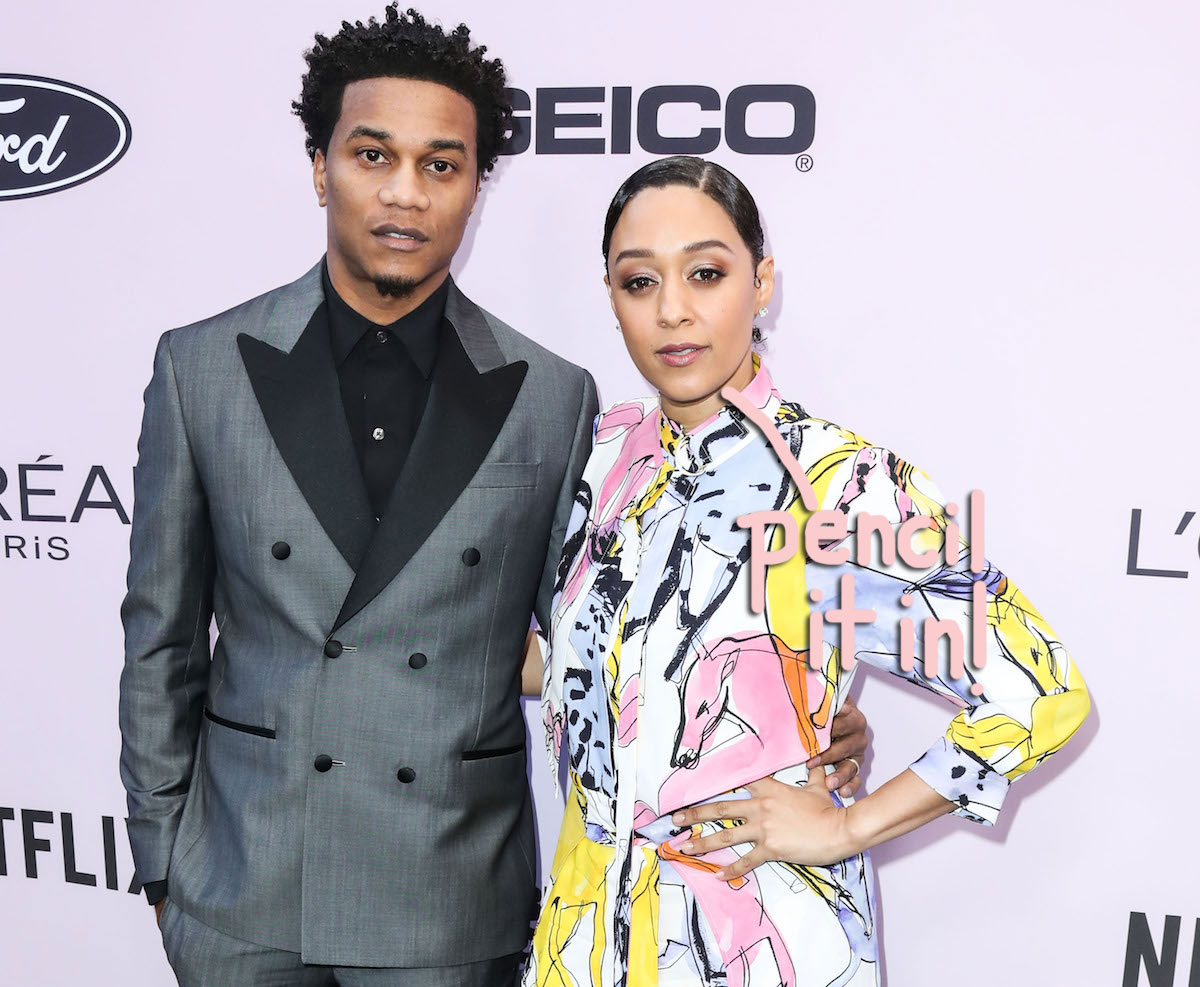 In early October, Sister Sister alum Tia Mowry called it quits with Cory Hardrict following more than a decade of marriage. In a social media post about the situation, the 44-year-old TV star wrote:
"I have always been honest with my fans, and today is no different. I wanted to share that Cory and I have decided to go our separate ways. These decisions are never easy, and not without sadness. We will maintain a friendship as we co-parent our beautiful children."
And she continued:
"I am grateful for all the happy times we had together and want to thank my friends, family and fans for your love and support as we start this new chapter moving forward in our lives."
The couple, who shares 11-year-old son Cree and 4-year-old daughter Cairo, had been married for 14 years prior to the shocking announcement.
Brittany Snow & Tyler Stanaland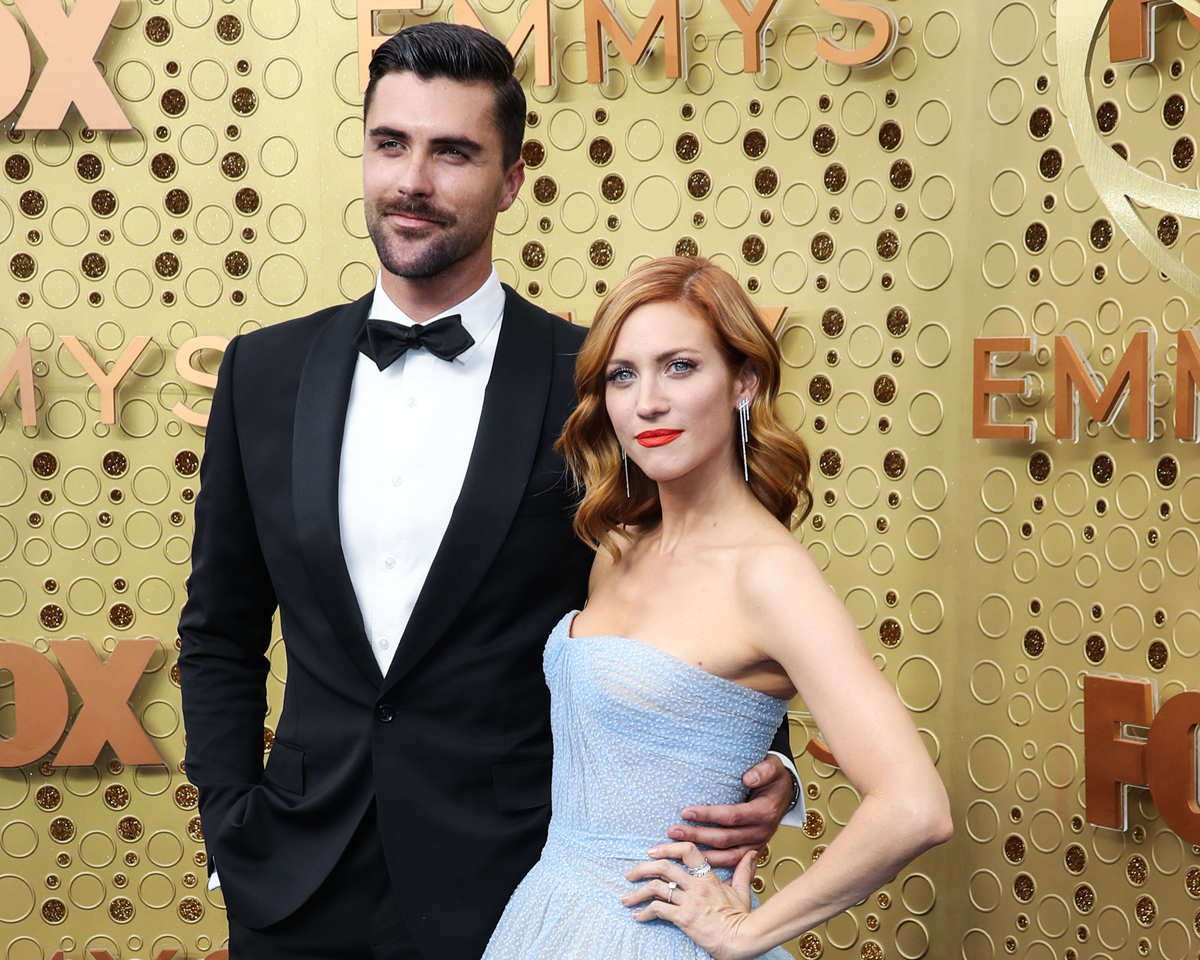 Tyler Stanaland learned the negative impact reality television can take on a relationship at times the hard way! The 33-year-old Selling The OC star and Brittany Snow announced on social media that they were getting a divorce in September after nearly three years of marriage. The Pitch Perfect star wrote:
"After time and consideration, Tyler and I have made the difficult decision to separate. This decision was made with love and mutual respect for one another. We have realized we need to take some time and make sure we are each living our most fulfilling and authentic lives. We started this journey as best friends and our relationship will continue to be a priority not only for us but for our dog Charlie. We sincerely appreciate your support and ask for privacy as we navigate this new chapter."
The split came after Tyler was seen getting cozy with a few of his co-stars, including Alex Hall, on season one of the Netflix show. Does anyone else remember that "nosey" they were giving each other? He also claimed that his co-worker Kayla Cardona attempted to kiss him in an off-camera moment. A source shared with Page Six at the time that the reality star's actions had been one of the reasons for their divorce, explaining:
"Everyone who knows Tyler and Brittany knows she wasn't comfortable with the show. That's why he did his best to keep his marriage and the show separate, but it only backfired."
Another added:
"The show basically destroyed their marriage. Brittany was not happy with what she saw."
However, Alex insisted to People in December that they were "just friends," and Tyler and Brittany's divorce "had been long coming." She added:
"I don't think that mine and Tyler's friendship had any contribution to his divorce. Tyler is a grown man and Brittany is a grown woman. I think that people need to understand there was a life that they had way before Tyler started filming and long before him and I ever became friends."
Hmm… We'll see if these two remain only pals. We mean, the same day the former couple announced their split, Tyler was seen getting cozy with Alex at a sushi restaurant called SOTA in Corona del Mar, California. So who knows!
Paul Wesley & Ines de Ramon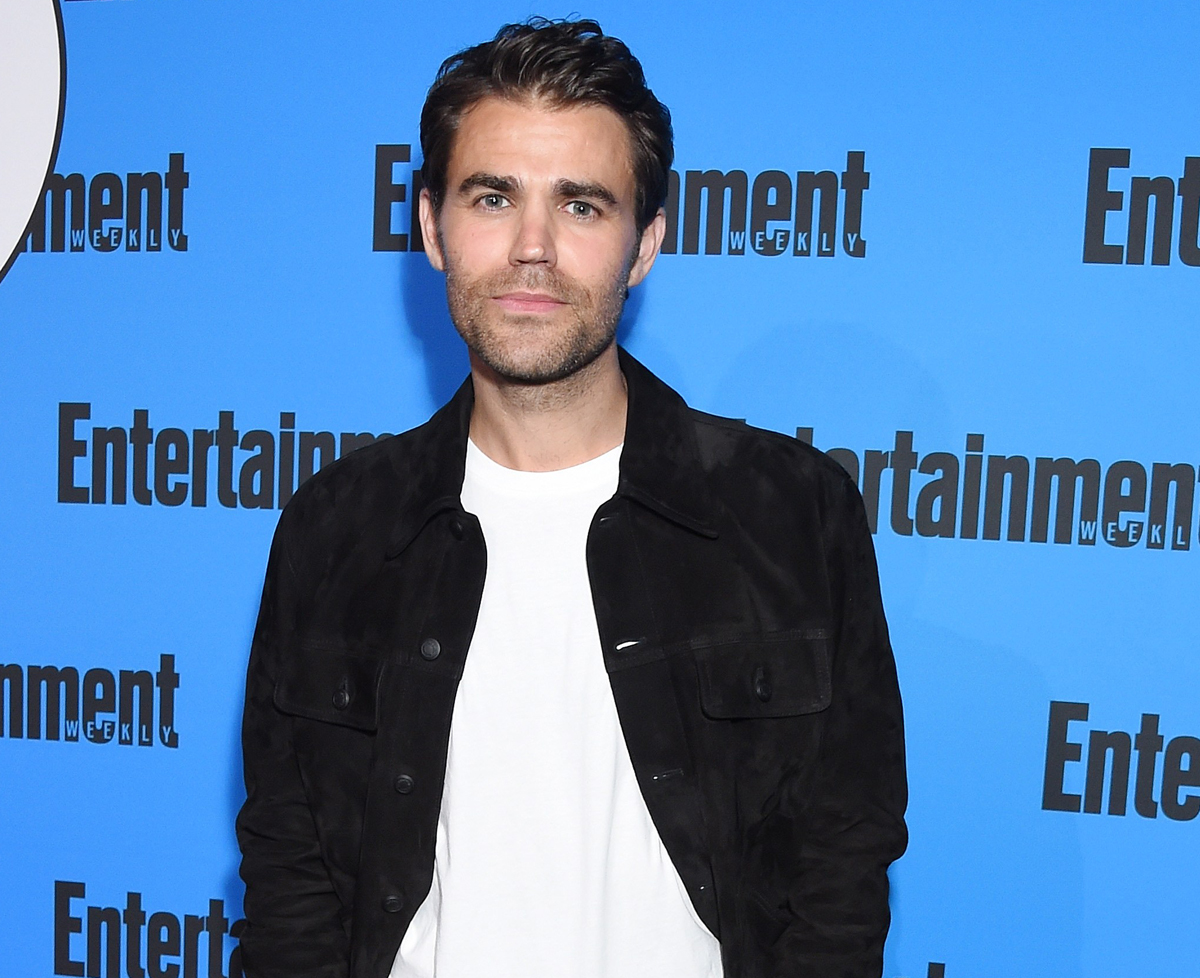 Oof. The Vampire Diaries alum Paul Wesley and Ines de Ramon separated after three years of marriage. A representative for the couple confirmed the news to People in September, saying:
"The decision to separate is mutual and occurred five months ago. They request privacy at this time."
The exes began dating in 2018 before tying the knot one year later. Sadly, it looks like their love story is coming to an end now!
Susie Evans & Clayton Echard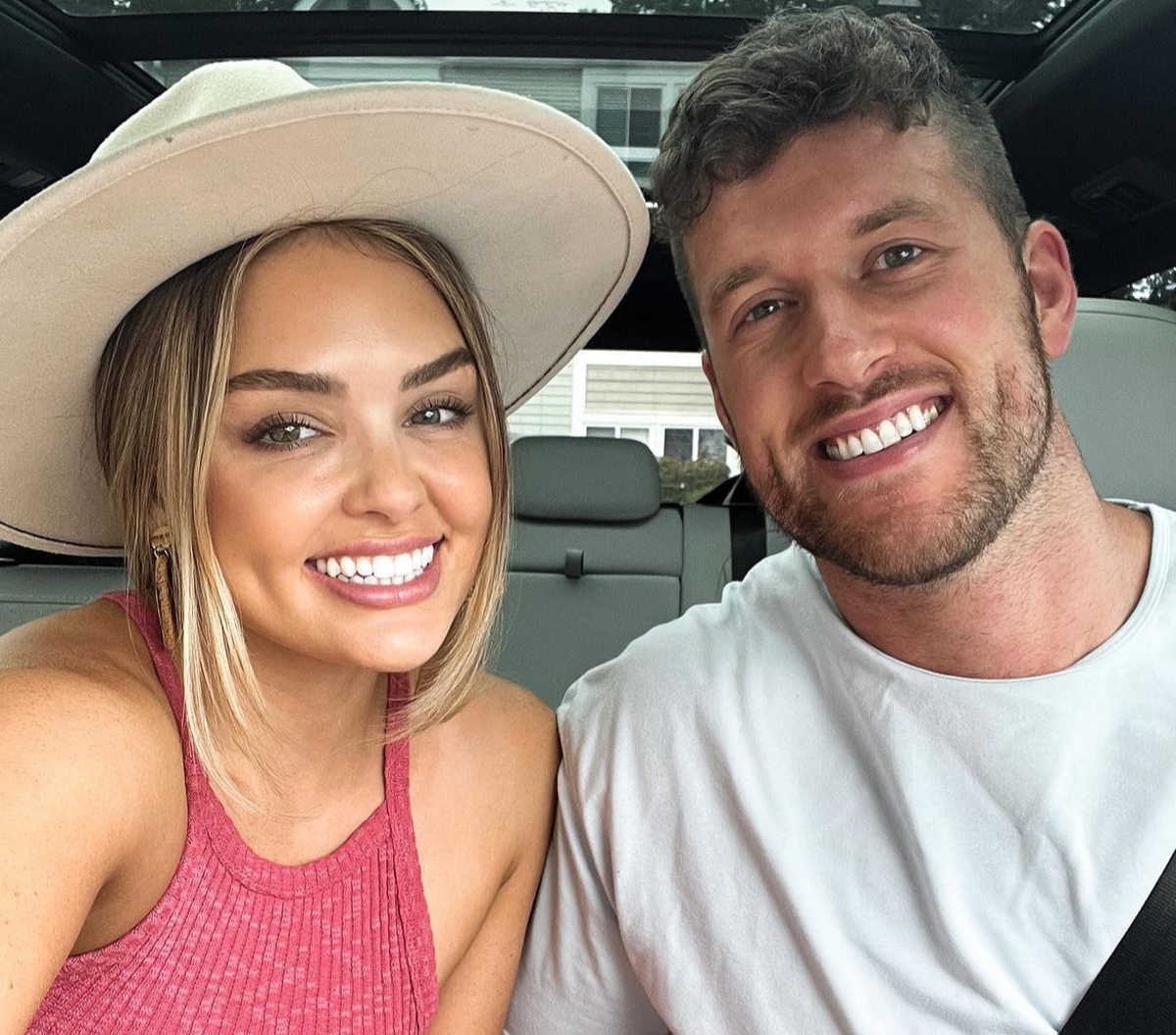 Six months after revealing they got back together on the season finale of The Bachelor, Clayton Echard and Susie Evans called it quits. They announced it with a joint statement on Instagram in September, writing:
"With incredibly heavy hearts, we wanted to share that we have decided to go our separate ways. For anyone who has ever loved, knows this was a painful decision to make and not one taken lightly. We understand that there will likely be a lot of questions about this decision — social media is definitely a highlight reel and much of our experiences together we have kept private as I'm sure most can understand. But we will share this — although this last year together has brought us so much joy and so many laughs, there has also been a significant amount of pain. We know no healthy relationship comes without its struggles, but we've realized that we were not prepared for the external forces that hindered our ability to not only heal as individuals but also as a couple. We both are focused on continuing to work on ourselves, so we can be the best version of ourselves."
They continued:
"This is not an easy time for either of us but we stand in support of each other and hope to see the other go on to find happiness and healing. Although Claysie is no more, we hope that our communities can support us individually as we move forward with love and respect for each other. Thank you to all of you that supported our relationship. It means so much more than you will ever know."
Fans probably should have seen this coming since they previously revealed they were moving to different states after living together in Virginia Beach!
Leonardo DiCaprio & Camila Morrone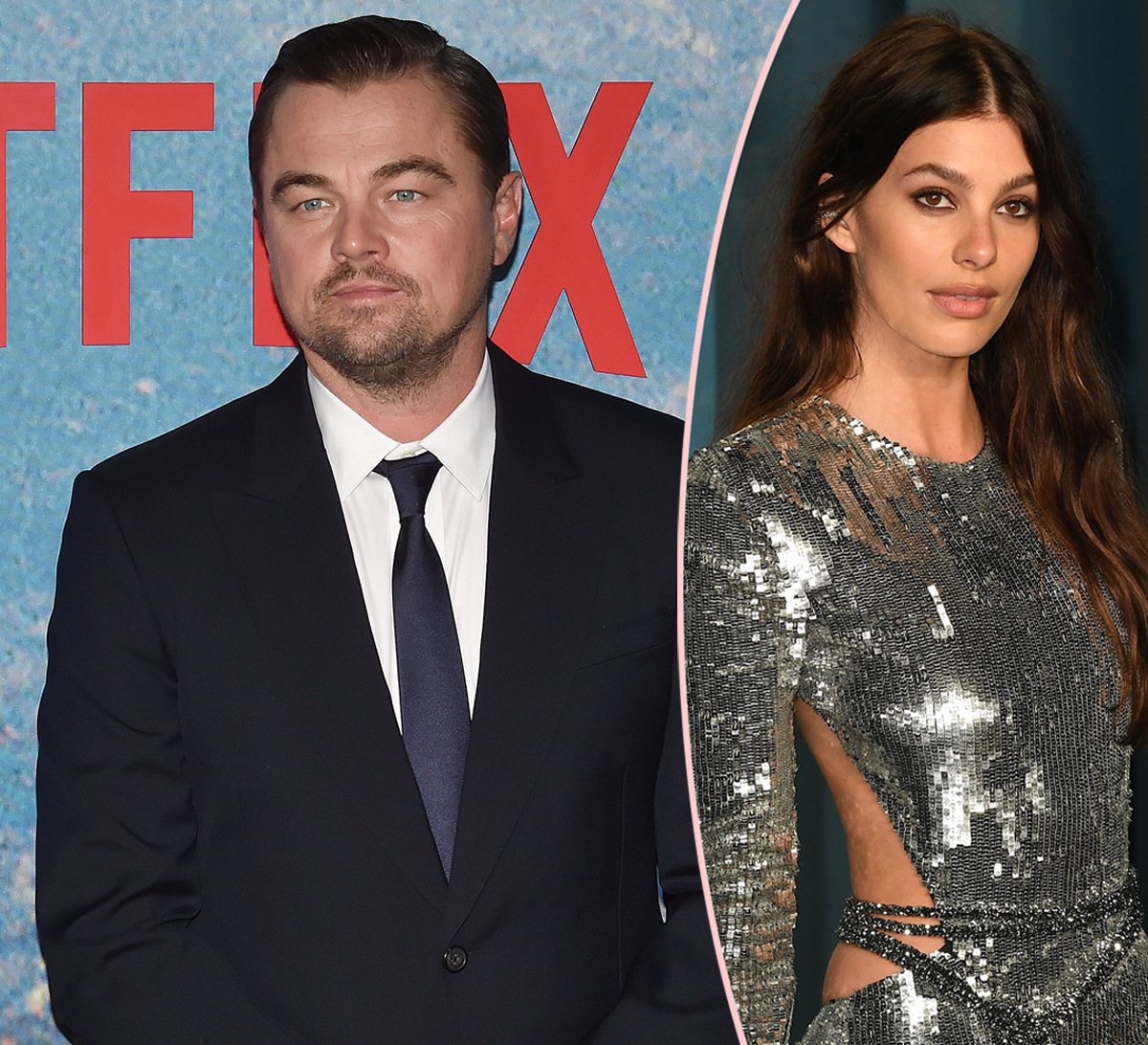 Aged out or…? News broke in August that Leonardo DiCaprio and Camila Morrone went their separate ways after more than four years of dating. No explanation for the breakup was given at the time, nor did the duo offer any statements. However, social media immediately began speculating (and joking) that Camila simply had become too old for Leo's tastes – as the model celebrated her 25th birthday in June. As you know, he hasn't dated many women over the age of 25 – except for his new girlfriend, Gigi Hadid, who is 27 years old.
But it sounds like the 47-year-old actor had been looking for something more serious. According to The Sun, Leo wanted to start a family with Camila – and once she learned about his desire to have a baby, she decided to split with him since she wasn't ready for children yet and wanted to focus on her acting career:
"It was Camila who broke it off with Leo because he wanted her to be home having babies and she wants to have a career. He has got to that point in his life where he wants to have a family. But Camila has been working towards her dreams since she was 16, when she was in James Franco's movie Bukowski."
More than that, the Titanic star wanted to have kids – but the insider claimed he did not want to put a ring on her finger:
"Leo wanted her to have babies and stay home but if you want somebody to do that you've got to make a commitment. What commitment is he making? He didn't introduce her to anyone because he doesn't want her to be famous and have a career, obviously. Leo wants to have a family but still play around. A man who really wants to be committed would put a ring on it."
We guess that's why he started dating Gigi, considering she already has her daughter Khai.
Alexis Bledel & Vincent Kartheiser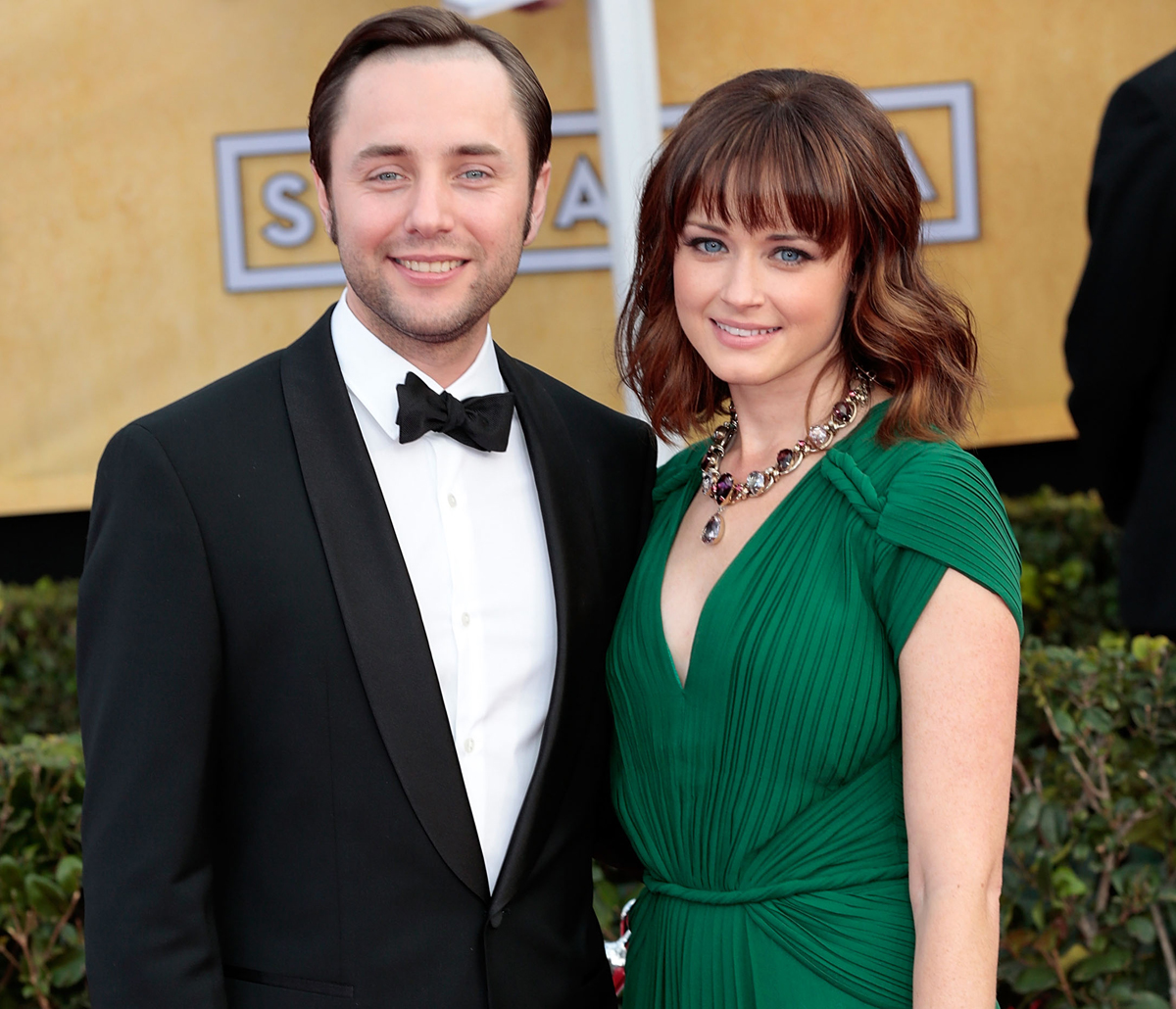 Alexis Bledel and Vincent Kartheiser, who met on the set of Mad Men in 2012, went their separate ways after eight years of marriage. Per court documents obtained by Us Weekly in August, the actor filed for divorce from the Gilmore Girls star on August 10 with the Putnam Country Supreme Court in New York. Their split was reportedly finalized 20 days later.
As for why they ended things? An Us insider said it came down to the "social isolation" in their lives, noting that they haven't made a public appearance together in "years." The source further mentioned that their distance "certainly play a part" in the split decision, adding:
"They didn't have a huge circle of friends but they both made up for it with very thriving and busy careers — almost to a fault. Vincent has always been a little bit of a lone wolf and he's going to benefit from time on his own."
Kelsea Ballerini & Morgan Evans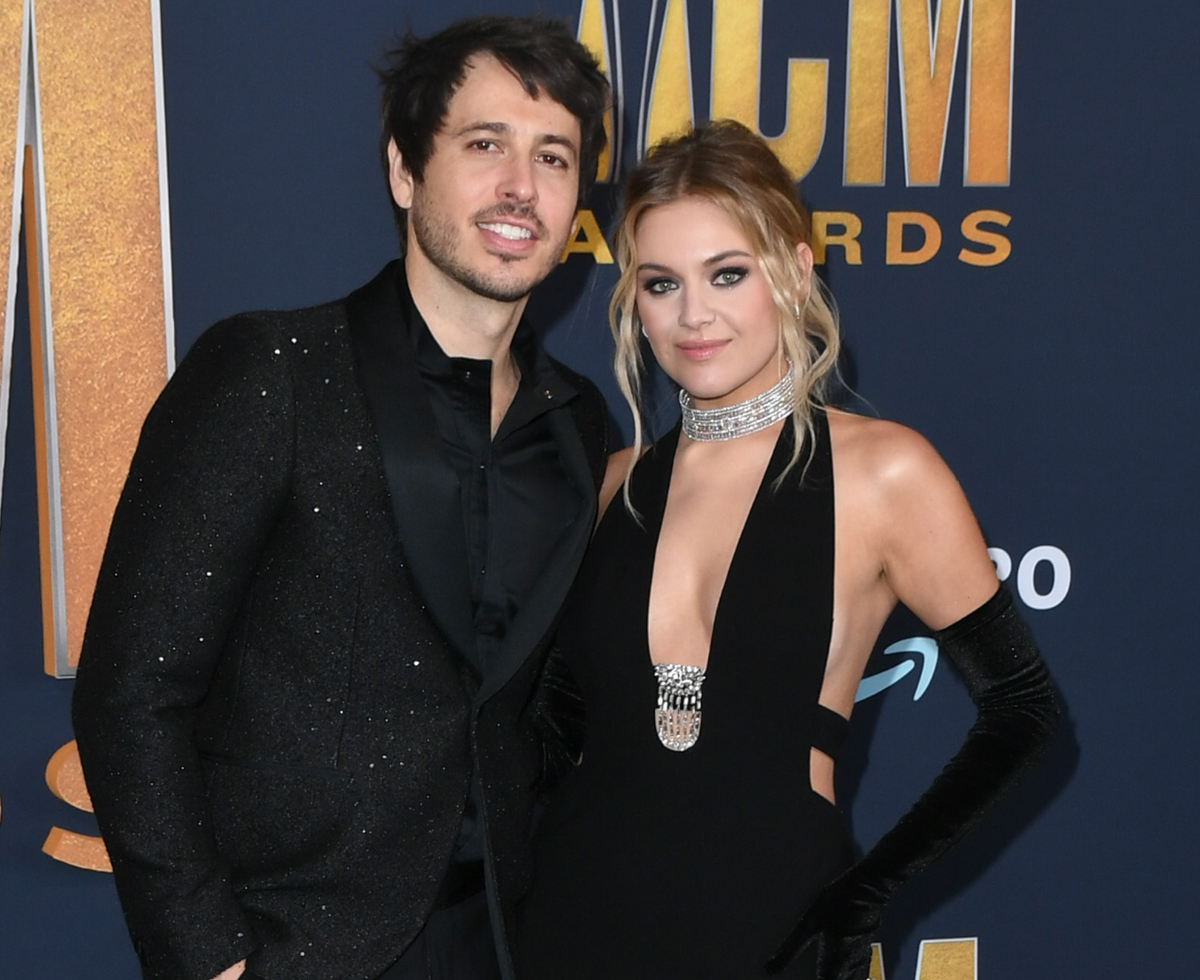 Kelsea Ballerini filed for divorce from her husband of nearly five years Morgan Evans in August. The country singer addressed the split on Instagram, writing:
"Friends, I have always tried my best to share my life with you in a real and vulnerable way while also protecting layers of my personal life as they unfold. This is now public record so I wanted you to hear from me directly that I am going through a divorce."
She called the breakup a "deeply difficult decision," adding that it's "the result of a journey of love, growth, and effort that ultimately has come to an end." Kelsea concluded, expressing:
"It's hard to find the words here…but I feel extremely grateful for the years of marriage to Morgan and hopeful for the next seasons."
Months later, the 29-year-old shared that on the same day she received a Grammy nomination, her divorce from Morgan was finalized. She told the crowd during a performance at the Grand Ole Opry:
"The truth is that this morning I started my day at the courthouse finalizing my divorce. And then getting nominated for a Grammy, and then getting the keys to my dream home, and now standing in the circle of the Opry. Making light of life's ups and downs. And s**t, if that ain't country music, I don't know what is."
We certainly cannot wait to see what music she'll put out following this heartbreak.
JoJo Siwa & Kylie Prew — Again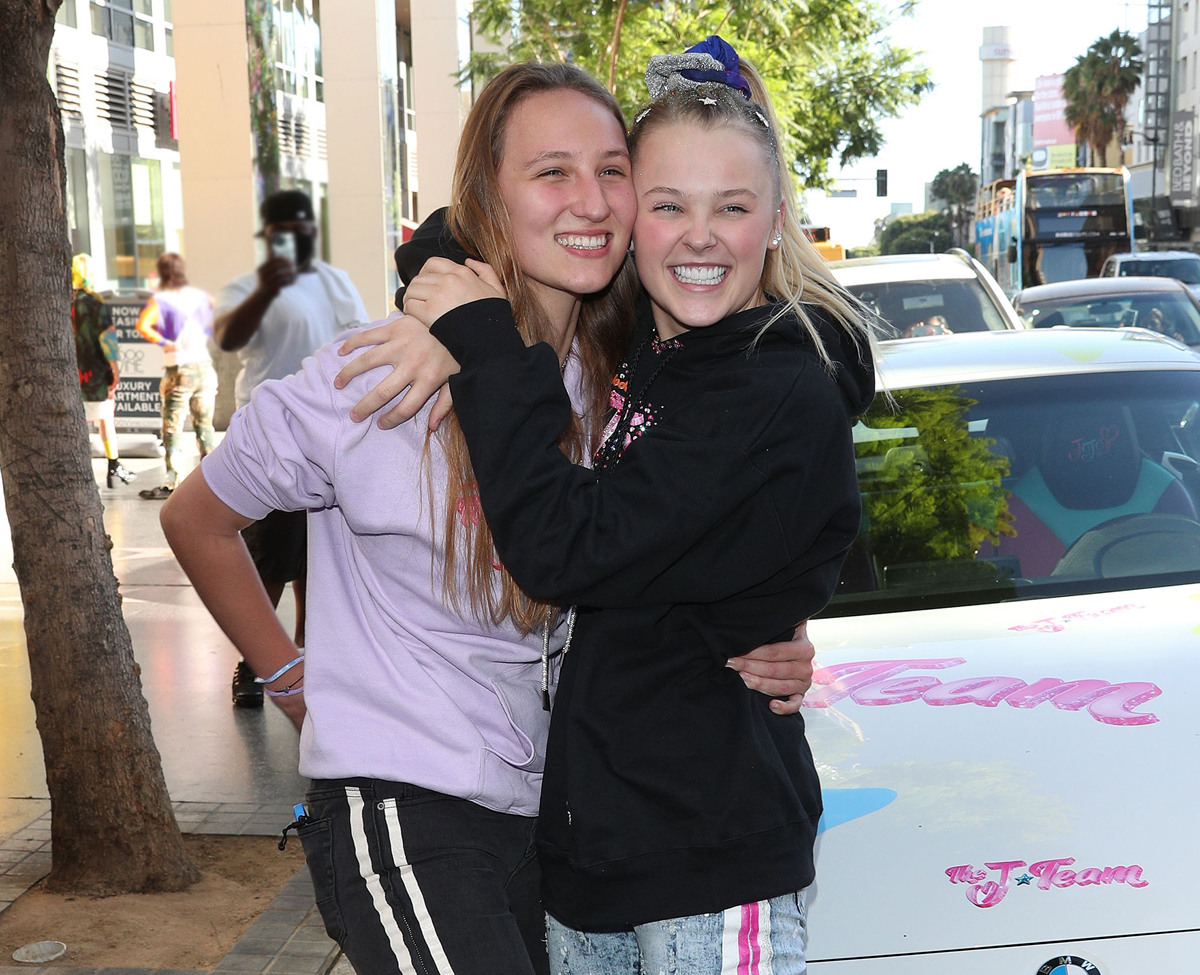 They're over again. Shortly after rekindling their relationship, Kylie Prew shared in an August 2022 TikTok that she and JoJo split "almost two months" prior. She explained in the video:
"It's okay, it's not deep, I promise everything's fine. Not everything has to be messy and gross, because it's not. And I just wanted to clear the air. We're both safe and happy and healthy and that's all that matters. And it doesn't need to be drama because that just gives everyone unwanted anxiety, especially if they're like me."
We're glad they ended things on good terms!
Florence Pugh & Zach Braff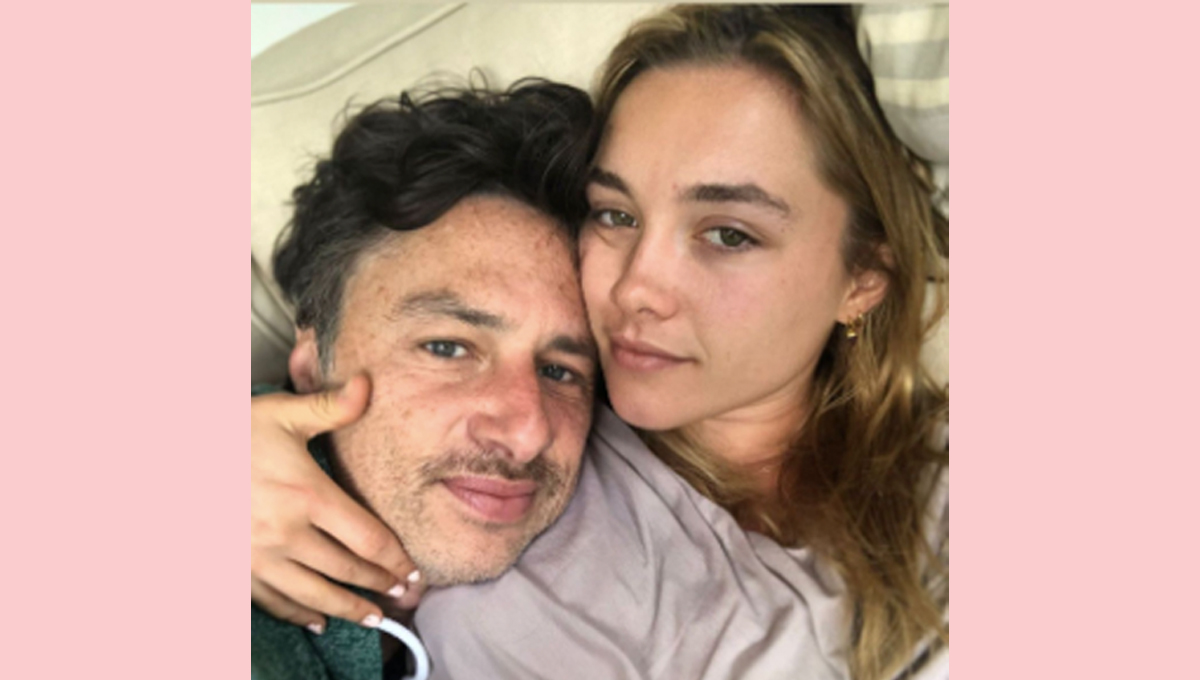 The bite of the Black Widow surely stings! Florence Pugh and Zach Braff have decided to go their separate ways after nearly three years together. The Don't Worry Darling star revealed in her cover story for Harper's Bazaar in August that the split happened earlier this year, and while she didn't give specifics, she did note that the pair tried to keep things as under-wraps as possible, explaining:
"We've been trying to do this separation without the world knowing, because it's been a relationship that everybody has an opinion on. We just felt something like this would really do us the benefit of not having millions of people telling us how happy they are that we're not together."
And people surely did have opinions on their relationship, especially considering their 21-year age gap! The 26-year-old followed up by adding:
"So we've done that. I automatically get a lumpy throat when I talk about it."
The 47-year-old has yet to comment on the split.
The duo's swan song together will come in next year's A Good Person, written and directed by Zach himself and starring Florence. Can't wait for that awkward press tour…
Ne-Yo & Crystal Renay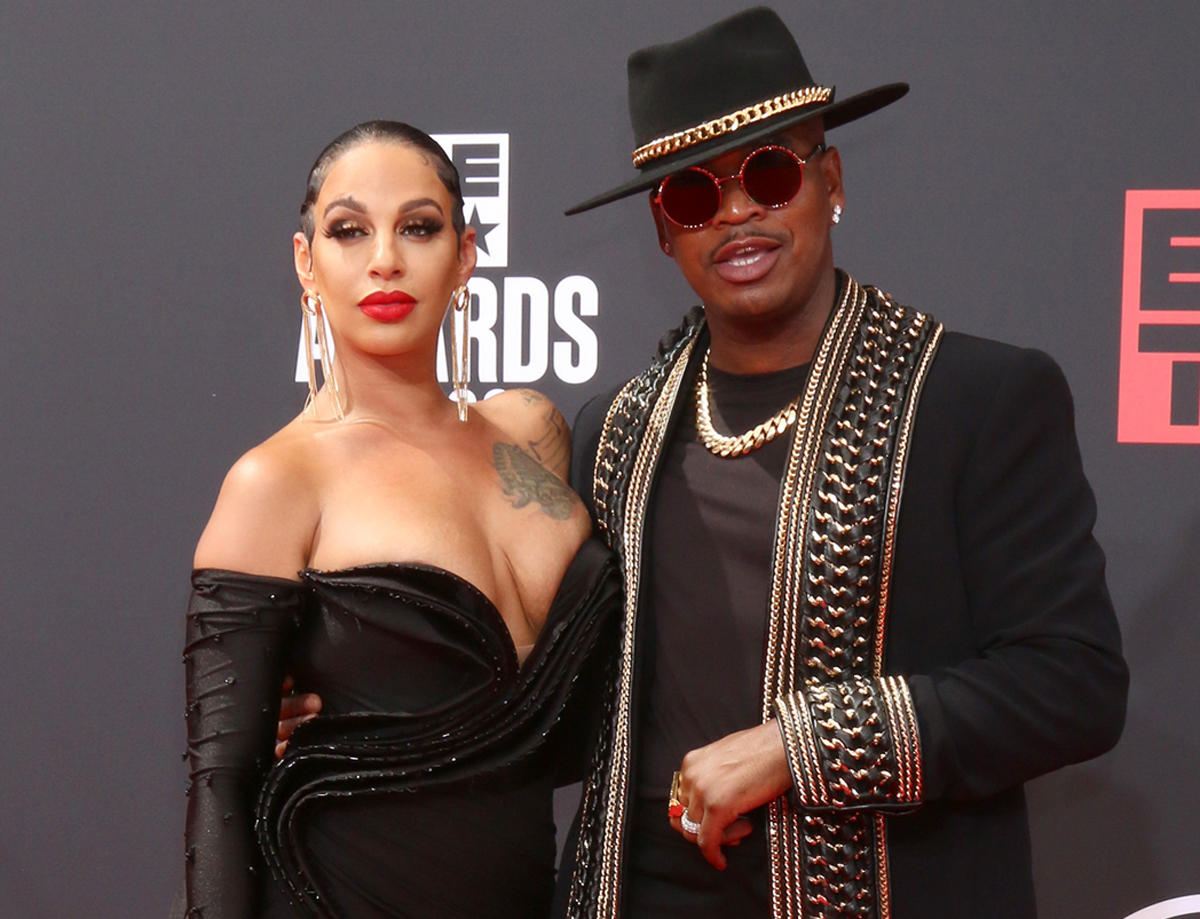 Ne-Yo's wife was ready to become Miss Independent! At the end of July, Crystal Renay revealed on Instagram that the 42-year-old singer was hooking up with "numerous women" throughout their marriage, writing:
"8 years of lies and deception. 8 years of unknowingly sharing my life and husband with numerous of women who sell their bodies to him unprotected…every last one of them [sic]! To say I'm heartbroken and disgusted is an understatement. To ask me to stay and accept it is absolutely insane. The mentality of a narcissist. I will no longer lie to the public or pretend that this is happening it isn't. I choose me, I choose my happiness and health and my respect. I gained 3 beautiful children out of this but nothing else but wasted years and heartache."
Yikes. He then responded to the infidelity accusation by asking for privacy:
"For the sake of our children, my family and I will work through our challenges behind closed doors. Personal matters are not meant to be addressed and dissected in public forums. I simply ask that you please respect me and my family's privacy at this time."
While this is not the first time these two split, as they called it quits in February 2020 before getting back together, Crystal wasn't planning on working things out now! The 36-year-old filed for divorce on August 1 in Georgia, saying they separated "on or about July 22, 2022, and since that date have continuously lived in a bona fide state of separation."
Crystal stated she's "entitled to a divorce from [Ne-Yo] upon the ground that the marriage is irretrievably broken with no hope for reconciliation" and claimed Ne-Yo "committed the act of adultery." But more than that, she claimed her estranged husband "recently fathered a minor child with his paramour." Whoa…
Kevin McKidd & Arielle Goldrath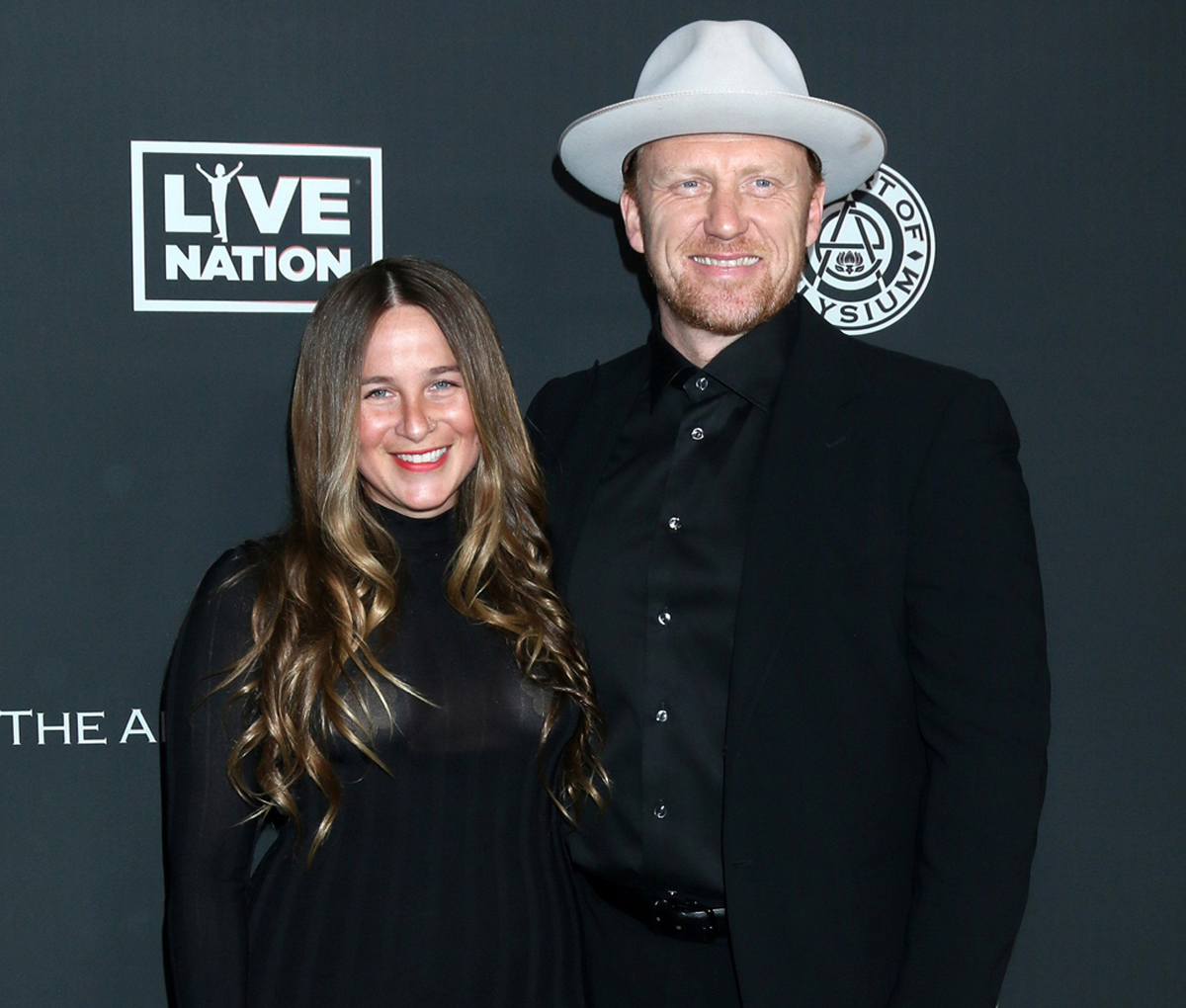 Grey's Anatomy star Kevin McKidd shockingly announced the end of his marriage with Arielle Goldrath in July, writing on Instagram:
"I don't often share my personal life on social media, but today there is something I do want to share with you. A few months ago, Arielle and I decided to end the marriage portion of our relationship. We reached this conclusion after much soul searching and discussion. We know it's what is right for both of us.
While they are breaking up, the actor had nothing but kind things to say about Arielle. He expressed:
"Arielle is an incredible mother to Aiden and Nava. She's one of the wisest, most intelligent and loving people I've ever known. We continue to have the highest love and respect for each other. Please wish us luck and good fortune going forward, as we also wish for you all. It feels good to share this part of my life and let you all know that even with challenges, it is possible to reach happy conclusions if we show up for each other and stay open. Arielle and I will always be there for one another. I hope everyone could be this blessed: to raise their kids with one of your very best friends."
In December, Arielle finally filed for divorce, citing "irreconcilable differences." She also asked for joint physical and legal custody of their children, Aiden and Nava. Furthermore, she requested for their assets to be determined through mediation, and her surname changed back to Goldrath.
Grimes & Chelsea Manning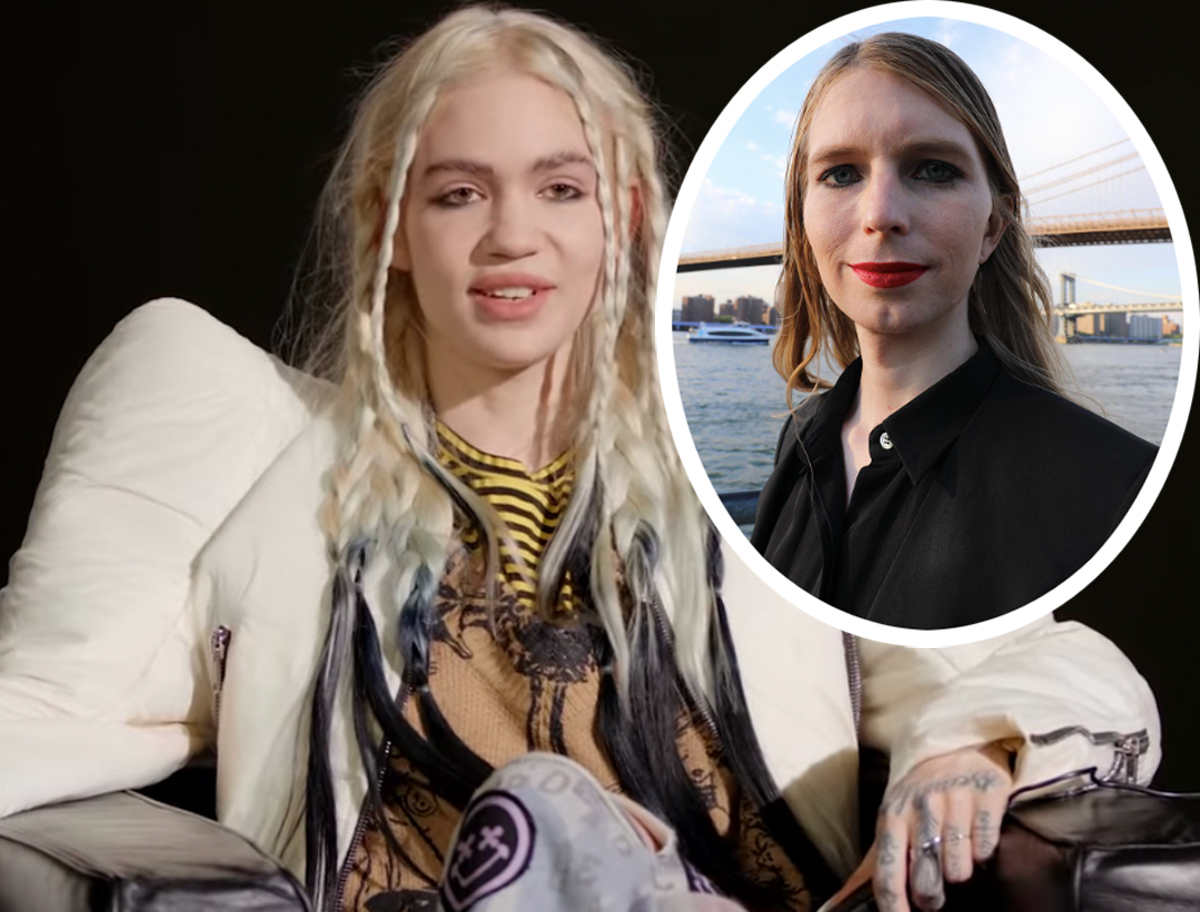 According to a report from Page Six in July, Grimes and Chelsea Manning ended things after four months of dating. Another source told the outlet the two "had been breaking up for a while." In case you didn't know, it was revealed Chelsea and Grimes were an item in March shortly after the 34-year-old revealed she broke it off with the father of her two kids Elon Musk for the second time. An insider shared with Page Six that the pair were "getting serious" at the time, adding:
"They U-Hauled it. They've been living together in Austin."
Obviously, it was not serious enough.
Chelsea Handler & Jo Koy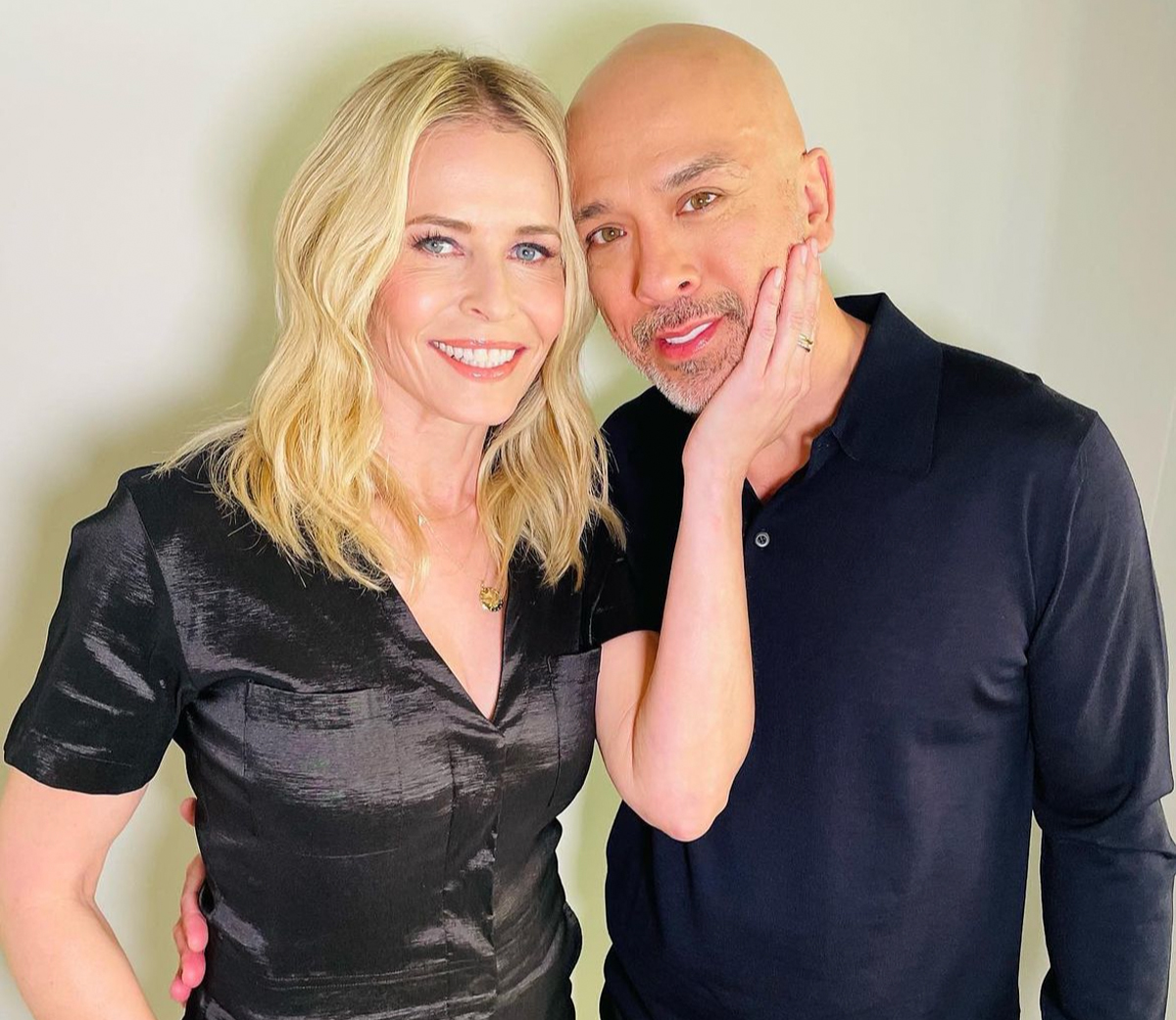 This one hurt! After less than a year together, Chelsea Handler announced in July that she and fellow comedian Jo Koy broke up by posting a video they recorded before their anniversary milestone. Despite not making it, the 47-year-old had nothing but kind things to say about her ex-boyfriend in the caption:
"It is with a heavy heart to announce that we have decided together that it is best for us to take a break from our relationship right now. I know many of you were invested in our love, and I wanted to express to you how much that meant to both of us. How much it still means. And how much I now believe in love for each one of us. This man blew my heart open with love and because of him, my life experience has changed forever. To be loved and adored by @jokoy has been one of the greatest gifts of my life. He renewed my faith in men, in love, in being 100% who I am, and I've never been more optimistic for the future."
She continued:
"This is not an ending. It's another beginning, and it's a comfort to know that I am still loved and love this man the way the sun loves the moon and the moon loves the sun. YOUR PERSON IS COMING."
So sad. But we wish the two nothing but the best moving forward!
Braunwyn Windham-Burke & Victoria Brito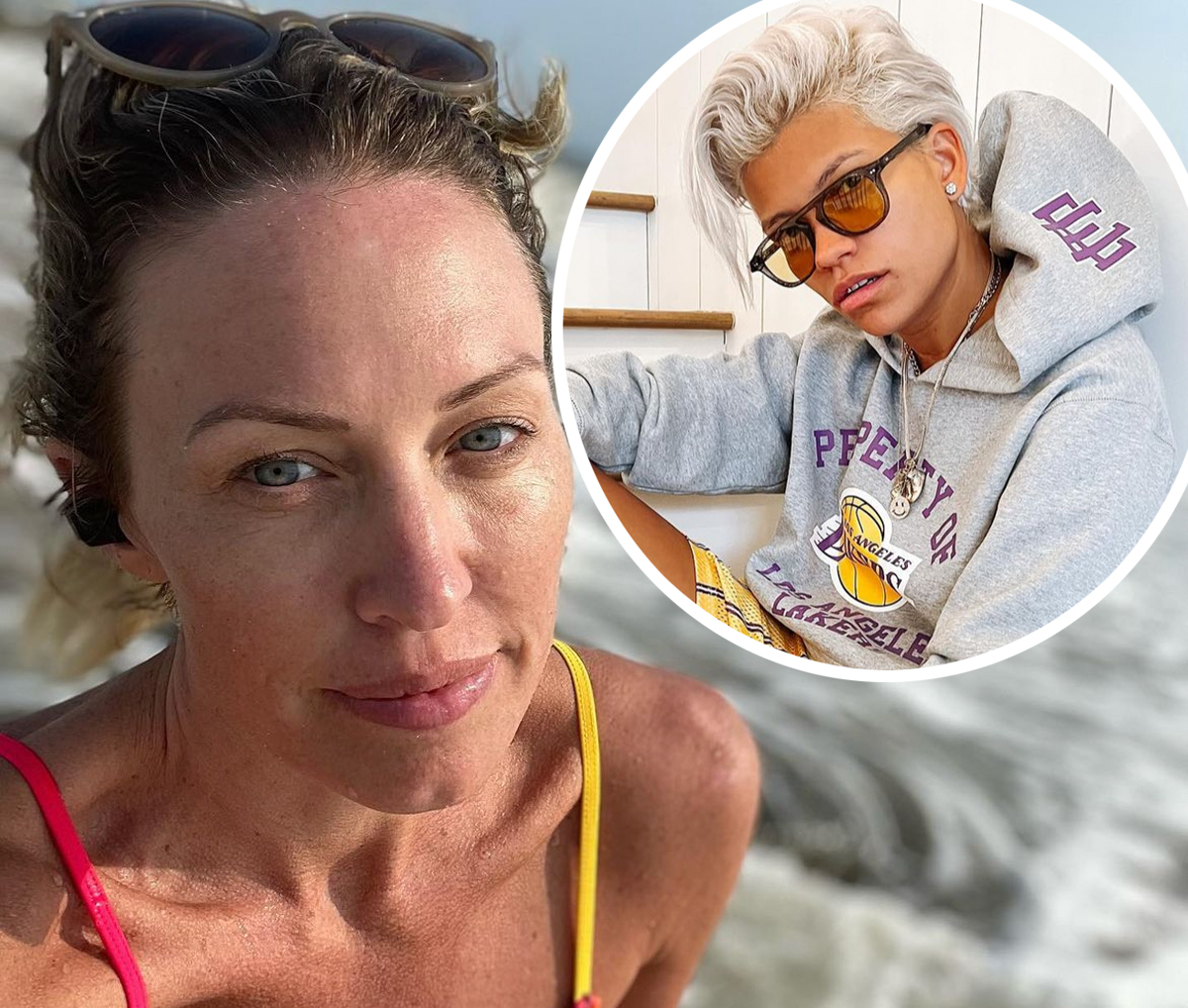 While these two seemed inseparable at one point, Braunwyn Windham-Burke and Victoria Brito sadly called it quits in July after less than a year together. She told Page Six at the time:
"I am feeling all the things — heartbroken and sad, but I'm still sober, and that's what matters. Whenever it feels like the world is crashing and 'What now?!,' I turn to my sobriety."
A source explained told the outlet that the reason for their breakup came down to the distance, travel schedules, and work commitments that put some strain on their romance:
"Long-distance relationships are hard, and that was no exception with Braunwyn and Victoria. While they spent a lot of time in New York, they both had to travel for work a lot. Most recently, Vic had to travel quite a bit internationally, and the distance created communication strains in their relationship."
Meanwhile, an US Weekly insider seemed to back the previous report, stating:
"Braunwyn and Victoria broke up earlier this week. Vic has a tough travel schedule for work, and Braunwyn had been traveling back and forth to California a lot. The long-distance became too tough — that's the main reason that led to the split."
The insider added:
"They're both extremely passionate people who take love and heartache very seriously. They will remain on decent terms."
Ronnie Ortiz-Magro & Saffire Matos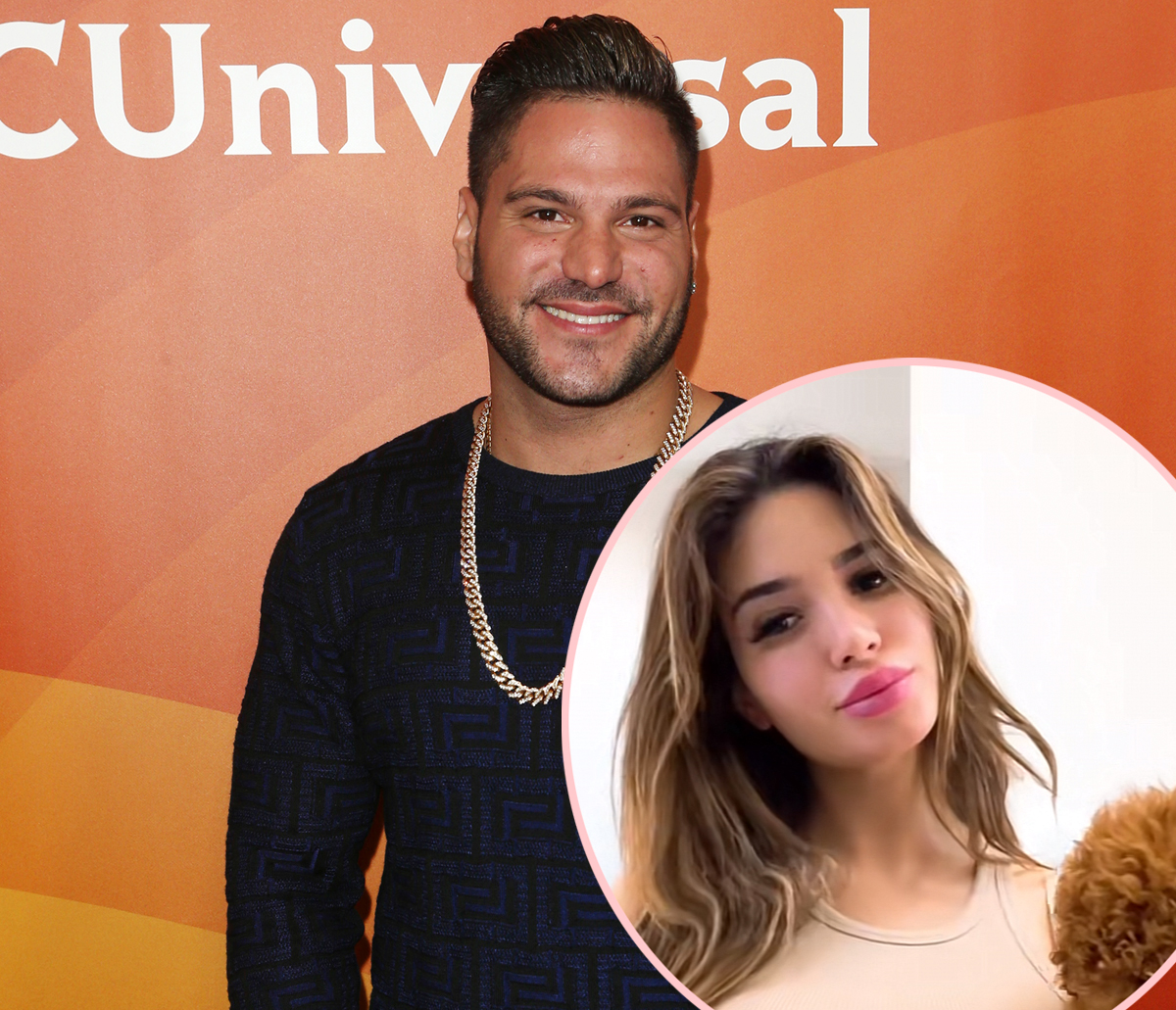 According to The Sun in July, Ronnie Ortiz-Magro and his fiancée Saffire Matos pulled the plug on their engagement. An insider revealed to the outlet they "were fighting like crazy in early June, and called it quits by the middle of the month." In fact, she "moved out of Ronnie's home in Los Angeles and back to the east coast in mid-June."
As you may recall, the two had a very tumultuous relationship ever since they became an item in 2020. Before their engagement, the Jersey Shore star was arrested for domestic violence in Los Angles after Saffire called the police over an altercation with him at their home. She reportedly had "visible marks" on her body stemming from the incident when law enforcement arrived at the scene. She addressed the situation at the time, saying:
"Ronnie and I are fine. There is a lot of misleading information floating around out there. With anybody who reached out with concern I appreciate it with all my heart, but everything that's being portrayed out there are not facts. I don't think it's fair that people are using false accusations to gain attention. Please leave Ron and I alone. You don't know what someone is going through at the end of the day."
Despite not being charged for the situation, Ronnie ended up violating his probation from another domestic violence case with his ex Jenn Harley. However, he managed to avoid jail time and was ordered to attend 26 parenting classes, as well as Saffire was issued a three-year protection order. This certainly was a messy relationship!
Kim Kardashian & Pete Davidson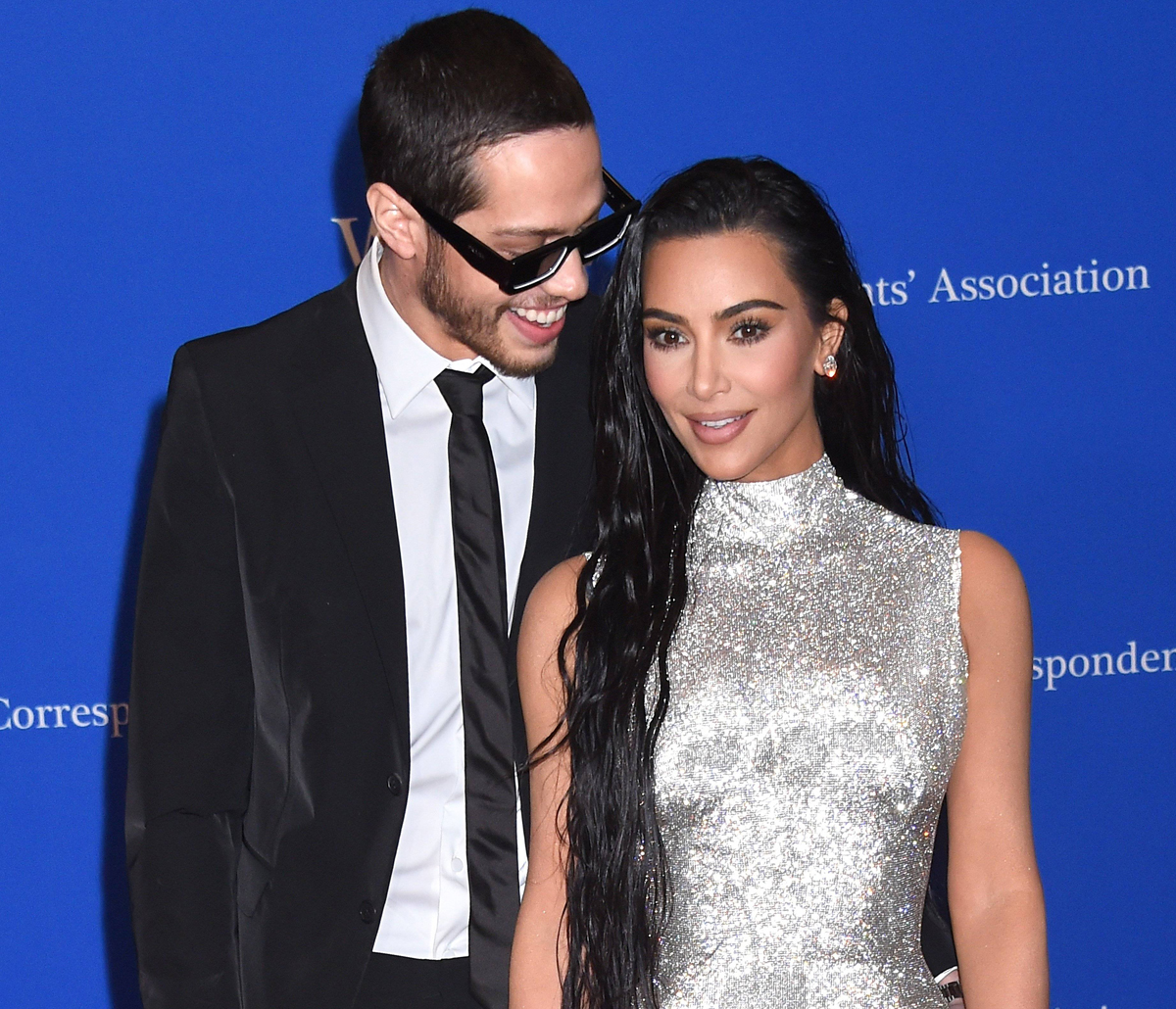 Bad news for Kete shippers! Kim Kardashian and Pete Davidson ended their relationship after nine months of dating. A source shared with E! News that the former couple decided to be just friends after their busy schedules, plus the long-distance "made it really difficult to maintain a relationship." As you know, Pete has been working in Australia to film the movie Wizards!, while Kim lives in Calabasas with her four children – North, Saint, Chicago, and Psalm.
The breakup seemed to come out of nowhere since reports shared at the time that Kim and Pete were so in love and wanted to make things work despite being far apart. However, a Page Six source later spilled that the fact they are at different stages in life and the reality star couldn't just drop everything to be with him played a big factor in the decision:
"Pete is 28 and Kim is 41 — they are just in very different places at the moment. Pete is totally spontaneous and impulsive and wants her to fly to New York, or wherever he is on a moment's notice. But Kim has four kids and it isn't that easy. She needs to focus on the kids."
In addition to being a momma, Kim also runs multiple businesses and stars in a popular reality show, The Kardashians, so the insider noted that she was "totally exhausted by this relationship and other things going on in her life."
Meanwhile, another source spilled to Entertainment Tonight that Kimmy Kakes was just not ready for "something serious" with the Saturday Night Live alum at the end of the day, explaining:
"They had tons of chemistry, and still do, but she kind of wants to be single and date. Kim still adores Pete and will always be friends with him. She still thinks he's the nicest and sweetest guy in the world and there's no drama or anything weird between them now She felt like Pete was the extreme opposite of Kanye and it was good for her then. She initially thought it would be a fun fling, but then it got more serious when they were spending so much time together. Kim wasn't feeling like she was willing to settle down with him just yet."
It was fun, whirlwind romance while it lasted, y'all!
Bill Hader & Anna Kendrick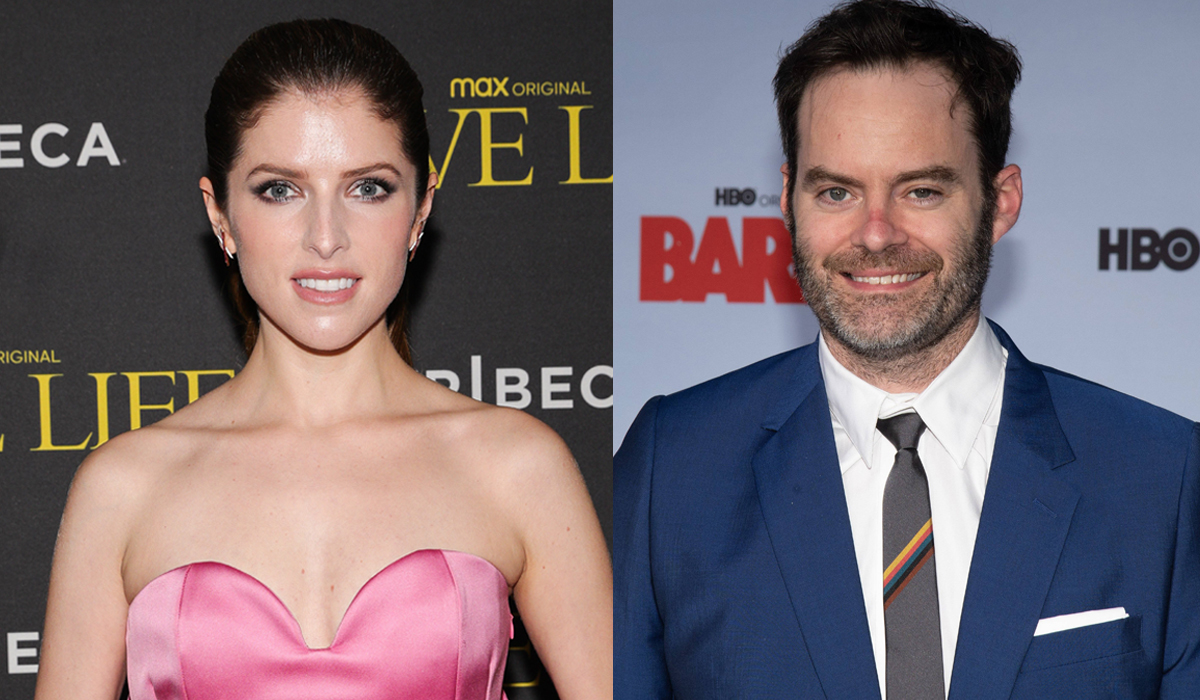 Bill Hader and Anna Kendrick won't be getting their Pitch Perfect ending as they've already gone their separate ways! A source confirmed the split news on June 28, simply telling Entertainment Tonight:
"Bill Hader and Anna Kendrick have broken up."
No other details have been spilled at this time. As you may remember, it was revealed by a People insider earlier this year that Bill and Anna were dating and had been for more than a year! The two kept their romance very private, with the Saturday Night Live alum citing his three children – 12-year-old Hannah, 10-year-old Harper, and 7-year-old Hayley – as the reason they've kept their lips sealed. He previously told The Hollywood Reporter:
"They just want me to be their dad. They just want me to sit and watch Encanto over and over and over again. So that's what I do."
However, sources later told ET in March that the stars were "in love and very happy in their relationship, and enjoying their time together." So we cannot help but wonder what went wrong?!
Kendall Jenner & Devin Booker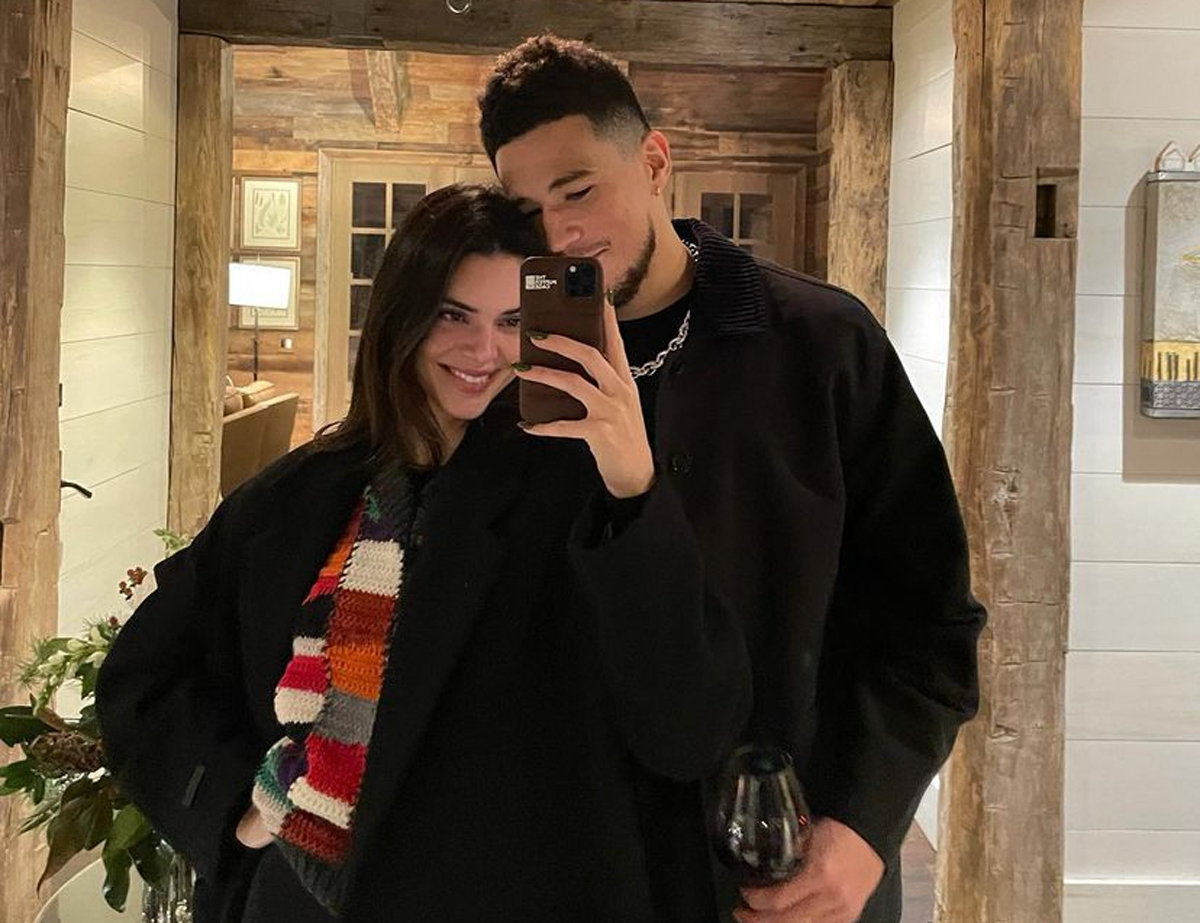 So much for all that baby talk! Kendall Jenner and Devin Booker split after 2 years of dating. Entertainment Tonight broke the news on June 22, with a source revealing the model "feels like they're on different paths" and the two were "not on the same page" when it came to their future.
According to Us Weekly, another insider claimed things started to change between the former couple following Kourtney Kardashian and Travis Barker's wedding, saying:
"Kourtney's wedding really put things into perspective."
And once they returned back to the states, Kendall and Devin ultimately hit a "rough patch" in the weeks after, and she decided to get some "space" from the basketball player:
"They had a really nice time in Italy together. But once they got back, they started to feel like they weren't aligned and realized they have very different lifestyles. Kendall told Devin she wanted space and time apart."
But before anyone thinks this is the end of the road for them, you may want to wait a second! While they might be over right now, multiple sources have suggested that they could rekindle their relationship in the future. A source specifically told E!:
"They have been in touch since and do care about one another. They both hope to make it work but, as of now, they are split."
Although they seemed to rekindle their romance again, they broke up once again. A source told People in November:
"Both have incredibly busy schedules right now with their careers. And they've decided to make that a priority. They have a lot of love and respect for each other and wish only the best."
Michelle Young & Nayte Olukoya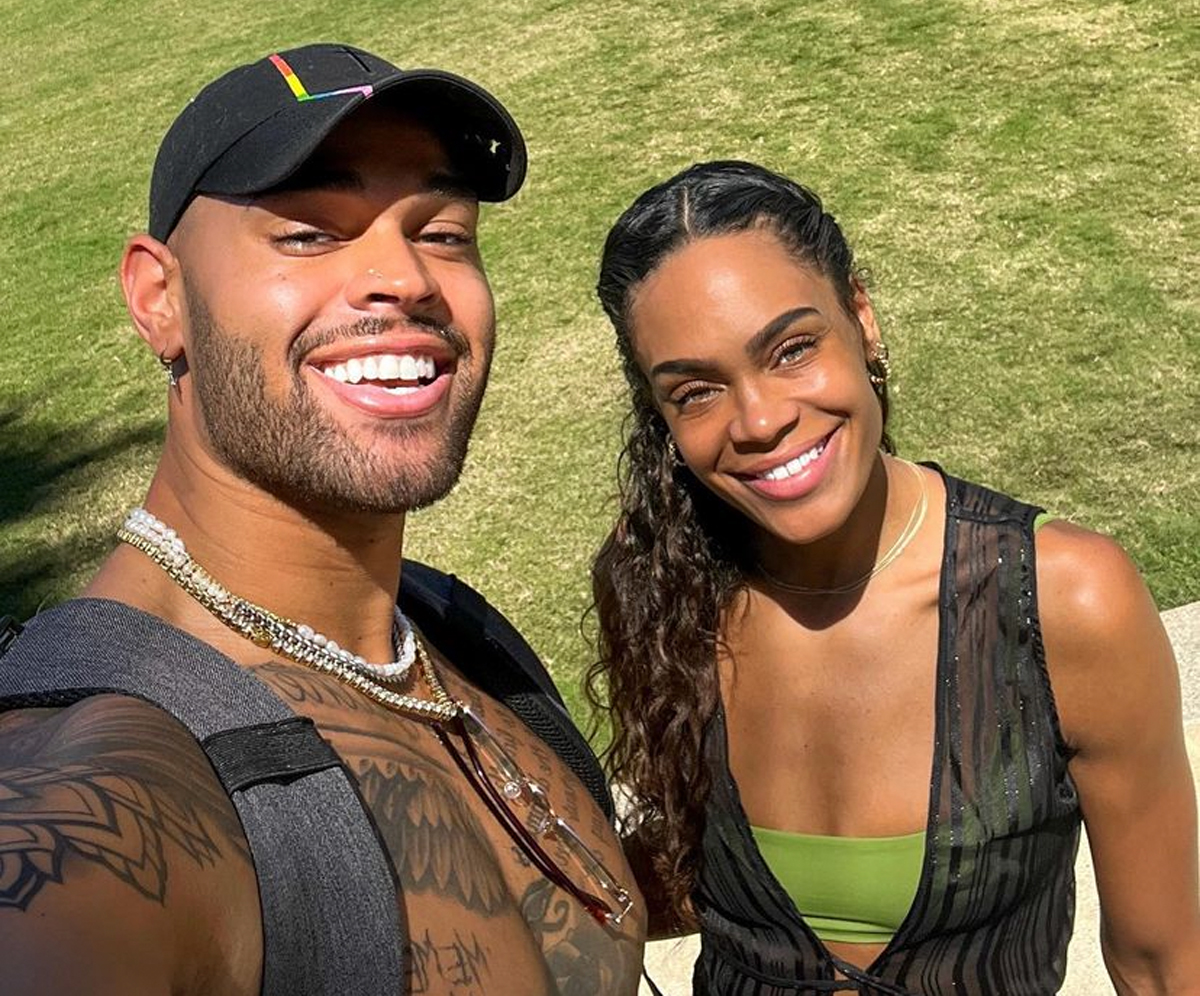 We cannot say we're shocked, but another Bachelor Nation couple has bitten the dust! After getting engaged on the season 18 finale of The Bachelorette, Michelle Young and Nayte Olukoya revealed they decided to call it off in June after previously denying rumors of a split when Michelle was spotted without her engagement ring. The reality star wrote in a lengthy statement:
"To those who have supported Nayte and I, including Bachelor Nation, I know I speak for the both of us when saying having a relationship in the public eye has not been easy. I'm struggling to say that Nayte and I will be going our separate ways but I stand with him in knowing the heaviness that is present in both of our hearts as this relationship has been very real for us."
Meanwhile, Nayte shared a similar message, noting that "hearts are heavy, emotions are high, and we are dealing with this the best way we can." And despite what some may think, infidelity was not one of the reasons for their split. The 27-year-old hunk later slammed the accusations during a Q&A session with fans on Instagram, writing:
"No, I didn't cheat. Not every breakup needs to have someone to blame. Yes, many of you seem to paint me as a red flag/f**k boy … But I'm actually a decent guy, and I only want to continue getting better. As we should all want for ourselves."
Ultimately, he admitted things did not work out between them at the end of the day:
"Plans changed as we decided there was no need to rush anything and get to know each other on a deeper level before taking the leap of living together. There's no rush in life. There's no rule book or timeline on how to go about your relationship. We believed that since the love was there, everything would fall into place naturally and in its own time. We tried. It didn't work. We're sad about it. We all grieve different."
Lauren Graham & Peter Krause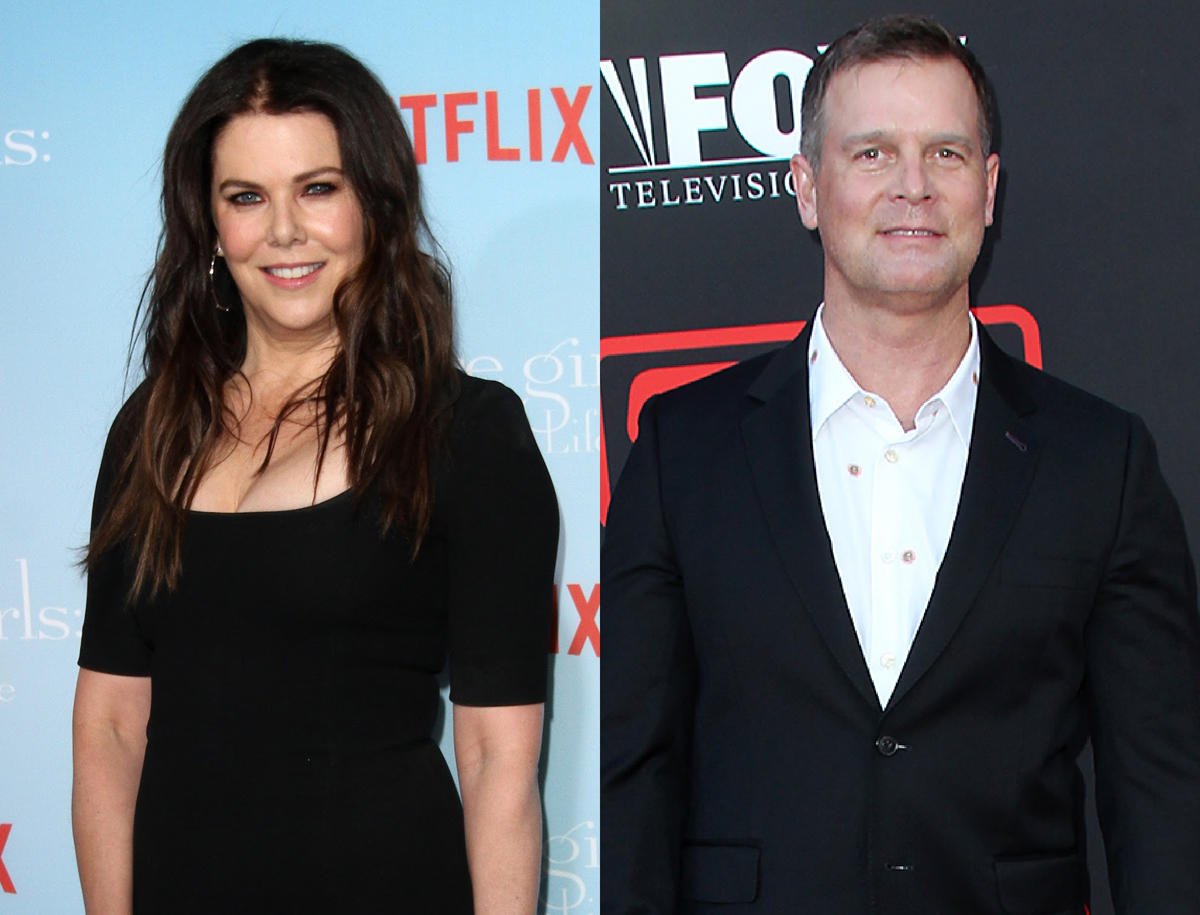 Sad news for Parenthood fans! A rep for Lauren Graham revealed to People in June that she and Peter Krause "quietly ended their relationship last year" after 12 years together. Talk about a well-kept secret! While no other details were revealed about their split, another insider told Us Weekly that they also no longer lived together.
While Lauren and Peter first met in 1995 while on an episode of Caroline in the City, they did not begin a romantic relationship until 2010 when they worked on the dramedy as the brother-sister duo Sarah and Adam Braverman. Despite not knowing what caused their breakup, the Gilmore Girls alum revealed on The Ellen DeGeneres Show in April 2021 that their relationship had changed after spending five months apart due to the COVID-19 travel restrictions:
"Normally it's a two-hour flight, I'd come home on the weekends, but I couldn't do that [because of COVID], so we were separated for almost five months, which had never happened before. So when I came home the house was a little different. There were more piles, I would say. I think the reentry was more difficult. It was more like they were the married couple, and I was the person who … they were like, 'We don't do it that way anymore.' They were like, 'No, no, no, this is how things happen.'"
Unfortunately, it sounds like the distance may have gotten to them!
Johnny Knoxville & Naomi Nelson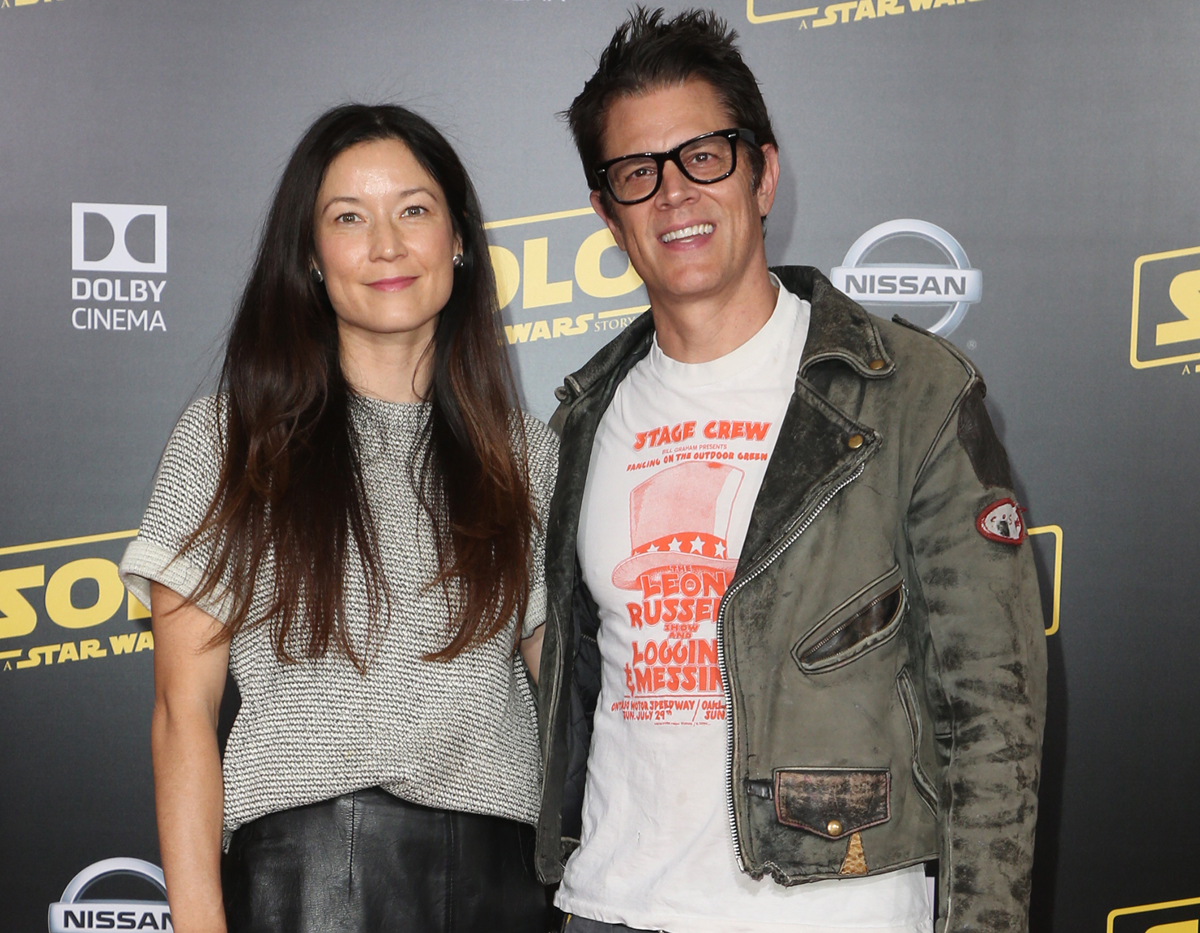 It is another split in the books for Johnny Knoxville. The Jackass star filed for divorce in Los Angeles from his second wife, Naomi Nelson, in June after nearly 12 years of marriage. According to the filing obtained by TMZ, he cited irreconcilable differences as a reason for the split and claims they have been separated since September 2021 – the same month as their wedding anniversary.
Johnny asked for joint legal and physical custody of their two children, 12-year-old son Rocko and 10-year-old daughter Arlo. Additionally, the actor noted in the court documents that he potentially owns separate property from Naomi and plans on figuring out those details at a later date.
Fingers crossed that this divorce goes smoothly!
Jason Momoa & Eiza González
Already?! Jason went through yet another breakup this year, with sources telling People that he ended things with Eiza González:
"They're just very different people."
Another insider said that they were "hoping they might work it out," adding:
"They love each other very much having dated quietly for some time before it became public. They are in different life stages."
In case you didn't know, sources previously revealed to the publication that Jason and Eiza were "exclusive" and seeing each other since February "after meeting through work and mutual connections." But alas, their fling is no more.
Scott Disick & Rebecca Donaldson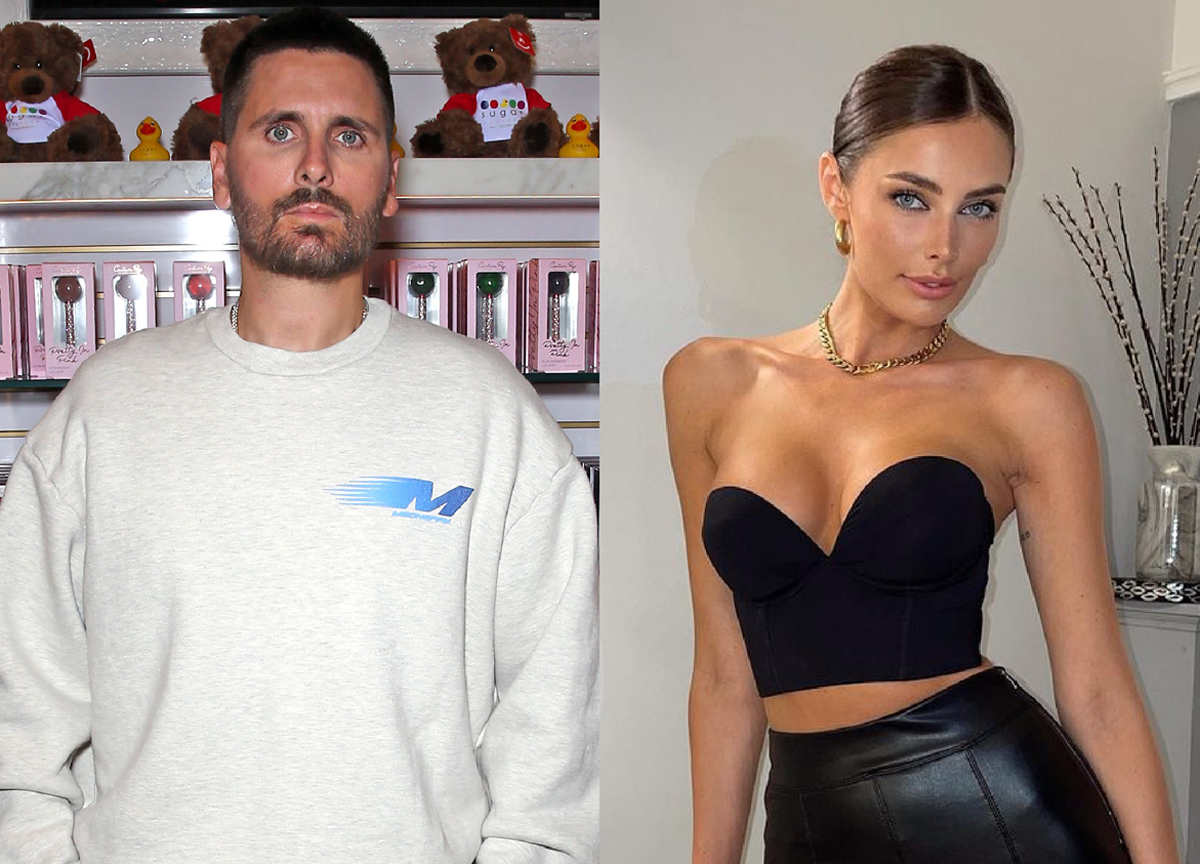 Cannot say this was too jaw-dropping given his track record this year – but Scott Disick and Rebecca Donaldson's whirlwind romance came to an end after only two months of dating. A source revealed to Us Weekly in June that the exes "were never serious to begin with," adding that they were just "casually dating."
In case you didn't know, the 39-year-old reality star made his relationship with the 27-year-old model red carpet official in April at the premiere of The Kardashians in El Lay. Fans started speculating that the two were over when Scott was seen getting flirty with his recent ex-girlfriend Holly Scarfone on Instagram, saying in the comments section a picture where she wore a bodysuit from his Talentless brand:
"I can think of a few talents you have right off the top of my head, no pun intended."
Yikes! That is pretty telling…
And while Rebecca and Scott are done, the Us insider mentioned how he "likes to remain amicable with some of the girls he dates" and thus won't cut her off completely." So this may not be the last we see of the pair!
Kanye West & Chaney Jones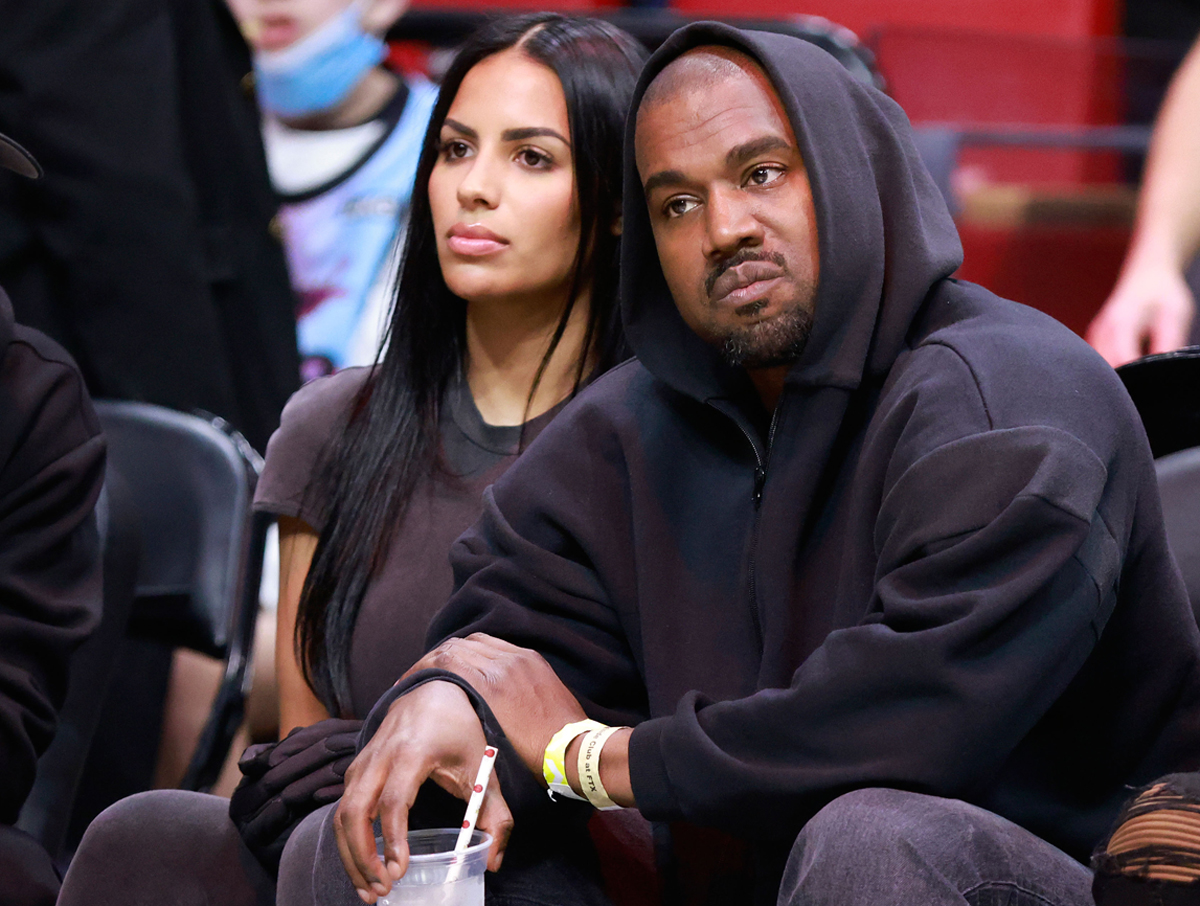 The flame between Kanye West and Chaney Jones has gone out (maybe)! Sources for TMZ confirmed early in June that the couple, who had been together for five months, had broken up. While not many details were dropped at the time, the 24-year-old was hinting at the update to their relationship status on Instagram. How so? By wiping or archiving almost all of her pictures at the time, including ones with Ye!
Meanwhile, the 45-year-old rapper was seen out and about with a new model Monica Corgan for a screen of Top Gun: Maverick – and it seemed like they were on a date! All signs are pointing that it is over between Kanye and Chaney for now…
According to Page Six, their relationship became "choppy" when they returned home from their trip to Tokyo in May. But the source noted that they are not necessarily done, explaining:
"You know how things are. Tomorrow they might be posted together again."
And that is pretty much what happened! Hours after the news dropped, she shared a video montage on IG Stories dedicated to some of their sweet moments for his birthday – including them sitting courtside at basketball games and their first selfie together. She also wrote:
"Happy birthday baby. I love youuuuu."
Of course, neither has confirmed the breakup news yet so we will have to see!
Lori Harvey & Michael B. Jordan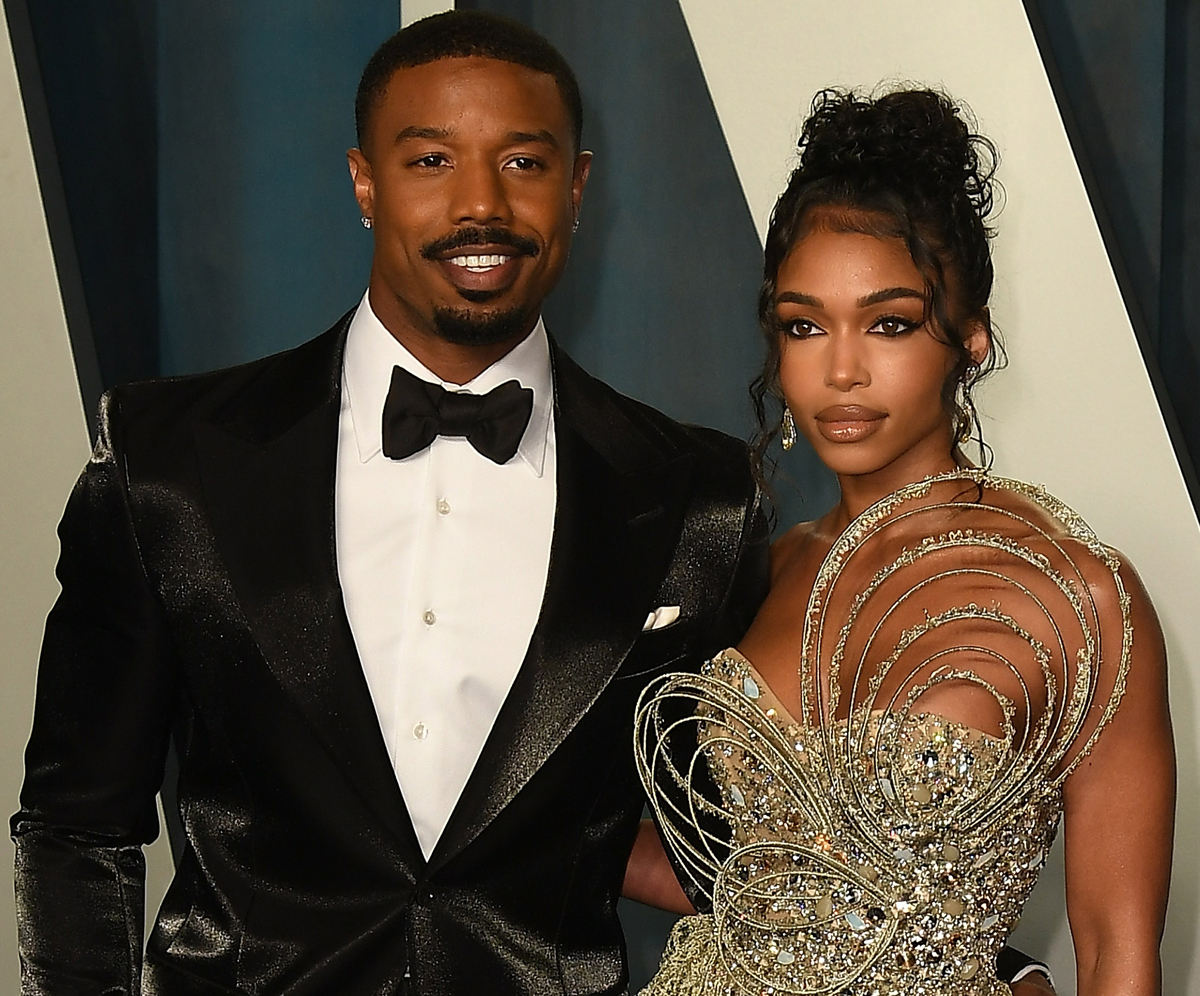 Heartbreaking! News dropped that Michael B. Jordan and Lori Harvey were over after more than a year of dating on June 4 when a source spilled to People:
"Michael and Lori are both completely heartbroken. They still love each other. Michael matured a lot over the course of their relationship and was ready to commit for the long term. He let down his guard with her, opening up emotionally in a romantic relationship for the first time. They had great times together and brought out the best in each other."
Although neither have addressed the end of their relationship, the 25-year-old model scrubbed all traces of the Black Panther star from her Instagram. However, her dad Steve Harvey did comment on the split on The Steve Harvey Morning Show, saying:
"Look, as long as everybody can walk away in peace, be friends… I ain't heard nobody say they busted no windows or nothing. As long as you don't put your hands on my daughter, I don't give a damn what you do. … He's still a cool guy from what I know. It's a breakup. I'm pretty sure they'll be fine. People break up all the time."
Still, we were pretty shocked by this one!
Shakira & Gerard Piqué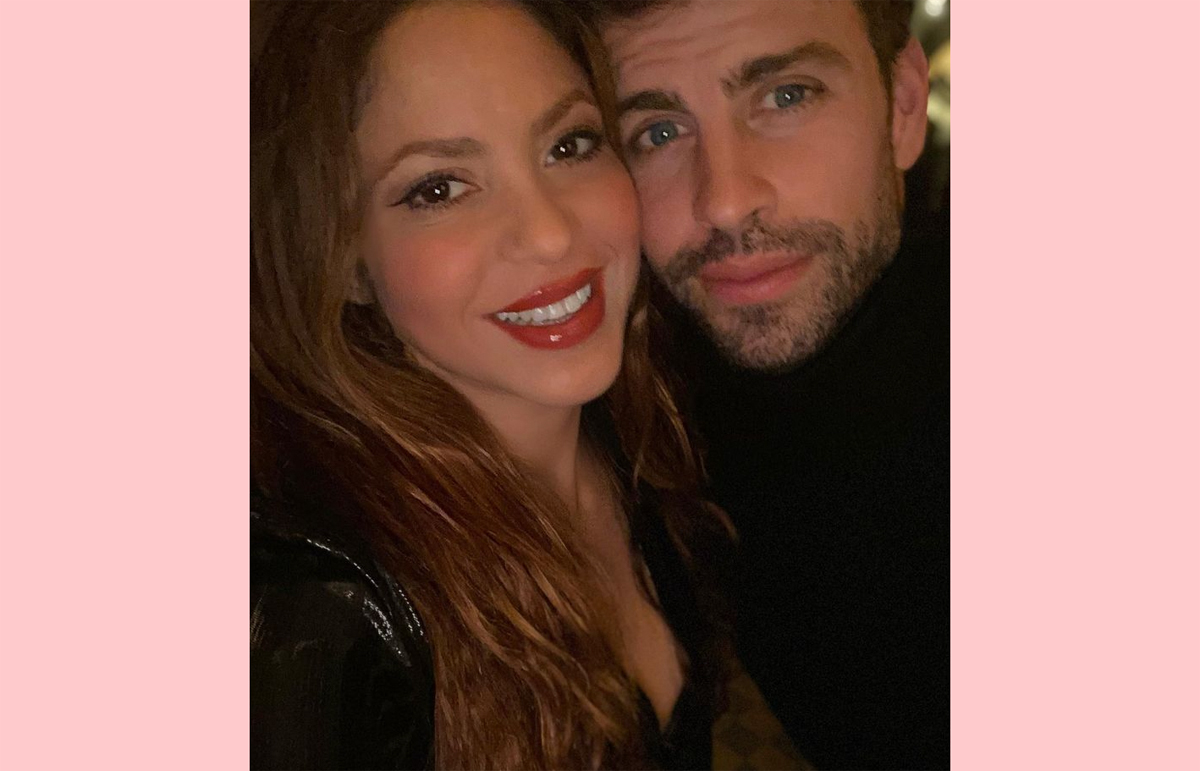 Longtime couple Shakira and Gerard Piqué announced their split in a joint statement in June, saying:
"We regret to confirm that we are separating. We ask for privacy at this moment for the well-being of our children, who are our maximum priority. Thank you in advance for your understanding and respect."
This news came after rumors erupted from Spanish outlet El Periodico, who claimed the 45-year-old singer caught Gerard in bed cheating on her with another woman! The soccer star was allegedly kicked out of their home and moved back into his old apartment in Barcelona. Fueling split speculation, fans then noticed that she stopped posting pictures with Gerard in April, and her latest single, Te Felicito, seemingly hinted at the scandal as the lyrics stated:
"I broke into pieces to complete you. They warned me, but I didn't listen. I realized that everything which is yours is fake. That was the straw that broke the camel's back. Don't tell me you're sorry, it feels sincere, but I know you well and I know you lie. Congratulations, nice performance."
Neither Shakira nor Gerard confirmed the cheating allegations — but there is no denying that something bad went down between these two based on those lyrics!
Bella Thorne & Benjamin Mascolo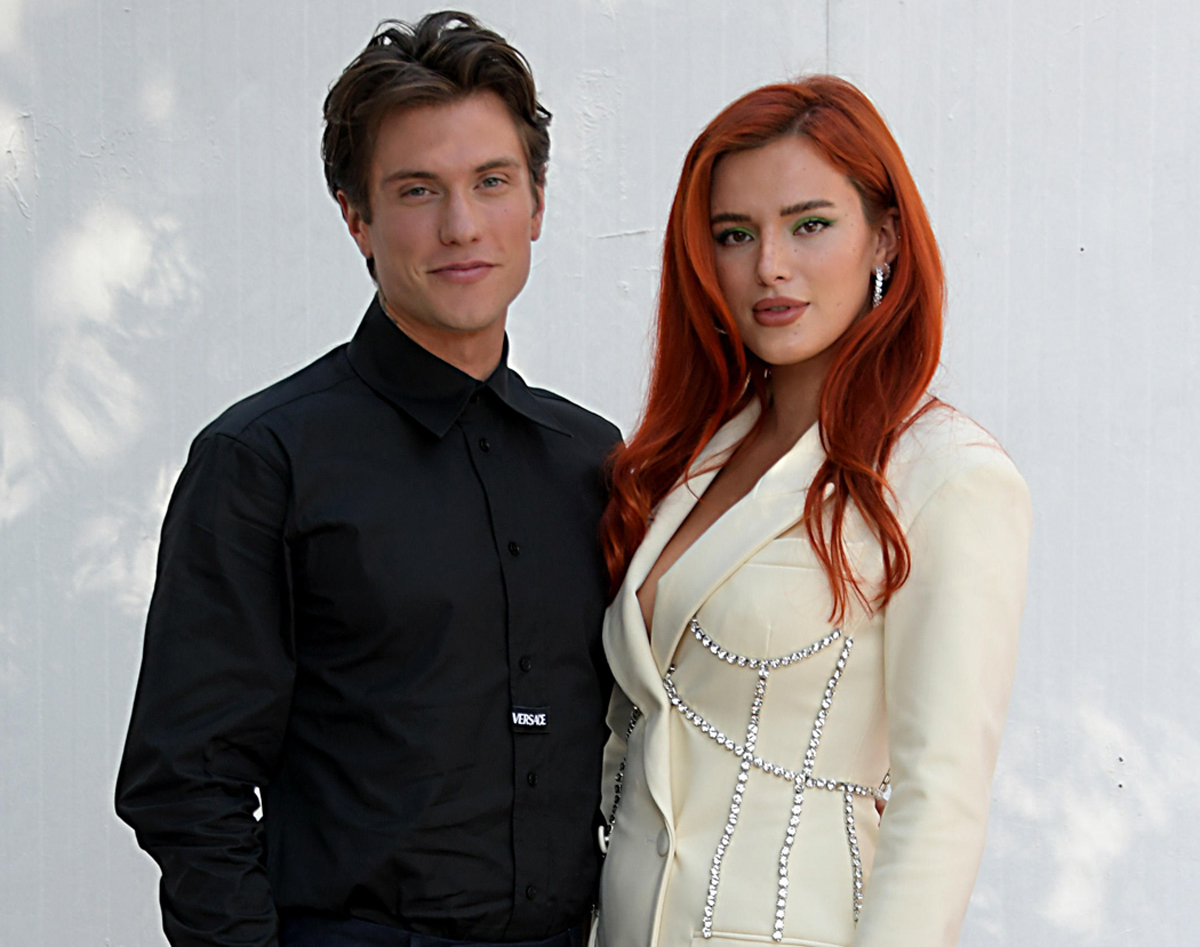 Bella Thorne and Benjamin Mascolo ended their engagement after more than a year, with the latter confirming the split in a lengthy Instagram statement in June. He wrote in part that it was a "humbling experience to grow with her on my side," adding:
"I wish only the best for this person and I will always be there for her. I love you."
People first reported the sad news, blaming the breakup on "conflicting schedules" and "a lot of time apart." However, an insider insisted that they "parted ways amicably." It sounds like the distance really got to these two, but glad that they ended things on good terms. Not many did this year!
Katie Thurston & John Hersey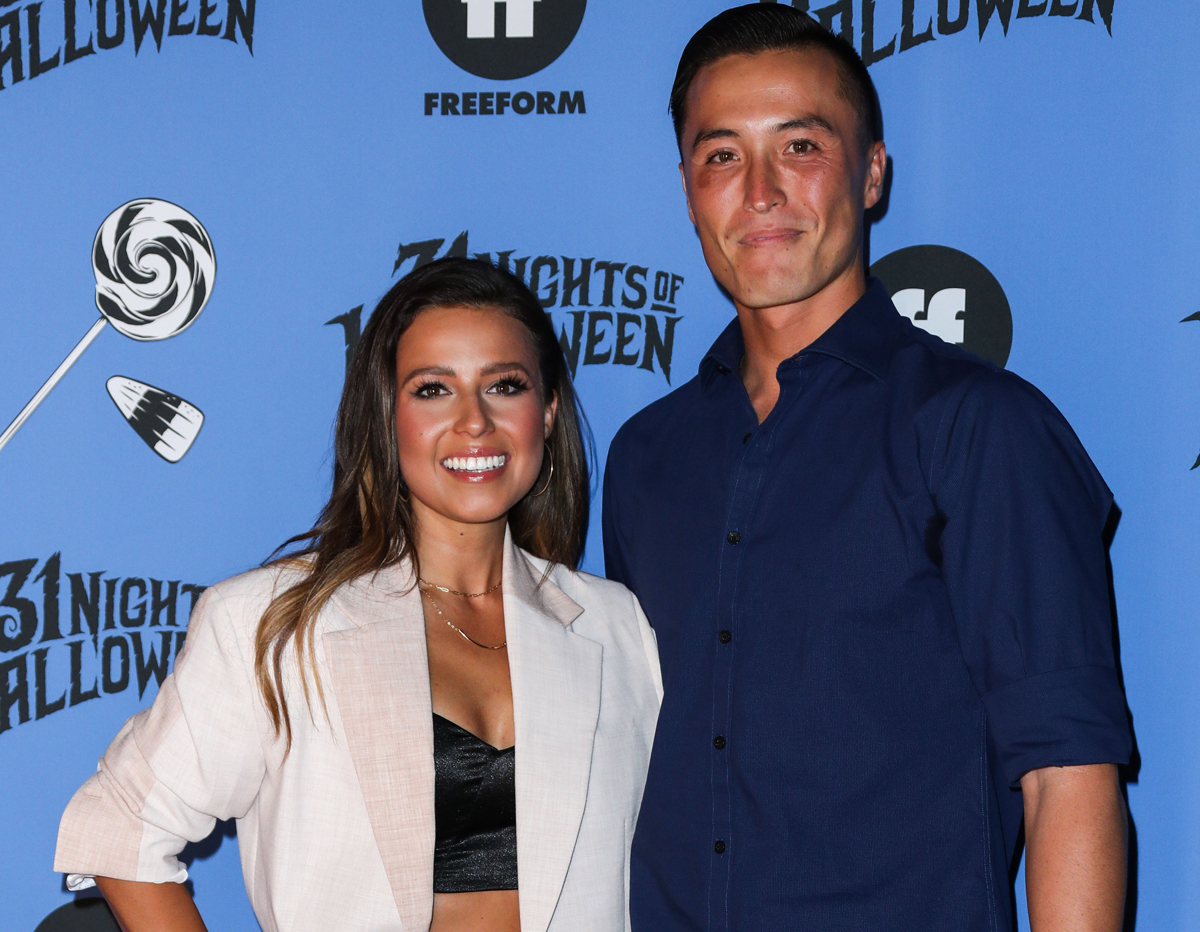 After getting together after they first met on season 17 of The Bachelorette, Katie Thurston and John Hersey are done. The former lead addressed their breakup with a simple message on Instagram Stories in June, writing:
"Statement: no we aren't together."
Ouch. John had a more heartfelt statement on the 'gram, saying:
"I love being able to share special moments with you all—the funny ones. The happy ones. The outrageous, embarrassing, and heartfelt ones. But I don't know if it will ever get easier to share the sad ones. As Katie stated earlier, we are no longer dating. This decision was not made lightly, and it was obviously not an easy one to make. I appreciate every one of you that has supported us throughout this journey. We could not (and would not) be here without you."
Candice Accola & Joe King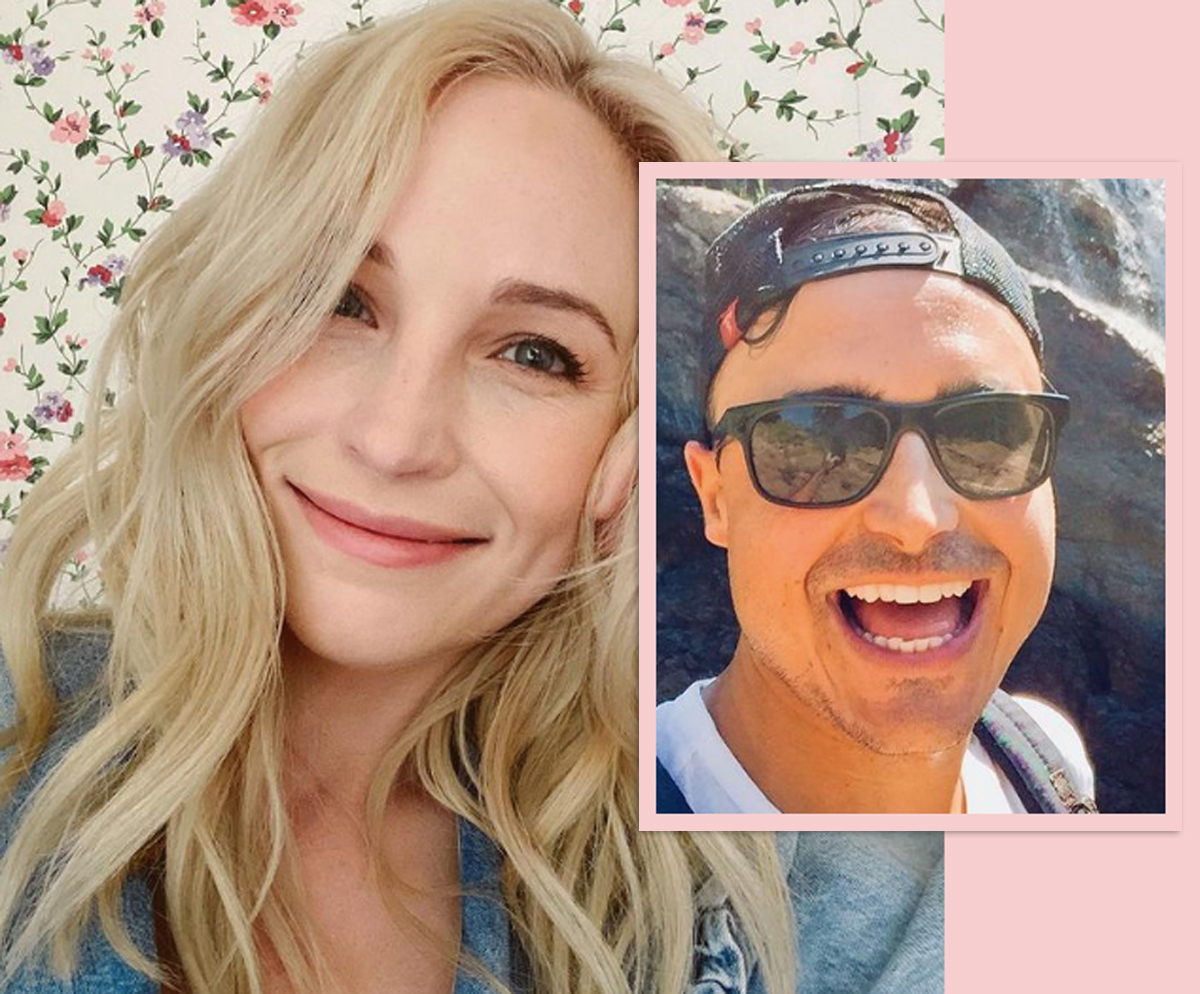 Wasn't meant to be! News broke in May that the Vampire Diaries star Candice Accola filed for divorce from Joe King the previous month after seven years of marriage. According to court documents obtained by E! News, she cited the reason as "irreconcilable differences." The filing noted that she moved to Nashville back in January while The Fray musician stayed in Brentwood, Tennessee.
The actress also filed a statutory restraining order, restricting her and Joe from doing certain actions like harassing each other, canceling existing insurance policies, or doing anything to their shared property that would make it worth less in value.
This came after speculation ran rampant amongst fans that the former couple ended things. Earlier this year, Candice completely wiped her Instagram of all her posts and started the page again the same month she filed for divorce. Her newer pictures also showed her without her wedding ring on.
In case you didn't know, Candice and Joe tied the knot in 2014 and share daughters Florence and Josephine.
Valerie Bertinelli & Tom Vitale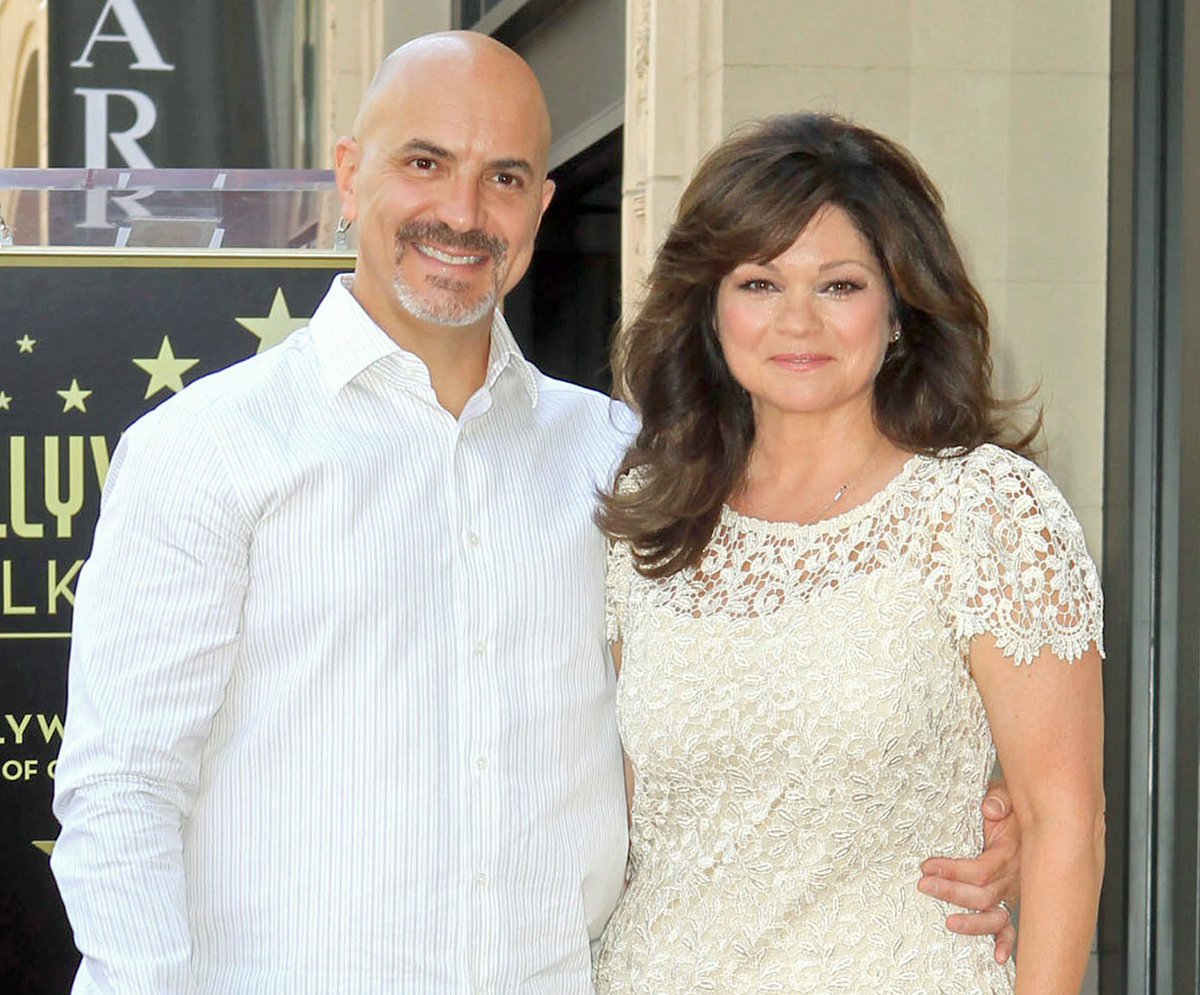 After initially filing to be legally separated from Tom Vitale in November 2021, Valerie Bertinelli amended the petition and filed for divorce in Los Angeles Superior Court in May. Court records obtained by People showed that the 62-year-old Food Network star cited the reason to end their 10-year marriage as the ​​old catch-all – irreconcilable differences.
Hopefully, the divorce won't be messy as the former couple has a premarital agreement that they will follow.
Billie Eilish & Matthew Tyler Vorce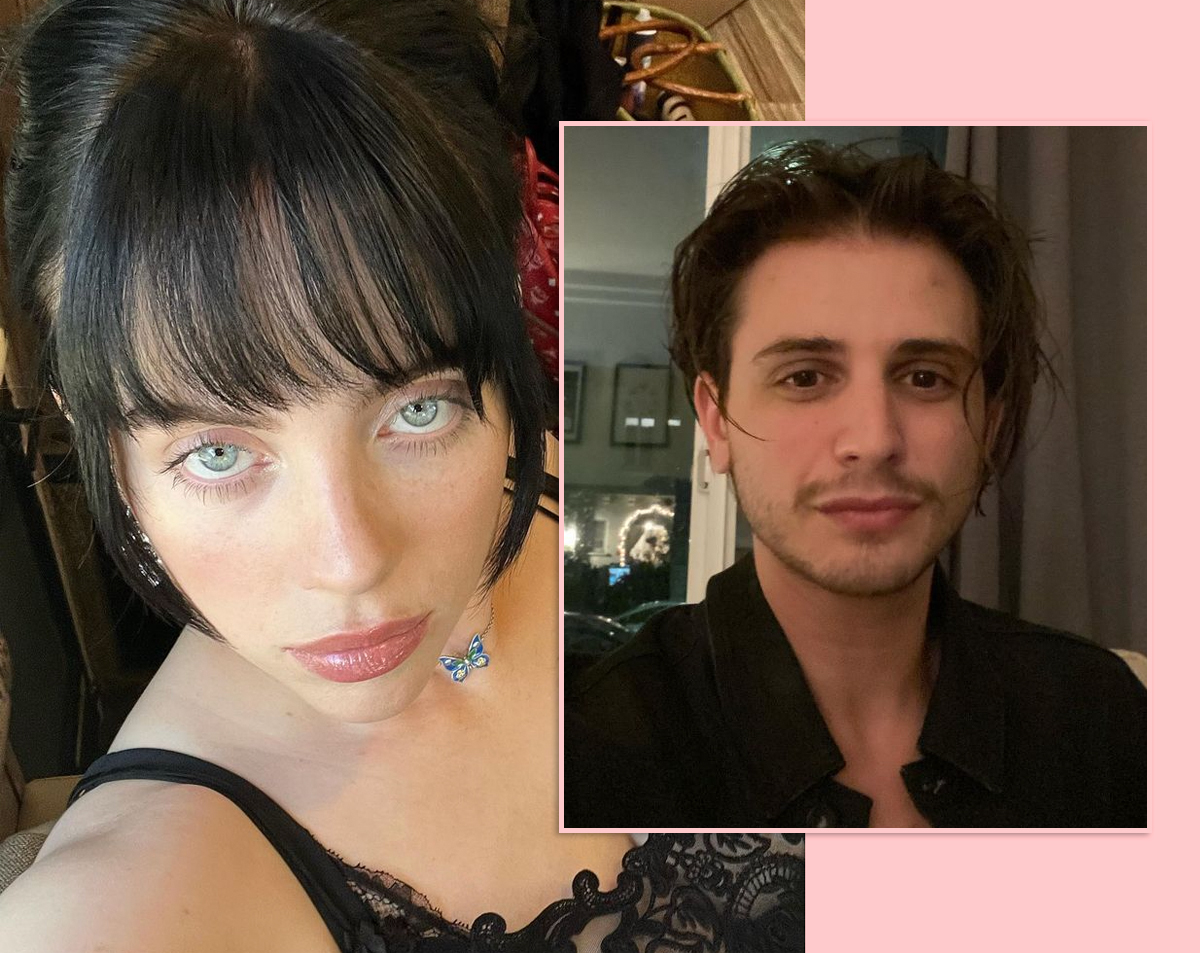 He really wanted to let everyone know he was not the bad guy in this breakup situation! Matthew Tyler Vorce confirmed he and Billie Eilish ended their relationship at some point recently after nearly a year together with a message to her fans who bombarded him with accusations that he cheated on the 20-year-old singer. He wrote on Instagram Stories in May:
"Nobody cheated on anyone. Relationships end. Simple as that. Creating rumors and LYING on the internet is dangerous."
The 30-year-old actor then blasted her stans who have sent him a ton of negative comments, saying:
"The fact that thousands of people take time out of their day to write the most heinous things on someone they will never know posts is the most cowardly thing you can possibly do. Live your own life."
While Billie has not commented on the split news yet, a source close to Matthew told E! News that she "ended her relationship" with him "recently." So it sounds like they are truly over — and the Bad Guy artist was the one to initiate the breakup!
Busy Philipps & Marc Silverstein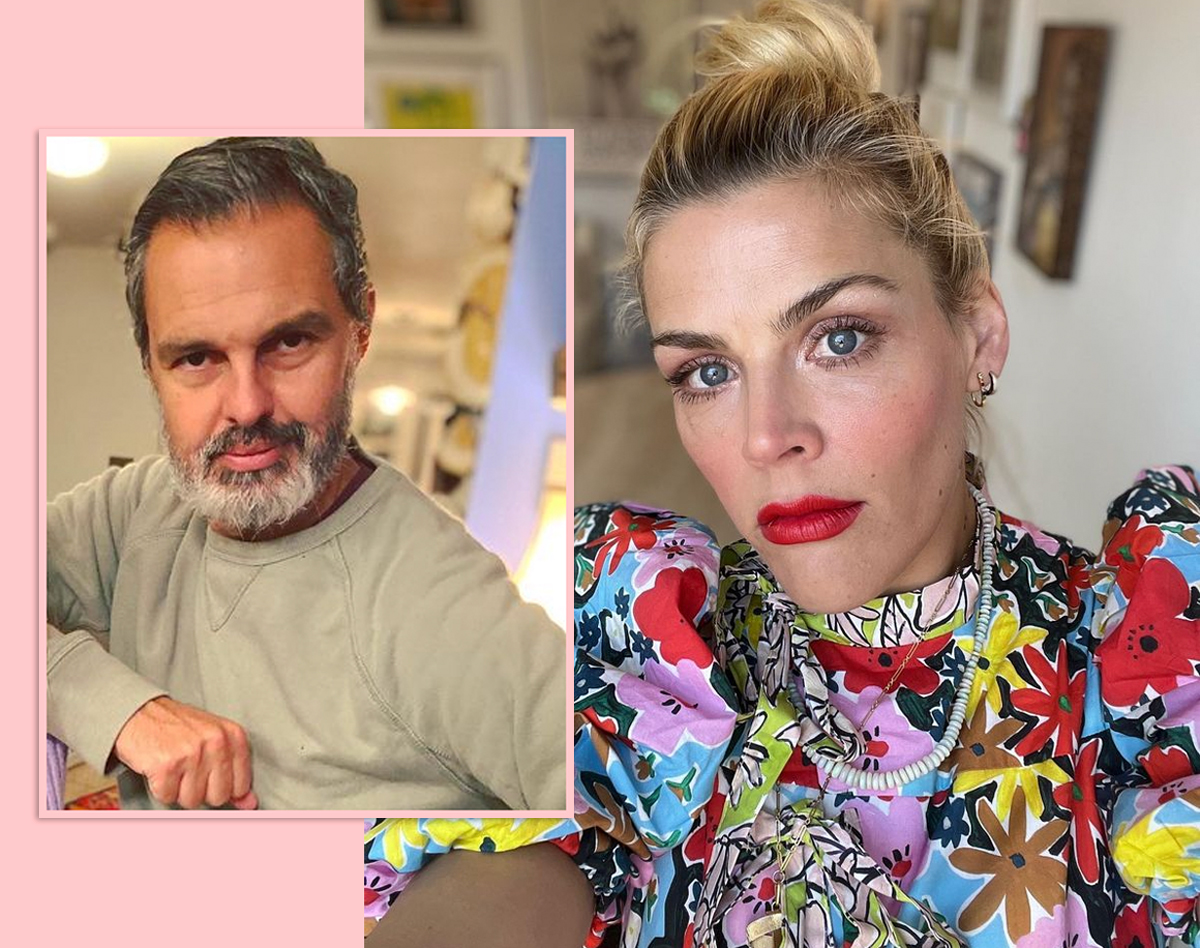 Their love story came to an end! Busy Philipps announced on a May 27 episode of her podcast Busy Philipps Is Doing Her Best that she and romcom screenwriter Marc Silverstein separated after nearly 15 years of marriage. The 42-year-old actress explained it had "been a really long time that Marc and I have been separated," revealing they actually called it quits in February 2021.
Although they had been broken up for more than a year now, they felt releasing a statement "made us sick, both of us, truly ill," so they took their time with discussing the news publicly:
"We really discussed, like, how do I handle it sort of publicly, because when we first separated, it was, like, February of last year. But the truth is, we, you know, there's, like, a conventional idea of what a person in the public eye is supposed to do when their relationship ends, and it's been very well established, right? Like, you make a statement, you're committed to remaining friends, 'please respect our privacy and our family's privacy in this time,' right? But the truth is, like, who made that rule up, that that's how you do it? I'm serious."
Busy added:
"The surest way that Marc and I have been able to ensure the privacy of our kids that we love so f**king much was by not involving the public."
Good for them for taking a step back to figure out the best way to handle the situation!
Cheryl Burke & Matthew Lawrence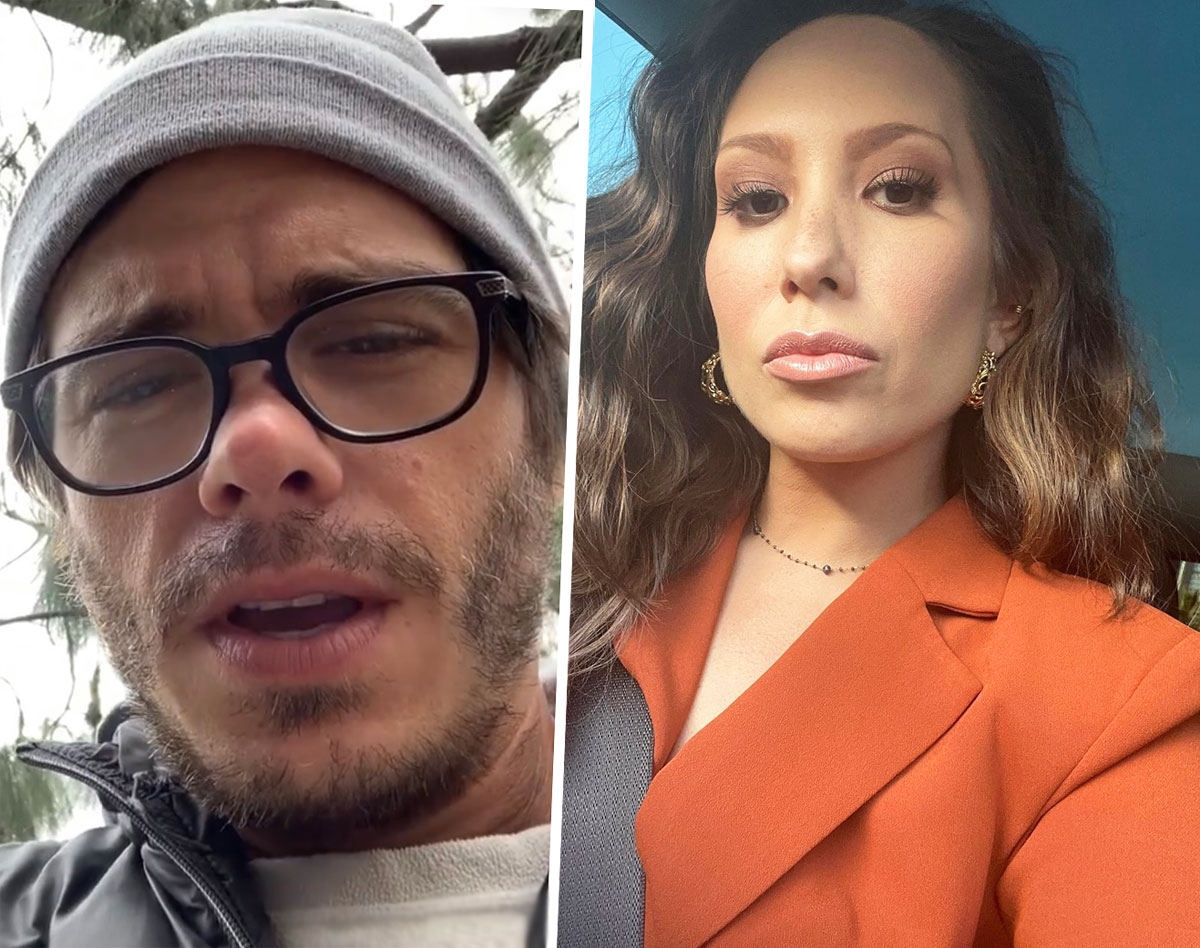 Cheryl Burke filed for divorce from Matthew Lawrence after nearly three years of marriage back in February 2022, with sources telling Us Weekly that their split "was not about having kids." She simply stated the old catch-all in her filing: irreconcilable difference. The Dancing With the Stars professional dancer later addressed the divorce in a statement on social media, saying:
"I know I have always said that I'm an open book with you guys, I do strive to be, and in writing this I've realized there isn't really an easy way to announce that my marriage is ending. I hope you can understand that I will not be commenting any further at this time and am asking for understanding and privacy. Thank you all for all the kind words & support you've given me."
However, things between them became messy when Cheryl seemed to suggest that the Boy Meets World actor might have cheated in a TikTok video, writing:
"When he said he would never talk to her again, yet I found text messages, Viagra, and a necklace hidden in a pair of his shoes…"
That's tough if this is true! But there is more. Although the two were "officially divorced," the television personality shared in October 2020 that the former couple was fighting for custody over their French bulldog Ysabella. She said on her Burke In the Game podcast that they'd be heading to court in January 2023 to determine who would get her:
"I am still really hurt by the whole situation because that is my dog. Ysabella is my daughter; I am a dog mom. I couldn't even imagine my life without her. I could just cry right now."
Hopefully, things won't get nastier between them, but by the looks of things, that might be wishful thinking!
Liam Payne & Maya Henry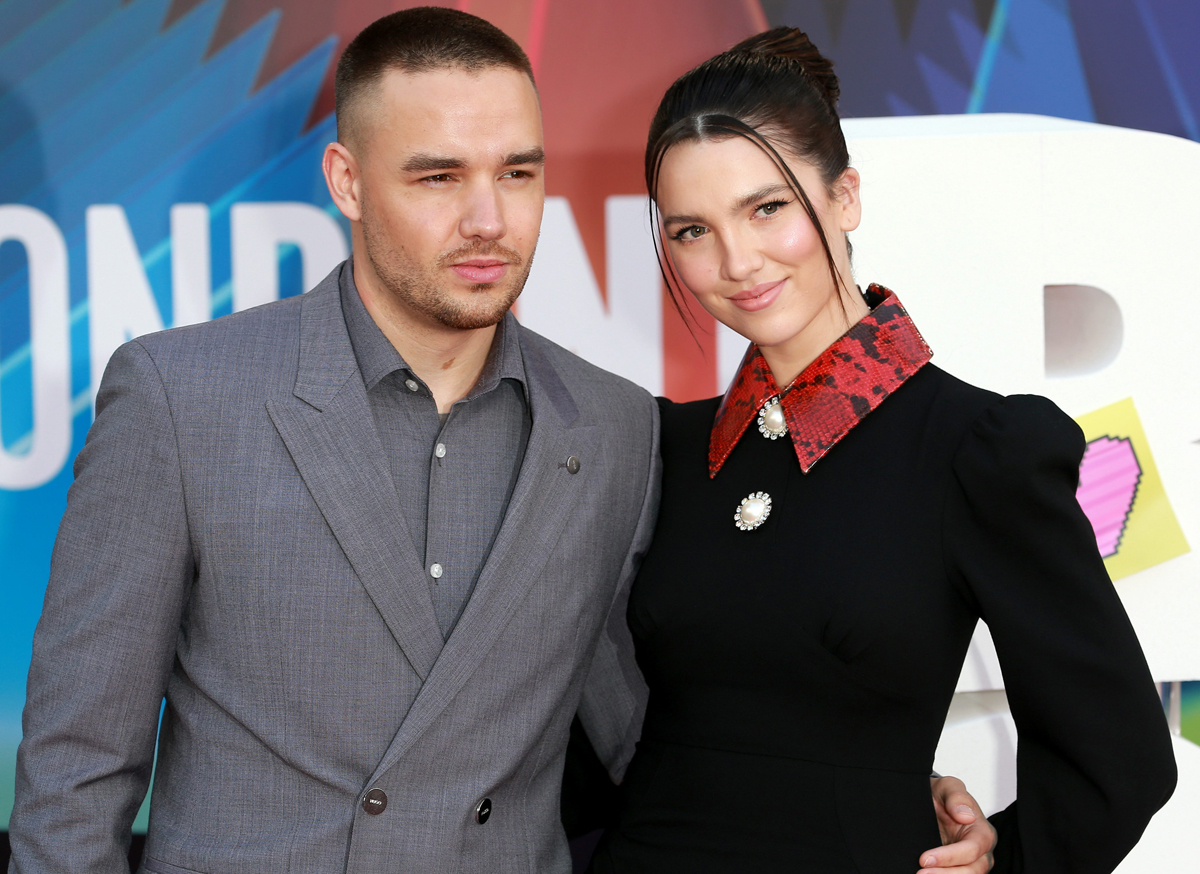 Liam Payne and Maya Henry once again have gone their separate ways — and it was messy! A representative for the One Direction alum confirmed to E! News in May that the former couple ended their relationship for the second time in three years. And it seems their is some drama surrounding their split! There have been some chatter of alleged infidelity on Liam's end after a fan page posted several shots of him with another woman, Aliana Mawla, on Instagram.
But the worst part? The account actually thought the lady in the pic was Maya when it was, in fact, not. And the 22-year-old took to the comments section to clear up the confusion, writing:
"I love all of the fans so much but please stop sending me these pictures of my fiancé wrapped around another woman. This is not me and it's hard enough knowing this has happened without seeing it. Enough now."
Oof! But despite the suspicious pictures, another source told Us Weekly that the duo had been done for "over a month" now.
Trevor Noah & Minka Kelly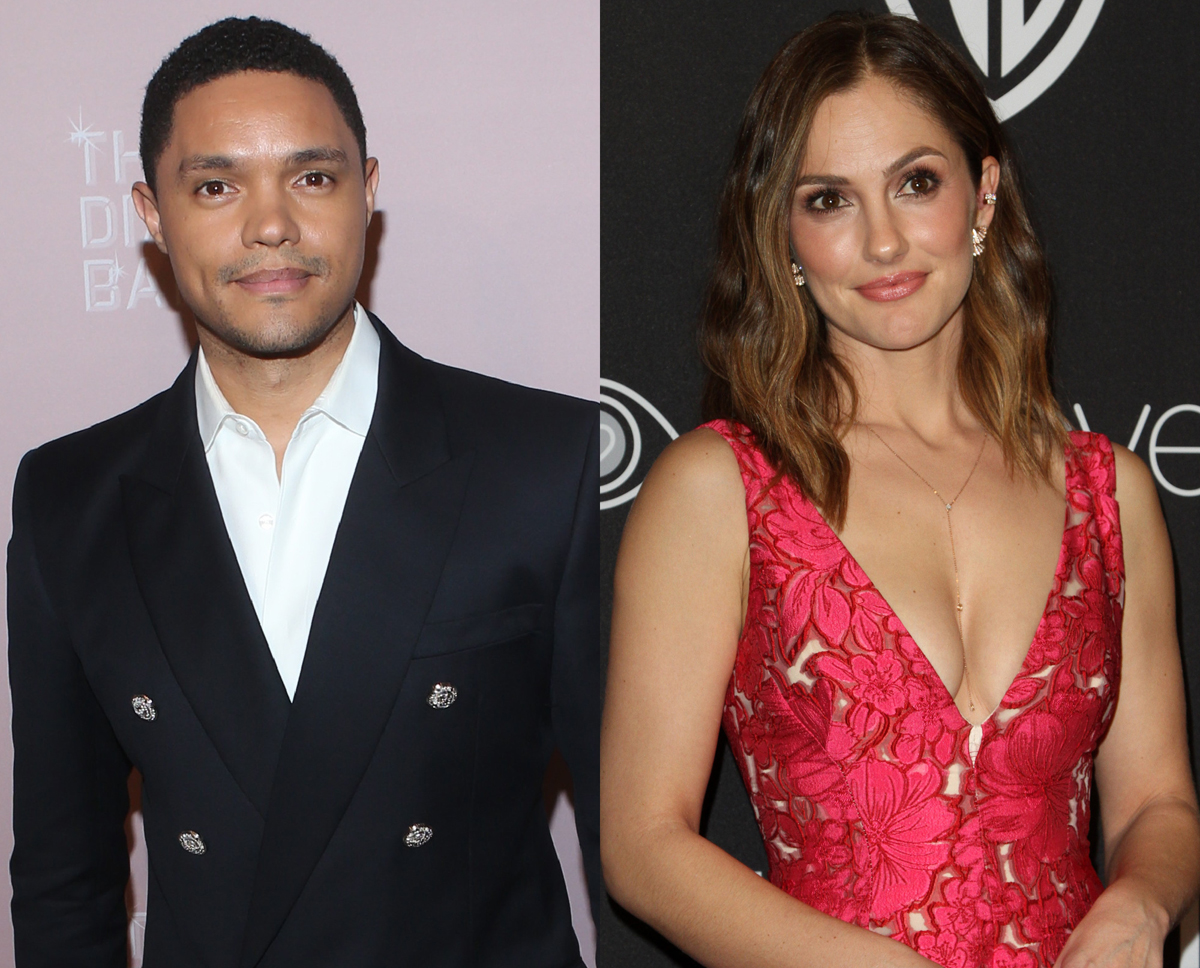 Minka Kelly and Trevor Noah decided to go their separate ways – yet again! After getting back together in June 2021, a source revealed to People on May 18 that the 41-year-old actress "is single now," mentioning that she "has the best attitude" about the split:
"She is very happy. She'd rather be single than waste her time with the wrong guy."
Another insider confirmed the news, sharing that they have been over "for a while." As for why they broke up? The source claimed The Daily Show host was "too focused on work and didn't have enough time for a relationship." However, they added that he has since been getting back out there despite the breakup:
"He's back in the dating game as well."
The breakup certainly did not keep him down too long, huh!
Lisa & Lenny Hochstein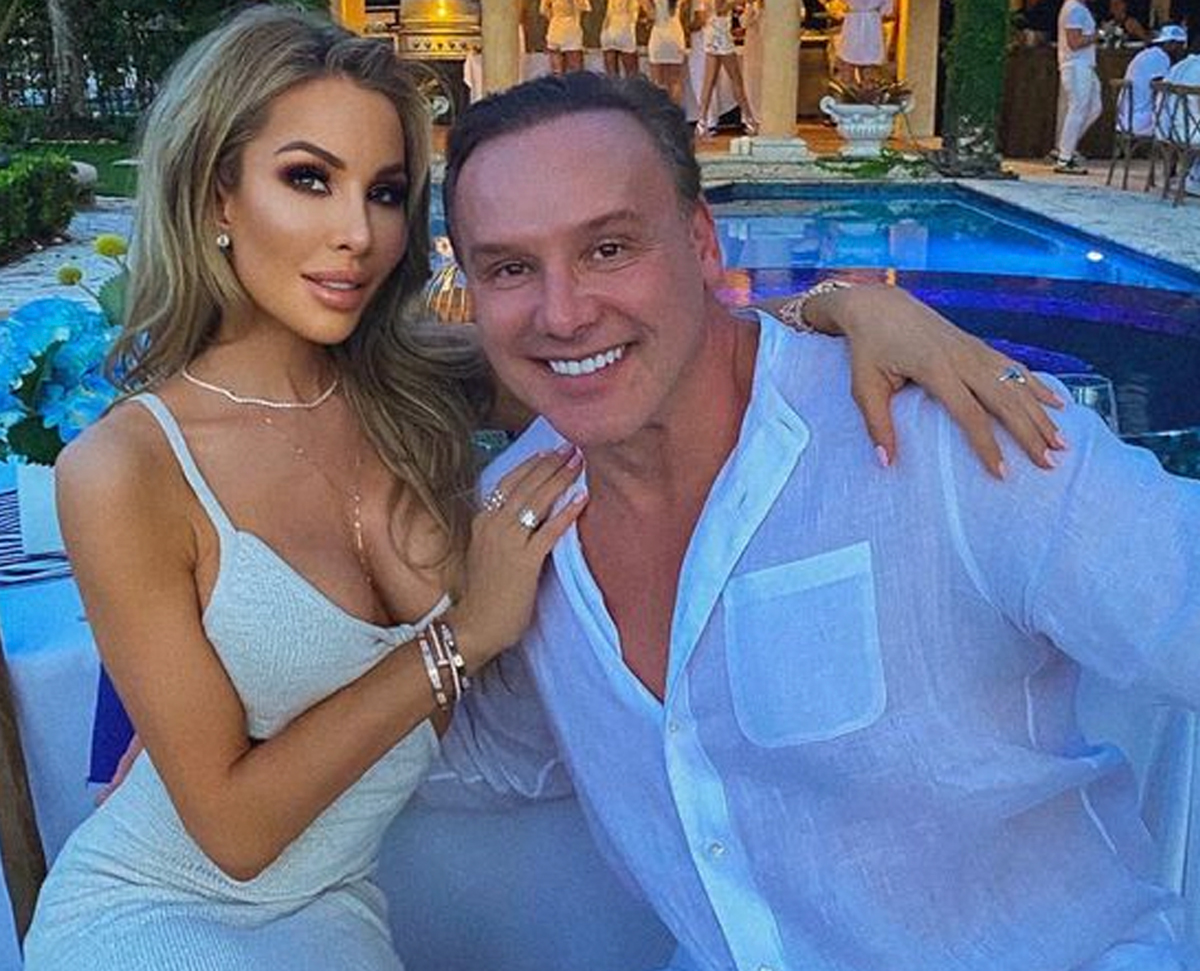 Well-known plastic surgeon Lenny Hochstein announced on May 16 to Page Six that he and Real Housewives of Miami star Lisa Hochstein were getting a divorce after he was seen in the arms of another woman, Katharina Mazepa. When news of his relationship with the 26-year-old model dropped, the Bravolebrity issued a brief statement and confessed she was thrown off by the situation, saying at the time:
"With two young children involved, as a mom I'm going to focus all of my energy and time on them. I'm blindsided by his behavior and reckless handling of the situation."
Damn! Meanwhile, Lenny tried to do some damage control on the controversy while confirming his split with Lisa to the outlet:
"Lisa and I are getting divorced. A few weeks ago, I denied this because because I am trying my best to protect my family during this process. This is a very difficult time, and I would ask for some privacy so that we can best take care of our children who mean the world to us."
He then claimed his relationship with Katharina did not start until after the breakup, explaining:
"None of this happened until after the decision was made to get divorced. … I tried my best to avoid it for the sake of our children, who we love deeply. We have been living separate lives for months and made the decision to divorce last month. It was after the decision was made that I started seeing Katharina. This is something that Lisa was well aware of before it happened. Our issues have nothing to do with the filming of the show."
Mhmm… Seems like this divorce won't be smooth sailing!
Kurt & Ashley Busch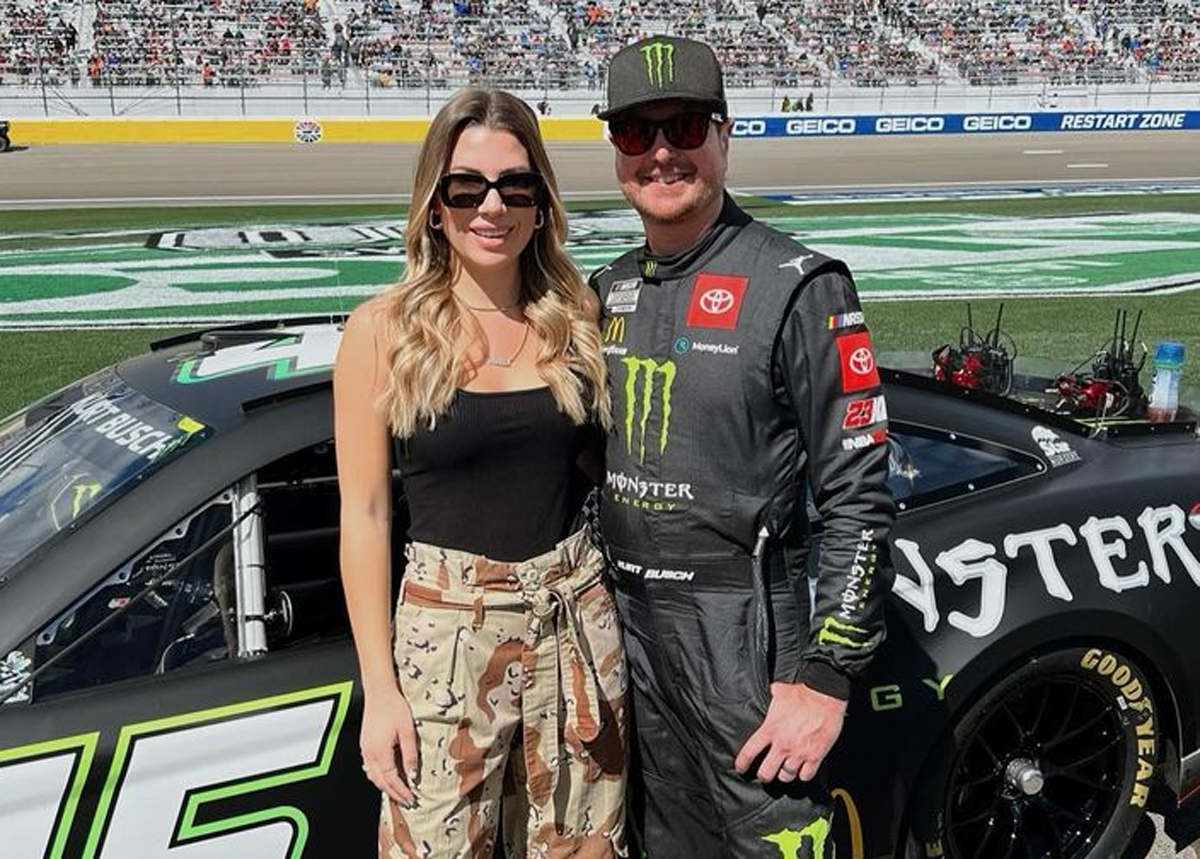 News broke on May 18 that NASCAR driver Kurt Busch and his wife Ashley Busch decided to end their marriage after five years together. According to court docs obtained by E! News, the polo player filed for divorce in Florida at the beginning of May – claiming their relationship was "irretrievably broken" after Kurt allegedly "committed a tortious act." Whoa…
While Ashley did not share any more details about the accusation at the time, she shockingly revealed that things started to sour between them in early April when he "cut off her access to their joint banking account, credit cards and all other forms of support." Even more so, she claimed the racer "demanded she leave the family home by the first week of June, even though he has another home in which he can reside."
Sounds like this may get messy! Following the split reveal, Kurt issued a statement to the outlet, saying:
"I am heartbroken to confirm that my wife Ashley and I are working to dissolve our marriage. Divorce is a personal and private matter and I hope our privacy will be respected."
Steve & Sheree Burton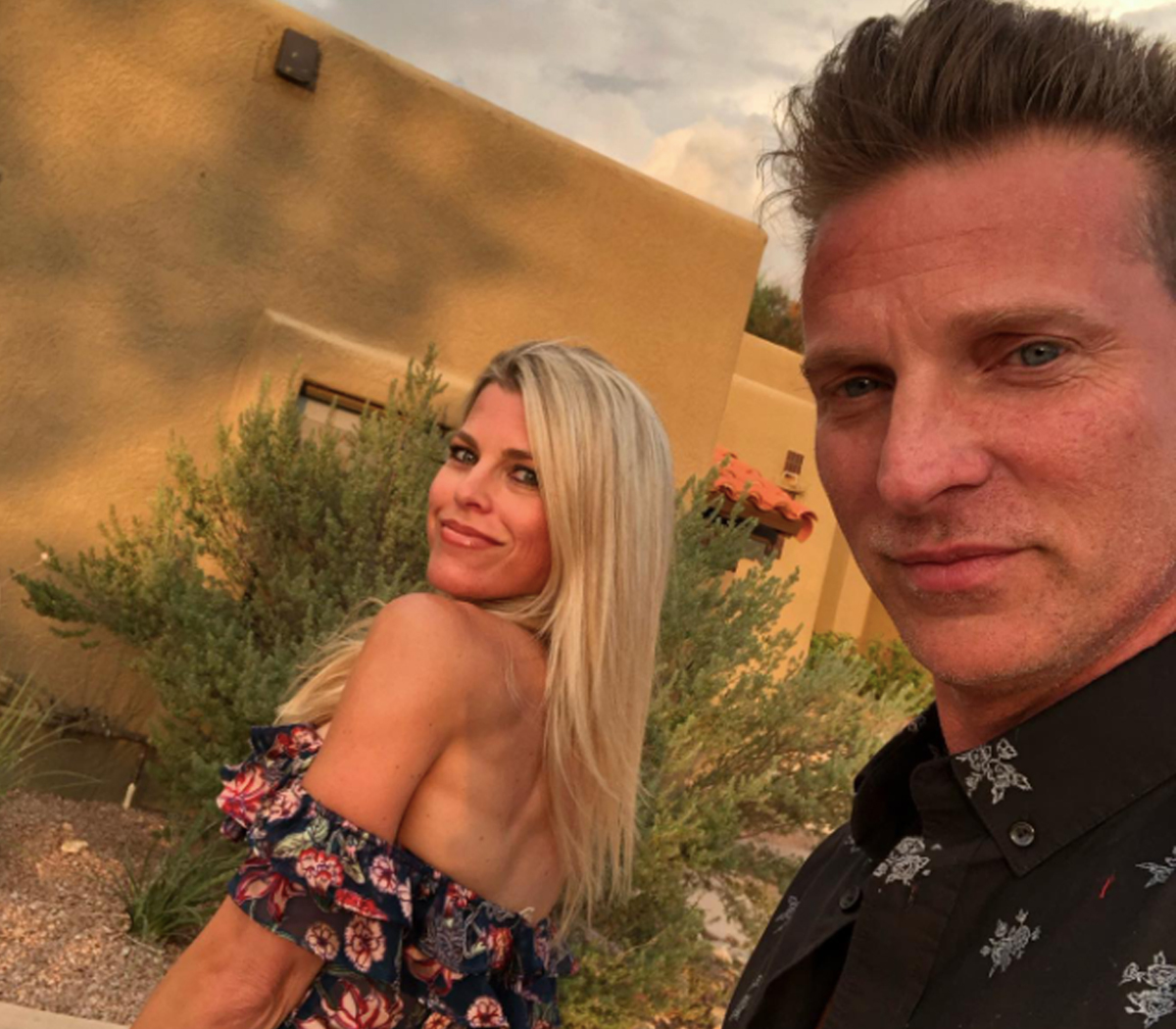 Talk about a classic soap opera storyline in IRL! After Sheree Burton announced she is pregnant with baby No. 4, her husband and General Hospital alum Steve Burton shockingly revealed the pair had split following 23 years of marriage AND dropped the news that she is having another man's baby! He wrote on Instagram Stories on May 4:
"I wanted to clear something up. Sheree and I are separated. She recently announced that she's expecting her fourth child. The child is not mine. We are still co-parenting our three beautiful kids. We would appreciate privacy at this time. Much luv, Steve."
Whoa…
It is unknown when the former couple ended things or when Sheree got pregnant, so there is a possibility nothing truly scandalous happened here! The 47-year-old fitness pro hasn't clarified who the dad is nor reacted to Steve's bombshell. So who knows!
Madonna & Ahlamalik Williams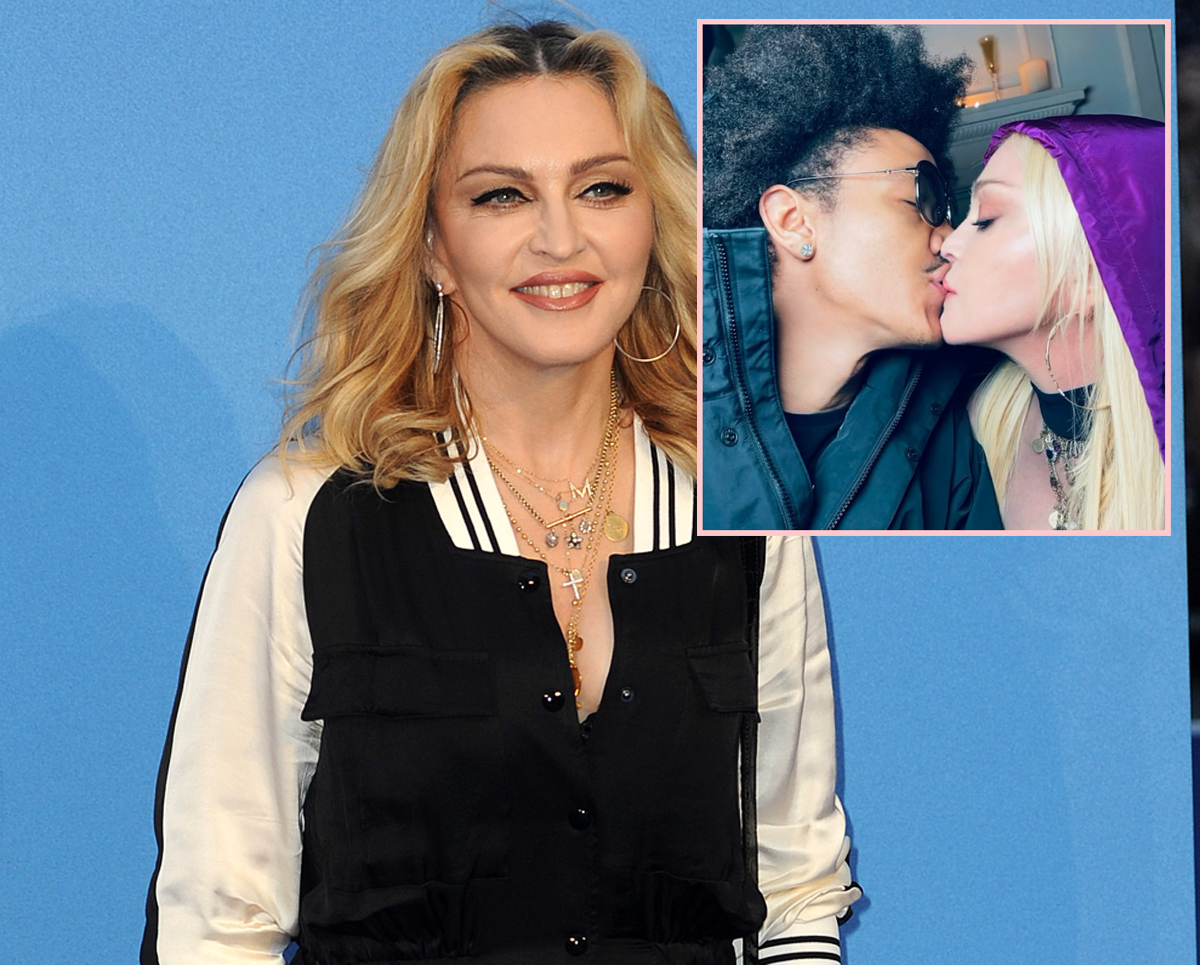 Sadly, it did not end up working out between Madonna and her longtime boyfriend, Ahlamalik Williams! A source revealed to The Sun that the now-former couple broke up after three years of dating in April, saying:
"Madonna has thrown herself into a busy social life and has been seeing her friends and family after the split. She has a packed schedule, working on her upcoming biopic, new music and looking after her family. Things have been on and off with Ahlamalik for a while. There's a lot of love but for now they have decided to separate."
However, the insider insisted that while they have gone their separate ways, there are "no hard feelings" between them at this time:
"They are still on good terms and there are no hard feelings but they are at different places with their lives. They spent months together on tour and in lockdown, but now he has moved out of her home. With them both working on other things, it was hard to keep their romance alight."
Although Madonna has not publicly comments on the split, she seemingly hinted to it by posting a cryptic quote on Instagram that read:
"Karma said: when somebody in your life is not right for you….god will continuously use them to hurt you until you become strong enough to let them go."
Sounds like a confirmation to us!
Thandiwe Newton & Ol Parker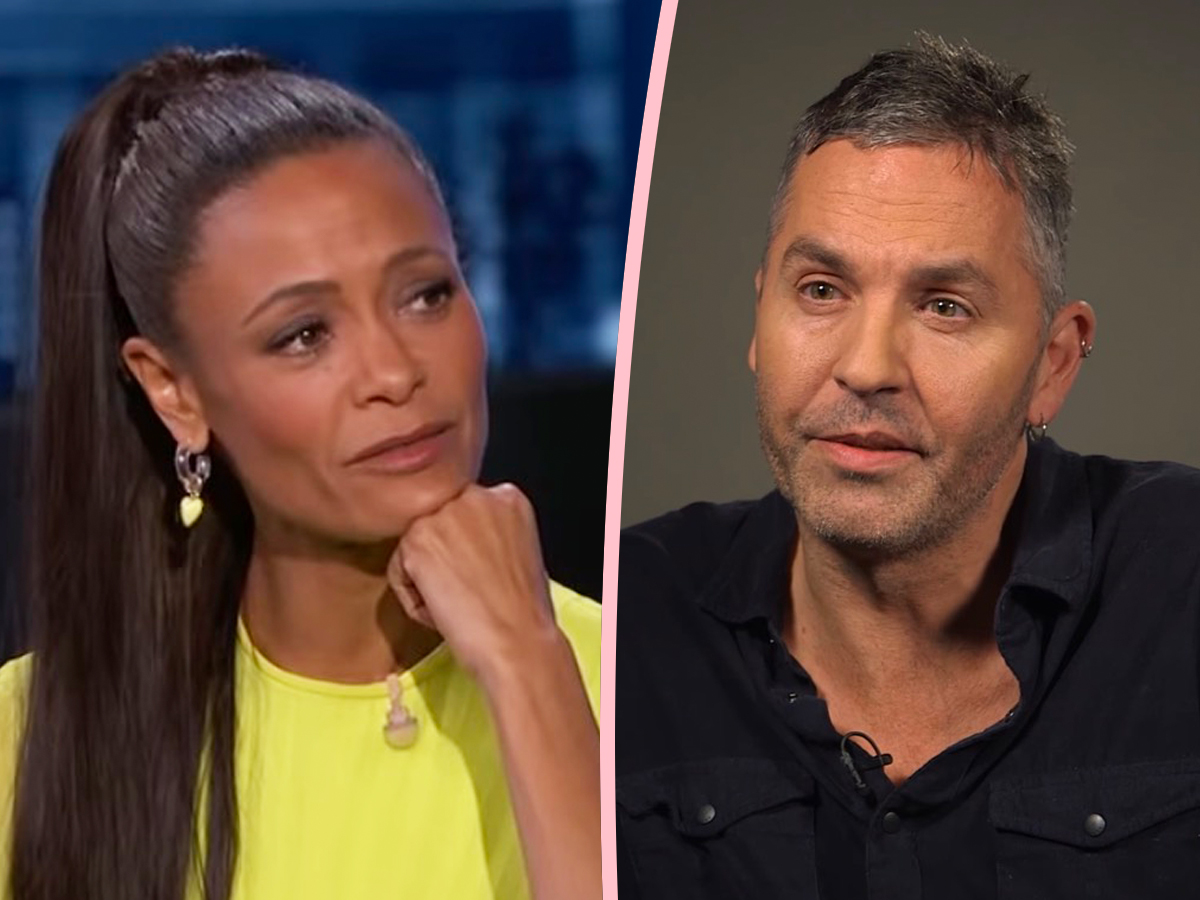 Things regarding Thandiwe Newton have been a bit of a mystery this year! It all started when the 49-year-old actress suddenly exited the third Magic Mike movie in early April, with sources initially claiming the reason behind it was because she got into an argument with Channing Tatum over the infamous Oscars slap. However, Warner Bros. soon shut down the rumors and revealed that she left due to personal family matters – seemingly hinting at her rumored split with Ol Parker.
Speaking on what those personal matters were, a source later spilled to Page Six:
"Thandiwe had been acting strange on set, she has been very highly strung. Her apparent breakdown caused so much disruption, it became clear she couldn't play the role. There is a lot going on in her personal life, she and her husband have separated. She seemed so stressed, she even brought her two pet rabbits to her hotel for emotional support."
Adding fuel to the speculation, Parker was spotted out and about without his wedding ring. The Westworld star was then seen cozying up to musician Lonr. (real name Elijah Dias). amid her team's alleged push for her to go into rehab. Even more so, it turns out that they are reportedly living together! An insider told The Sun:
"Thandiwe has been staying with Elijah in LA and is acting like a smitten teenager. Her wedding ring is off and it seems she has fallen for him. Thandiwe seems like she can't get enough of Elijah. When he isn't working, he is with Thandiwe. They are very much a couple and Elijah is acting like the perfect boyfriend. She isn't hiding this romance. She wants everyone to know about it."
Wow! So while Thandiwe and Ol have not confirmed the split, all signs are indicating that they are dunzo!
Jana Kramer & Ian Schinelli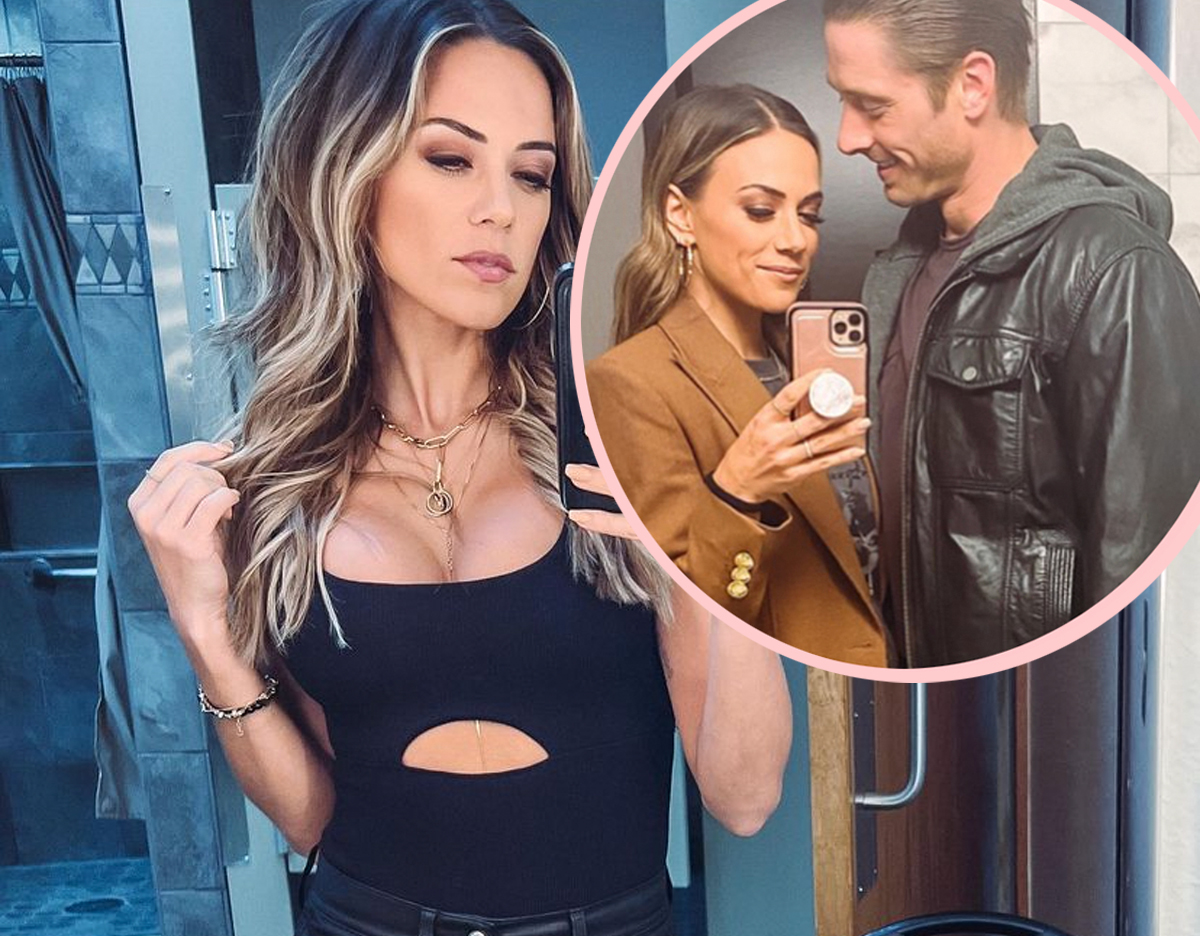 Another heartbreak for Jana Kramer…
Three months after going public with their relationship, the One Tree Hill alum sparked speculation that she split from her boyfriend, Ian Schinelli. Why is that? Eagle-eyed followers noticed that she and the personal trainer had recently scrubbed all of their photos of each other on Instagram, as well as saw that she no longer followed him on the platform. And it turned out fans were right! She later confirmed her split with Ian in an interview with Access on April 22, saying:
"I mean, I'm kind of going through it [a breakup] right now. Yeah, you know, I think what I would say [for breakup advice] though is, your story isn't over. You've never going to be alone. It is not as bad as it seems in the moment."
If you were expecting a clean break between these two, you would be mistaken! After Jana opened up about her feelings following the split, Ian decided not to hold back, too, dropping some shocking accusations about the actress!
Speaking with Us Weekly, the former Navy Seal claimed he broke up with Jana for multiple reasons. He claimed she was moving too fast by suggesting moving in together after a month and marriage within a year, keeping him away from other women (and everyone in his life), and using technology to track his everyday moves. That is not all! Ian also accused her of being a homewrecker, telling the outlet that the country singer "tried to get" several of her co-stars to leave their wives for her, including The Holiday Fix Up cast member Ryan McPartlin. Whoa!
In response, Jana fired back with her own allegations about Ian. She accused him of cheating with a bunch of women, saying:
"The reason I haven't said anything further on this breakup was because Ian lied about cheating on his ex-wife and I was trying to protect her. She has become a friend of mine and I was trying to protect her privacy, but she has now given me permission to speak on her behalf. Ian is angry because all of his lies have been figured out and is now twisting the story. I have since found out from many women I was not the only one during our relationship, but I'm happily moving on with my life and I hope for him to do the same."
A source also sided with Jana, claiming he was in the relationship with the Whine Down podcast host for the followers. Yeesh! So much drama!
Maia Mitchell & Rudy Mancuso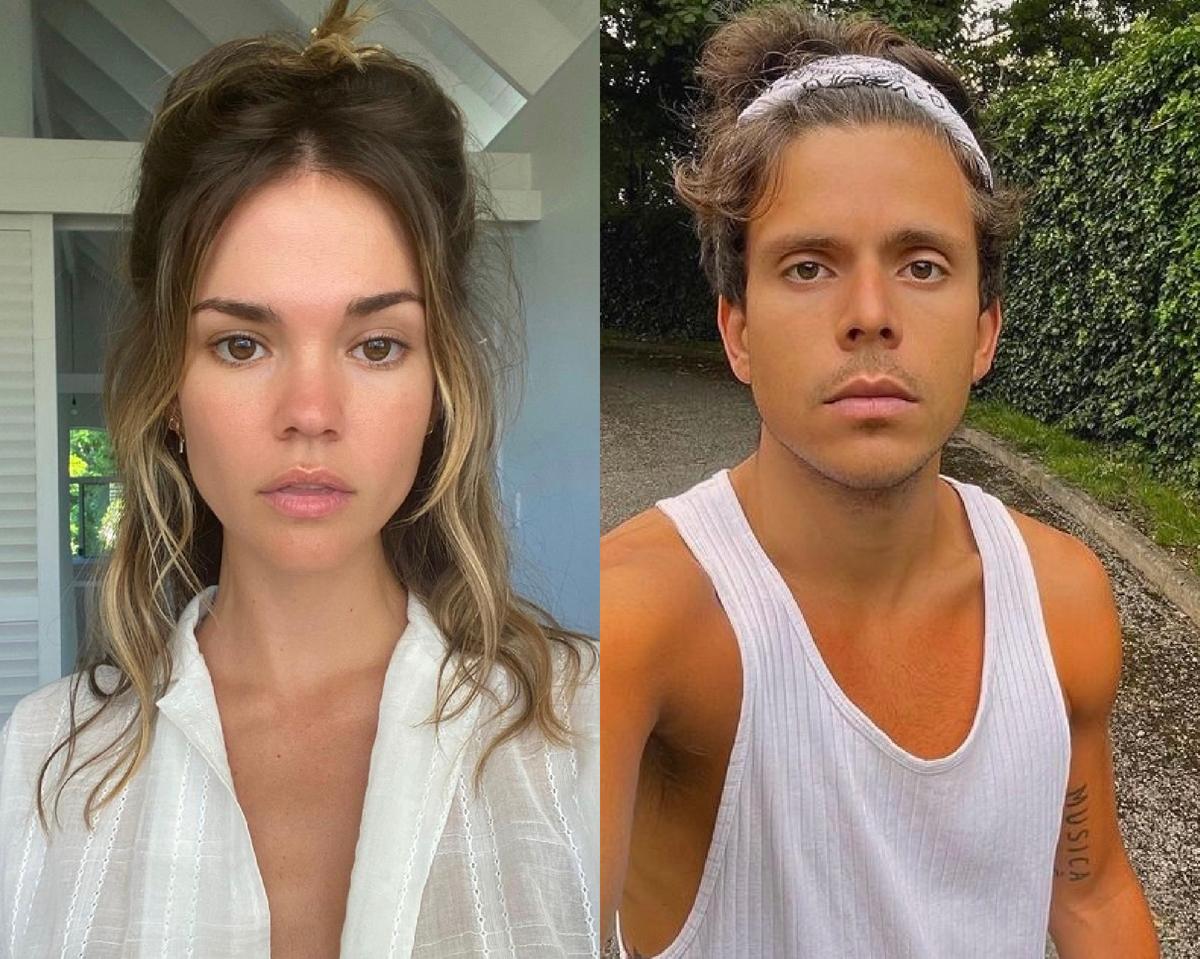 Maia Mitchell and her boyfriend Rudy Mancuso split after six years together – and it turned out it happened a while ago! A source confirmed the news to Us Weekly on April 8, saying:
"It happened a few months ago."
Although neither has said anything about ending their relationship, eagle-eyed fans actually started speculating back in March that they called it quits after noticing the 28-year-old Good Trouble alum deleted pictures of Rudy from her Instagram. The 30-year-old YouTuber seemed to wipe any evidence of Maia from his social media, too.
Dan Aykroyd & Donna Dixon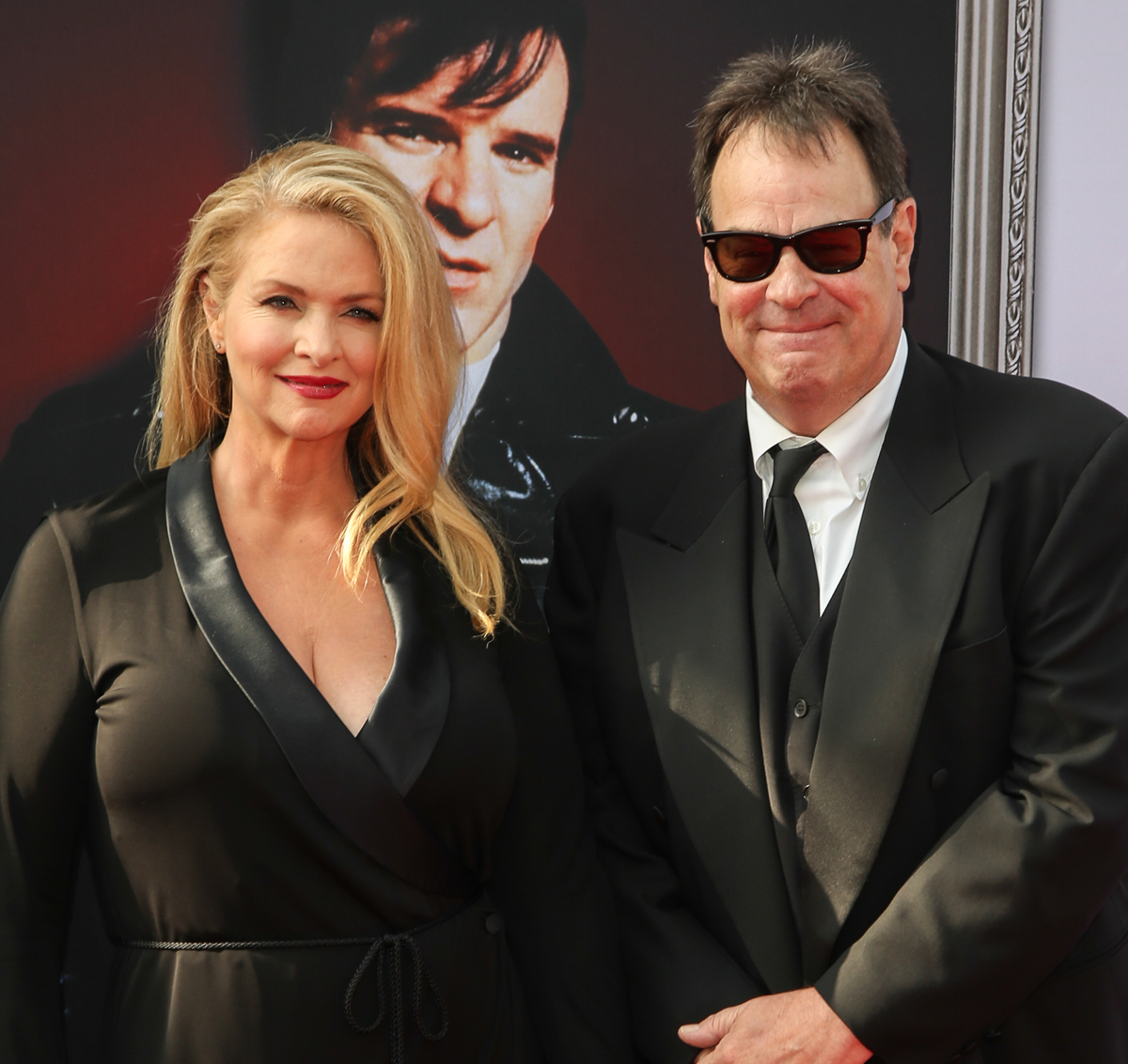 Ghostbusters actor Dan Aykroyd parted ways with his wife Donna Dixon after almost 40 years of marriage. The two announced their separation in a joint statement to People on April 30:
"After 39 years as a couple we are now on separate life paths. We remain legally married, co-parents, co-workers and business partners. This is our choice in loving friendship."
Ashley & Michael Darby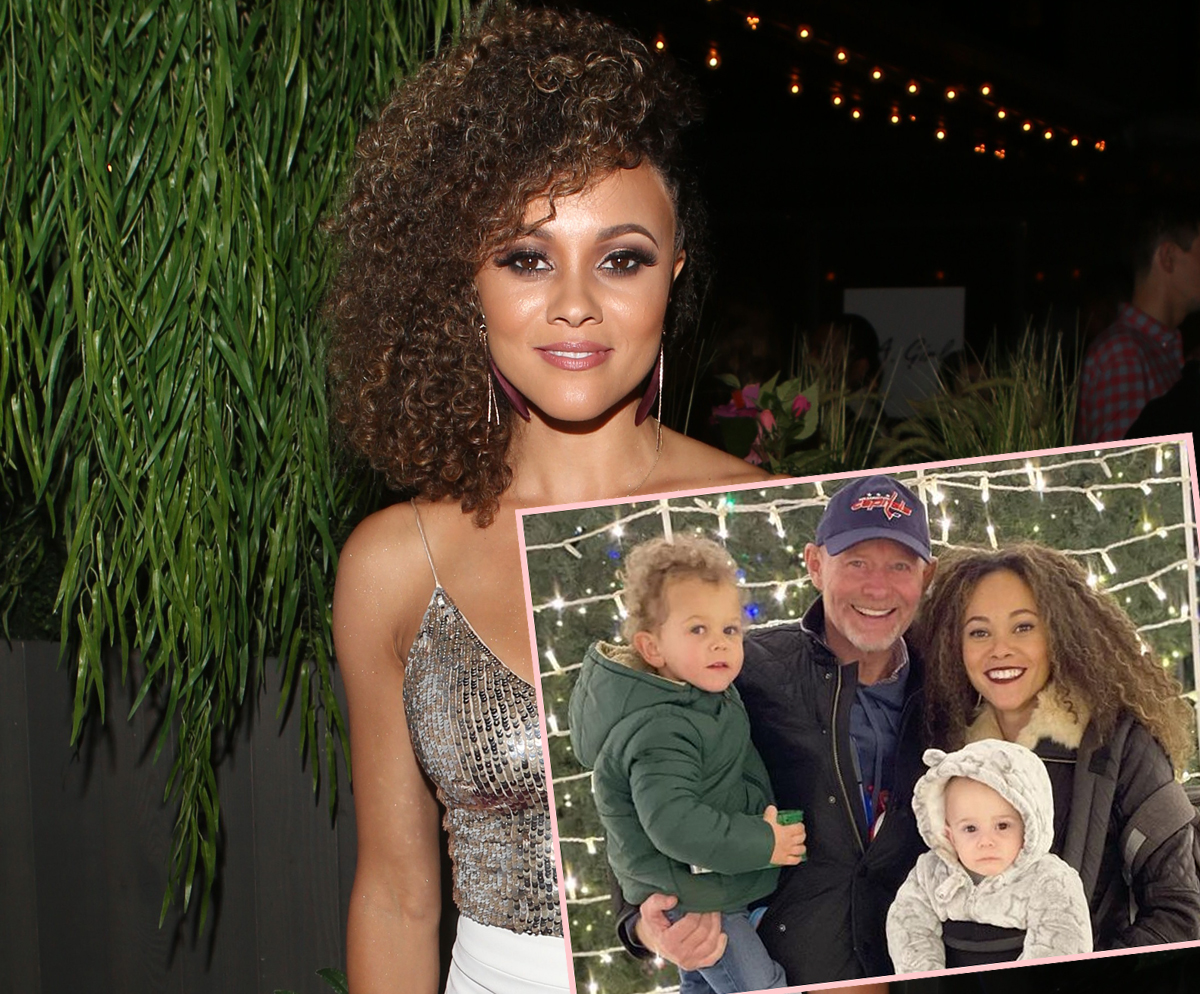 Real Housewives of Potomac star Ashley Darby announced on April 19 that she and her husband Michael Darby were splitting after almost eight years of marriage. According to Page Six, the reality star, who shares two sons with the businessman, said they were at "very different stages" of their lives and had "very different goals" for their futures at this time.
Joe Exotic & Dillon Passage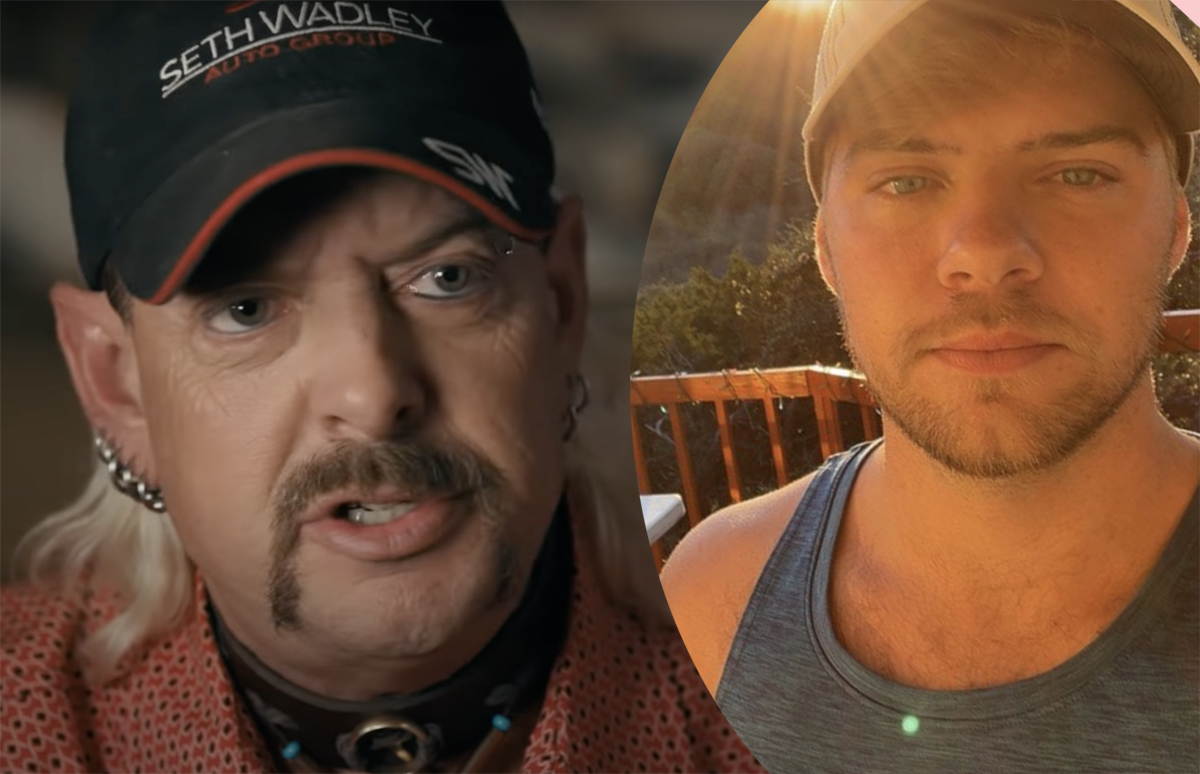 Take two! After putting their split on hold last year, Tiger King star Joe Exotic officially filed for divorce from Dillon Passage while in prison on March 31. His attorney Autumn Beck Blackledge confirmed the news to People, revealing that the 59-year-old reality star filed in Santa Rosa County, Florida, near where the former couple previously lived together. The lawyer stated that while they did break up last year, Passage allegedly "failed to serve his husband and did not follow through with obtaining a divorce through the legal system."
Since then, Blackledge claimed Joe tried reaching out to the 25-year-old several times to no avail and hoped "they can both move on with their lives and divorce quickly and amicably." She added:
"Joe is nearing the end of his cancer treatment and has fallen in love."
Whoa! "Fallen in love"?! Blackledge continued:
"He has no ill will toward Dillon, but has been trying for a while to reach him to get a divorce settlement. My understanding is that both Joe and Dillion have moved on romantically and they should both have the freedom to love again free from the bonds of marriage."
Meanwhile, Passage's manager, Jeff Duncan, told the outlet in a statement that he fully accepted moving forward with the divorce:
"Dillon is pleased to get some finality to the divorce. Previously, his attorneys drafted the necessary paperwork on two separate occasions which were not signed by and then ignored by Joe. Dillon is happy to get some closure and welcomes progress toward his request for divorce to Joseph Maldonado."
According to the court documents, the big cat lover asked for their four-year marriage to be "irretrievably broken" and requested alimony. Additionally, Joe requested to have the "Passage" part of his last name dropped from his legal name.
Billy Ray Cyrus & Tish Cyrus
Third time is the charm!
Tish Cyrus filed for divorce from Billy Ray Cyrus on April 6, 2022, after almost 30 years of marriage. According to court records obtained by TMZ, the 54-year-old claimed in the filing that they have not lived together for two years now. She cited "irreconcilable differences" as the reasoning for the divorce, asking the court to just equally distribute all of their marital assets.
Following the breakup news, the ex-couple presented a united front and issued a statement to People through a representative to explain their decision to end things, saying:
"It is after 30 years, five amazing children and a lifetime of memories, we have decided to go our separate ways — not with sadness, but with love in our hearts. We have grown up together, raised a family we can be so proud of, and it is now time to create our own paths. We will always be family and look forward to a continued and loving shared experience as friends and parents. We have not come to this decision lightly or quickly but with so much going on in the world, we wanted to provide some clarity and closure, so we can remain focused on what is important. With Love and Hope… Tish and Billy Ray Cyrus."
As fans know, their relationship first started to crumble back in 2010 when the Achy Breaky Heart singer first filed for divorce. He later withdrew the petition after they were able to salvage their relationship. But three years later, Tish filed for divorce again, but she ended up calling it off shortly afterward.
Time will tell if Tish and Billy Ray will go through with the divorce this time around, but given that the two haven't lived together for two years now, it seems pretty likely to us!
Natasha Lyonne & Fred Armisen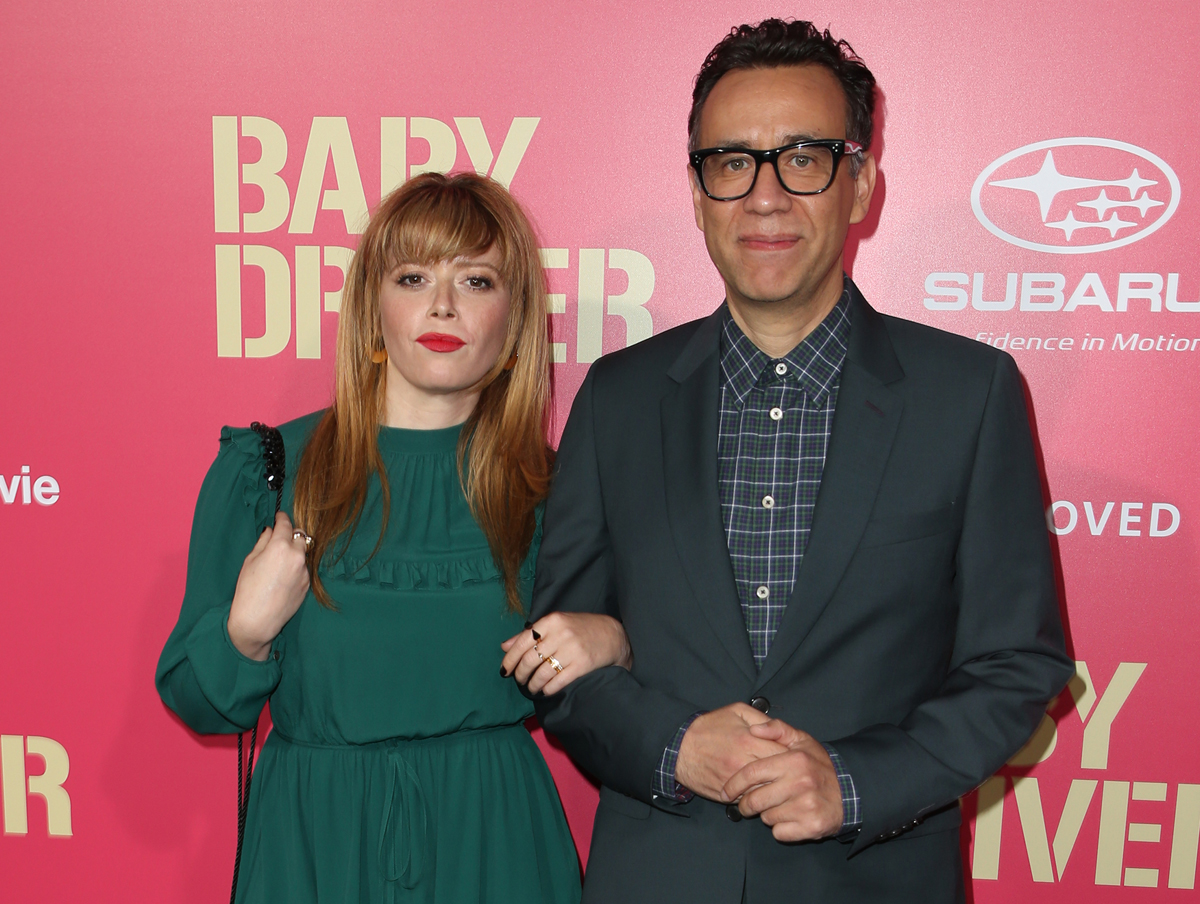 Natasha Lyonne revealed she and Fred Armisen called it quits while discussing the highly anticipated return of her Netflix series, Russian Doll, in an April interview with The Hollywood Reporter. Their relationship status was brought up when the 43-year-old actress was asked if she was still living in Los Angeles, to which she shockingly confessed:
"I'm not. I had been there living with Fred [Armisen] and during COVID."
The reason they split after eight years together? She claimed it was over a disagreement about getting a swimming pool. Yep, a swimming pool! Natasha explained:
"I honestly think we broke up because I wanted a swimming pool… We love each other just about as much as two people can love each other and we're still talking all the time, but Freddy doesn't like a swimming pool. It might seem like a mundane reason for a breakup, but during that pandemic, you've got to get your laps — I'm like Burt Lancaster in The Swimmer."
And in case you were wondering, the Orange Is the New Black alum has since purchased a new home complete with a pool. However, she still splits her time between the coasts:
"So that's the real scandal. I guess I finally am an actual bicoastal."
At least she'll be able to get her laps in now. But we can't ever say we've heard of a couple breaking up over something as trivial as this!
Ali Wong & Justin Hakuta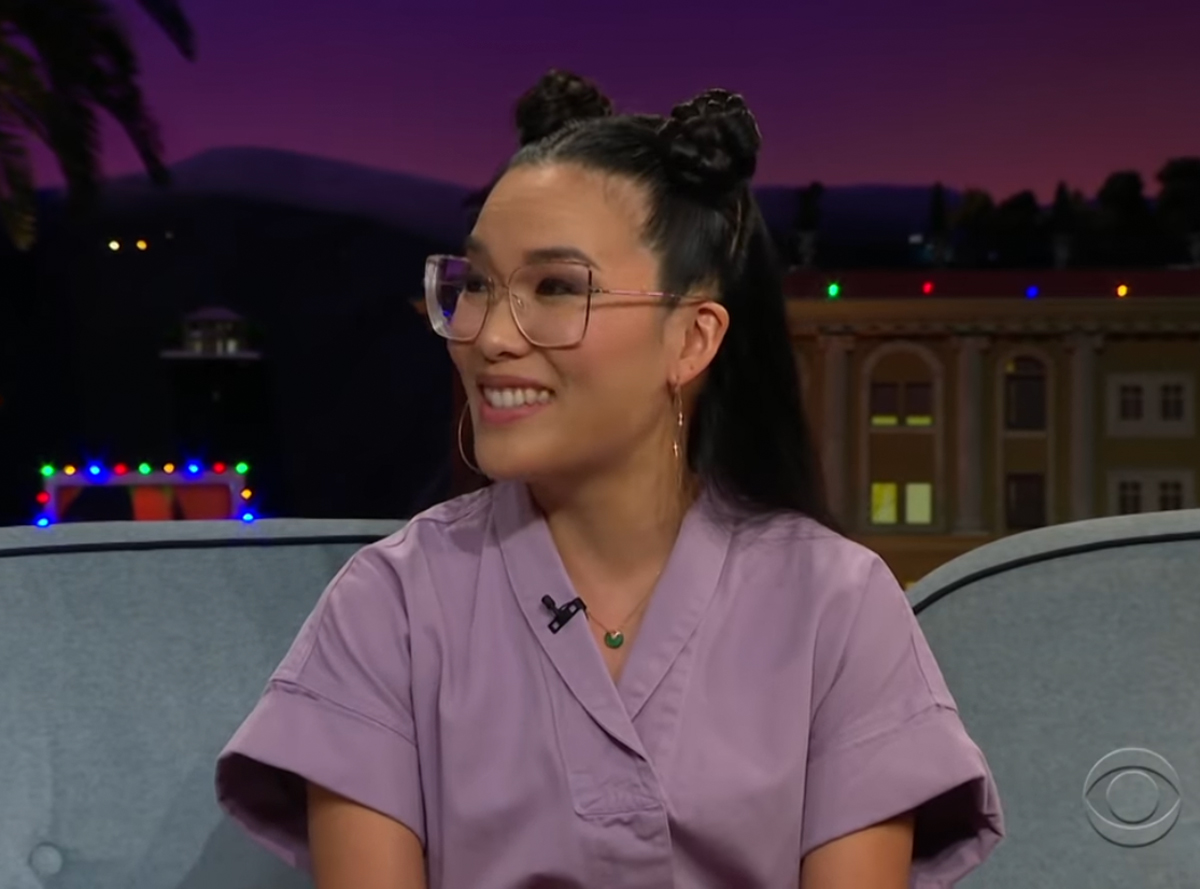 Comedian Ali Wong and her husband Justin Hakuta have ended their marriage after eight years together. A source close to the former couple revealed the news to People on April 12, saying:
"It's amicable and they will continue to co-parent lovingly."
Her rep also confirmed the news to the outlet. Hopefully, the two truly go through this as amicably as possible for the sake of their two kiddos!
Kenan Thompson & Christina EvanGeline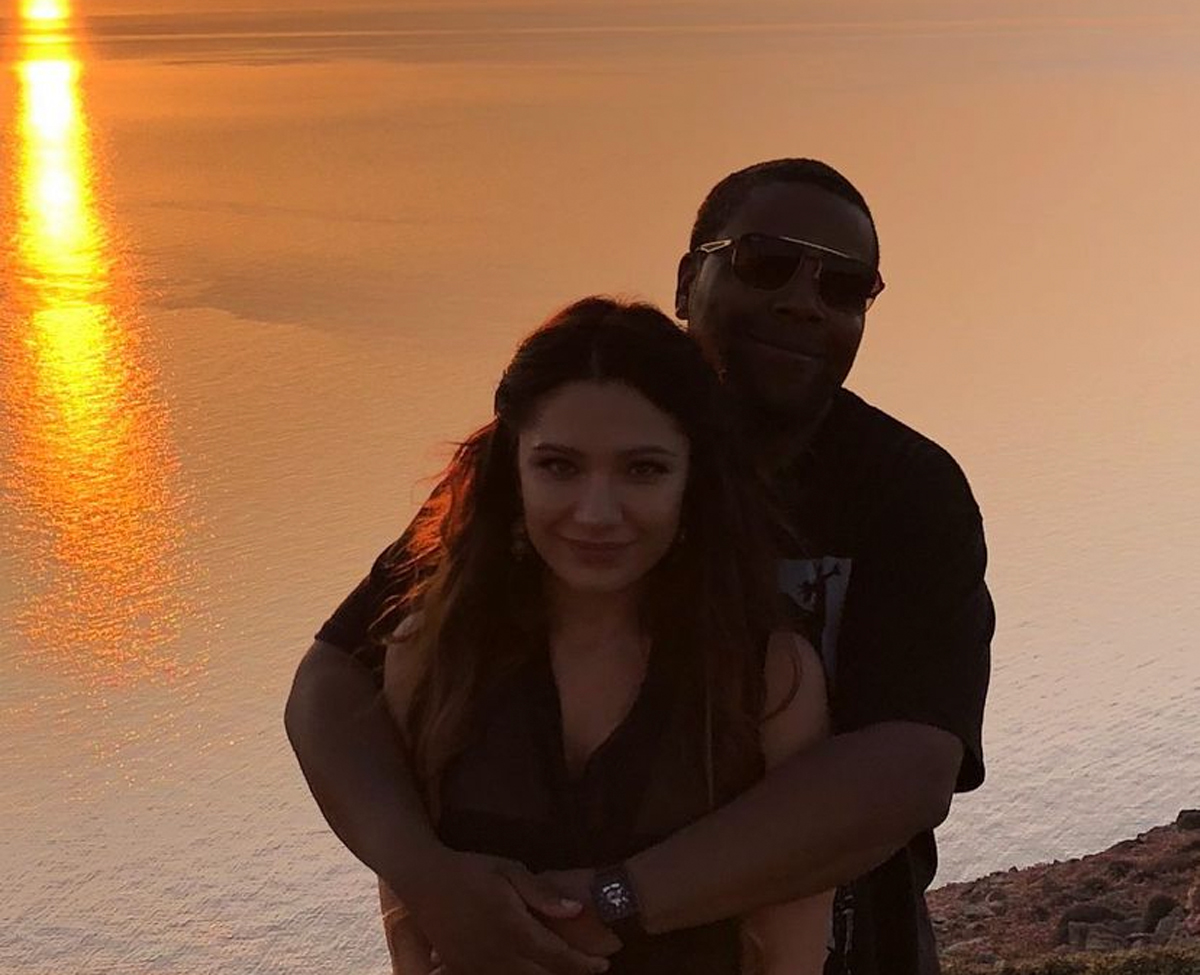 Following more than a decade of marriage, TMZ reported on April 7 that Kenan Thompson and his wife Christina Evangeline were dunzo. In fact, sources close to the pair claimed they have been separated and just co-parenting their two children, Georgia and Gianna, for over a year now. As for why they called it quits? Sources told the outlet that they just "grew apart" but are still great friends at this time. And while neither has officially filed for divorce, TMZ noted that it is expected to happen at some point in the future.

Scott Disick & Holly Scarfone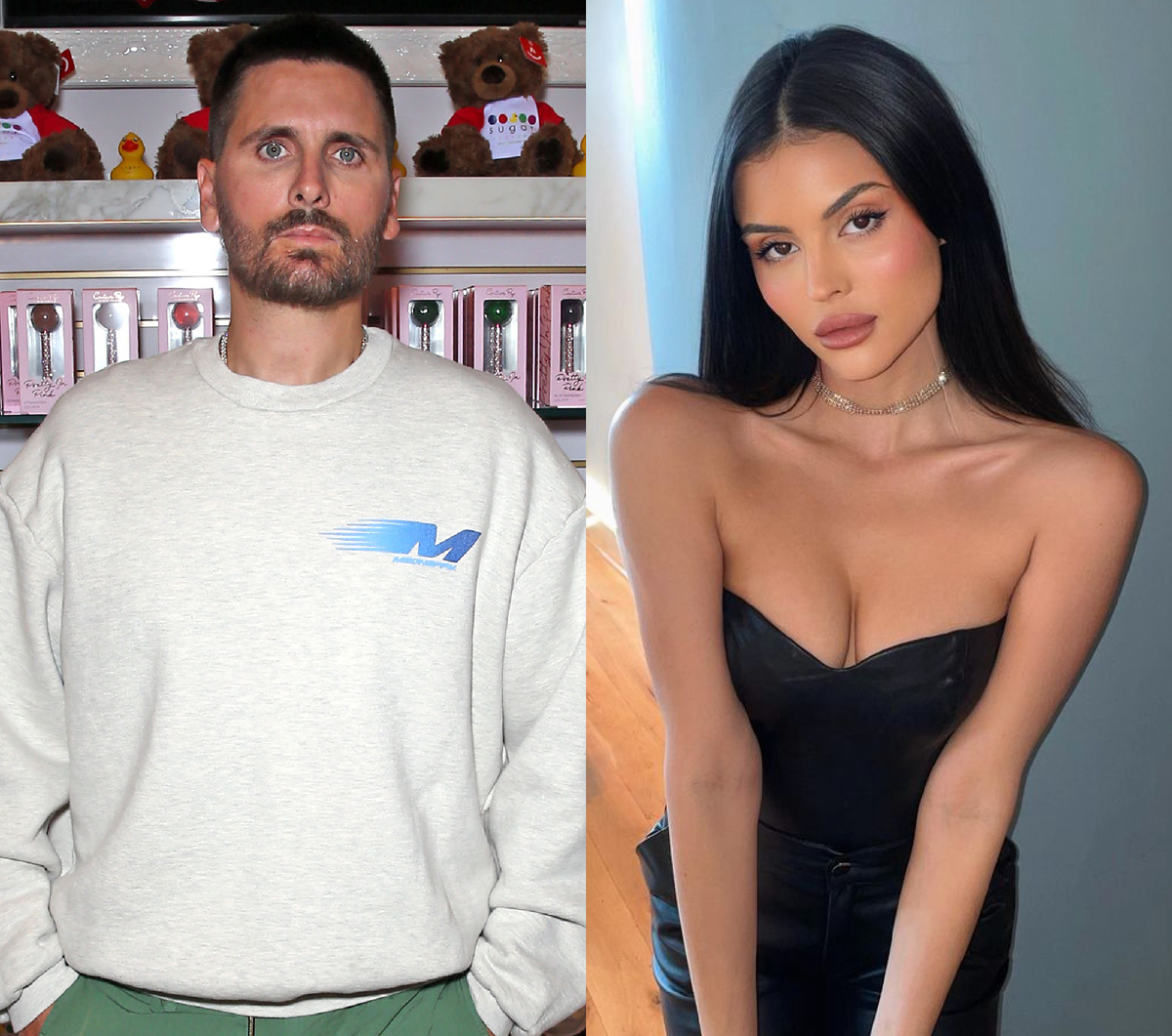 After stepping out a couple of times together this year, Scott Disick and Kylie Jenner lookalike Holly Scarfone are already over! The 39-year-old Keeping Up With the Kardashians alum and the 23-year-old Too Hot to Handle star was seemingly together for a few weeks, being spotted on dates at places like the Boum Boum nightclub in Paris and Nobu Malibu. But alas, it looks like their fling was short-lived! He has also  already moved on to a new lady, Rebecca Donaldson. So clearly, he's not hurting too much over this breakup.
Andrew Garfield & Alyssa Miller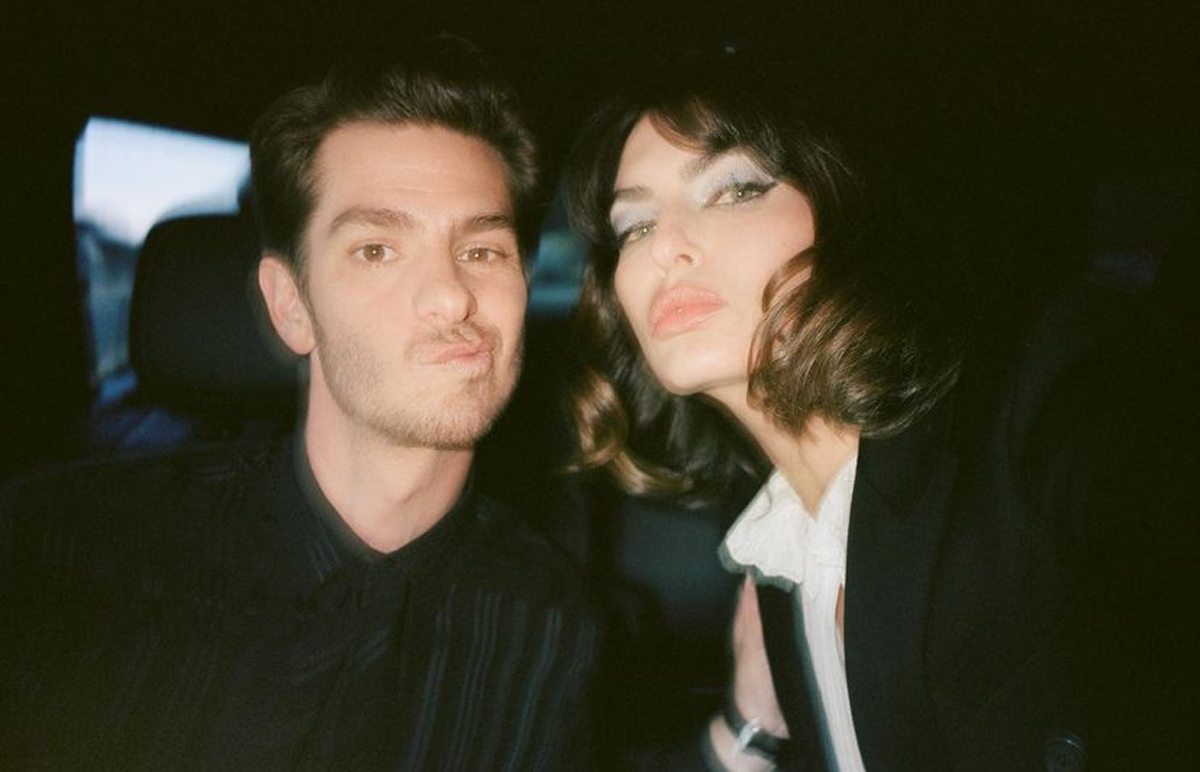 Well, this was certainly a wild breakup…
News of Andrew Garfield and Alyssa Miller's split first came out on April 1 from The Sun right after they made their red carpet debut. Sources revealed that the split pretty much all came down to their busy schedules, explaining at the time:
"They were together for quite some time before they went public, but work schedules mean it has been really hard to see each other. On top of that, it became clear that there were some differences between them, and it was decided they are better off apart, for now at least."
A week later, an insider for Page Six confirmed the two were over, noting that they ended things "amicably a number of weeks ago." But in a weird twist, the 32-year-old model then posted a selfie of the two on Insta with the caption:
"If you must gossip at least use a cute photo. Lol love you AG"
Of course, fans immediately thought Alyssa was trying to shut down the breakup rumors due to the "love you" part. However, Page Six insisted the two were over despite the strange social media move! A source even told the outlet that Andrew's friends were "weirded out" by the post, adding:
"If she wanted to clear the air, why did she make the post so vague?"
That is certainly a mystery. But it might be safe to say that these two are over — even with Alyssa's very cryptic post!
Jason Momoa & Lisa Bonet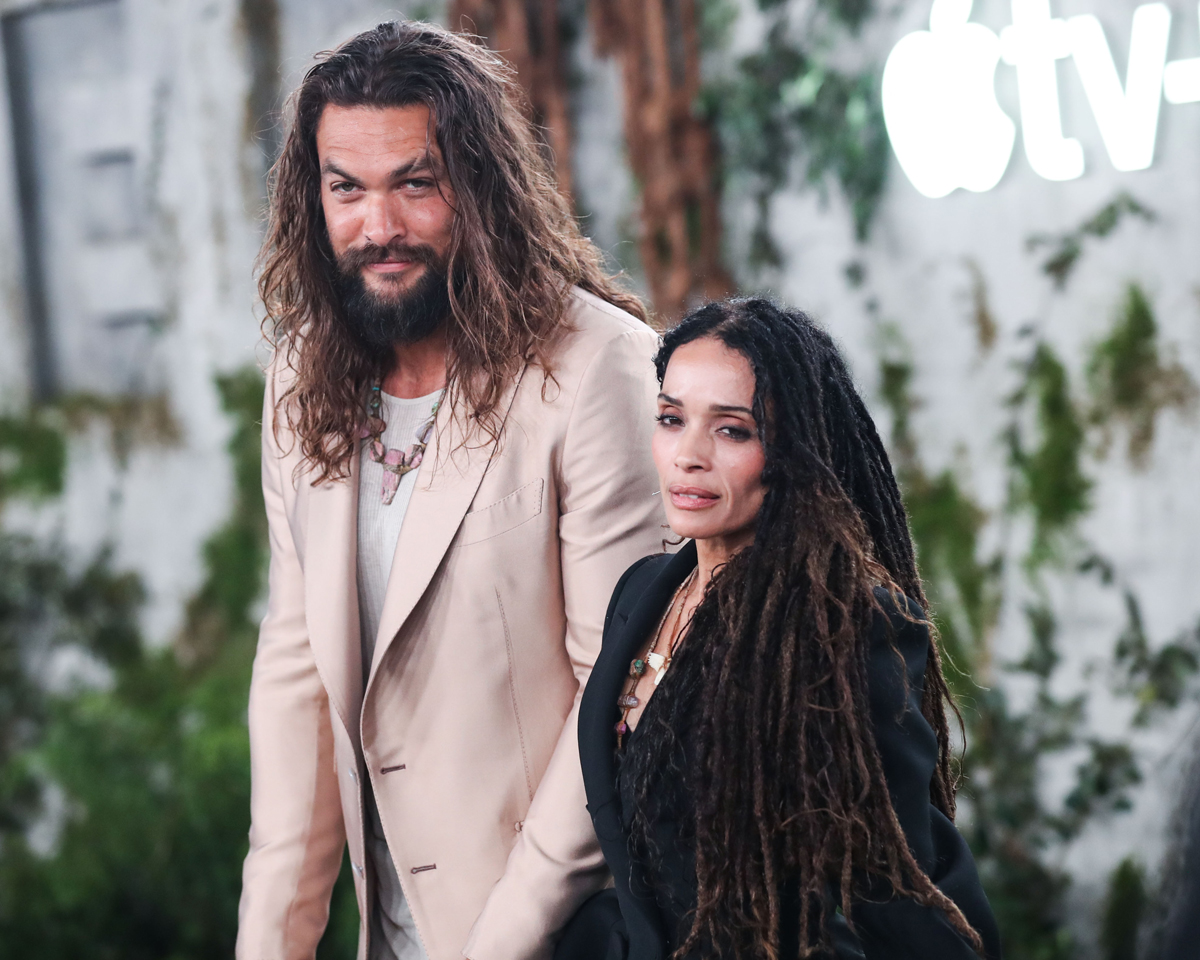 Did anyone see this coming? Kick-starting the year on a sour note, Jason and Lisa shocked the world when they announced in a joint statement on social media back in January that they decided to end their relationship after 16 years together. The longtime couple wrote at the time:
"We have all felt the squeeze and changes of these transformational times… A revolution is unfolding ~and our family is of no exception… feeling and growing from the seismic shifts occurring. And so~ We share our Family news~ That we are parting ways in marriage. We share this not because we think it's newsworthy ~ But so that~ as we go about our lives we may do so with dignity and honesty. The love between us carries on, evolving in ways it wishes to be known and lived. We free each other ~to be who we are learning to become…"
While the news left us and many others heartbroken, it turned out the divorce was actually a long time coming! A source shared with Entertainment Tonight at the time that the pair "were struggling in their relationship for quite some time," adding:
"When Jason was away filming Aquaman 2, their differences and issues were heightened. He was gone for a while and it definitely put additional stress on their relationship."
An insider for People similarly spilled:
"A few years ago, Jason was struggling to find work. Now his career is booming. And he wants to keep working as much as he can."
Ultimately, it sounded like distance took a toll on Jason and Lisa. The source also noted that the 54-year-old actress just "had no interest in joining" the Game of Thrones alum "on every location" since "she enjoys her life in LA."
Although sources later came forward spilling that Jason and Lisa might be calling off their split, he insisted to Access Hollywood on the red carpet at the Oscars that they "were not back together." Sigh…
Pamela Anderson & Dan Hayhurst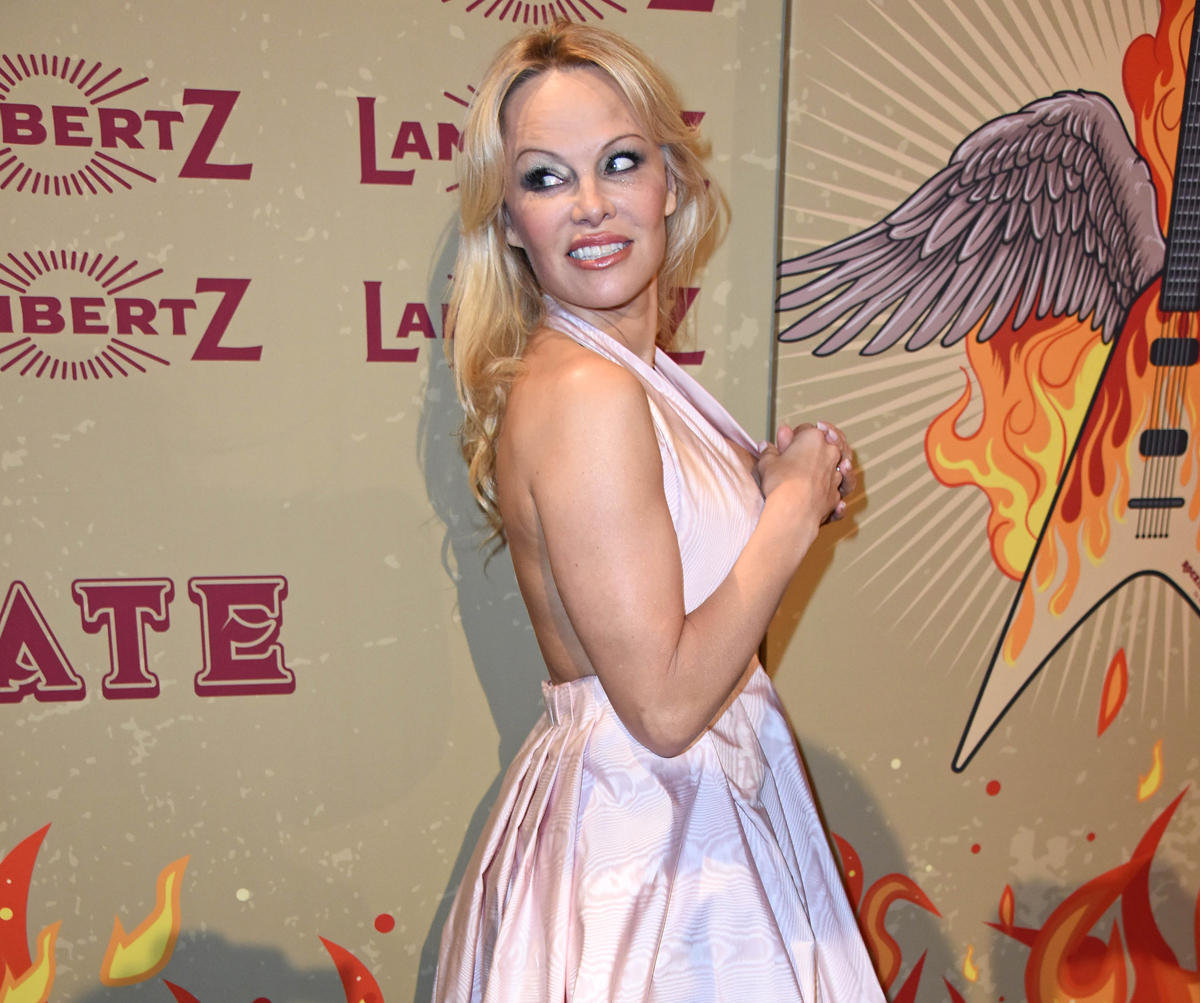 Following their whirlwind year of marriage, Pamela Anderson decided to end things with her estranged husband, Dan Hayhurst. An insider for Rolling Stone revealed the Baywatch alum filed for divorce in January when her "pandemic whirlwind" with the contractor and bodyguard petered out, adding:
"Pamela loves as authentically as she lives."
While Anderson hasn't addressed the divorce news, a source then confessed to Us Weekly that the 54-year-old actress feels she "rushed into [the] marriage" and started "having regrets" about it soon after their wedding in Canada on Christmas Eve in 2020. The insider explained:
"She saw the marriage as a fresh start, but the spark has faded. He really wants to make the marriage work. Pam left Dan and his kids without a single goodbye. Now the kids are heartbroken."
Oof. It's a shame that the kids had to deal with that – especially since we can imagine the start of their relationship impacted them a lot! We mean, their dad pretty much blindsided them and left their mom for Anderson in 2020.
Emma Roberts & Garrett Hedlund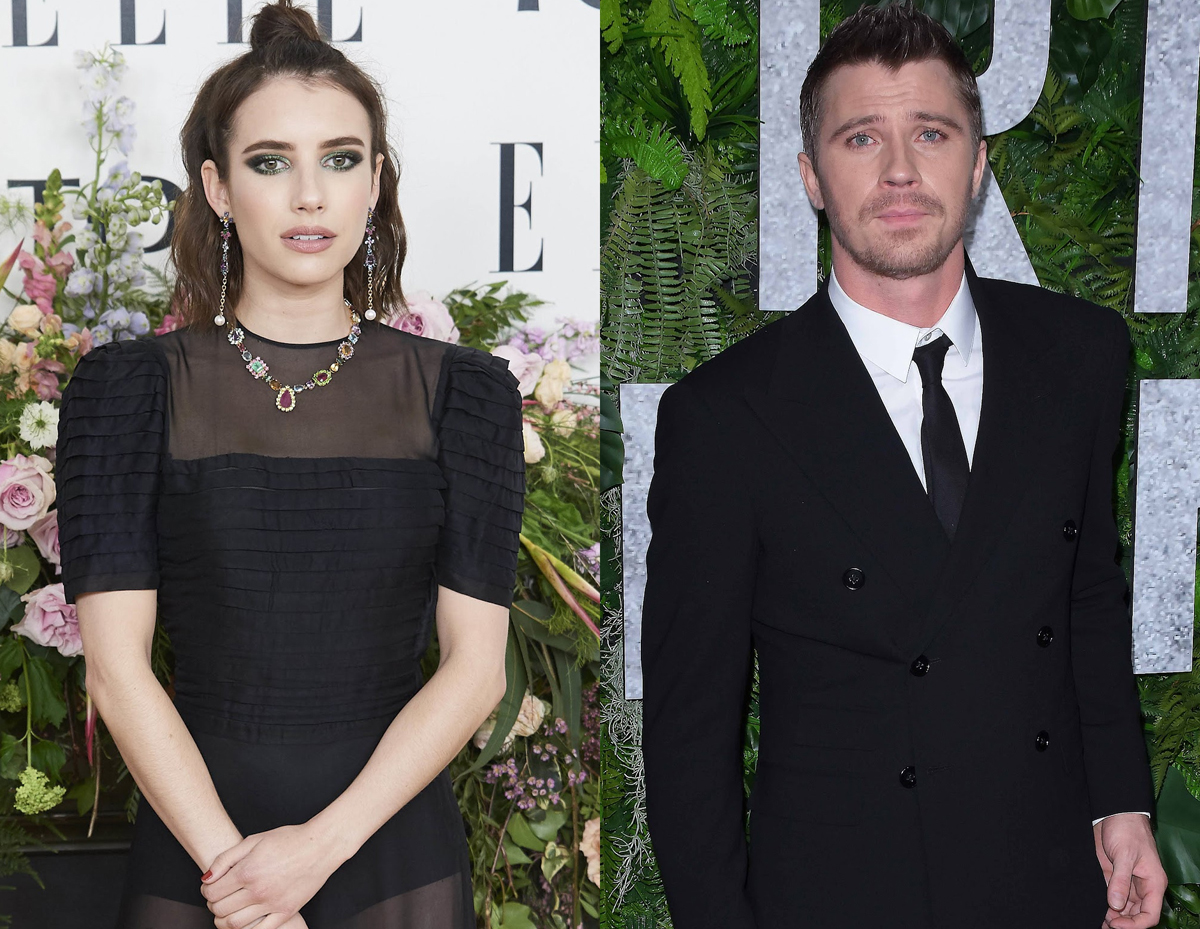 It has not been an easy time for Emma Roberts and Garrett Hedlund, who called it quits after nearly three years together in January. There was some speculation of the former couple's split before when the paparazzi spotted her holding hands with another man at Paris Hilton and Carter Reum's wedding back in November 2021. But sources confirmed to People that Emma and Garrett broke up a few weeks before January 21 after trying to get through some rough patches in their relationship. One insider said at the time:
"It's sad, and they are trying their best to co-parent. It's been hard."
Neither has spoken out about the breakup since the news broke.  As you may know, the pair started dating in March 2019 before welcoming their son Rhodes in December 2020. Unfortunately, their romance has not been smooth sailing over the years. In fact, the breakup news came shortly after it was revealed that the 37-year-old Country Strong actor was sued for negligence by two women who suffered severe injuries from his 2020 DUI. He was also arrested for public intoxication.
Princess Cristina Of Spain & Inaki Urdangarin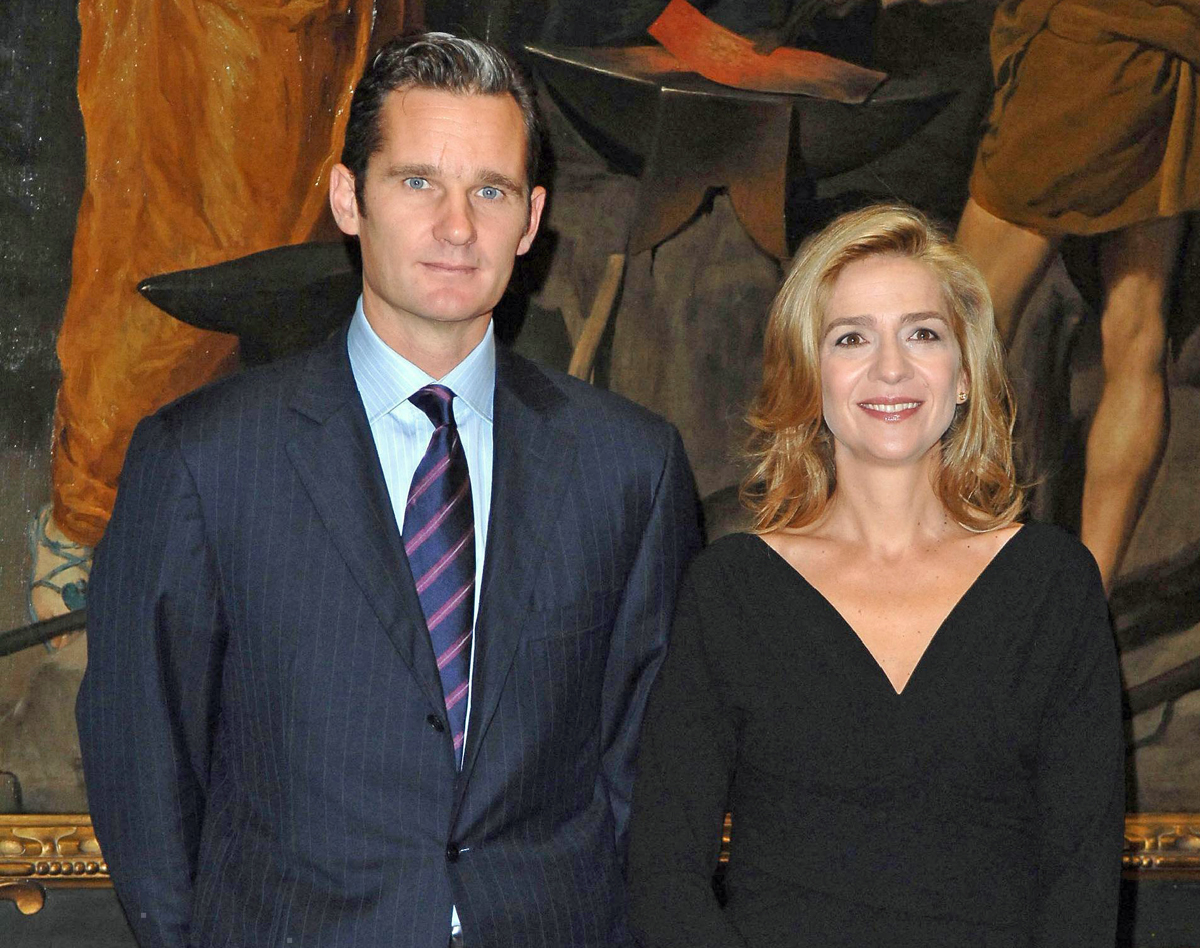 A messy situation here! Princess Cristina and her estranged husband Inaki Urdangarn shockingly revealed on January 25 that they had separated following 24 years of marriage. They said in a statement to the news agency EFE:
"By mutual agreement we have decided to break off our marriage. Our commitment to our children remains intact. Since this is a private decision we ask the utmost respect of all those around us."
While it may seem like an amicable split, we can imagine it has been anything but that in reality! The news came after he was caught by the Spanish tabloid Lecturas holding hands with another woman, who has since been identified as 43-year-old accounting analyst Ainhoa Armentia, while on a trip in southern France. What's worse is that even confirmed the affair, telling Express:
"These things happen. It is a difficulty that we will manage with the utmost tranquility and together as we have always done."
According to the outlet, his wife reportedly "already knew" about the relationship, too! Big yikes!!!
Delilah Hamlin & Eyal Booker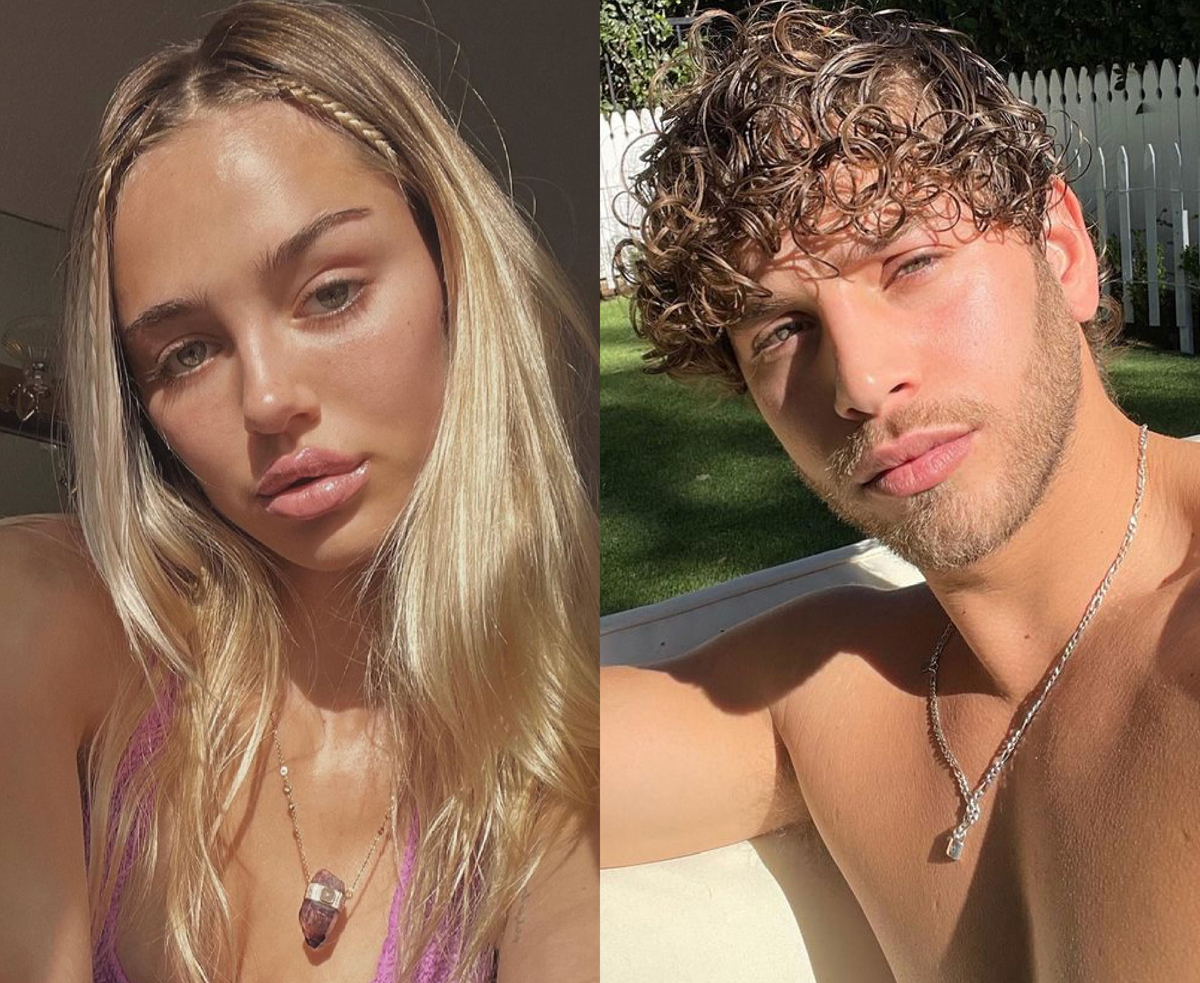 At the start of 2022, Delilah Hamlin reportedly called it quits with Eyal Booker after two years of dating. A source told People that the 23-year-old broke things off after feeling like the romance "ran its course," saying:
"Delilah broke up with Eyal. The relationship simply ran its course. There was no cheating. She's busy working and focused on her career right now. She's doing fine and has nothing but respect for him, it was just time to close that chapter and move on."
Another insider shared with Daily Mail that after dealing with multiple autoimmune diseases and seeking treatment for Xanax dependency last year, the model needed a clean slate going into the new year:
"It was important to her that 2022 could be a fresh start and right now she wants to be single and focus on her career. Last year, she experienced some difficult times, but she's come out the other side stronger than ever and is happy, enjoying time with friends and family, as well as looking positivity to the future."
In case you didn't know, Hamlin first sparked romance rumors with the former Love Island contestant at Coachella in April 2019 when they were spotted dancing and hanging out together in clips shared to her Instagram Story. The former couple then confirmed their relationship a month later while holding hands and locking lips in Beverly Hills.
Angelina Pivarnick & Chris Larangeira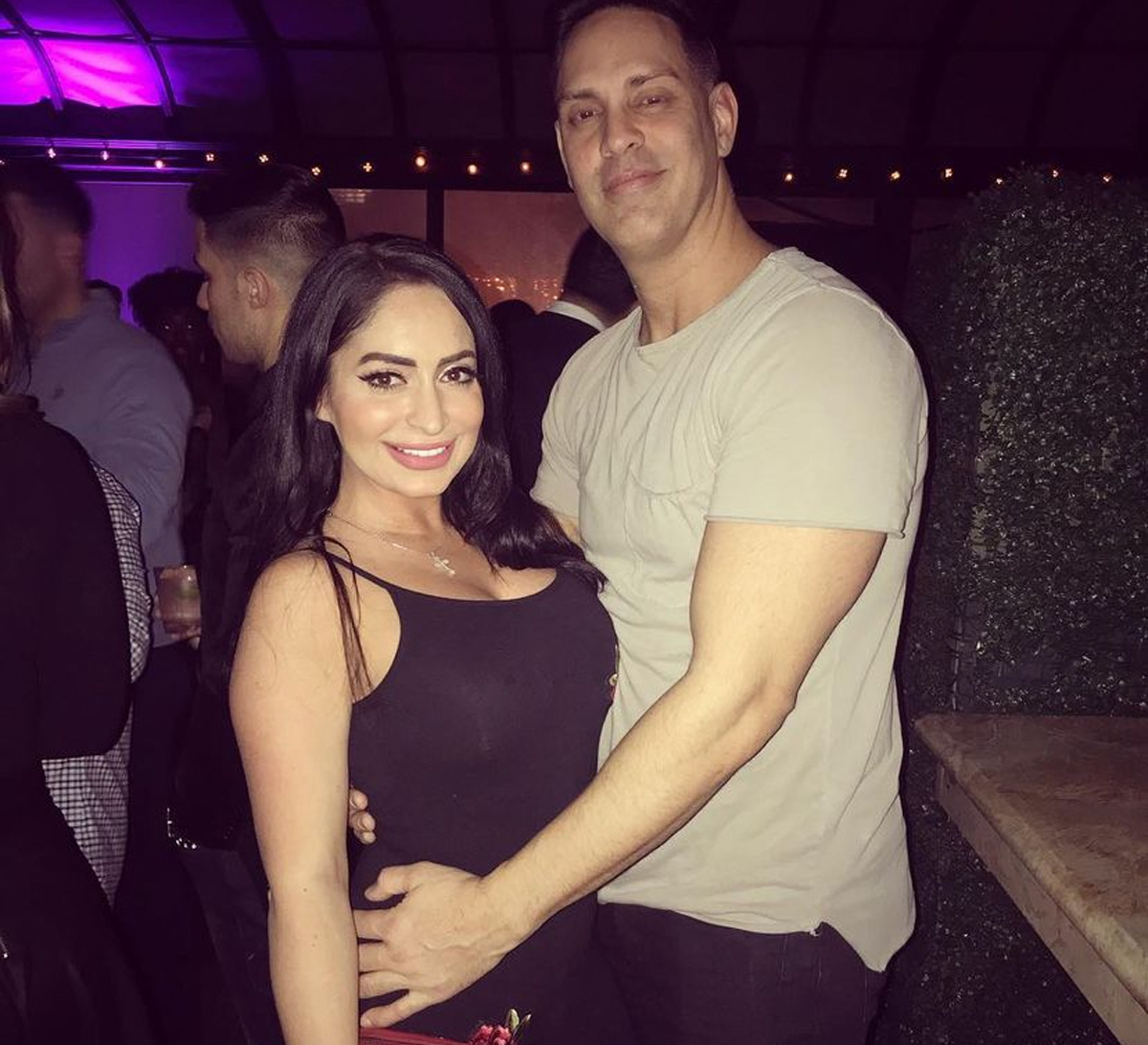 Round 2! Angelina Pivarnick and her husband Chris Larangeira are trying to get a divorce — again. However, this time Larangeira was the one to file for divorce from the Jersey Shore star, submitting the paperwork on January 22. Pivarnick first filed for divorce last year – but it ended up being dismissed over the summer since no additional action was ever taken.
MTV fans first speculated that the pair's marriage was in trouble after she posted a holiday picture without her hubby and hinted in the caption that "life's a little crazy right now for everyone." Although sources told The Sun that Chris and Angelina were "happier than ever" after their divorce papers were dismissed, the 35-year-old was then spotted in October buying a $1,275,000 in Freehold, New Jersey — by herself.
Later on, reports came out hinting at what may have led to their divorce. It turns out that Angelina may have been sleeping with other men — Joe Tarallo and Acapulco Shore star Luis "Potro" Caballero — behind Chris' back throughout their marriage. When he found out about the alleged affairs, he reportedly decided to pull the plug on their relationship for good.
Well, we guess it just wasn't meant to be!
Rosario Dawson & Cory Booker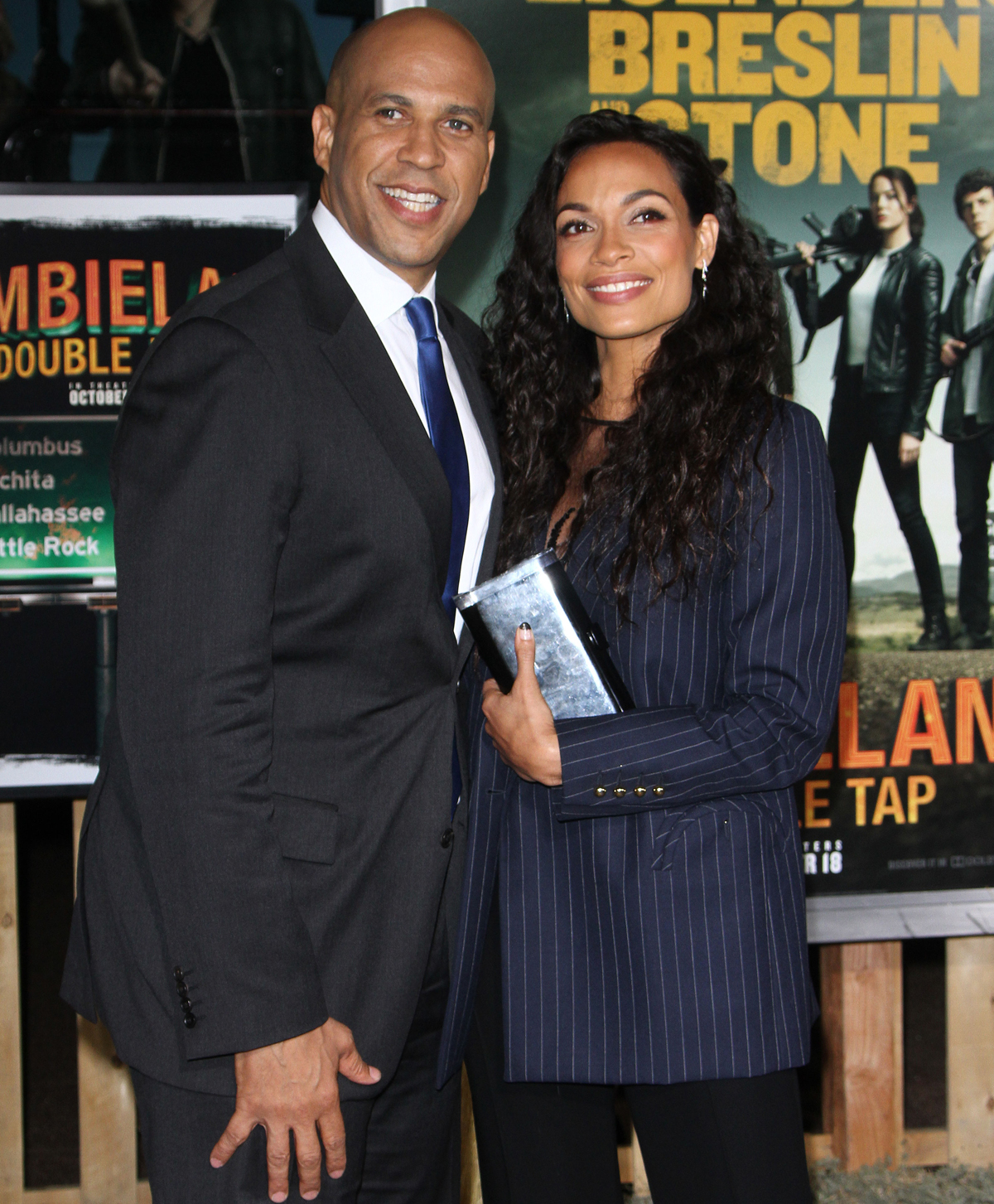 While rumors that Rosario Dawson and Cory Booker broke up first emerged in November of last year, People officially revealed that they put an end to their relationship in February after three years of dating.
The former couple first met at a political fundraiser for a mutual friend in the summer of 2018 before reconnecting two months later. However, Dawson and Booker held off confirming their relationship until the 42-year-old actress was spotted at the airport in Washington D.C., telling paparazzi at the time:
"So far so wonderful. He's a wonderful human being. It's good to spend some time together when we can."
So sad…
Shailene Woodley & Aaron Rodgers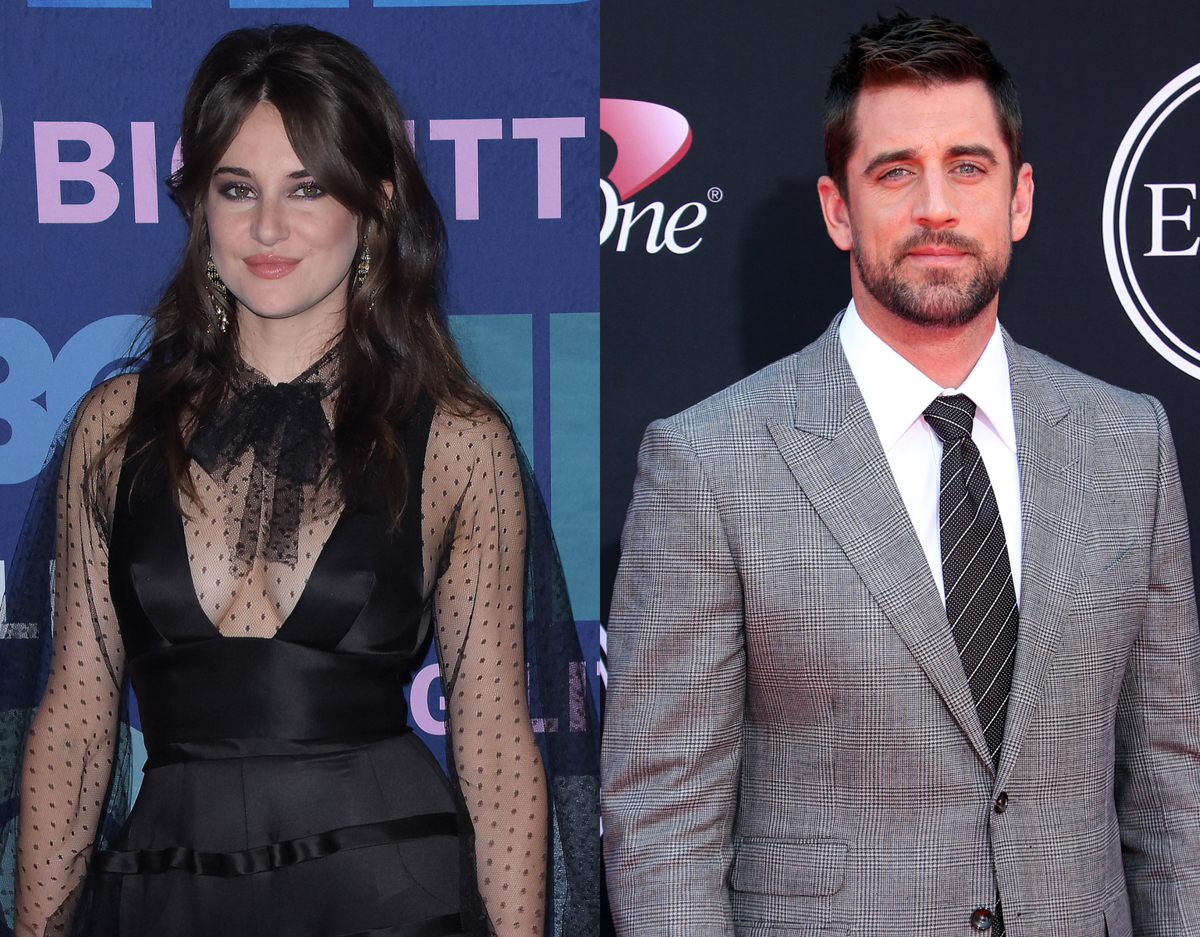 Maybe exes??? In February, reports came out that Shailene Woodley and Aaron Rodgers shockingly ended their relationship and were no longer engaged after less than two years together. An insider revealed to People that things ended amicably between them, and they were ultimately just "different people" at the end of the day. The source spilled:
"It was an amicable split; it just wasn't working. They're very different people with busy careers and there were obstacles that they couldn't surmount. They will remain friendly; there's no bad blood and no drama. It just didn't work out for them."
However, the duo sparked reconciliation rumors after Aaron gushed about the Divergent star on IG, and they were spotted spending time a lot of time together. A source previously told Us Weekly that they are also "talking things through and trying to keep things private." But after trying to salvage their relationship, a source told E! News that Shailene officially called it quits with Aaron, sharing:
"Shailene tried to give it another shot and was spending time with Aaron. But she quickly saw that everything was on his terms and nothing was going to change. There was no reason to continue and she's done with it again."
As you may know, Rodgers first revealed their engagement last year during an acceptance speech for the MVP award at the NFL Honors. The 30-year-old actress later confirmed the news on The Tonight Show Starring Jimmy Fallon. However, the former couple faced some controversy during their time together. Rodgers came under fire in 2021 when news broke that he wasn't actually vaccinated despite previously saying that he was "immunized." Sources then told People that Shailene and Aaron agreed to disagree on several political topics – but they seemingly tried to not let it affect their relationship too much:
"She is not someone whose mind you can change, so Aaron hasn't even tried."
We'll see if these two stay broken up or not!
Kanye West & Julia Fox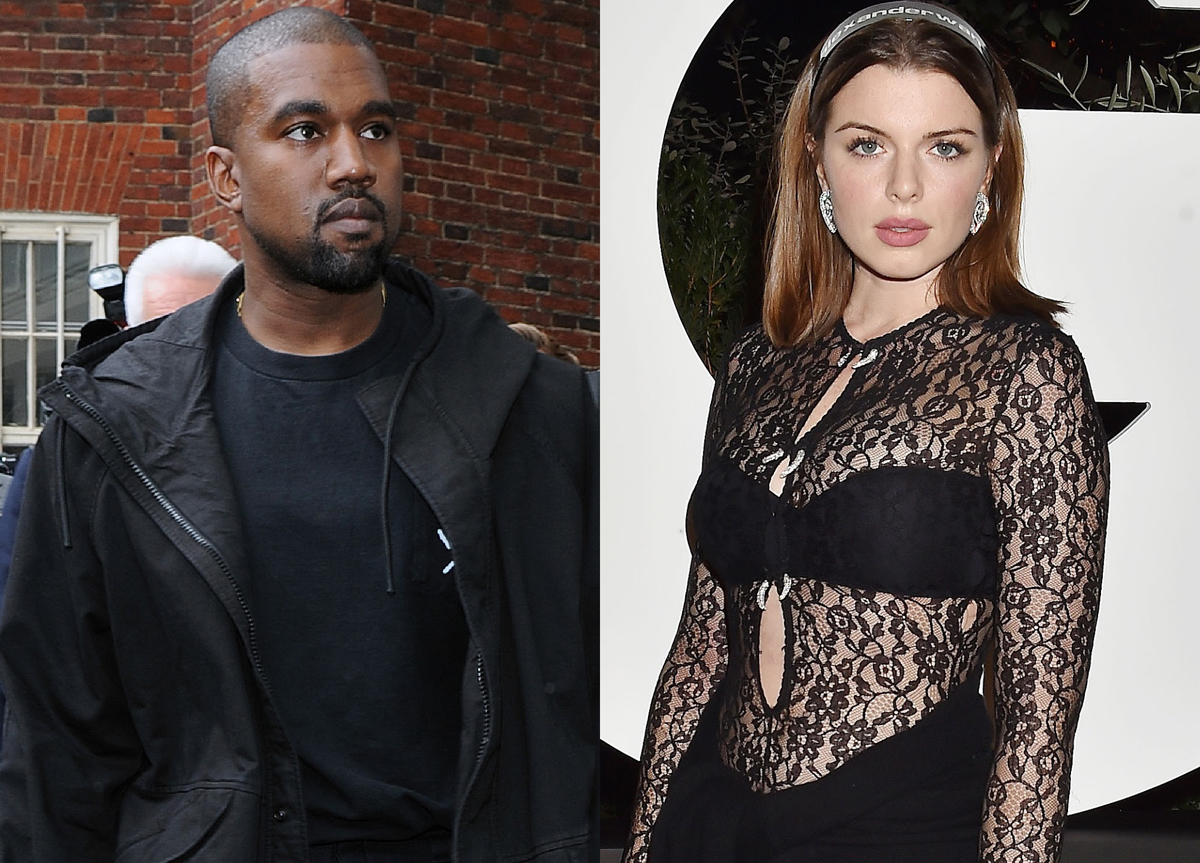 The end of Juliye! Julia Fox and Kanye West split in February after two months of dating. The whirlwind romance's end came following the 44-year-old rapper's social media tirade against Pete Davidson over Super Bowl weekend, where he slammed the SNL star for destroying his family and called him a 'd**khead' in since-deleted posts on Instagram. Shortly after the drama, fans soon noticed that Fox had cleansed her IG account and deleted almost ALL their couple content, leading many to think they called it quits.
The 32-year-old actress then "liked" a picture of his estranged wife Kim Kardashian, later commenting on a post from Hollywood Unlocked:
"And just for the record I never stopped liking Kim's posts."
A rep for Fox later confirmed the pair were, in fact, broken up in a statement to E! News, saying:
"Julia and Kanye remain good friends and collaborators, but they are no longer together."
We can imagine the Uncut Gems star finally became fed up with Ye's constant social media attacks!
Olivia Rodrigo & Adam Faze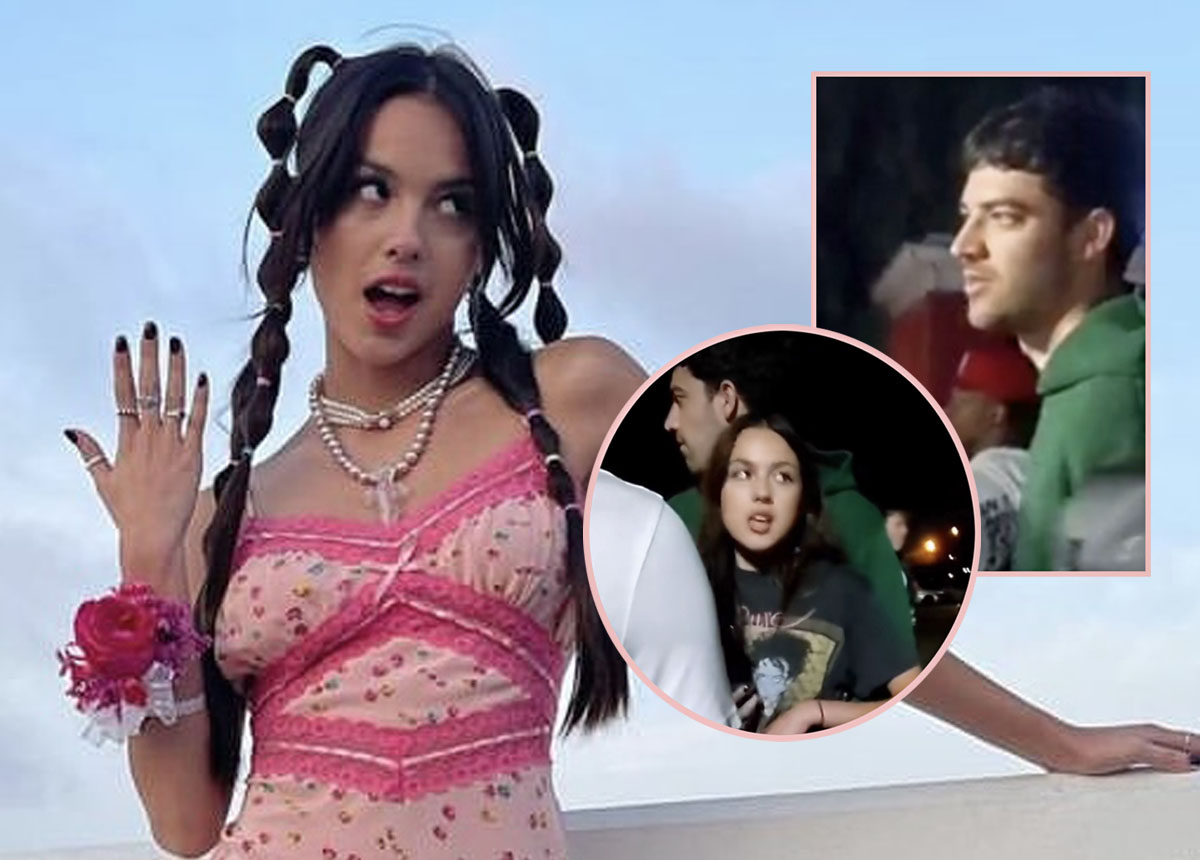 It's brutal out here! News that Olivia Rodrigo reportedly called it quits with her 24-year-old music video producer boyfriend, Adam Faze, broke in February. A source told People at the time:
"They've been over for a bit now."
The duo never outright commented on their relationship but have been romantically linked for less than a year. They first stepped out together in July 2021 when they attended the Space Jam: A New Legacy premiere party at Six Flags Magic Mountain in Valencia, California.
At least Olivia has some more inspiration for her new music!
Morgan Wallen & Paige Lorenze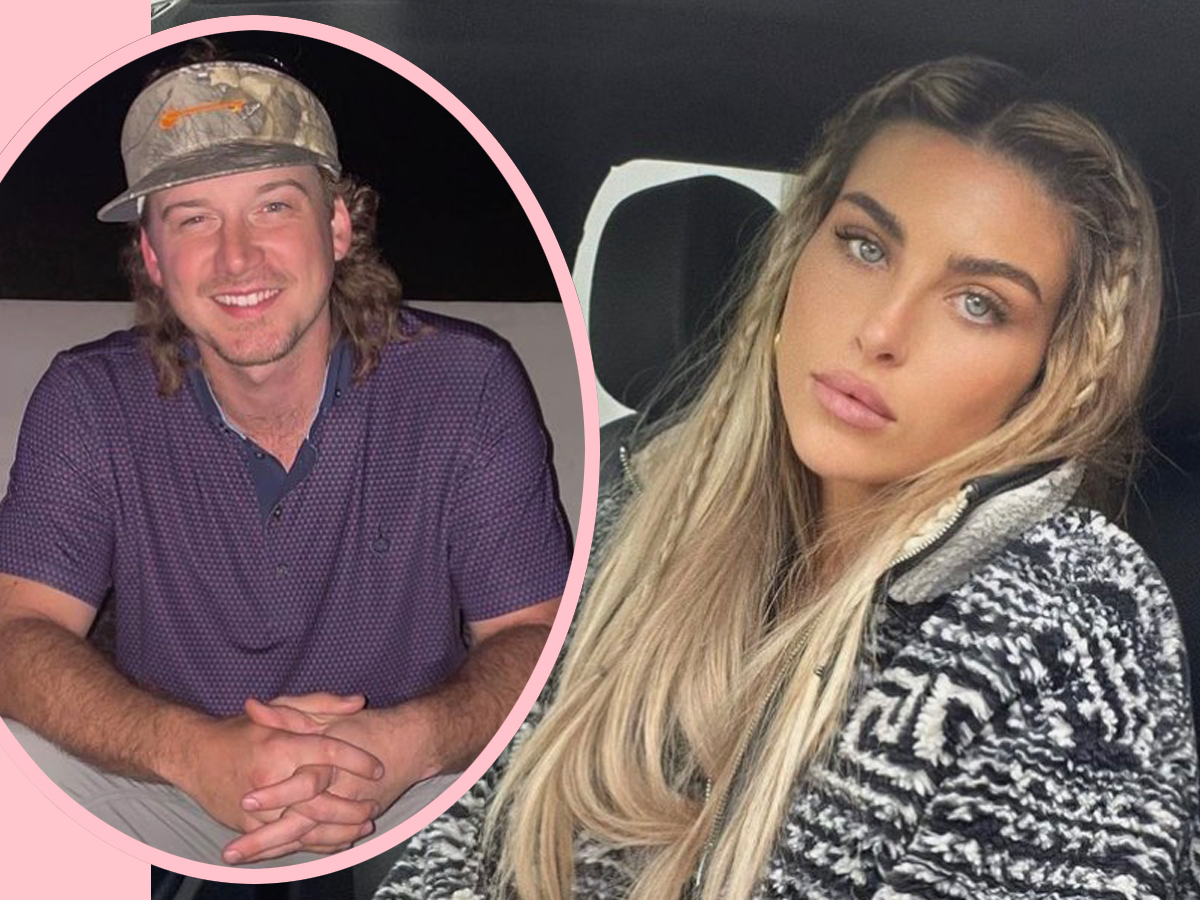 Shortly after news broke that Morgan Wallen and Paige Lorenze were dating for "almost a year," it was revealed in late February that the two ended up going their separate ways. An insider spilled to Us Weekly at the time:
"Paige ended things with Morgan. She just wants to move on and wants nothing to do with him and the person he is."
What led to their split? According to Page Six, the controversial country crooner allegedly cheated on her with multiple women:
"She suspected he was cheating on her with multiple people. After they went public, Paige started getting all these messages on Instagram from girls saying, 'I was with him. We slept together.'"
The source claimed the messages "snowballed, and it got to a point where it was just too much" for the ex of Armie Hammer. They added:
"She's heartbroken."
That was certainly fast, huh!
Shanna Moakler & Matthew Rondeau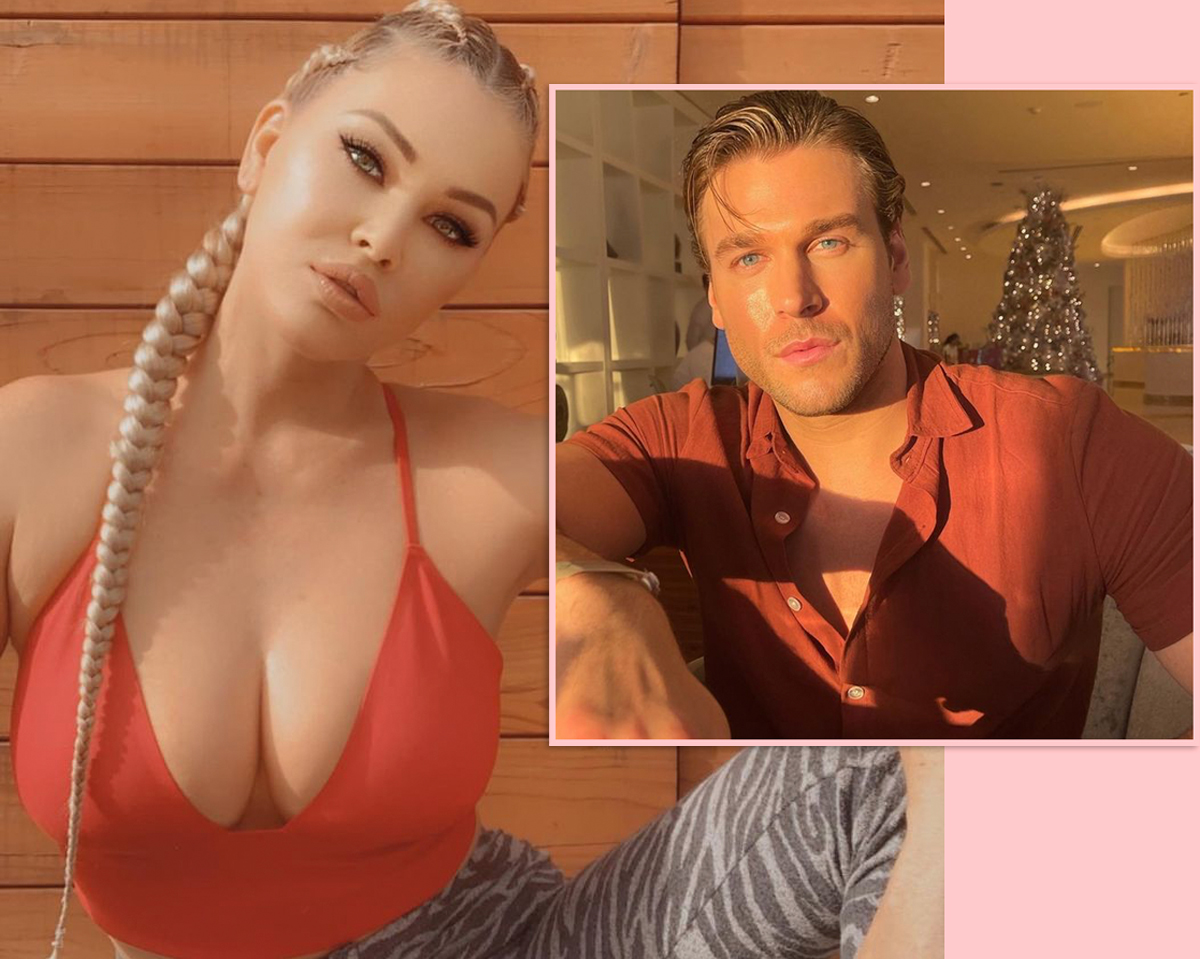 It's been a crazy time for Shanna Moakler. On February 24, the 46-year-old's boyfriend, Matthew Rondeau, took to Instagram Live to go on an alarming and expletive-filled rant, announcing that they were over. He also accused her of cheating on him and still having feelings for her ex-husband Travis Barker:
"So, it's over, K? Oh lord is f**king right, so record me now because it is done. I am never talking to this f**king specimen of a f**king human again. The truth is, is that I found out that she was talking to other f**king people the whole entire time in our relationship. That's the truth. That's the whole f**king truth. And I didn't say a goddamn f**king thing."
That same day, police arrested the 29-year-old for felony domestic violence following an altercation in which a report claimed he grabbed Moakler by her hair, threw a chair at her, and urinated on her. However, Rondeau denied ever hurting the former Miss USA. A police officer granted Moakler an emergency protective order shortly after his arrest. An insider told Us Weekly the reality star refuses to reunite with Rondeau after this scary situation, saying:
"She's not getting back with him, that's for sure. She's completely done. … It's just an emotional time for her right now. Shanna is doing OK and is just recovering from yesterday's traumatic experience."
But things took an unexpected turn when the reality star revealed days later that she was expecting her fourth child. She told People:
"I took a pregnancy test and it is positive. This has been a very difficult week, but I'm taking everything day by day."
However, in another unexpected twist, Moakler revealed to Us Weekly on March 23 that she was actually NOT pregnant. The Meet The Barkers alum explained she "received a false positive test due to the fact I had taken a hormone called HCG to help me lose weight," adding:
"It is the same hormone that is produced when a woman is pregnant resulting in the false positive."
As we said, it has been a crazy time for her! It is unclear if her and Matthew are talking again at the moment.
Chris Pine & Annabelle Wallis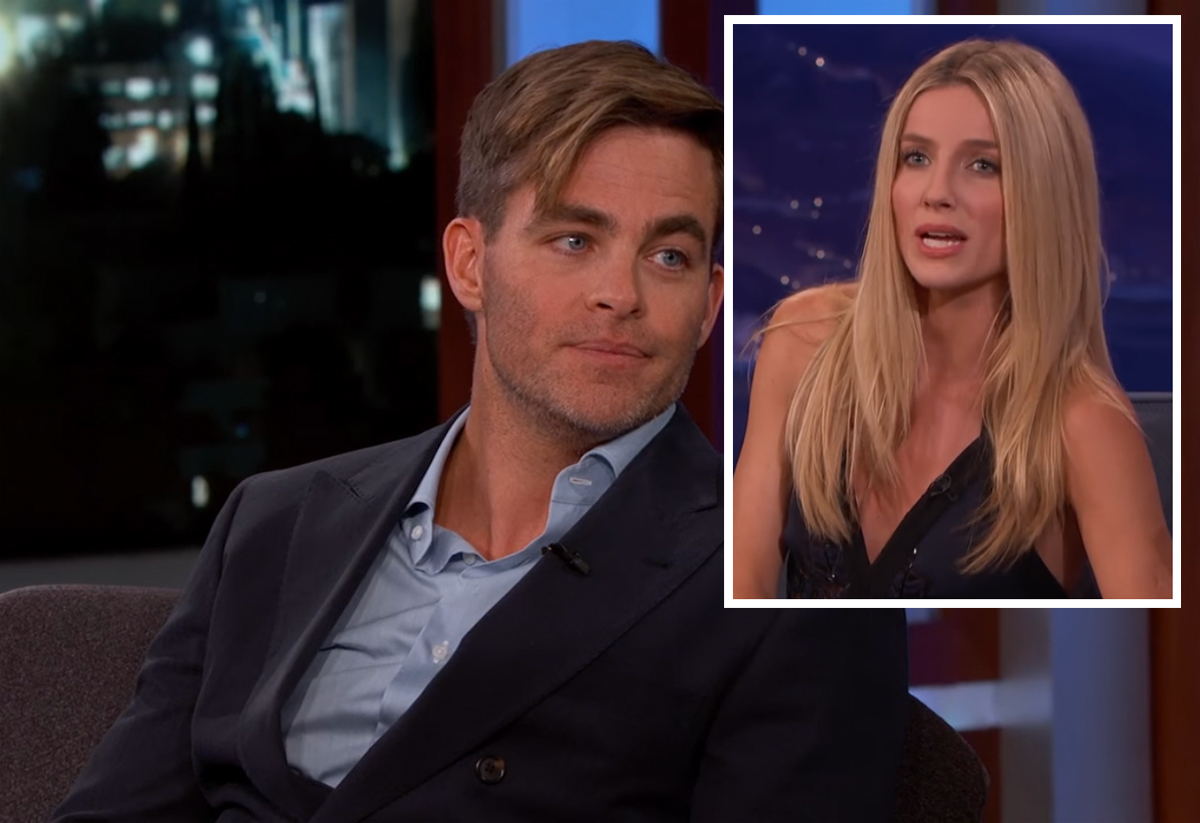 Aww! After almost four years together, Chris Pine and Annabelle Wallis reportedly broke up. While a reason for their split was not revealed, a source told Entertainment Tonight in February that the stars "haven't been together for a few months."
The twosome remained very private during their relationship. They never even made their romance Instagram official, nor did they make a red carpet debut. In case you didn't know, Chris and Annabelle first sparked romance rumors after paparazzi spotted together at London's Heathrow Airport in March 2018. In July of that same year, the pair seemingly confirmed their relationship when spotted holding hands in the streets of London.
Rosanna Arquette & Todd Morgan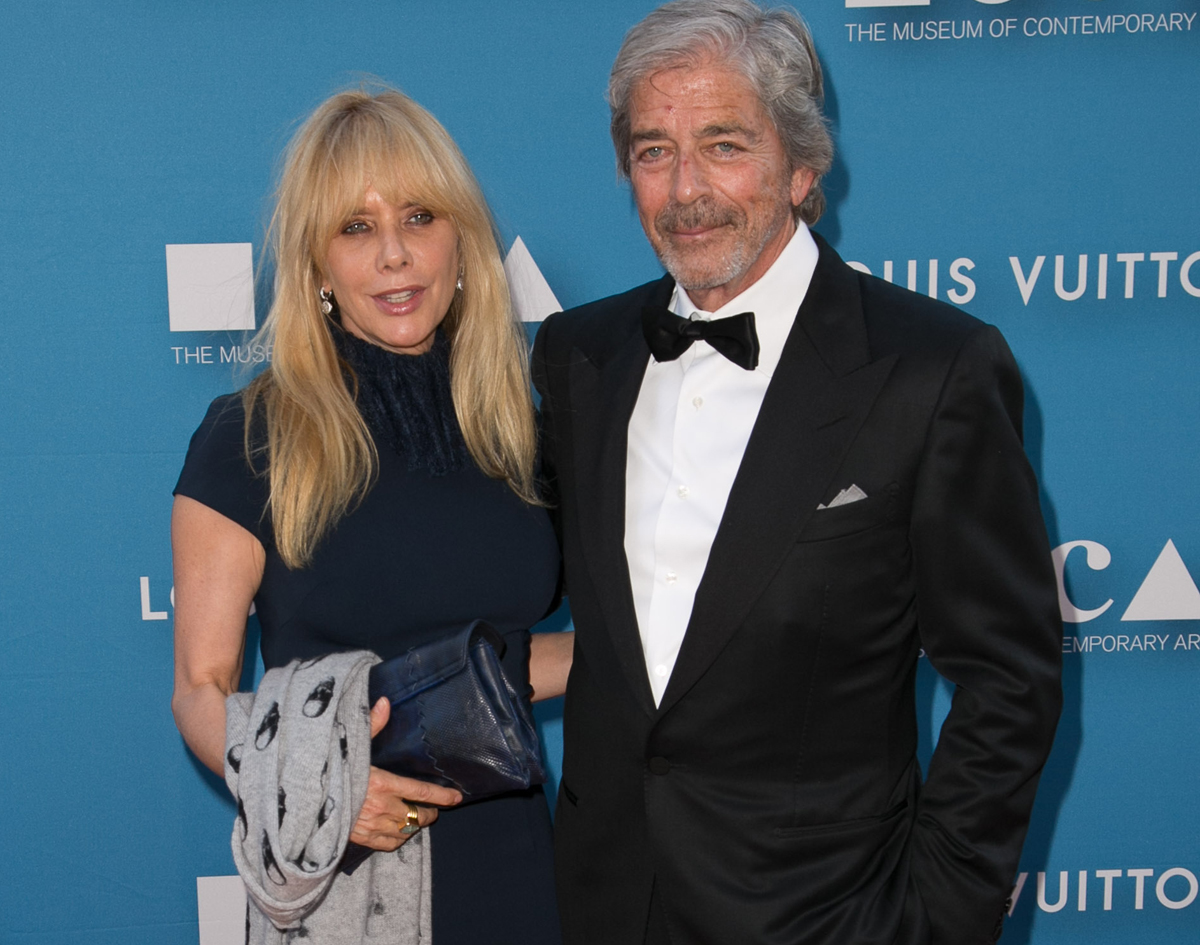 Rosanna Arquette is single once again! According to court documents obtained by TMZ, her husband Todd Morgan filed for divorce in Los Angeles on March 9 after nine years of marriage, citing "irreconcilable differences" as the reason for the breakup. However, the investment banker claimed that the couple separated on January 1, 2022.
It is unclear if Todd and the Pulp Fiction star had a prenup in place, but he wants the pair to pay for their own legal fees and no spousal support for either party.
Wow…
In case you didn't know, Rosanna and Todd got married back in 2013 during a private ceremony in Malibu. This is the 62-year-old actress's fourth divorce. She was previously married to director Tony Greco, composer James Newton Howard, and restaurateur John Sidel.
Danica Patrick & Carter Comstock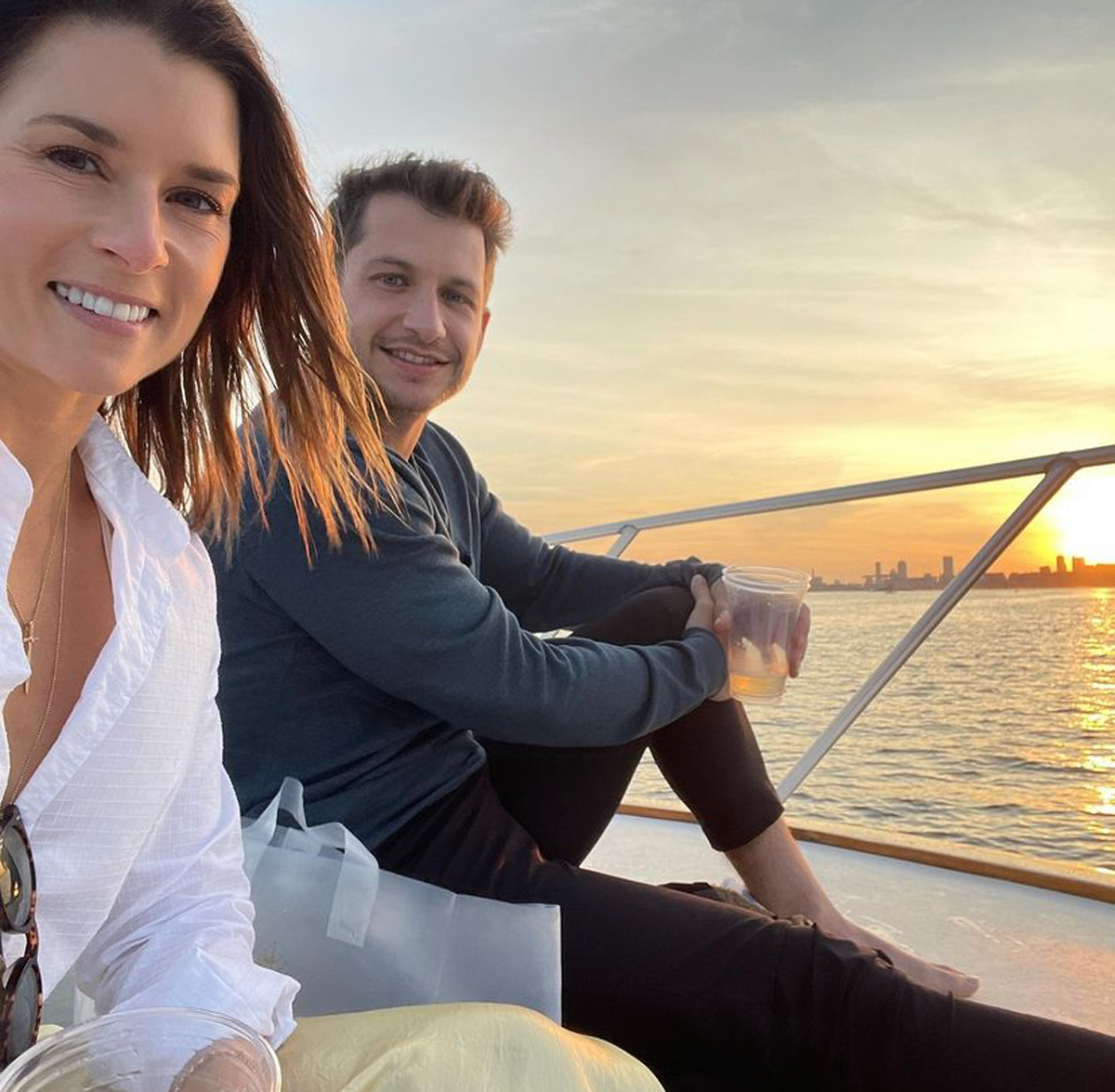 This didn't last very long! Months after going Instagram official, Danica Patrick and Carter Comstock decided to go their separate ways in March. The former NASCAR driver revealed the breakup news to People, saying there was no huge drama that led to it:
"We were together for a while, and unfortunately it didn't work, but it doesn't mean that it wasn't a really fun time and we didn't do a lot of really amazing things. It doesn't mean that there's something wrong with either of us. It's just a matter of finding someone who you can stand the test of time with."
While things did not work out between them, Danica praised the 33-year-old Freshly founder for being a "really amazing guy" and "super sweet." Love to see an amicable breakup!
Hoda Kotb & Joel Schiffman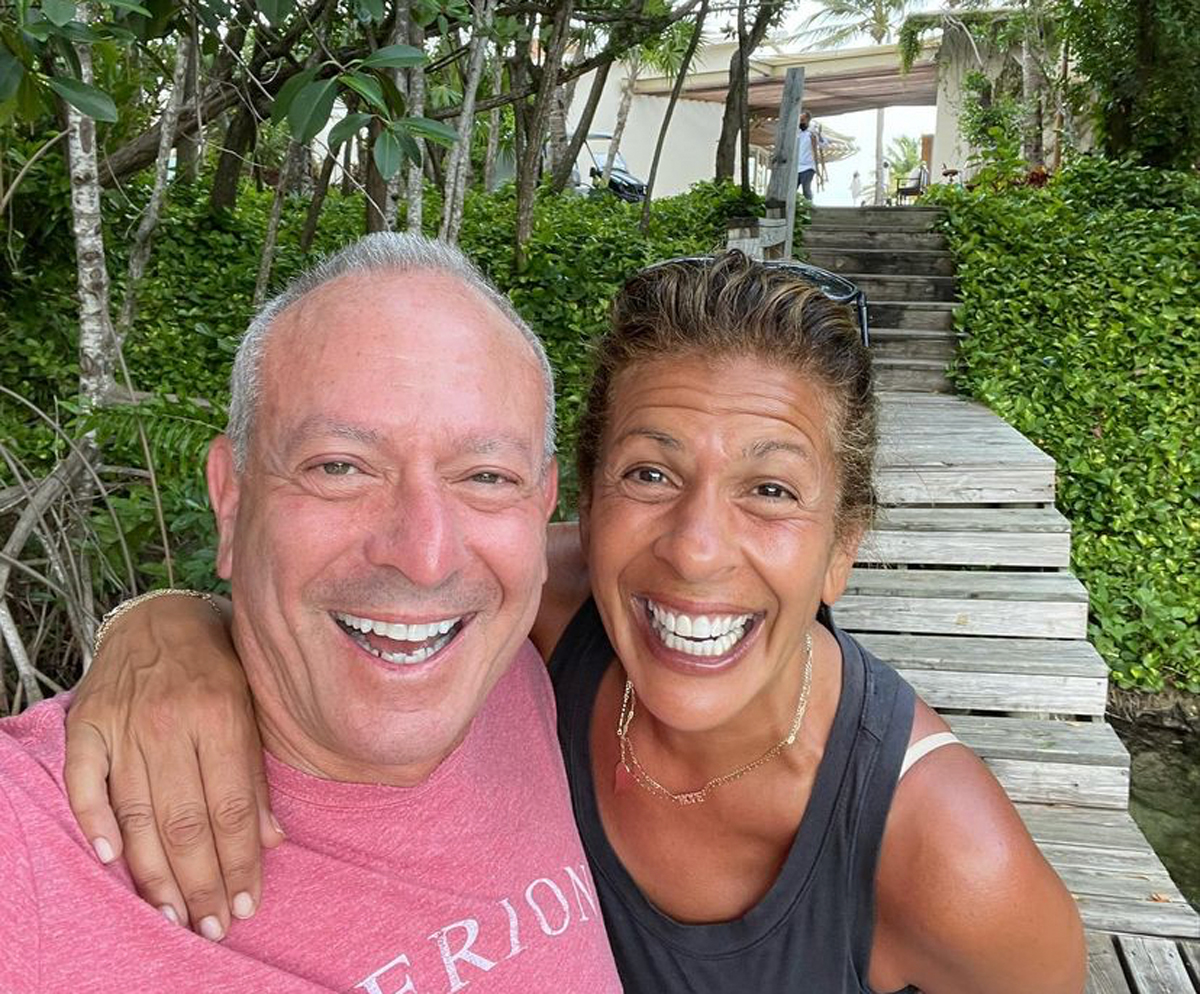 Hoda Kotb and Joel Schiffman ended their engagement together. The pair, who have been together since 2013 and share two daughters, Hope and Haley, revealed on a January 31 episode of Today With Hoda & Jenna that they called it quits after getting engaged in November 2019. She said at the time:
"Joel and I have had a lot of prayerful and meaningful conversations over the holidays and we decided that we're better as friends and parents than we are as an engaged couple, so we decided we are going to start this new year…on our new path as loving parents to our adorable, delightful children, and as friends. It's not like something happened. They say sometimes relationships are meant to be there for a reason or a season or for a lifetime. And I feel like ours was meant to be there for a season."
Katie Maloney & Tom Schwartz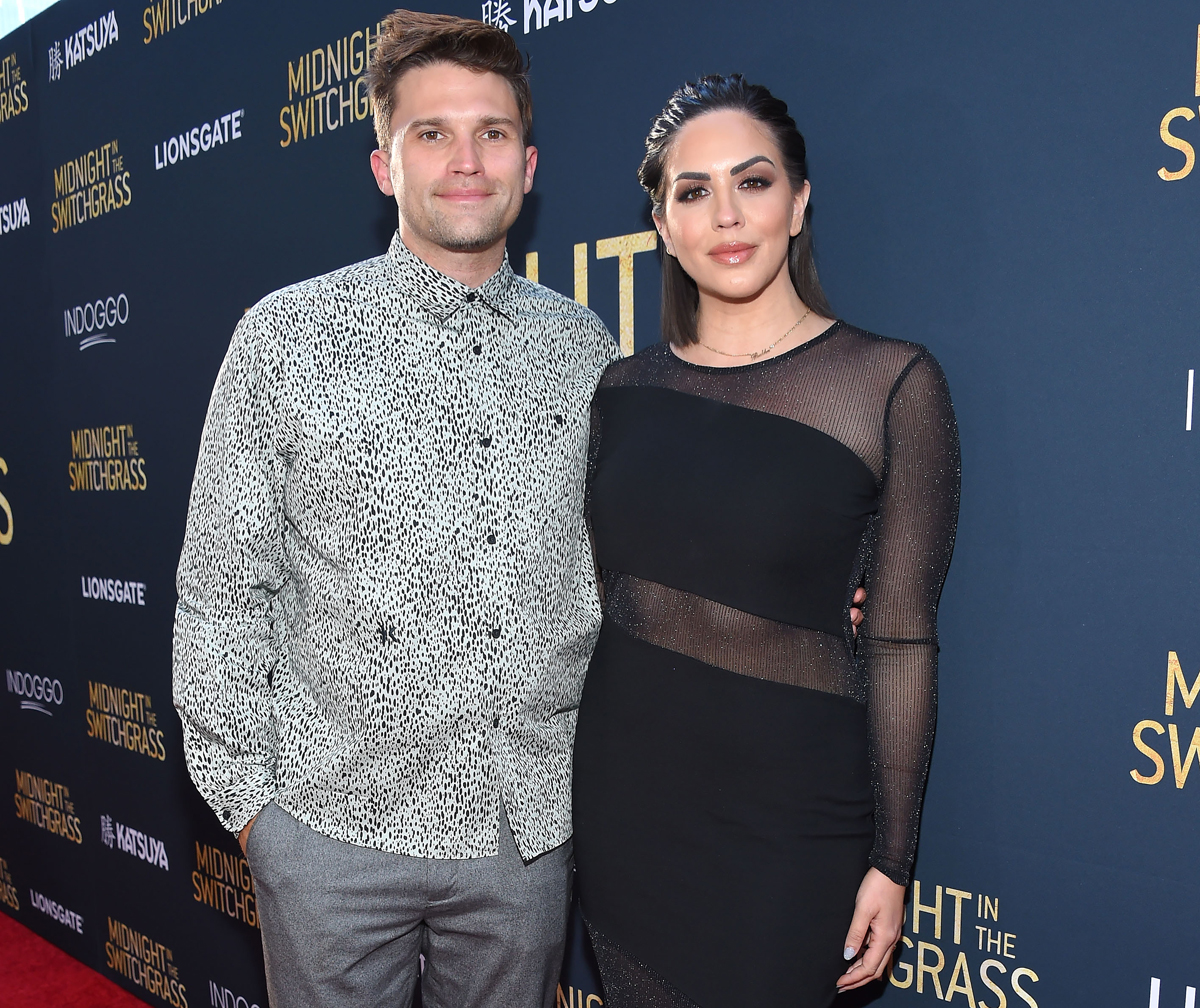 This one may be heartbreaking for Vanderpump Rules fans! Katie Maloney and Tom Schwartz stunned Bravo viewers when they announced they were breaking up after 12 years together. Both released emotional statements to Instagram on March 15 to reveal the news. The 35-year-old reality star expressed:
"I never thought I would have to make an announcement like this. But I feel it's important that I'm open about my life with you. After 12 years on an adventure through life together Tom and I are ending our marriage. This ending is not met with resentment or animosity, no sides to choose. We have deep admiration for one another that will always remain and we cherish our friendship."
She then added:
"Although we may be on different paths we will continue to love and support one another's happiness. Thank you for all the kind words and support."
Meanwhile, Schwartz expressed that he had "fully respect Katie's decision" and addressed the rumors that Maloney called it quits because she wasn't "happy," saying:
"It would be far sadder if she decided to stay with me whilst not happy."
Rumors had been swirling around their breakup ever since Katie was spotted without her wedding ring in several social media posts. Before the former couple's announcement, sources then confirmed the speculation to The Sun, revealing they had separated:
"Katie and Tom have split and gotten back together and split and gotten back together. They're currently not together, no. She's doing her own thing right now."
Days after announcing their split, Katie officially filed for divorce from Tom on Tuesday, March 22, citing "irreconcilable differences" as the reason for their split.
Josh Flagg & Bobby Boyd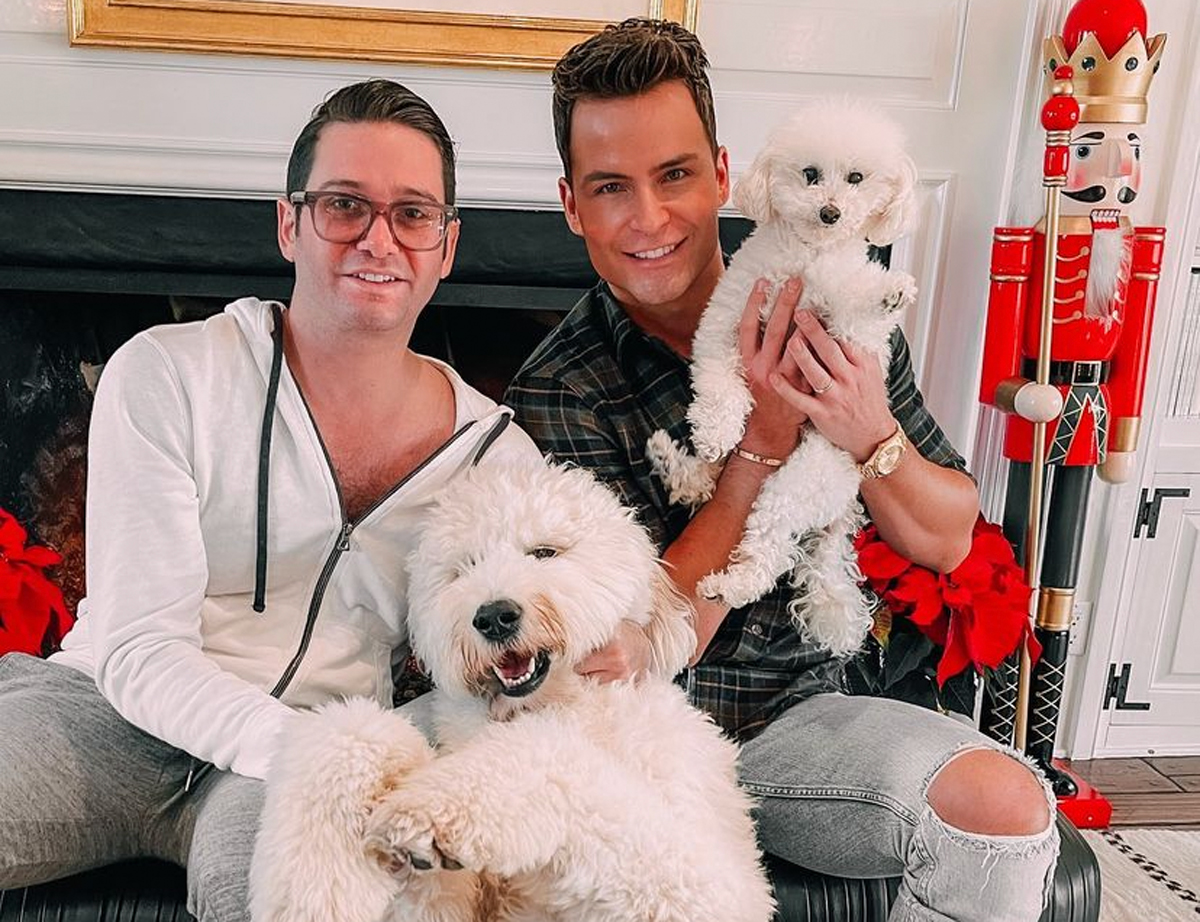 Million Dollar Listing: Los Angeles star Josh Flagg called it quits from his husband of five years, Bobby Boyd. He announced the divorce news in an Instagram post on March 5, writing:
"Bobby and I are divorcing. This might sound abrupt but I felt I should be transparent from the top rather than bury the headline. This was not a rash or impulsive decision. We have been very thoughtful before coming to this conclusion."
He continued:
"It was not a lack of love but rather the two of us growing in different directions and wanting very different things for ourselves. I care deeply about Bobby and have nothing but love and respect for him. I want how we separate from each other to represent that. Thanks to all for your unwavering support."
Maurissa Gunn & Riley Christian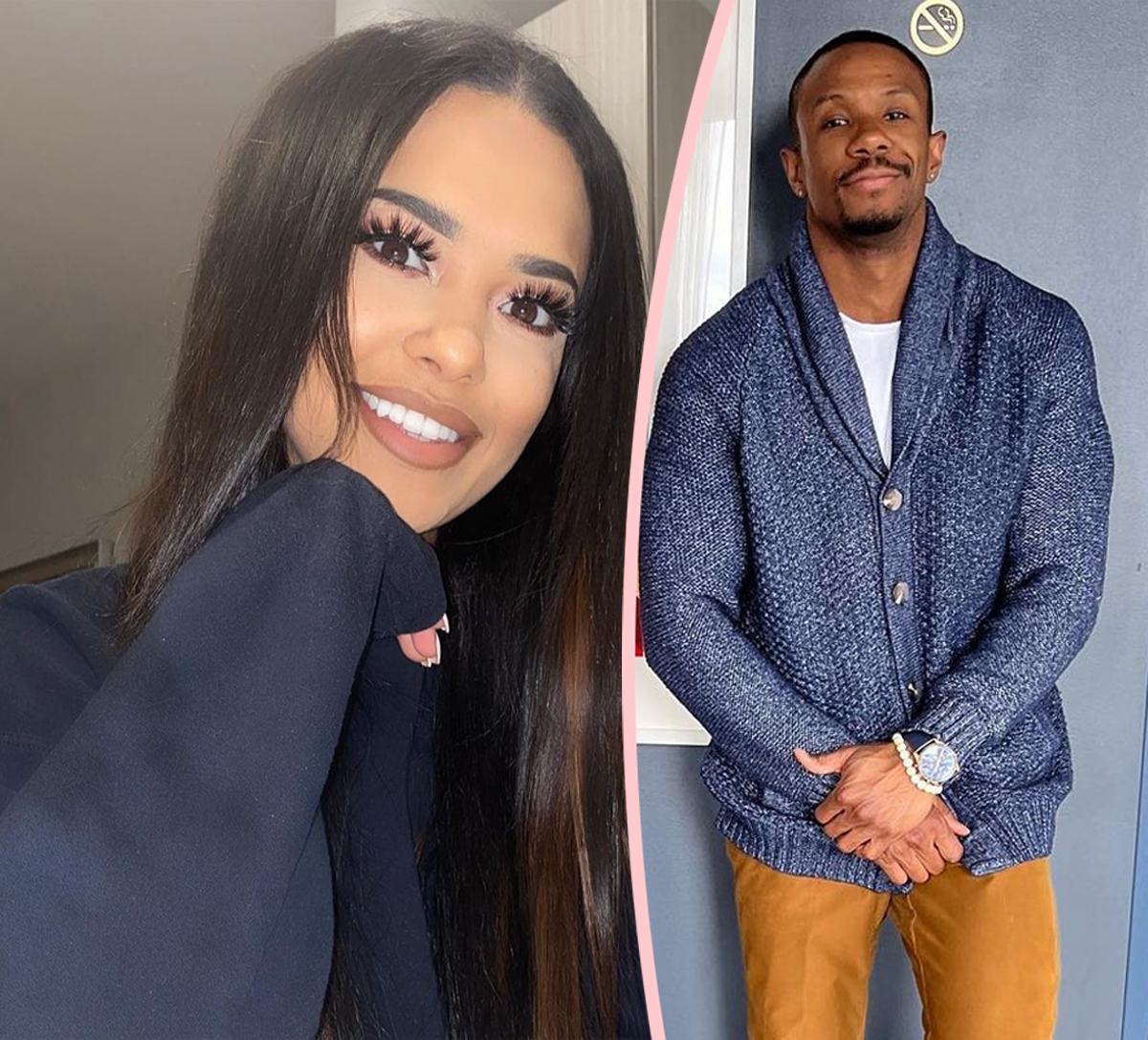 After forming a connection on season seven of Bachelor in Paradise, Maurissa Gunn and Riley Christian shared in January that they ended their engagement, telling People in a joint statement:
"We have decided to go our separate ways. Never did we imagine this, but we've come to a point where we both need to work on ourselves. We've appreciated everyone's love and support so far throughout our journey and we just ask that you please respect our privacy as we navigate through this."
Chanel Iman & Sterling Shephard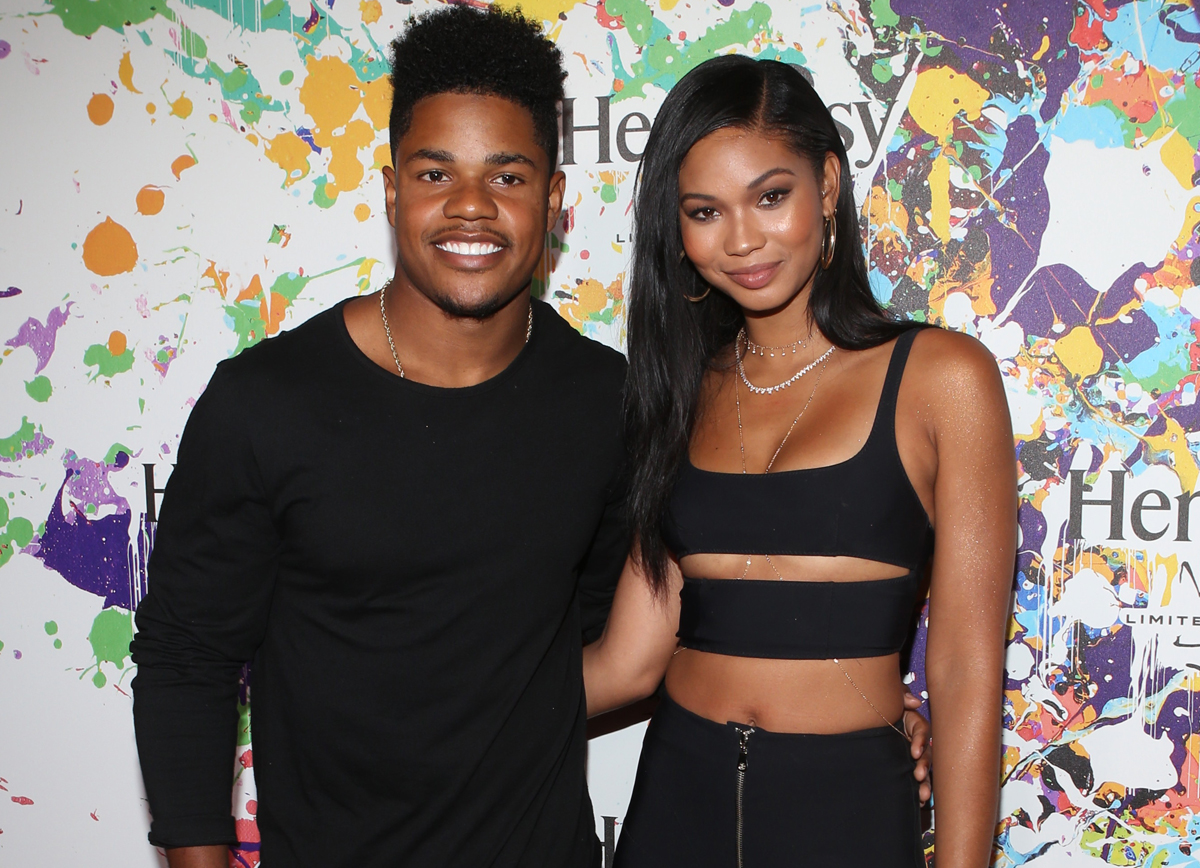 News broke in January that model Chanel Iman and football player Sterling Shepard parted ways after almost four years of marriage and six years together. According to Us Weekly, the pair – who share two children together – were "going to try and remain civil and friendly towards each other." Divorce docs obtained by the outlet revealed they were having troubles with their marriage dating back to December 2020, and they filed papers in June 2021. The documents stated:
"The parties have experienced irreconcilable differences [and the] differences have caused a break down in the marital relationship. Said irreconcilable differences have existed for at least six months prior to the filing [of] this Complaint and there is no reasonable prospect of reconciliation."
So sad…
Which breakup were you most surprised by, Perezcious readers? Do you think anyone will get back together in the future? Drop all of your reactions in the comments (below)!
[Image via FayesVision/MEGA/WENN/Avalon.]
Related Posts
CLICK HERE TO COMMENT
Jun 24, 2022 06:14am PDT